HHS Mandate
Add Tom Monaghan's lawsuit against the contraceptive mandate to the list of those granted injunctive relief:
A federal judge has ordered a temporary halt on the Obama administration's birth-control coverage policy for Tom Monaghan, the Catholic billionaire who founded Domino's Pizza.
Federal District Court Judge Lawrence P. Zatkoff issued the decision Sunday, less than two days before the policy would have taken effect and exposed Monaghan to fines for non-compliance.
"Plaintiff has shown that abiding by the mandate will substantially burden his exercise of religion," Zatkoff wrote.
"The government has failed to satisfy its burden of showing that its actions were narrowly tailored to serve a compelling interest. … This factor weighs in favor of granting Plaintiffs' motion." Continue reading →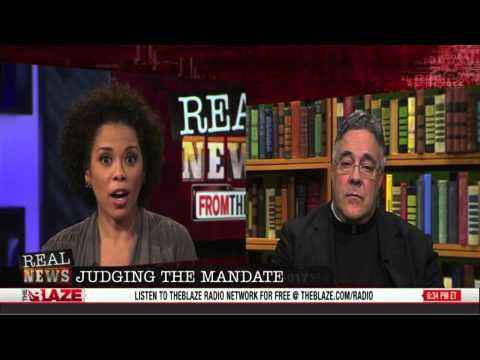 Federal Circuit Courts are granting injunctive relief to plaintiffs in suits alleging that the contaceptive mandate violates both the First Amendment free exercise clause and the Religious Freedom Restoration Act:
On Dec. 28, 2012, the U.S. Court of Appeals for the Seventh Circuit ruled that the HHS Mandate violates this family's religious liberty as guaranteed by the Religious Freedom Restoration Act (RFRA). Kathleen Sebelius' mandate could be argued to violate the First Amendment as well, but if a court can resolve a case by looking to a statute, it will avoid issuing an opinion regarding constitutional issues. The Seventh Circuit has issued an injunction while the appeal in this case, Korte v. Sebelius, is pending.
In a 2-1 split decision, a three-judge panel of the Seventh Circuit in Chicago rejected the Tenth Circuit's conclusion in Hobby Lobby Stores, Inc. v. Sebelius that the HHS Mandate does not impose a significant burden on religious freedom by forcing employers to provide insurance that covers things they regard as immoral.
The Seventh Circuit reasoned, "With respect, we think this misunderstands the substance of the claim. The religious-liberty violation at issue here inheres in the coerced coverage of contraception, abortifacients, sterilization, and related services, not—or perhaps more precisely, not only—in the later purchase or use of contraception or related services [by employees]."
The Seventh Circuit also noted that the Eighth Circuit in St. Louis recently came down on the same side of this issue in O'Brien v. U.S. Dep't of HHS, leaving the Tenth Circuit in Denver as the minority of what is now a 2-1 split between the federal appeals courts.
This now sets the stage for a Supreme Court showdown. The justices may let this issue play out for a few more months until a couple appellate courts hand down full-length opinions exploring all these issues. By contrast, the Seventh Circuit's action is just an eight-page order. Continue reading →
One of the many dreadful results of the American people deciding to give the Southside Messiah another four years to see how much of the country he can gut, is that the struggle over the HHS mandate will not be resolved by Congress simply reversing the initiative of the Obama administration.
Lawsuits against the HHS Mandate have been meeting with some success, go here to read about injunctive relief being given to a private employer, and doubtless all of this will eventually end up before the Supreme Court.  It has been heartening to see how many non-Catholics have been standing with Catholics in this area.  For example, Tyndale House Publishers have gone to court and gotten injunctive relief.  Go here to read about it. Continue reading →
Let me explain, in as clear and precise terms as I can, why social conservatives are not going anywhere, nor should they go anywhere, but should remain right at the heart of the conservative movement and gain acceptance among libertarians as well, and should reject as the foolish garbage that it is all suggestions to the contrary.
First, our principles are not electoral losers. Leftists believe they are on "the right side of history", comparing the campaign for "marriage equality" with every civil rights struggle of past eras. They believe that this fact is reflected in the way the youth vote splits and the purported reasons why. At the same time, they gloat and brag about the size of the Democratic share of the minority vote.
The merits of the "marriage equality" campaign don't need to be discussed here. I've discussed them to death on this blog in previous posts. The fact remains that minorities are opposed to "marriage equality." If Hispanics can be won over to the GOP on the immigration issue, it will put a stop to this "wrong side of history" nonsense for a generation. The uncomfortable alliance between racial minorities who hold socially conservative views and white liberals will finally be blown apart. Unlike them, when racial minorities finally do side with the GOP en masse, we won't attribute white liberal hatred for them to "racism" (even though it sure looks like it sometimes). This is a battle of values, not skin colors, and a failure to see that is one of the reasons why the white liberal left will never win the future they mistakenly believe to be theirs.
On All Saints Day, the bishops of Pennsylania released a statement on the upcoming elections.  Here is the text:
Each year on this day the Catholic Church celebrates "All Saints Day."  This solemnity remembers those who have fulfilled their earthly vocation and now enjoy eternal happiness in the presence of God.  These saints may be unnamed, but they certainly are not unknown.  Their lives are characterized by steadfast faith and charitable works.  They exemplify what it means to love God and love one's neighbor.
The election is almost upon us, and many of us have made up our minds as to whom we are going to vote for, or whether we will even bother to vote at all. On the slight chance that someone from the ever-shrinking pool of undecided voters in a critical county in a vital swing state stumbles upon this blog post, the even less likely chance that they are Catholic, and the even less likely chance that their Catholic faith informs their political conscience, I'll make one last appeal for a GOP vote.
I say a GOP vote, and not a Romney vote, because a) the most important issue at stake in this election really only depends upon which party, not individual man, is in power, and b) many people on the fence probably aren't very enthused about Romney the man. I'll admit that even as someone who has made up his mind, I am still not enthused. Granted, Romney isn't as awful as many of us imagined him to be before he took Obama to the woodshed in the first presidential debate, it still isn't easy to joyfully rally to his banner. He lacks the consistency and commitment to principle of the enigmatic Ron Paul, a pretty old guy who manages to get thousands of  modern American 20-somethings to care about things other than themselves, which is nothing short of miraculous in its own right. Still, he has emerged as a capable enough candidate for the highest office in the land. But let's return to the issues.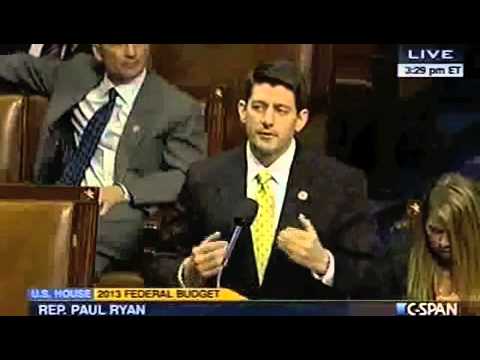 Paul Ryan gave a major address yesterday in Cleveland.  Go here to watch it on C-Span.  In this speech he argues that the Government efforts to alleviate poverty have been a flat failure, destructive to the family and increasing government dependcy.  He points to welfare reform of the 1990s as a model of how Government can truly help to alleviate poverty by encouraging work and independence.
He notes that Government often abuses power as it expands its scope:
Nothing undermines the essential and honorable work these groups do quite like the abuse of government power.  Take what happened this past January, when the Department of Health and Human Services issued new rules requiring Catholic hospitals, charities and universities to violate their deepest principles. Never mind your own conscience, they were basically told – from now on you're going to do things the government's way.
This mandate isn't just a threat to religious charities. It's a threat to all those who turn to them in times of need. In the name of strengthening our safety net, this mandate and others will weaken it.
The good news? When Mitt Romney is president, this mandate will be gone, and these groups will be able to continue the good work they do.
It is a fascinating speech and indicates that Ryan has thought deeply about the role of Government in helping people escape poverty and  is willing to lead the fight to implement the reforms necessary to alter the path we are on to national bankruptcy and ever increasing poverty.  Here is the text of the speech: Continue reading →
My Bishop, Daniel Jenky of the Peoria Diocese, is a big, jovial bear-like guy.  It is hard not to like him, but I have never been prouder of him than I have been this year.  He has been one of the bishops standing up and constantly sounding the alarm posed to our religious liberty by the Obama administration.  Go here to read a speech he gave on the subject earlier this year. Continue reading →
Indicating the seriousness with which our Bishops view this electoral contest, they wasted no time in taking Biden to task for his lie about the HHS Mandate in the debate last evening: Continue reading →