Health Care Reform
Whole Foods is headquartered here in Austin, TX, and I know a fair number of people who've worked there. The general consensus seems to be that it's a good company to work for (so long as you're comfortable with the "crunchy" culture) with especially good benefits for a food retail chain. So I was interested to see a piece in yesterday's WSJ by Whole Foods CEO John Mackey advocating an approach to health care reform more similar to the benefits Whole Foods provides its employees. Although Whole Foods is seen as a progressive employer, Mackey's suggestions are more along the lines of what innovative libertarians and conservatives have suggested for health care reform. (If the GOP scores a tactical victory in staving off the many bad ideas in the current health care reform proposal, one hopes they will exert themselves to actually bring something to the table this time, perhaps along these lines.) Extracting his main proposals:
Here are eight reforms that would greatly lower the cost of health care for everyone:
Continue reading →
If I've seemed a bit reclusive on all the recent fuss over the health care bill, town hall meetings, etc., it's because the debate over the current reform package has now entered the phase of American politics that I really don't like. There's an early stage in which ideas are discussed and bills are drafted. People try to put coallitions together, compromises are discussed, and various groups push their policy recommendations. That's the realm I find interesting, and in my small corner of the blogsphere, I enjoy participating, in a strictly informal fashion, in the debate.
But then there's a point when an actual bill (or bills) are on the table, and the democratic melee is let loose. Over the last week I've been reading Alessandro Barbero's The Battle: A New History of Waterloo
, and in light of that it strikes me that there's a certain Napoleonic-battle aspect to all this. A month or two ago we were staring at maps and discussing the merits of different formations, but now everything is shrouded in smoke while innumerable combatants in this democratic struggle (most of whom, on both sides, honestly have a fairly rudimentary understanding of the overall debate) slug it out until we find out which side will hold the field and which will break and run.
In a democratic republic, this is a necessary part of our political process. Continue reading →
The American Association of Retired Persons, A.A.R.P., Vice-President Drew Nannis refused to apologize for how his organization treated their members in a recent town hall meeting.  In that town hall meeting, the A.A.R.P. representative refused to listen to the members and abruptly ended the meeting after what seemed to me as frustration on her part.
Drew Nannis referred to those A.A.R.P. members that voiced their disagreement with A.A.R.P.'s support of ObamaCare as "a bunch of people yelling."
If you take Mr. Nannis' word, he did say that they recently had another town hall meeting, which he refers to as a listening tour, in Dallas where the same moderator and many of the same members did meet and have a much more cordial exchange of views and ideas.
Philip Klein of The American Spectator noted A.A.R.P.'s cozy relationship with President Obama:
Its CEO, Barry Rand, who was a major Obama donor, has gotten cozy with the administration, and along with the rest of the top brass at the Washington headquarters, has decided to support liberal policies.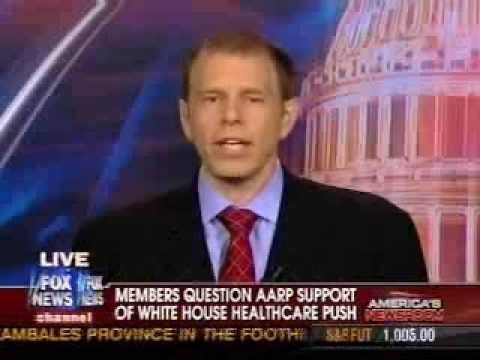 Salvete AC readers!
Buckle Up! Because here are today's Top Picks in the Catholic world:
1. Archbishop Timothy Dolan of New York commended President Obama and the Democratic Party efforts in
reforming Health Care.  He said this during the Knights of Columbus Convention in Phoenix, Arizona.  But his Grace gave this caveat that if reform…
"…leads to the destruction of life, then we say it's no longer health care at all – it's unhealthy care and we can't be part of that."
To accentuate this sentiment and as a warning to well meaning Catholics, Cardinal Levada explained that those that want to reform health care at any cost:
"[W]e do not build heaven on earth, we simply prepare the site to welcome the new Jerusalem which comes from God."
2. Catholic convert Joe Eszterhas of Hollywood screenwriting fame, will be writing the screenplay for a movie about
the Virgin of Guadalupe.  Though no director nor a green light has been given on the go ahead of this movie project, the fact that Joe Eszterhas is writing the screenplay is newsworthy in itself because of the author himself is enough to get the ball rolling in the right direction.
By this stage in the health care debates, most people are aware that roughly 47 million individuals in America do not have health insurance. And many people are further aware that the 47 million statistic is misleading, because roughly 14 million of these individuals are already eligible for (but have not enrolled in) existing government programs, 9 million have incomes over $75,000 and choose not to purchase private insurance, 3-5 million are only temporarily uninsured between jobs, and roughly 10 million do not have the legal right to reside in the country. In the end, this means roughly 10 million U.S. citizens lack meaningful access to health insurance.  It has been noted elsewhere that insuring these individuals would cost a lot less than the $1 trillion proposal currently under consideration in Congress, and further that it would not require a dramatic (and costly) restructuring of the U.S. health care system.
Hattip to Ed Morrissey at Hot Air. John Stossel is an anomaly:  he is a libertarian in a profession, journalism, dominated by liberal democrats.  Here is a column he wrote which summarizes the video, which spent quite a bit of time discussing the shortcomings of Canadian health care.
The experience of Canada under national health care is intriguing.  A battle is raging over the net with opponents of ObamaCare pointing out its shortcomings and proponents rallying to the defense of  the Canadian system.  One often overlooked feature is the role of private medical clinics in Canada.   Recently such clinics have been made legal based upon a Canadian Supreme Court decision and are becoming increasingly popular.  A good article on the subject is here.  Here is another article on the clinics.
I found this quote from the last article linked to curious.
"It's obviously extra billing and queue jumping," says David Eggen, executive director of Friends of Medicare. "If this goes on unregulated, it'll spread like wildfire and we can see it, even in a recession, starting to expand here in Alberta."
Now why would these clinics spread like wildfire if the Canadians are as enamored of their national health care system as the proponents of ObamaCare say they are?  Here is a story from 2006 on the subject which appeared in that notorious right-wing rag The New York Times.   As we debate changing our health care system to something approaching that of the Canadian system, we should also understand that there is a debate in Canada about broadening the availability of private pay health care.
There's been much discussion of late about what other country's health care apparatus the US should consider emulating, and in such discussions France is often mentioned. Now, all cheerful ribbing against the French aside, their health care system is not nearly as "socialized" or nearly as afflicted by treatment denials and waiting lists as those of the UK or Canada. It is also rather more like the system that the US already has, in that it is a hybrid public/private system, though in their case there is a guaranteed base level of coverage everyone has through the government (funded via a hefty payroll tax — not unlike Medicare) which most people supplement with private coverage. Most doctors are in private practice, and 25% do not even accept the public plan, just as some practices in the US do not accept Medicare. However, everyone does have that minimum level of coverage, and the French spend a lower percentage of their GDP on health care than the US (11% versus 16%) which when you take into account that France's GDP per capita is a good deal smaller than that of the US (which is the polite, economist way of saying it's a poorer country) works out to the US spending about twice as many dollars per person on health care, while still not having universal coverage.
So what are we waiting for? Why don't we go enact the French system here right now? Why doesn't Obama put on a jaunty beret, dangle a cigarette coolly from the corner of his mouth, hoist a glass of wine, and just say, "Oui, nous pouvons."
Continue reading →
In light of Zach's stellar posting which generated over 240 comments ranging from anarchism to Oscar Romero and which inspired a posting by Michael Denton.  These comments, although informative to a certain extent, may have detracted from the original intent of the posting.  Henceforth in regards to said activities being done on Zach's posting concerning Representative Chris Smith, I am starting a new tradition here at American Catholic, the open thread.
So feel free to comment to your hearts delight that isn't related to any other postings on this website.
The comments policy is still in place so don't forget to treat each other as brothers and sisters in Christ.
Enjoy.
There's a conversational dynamic which I'm already getting tired of, though I'm sure that we'll see a lot more of it in the coming weeks and months, and it goes basically like this:
A: "I see the following problems with Obama's health care proposal…"
B: "Don't you understand the Church teaches health care is a right? Do you want there to be 47 million uninsured? How can you stand in the way of the one chance to do this? Do you think the current system is just fine?"
Clearly, just because the Democrats in Congress are patching together a 1000+ page bill which has specific characteristic and goes under the title of "healthcare reform" do not mean that this is the only way in which one might seek to reform healthcare. And although this may be the primary alternative to the status quo available at this moment in time, even someone who considers the status quo to be far from perfect might well consider the proposal currently coming together to be worse than the status quo.
Continue reading →
A New Jersey representative was on the floor of the House last night clearly and passionately articulating the connection between state-funded health care and state-funded abortions. Sure, the House was empty and he was talking to two other Representatives. His arguments were no less compelling.
The number of abortions will dramatically increase under the coming state-controlled health care plan. This is something we need to amplify for public consideration; especially to those of a religious mindset who may be inclined to favor state-enforced health care.
I hope to find a video soon; let me know if you do!
MSNBC recently did an interesting piece on the shortage of primary care practitioners, which has become particularly acute in rural and low-income areas. As a result, many older doctors feel that they cannot retire because there is no one to take their place:
There are not enough general care doctors to meet current needs, let alone the demands of some 46 million uninsured, who threaten to swamp the system.