Health Care Debate
Pertinent to recent discussions of Stupak and the role of the USCCB in advancing the health care bill, Edward Feser offers his reflections on Bart Stupak, the USCCB and the Catholic principle of subsidiarity:
… before the health care bill vote, the USCCB urged Congress either to alter the bill to prevent federal funding of abortion or to vote the bill down. (The USCCB also objected to the bill's failure to extend coverage to illegal immigrants.) But the letter in which this request was made also emphasized that "for decades, the United States Catholic bishops have supported universal health care," that "the Catholic Church teaches that health care is a basic human right, essential for human life and dignity," and that it is only "with deep regret" that the bishops must oppose passage of the bill "unless these fundamental flaws are remedied" (emphasis added).

Needless to say, the impression these words leave the reader with – whether the bishops intended this or not – is that, were abortion (and coverage of illegal immigrants) not at issue, the moral teaching of the Catholic Church would require the passage of the health care bill in question, or something like it. In fact the teaching of the Church requires no such thing. Indeed, I would argue (see below) that while the Church's teaching does not rule out in principle a significant federal role in providing health care, a bill like the one that has just passed would be very hard to justify in light of Catholic doctrine, even aside from the abortion question. Nevertheless, as I say, the bishops' language would surely leave the average reader with the opposite impression. And as the bishops themselves remind us, they have "supported universal health care" for "decades," in statements that also would leave the unwary average reader with the impression that Catholic moral teaching strictly requires as a matter of justice the passage some sort of federal health care legislation. On the day Obama signed the bill into law, Cardinal Francis George, a bishop with a reputation for orthodoxy, urged vigilance on the matter of abortion while declaring that "we applaud the effort to expand health care to all."
Read the rest!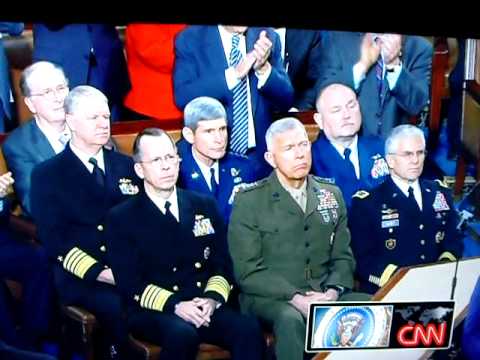 Although I tend to agree with my friend Paul Zummo, the Cranky Conservative, that the State of the Union address is our annual self inflicted ritual of boring torture, I did have the State of the Union on as background noise while I went about other tasks.  I was amazed at what a self-indulgent exercise in venting it mostly was.  Things haven't gone Obama's way, and last night he decided to engage in a little Presidential talk-therapy.  The tedious length, reminiscent of some of Bill Clinton's efforts, indicated that this was an undisciplined opportunity for Obama to lash out at his opponents.  Three more years of this should be as much fun for the country as my last root canal was for me.
Two points struck me as particularly odd.  Obama telling Democrats in Congress that this was not a time to "head for the hills" in panic over the looming elections.  This is the type of statement that he might make to them behind closed doors, but certainly not in a State of the Union address so as to remind the nation that Democrats are in panic mode.  Doing so will not calm jittery Democrats in the slightest.  The second point was his reopening the issue of gays in the military.  I could just hear Blue Dogs from Republican areas thinking, "Well thanks Mr. President for driving another nail in my coffin in November!"  Obama has obviously decided that if he is going down, he will do so as a champion of Liberal orthodoxy.  I doubt if this will please the Democrat members of Congress more rooted in electoral reality.
Those are my thoughts, what are yours?
As he comes under increasing pressure from the Obama administration, Congressman Bart Stupak is publicly stating that he and his colleagues in the House will stand firm on pro-life principles and reject any bill that allows public funding of abortion.
At this point I am fairly certain I don't want the Obama administration to have a thing to do with my health coverage. Nor am I convinced that a bill which leftists, libertarians, and conservatives (do I really need to link anything?) are rejecting and deriding – for different reasons, of course – is really going to end up helping the poor. Whether it is a massive giveaway to insurance companies, an unwelcome and unaffordable expansion of government power and control, or both, I see no compelling reason to support the bill, even without public funding of abortion.
If Stupak is successful and abortion funding is out of the final bill, there are at least 40 House Democrats who have pledged to vote against it (because the right to have the government pay for the murder of one's own children is more important than insuring the poor, I guess). That will probably kill it. And if he fails, he has hinted that he and at least 10-12 of his colleagues will vote no on the bill, which may be enough to kill it.
So, either way, I say, go Bart go, Godspeed. Because if this monstrosity does get passed, I'd at least like to know that our tax dollars aren't funding child murder. Pro-life Democrats have demonstrated their ability to influence and even steer the course of national policy. In my view, that is a positive thing no matter what else results.
Nancy Pelosi, Harry Reid, and Barack Obama continue to spend, spend, spend away money we don't have.  With the public option now firmly established in the current Senate version of the health care bill, Election 2010 comes to mind.
Kick the bums out.
I love democracy.
(Biretta Tip: Glenn Foden of NewsBusters)
Daniel Cardinal DiNardo defended the Church's involvement in removing abortion from the House version of the health care bill after a storm of criticism was leveled against the U.S. Conference of Catholic Bishops (USCCB) of "lobbying" concerning the last minute addition of the Stupak Amendment.
"We would say: If you call it lobbying, we're lobbying on moral issues that relate to the public square and we feel we have, as religious leaders, a place in that debate with others,"
Cardinal DiNardo became chair of the Committee on Pro-Life Activities at the USCCB.  He is also the ordinary of the Archdiocese of Galveston-Houston.  His Eminence represents a growing cadre of bishops that are leading their flocks out of the wilderness bravely in a fallen world.
All throughout 2009 many bishops have entered the national debate in regards to defending fundamental moral values and rectifying misinformation from wayward Catholics in political life.  This year seems to be the year the bishops found their voice.  Not since Francis Cardinal Spellman graced the New York Archdiocese have we seen the faithful being led with strong ecclesial leadership from all parts of the country.
Ed Stoddard of Reuters' religion blog Faithworld carries a roundup of the skirmish between Congressman Patrick Kennedy, the son of the late Senator Edward Kennedy, has claimed that Rhode Island Bishop Thomas Tobin.
In conclusion, Stoddard asks:
This leads to a question about the consistency of views in the U.S. Catholic Church leadership. The Church opposes abortion and therefore liberal politicians who support abortion rights risk being refused communion. The Church supports a healthcare overhaul that would make the system more equitable. So does a conservative Catholic politician who opposes this reform risk being denied communion for ignoring the Catholic social teaching that justifies it?

How about support for capital punishment, which the Vatican says is unjustified in almost all possible cases, or for war? In the build-up to the Iraq war, Pope John Paul was so opposed to the plan that he sent a personal envoy to Washington to argue against it. Did bishops threaten any measures against Catholic politicians who energetically supported that war despite Vatican opposition?
The author's questions reveal an elementary ignorance concerning the moral issues in question and their relationship to varying levels of Church teaching. While I am disappointed by his answer (Faithworld is generally one of the better and more educational "religion blogs" in the secular media), it is understandable — as even many Catholics find themselves confused on this matter. Continue reading →
[vodpod id=Groupvideo.4019473&w=425&h=350&fv=]
Justin Cardinal Rigali of the Archdiocese of Philadelphia emphatically stated that no Catholic can vote for a health care bill that carries abortion.  He did say that the American bishops have been working diligently in getting health care for all individuals here in America and that the Catholic bishops do support a health care bill that does not provide or pay for abortions in anyway possible.
Cardinal Rigali's comments came at the press conference announcing an unprecedented coalition of Catholic, Orthodox, and Protestant leaders uniting behind a call to Christian conscious, the Manhattan Declaration.
Senator Bob Casey, Jr., I hope you're listening, your soul is on the line.
_._
To read about the Manhattan Declaration click here.
(Biretta Tip: CNSNEWS.COM)
This past week, I began reading the novel 1984. For those who have not read it, it is a futuristic novel describing a society that lives under the rule of a totalitarian government described as "the Party."  The government controls and monitors every aspect of human life and even practices historical revisionism quite literally—burning books and re-writing history—to have everything reflect whatever it (the government) happens to be saying. The agencies within the government are all a blatant contradiction. The Ministers of Truth re-write history and instigate direct government propaganda through always-on "telescreens" found literally everywhere in society that don't turn off; the Ministers of Peace advocate war; the Ministers of Plenty plan economic shortages, and the Ministers of Love carries out the government's "corrective" punishment and torture of its rebellious citizens.
In one scene, there is a Hate rally (which occurs regularly to inspire hatred within the people for the enemies of the Party) and at the rally the Party shifts its diplomatic allegiance, so the nation it has been warring with is suddenly its ally, and the former ally is now the enemy. Despite the obvious contradiction when the speaker changes the nation he refers to as the enemy during his speech, the crowd simply accepts the change without question and even is embarrassed that they brought wrong signs to the event. Just in the same way people accept the ministries conducted by the Party aforementioned even though they blatantly contradict their titles in their action. What is with the collective intellectual schizophrenia? How can people look right passed the most obvious facts? This theme that runs throughout 1984 is about a troublesome little tendency to believe or argue for some truth that obviously and patently contradicts other truths.
In the ongoing health care debate, this same sort of schizophrenia has come about. I almost shouted "yes!" in a public library when finally I saw the political contradiction pointed out in the Washington Post:
After years of trying to cut Medicare spending, Republican lawmakers have emerged as champions of the program, accusing Democrats of trying to steal from the elderly to cover the cost of health reform. Continue reading →
I have been on the sidelines in the huge health care debate, I find so many good and bad effects in all the proposals I have seen up to now. The first thing to note is that I am swamped by health care bills- one-third of my gross income goes straight to United Health, and then add in co-pays, and some recent Mayo Clinic extra's, and you get the idea- "Help!".  I can see how many good people with fulltime jobs and HMO health insurance coverage, are still at risk of bankruptcy if they or their kids get struck down with anything approaching serious or chronic medically.
The problem is compounded by the very real situation of how almost all of us are in some or a lot of danger when it comes to being laid-off from that full-time work- and many Catholics like myself- have wives that are home by choice to better nurture our kids. Ugh! Lose your job, lose your insurance or pay for COBRA which you can't afford because you don't have a job- Double Ugh!
Politicians make asinine statements all the time, but sometimes there is one that stands out from the crowd for its sheer cluelessness, duplicity and perversity.  Patrick Kennedy, yep, one of Teddy Kennedy's sons, a Democrat member of Congress from Rhode Island, lambasted the Church for not falling into line behind ObamaCare. Here is a statement that he made  to CNSNews.
"I can't understand for the life of me how the Catholic Church could be against the biggest social justice issue of our time, where the very dignity of the human person is being respected by the fact that we're caring and giving health care to the human person–that right now we have 50 million people who are uninsured," Kennedy told CNSNews.com when asked about a letter the U.S. Conference of Catholic Bishops (USCCB) had sent to members of Congress stating the bishops' position on abortion funding in the health-care bill.
Yesterday Rush Limbaugh said that Democrats should be denied health care.  No, no, wrong radio personality!   If Rush had said anything that stupid, rest assured that you wouldn't have had to wait to read about it on this blog to learn of it.  The networks would have been shouting the news and condemnatory editorials would have been thundering from newspapers coast to coast.  Instead it was just Garrison Keillor, National Public Radio's Mark Twain wannabe, who decided that there are just too darn many Republicans and by gosh something should be done about it.  (As they would doubtless phrase a call for gopcide in Lake Wobegon.)  Writing in the Chicago Tribune,  Keillor has this charming sentiment:
When an entire major party has excused itself from meaningful debate and a thoughtful U.S. senator like Orrin Hatch no longer finds it important to make sense and an up-and-comer like Minnesota Gov. Tim Pawlenty attacks the president for giving a speech telling schoolchildren to work hard in school and get good grades, one starts to wonder if the country wouldn't be better off without them and if Republicans should be cut out of the health-care system entirely and simply provided with aspirin and hand sanitizer. Thirty-two percent of the population identifies with the GOP, and if we cut off health care to them, we could probably pay off the deficit in short order.
Denying health care on the basis of political ideology.  Nice guy.  Of course Keillor was merely joking.  He has a long history of hating Republicans,   but I am sure he merely jokes, and perhaps fantasizes, about the deaths of those who have the temerity of disagreeing with him politically and in reality he would never harm a fly.  At least a Democrat fly.
Blackadder has had a couple very interesting posts lately arguing that a public health insurance program wouldn't sound the death-knell to private insurance companies (and hence competition for the consumer) which many have been arguing it would.
What I find interesting is the vehemence of the left regarding a public option… consider this quote from a WaPo story today: Continue reading →