Harry Reid
Like Jim Geraghty, every time Harry Reid opens his mouth I'm left wondering how we didn't defeat him last time out.
In his opening speech on Wednesday, Reid called on theSenate to quickly move forward on the passage of S. 1789, the 21st Century Postal Service Act, which restructures pensionplans for Postal Service employees as well as allows the USPS to access overpayments in the Federal Employee Retirement System.

"Madam President," Reid said to Sen. Kirsten Gillibrand (D-N.Y.), the presiding officer of the Senate, "I'll come home tonight here to my home in Washington and there'll be some mail there. A lot of it is what some people refer to as junk mail, but for the people who are sending that mail, it's very important. "And when talking about seniors, seniors love getting junk mail. It's sometimes their only way of communicating or feeling like they're part of the real world," Reid continued. "Elderly Americans, more than anyone in America, rely on the United States Postal Service, but unless we act quickly, thousands of post offices … will close. I've said this earlier today; I repeat it."
I think this comment requires me to break out the big guns.  Yes, it's time to up the ante and respond the only way that seems appropriate.  It's time for:
With five days until election day, I decided to take a close look at each of the Senate races, and to offer some prognostications about how I think each will end up.
First, the lock-solid holds for each party: Continue reading →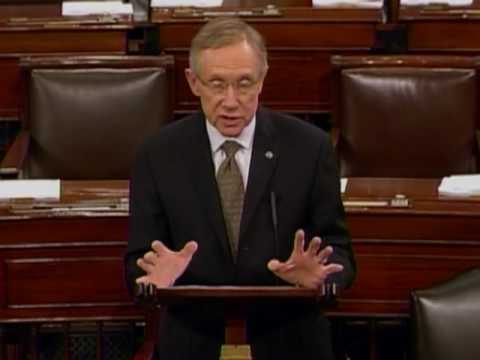 As faithful readers of this blog know, I am Joe Biden's number one fan.  Not for his meaningless job as Veep, which does suit Joe like a velvet nose warmer as long as Obama, please God!, remains in good health.  I am of course referring to his real job:  beloved National Clown.  In these dark days of the Obamacession, he has lightened the national mood with his verbal pratfalls, non-sequiturs, theater of the absurd behavior, inability to think first and talk later and, in general, his heroic willingness to be a fool 24/7 to put a smile on our faces as we stare into the economic abyss.  A tear almost comes to my eye when I think of Joe's unflappable dedication to a comic idiocy which no doubt is being loudly applauded by the  Three Stooges and the Marx Brothers in that land which knows only laughter.  We love ya Joe!
Therefore I can only view with complete alarm the ongoing campaign being waged by Senate Majority Leader Harry Reid to take away from Jolly Joe his status as our National Fool.  True, Harry Reid has always been given to saying wacky things.  For example, in 2008 he referred to Obama as a light skinned negro who didn't speak with a negro dialect unless he wanted to have one.  In 2008 he gave his opinion of tourists in Washington:  "You can always tell when it is summertime because you can smell the visitors. The visitors stand out in the high humidity, heat, and they sweat."  In 2009 he referred to tea-party members as "evil-mongers".  So a certain level of daffiness is standard operating procedure for Reid. Continue reading →
A roundup of recent political news.
1.  Nikki Haley, see the above video, crushed her opponent in the runoff 65-35.  She survived bizzare accusations of infidelity, attacks on whether she is a Christian, her parents are Sikh immigrants, and outright racism.  She is only 38 years old, her youth being something she has in common with the new generation of conservatives running and winning this year.  She has a 20 point lead on her opponent in the general election and is the odds on favorite to win in the fall and be the next governor of South Carolina.
2.  Tim Scott handily won his runoff against Paul Thurmond for the Republican nomination for Congress from South Carolina 1.  This is a heavily Republican district, so Mr. Scott, who many consider to be the most conservative member of the South Carolina legislature, will now almost certainly be the first black Republican congressman from South Carolina since Reconstruction.
3.  The bad news for the Democrats for November just will not stop.  Gallup released a poll this week which shows a huge enthusiasm gap in favor of the GOP.
The current average is based on four measures of this enthusiasm question since February, including the recent June 11-13 USA Today/Gallup poll. In that poll, 53% of Republicans said they were more enthusiastic than usual about voting and 39% were less enthusiastic, while 35% of Democrats said they were more enthusiastic about voting and 56% were less enthusiastic.
Republicans' net score of +14 more enthusiastic in the latest poll compared with the Democrats' net score of -21 represents the largest relative party advantage Gallup has measured in a single midterm election-year poll. More generally, Republicans have shown a decided relative advantage in enthusiasm throughout 2010, averaging a net score of +28, compared with Democrats' net score of 0.
(Gallup instituted a separate enthusiasm question in March on its Daily tracking survey, which asks voters to say how enthusiastic they are about voting this year as opposed to comparing their current enthusiasm to their enthusiasm in prior elections. This new enthusiasm question lacks a historical trend but has also shown a consistent Republican advantage throughout the year.)
The 28 percentage-point party difference in net scores on the "more enthusiastic than usual" question in 2010 is the highest Gallup has measured in a midterm election year, with 1994′s 17-point Republican advantage the only other midterm election-year gap coming close. (See the table at the end of the article for full data by party.)
(Biretta Tip: Lucianne)
Nancy Pelosi, Harry Reid, and Barack Obama continue to spend, spend, spend away money we don't have.  With the public option now firmly established in the current Senate version of the health care bill, Election 2010 comes to mind.
Kick the bums out.
I love democracy.
(Biretta Tip: Glenn Foden of NewsBusters)
The Senate defeated the pro-life Nelson amendment that would have disallowed public money to be spent on killing babies.
Steven Ertelt of LifeNews.com explains what the current bill contains without the pro-life Nelson amendment:
The legislation currently allows abortion funding under both the public option and the affordability credits to purchase health care insurance.
Pro-abortion Republicans Olympia Snowe and Susan Collins of Maine voted along with most Democrats when pro-abortion Democrat Senator Barbara Boxer of California moved to kill the bill.  Democratic Senators Bob Casey, Jr. of Pennsylvania, David Pryor of Arkansas, Byron Dorgan and Kent Conrad of North Dakota, Edward Kaufman of Delaware, and Evan Bayh of Indiana voted along with the rest of the Republicans to not kill this amendment.
Extremist Democrats and liberals are hailing Harry Reid's Health Care bill as a victory for pro-abortion activists.  Though
the United States Conference of Catholic Bishops (USCCB) has called it "completely unacceptable".
…Richard Doerflinger, associate director of the bishops' conference Secretariat of Pro-Life Activities, said Reid's "is actually the worst bill we've seen so far on the life issues."

He called it "completely unacceptable," adding that "to say this reflects current law is ridiculous."
Future historians may mark this vote as the day Obamacare died.   Harry Reid was unable to have the senate invoke cloture and end debate on a bill which would dump 250 billion in medicare reimbursements over 10 years from the health care bill and throw it into the general budget deficit with no hint as to how this quarter of a trillion dollars would be paid for.  In order to invoke cloture Reid needed 60 votes, he got 47.  13 Democrats joined all 40 Republicans in refusing to invoke cloture.
The whole purpose of this shell game was to improve the image of the health care bill by reducing the cost by 250 billion dollars.  I guess the senators who voted against ending debate realize that most voters would be able to see through this inept attempt to reduce the cost by shuffling a mountain of red ink into the general deficit abyss. Continue reading →
"THE FROGS WHO WISHED FOR A KING
The Frogs were tired of governing themselves. They had so much freedom that it had spoiled them, and they did nothing but sit around croaking in a bored manner and wishing for a government that could entertain them with the pomp and display of royalty, and rule them in a way to make them know they were being ruled. No milk and water government for them, they declared. So they sent a petition to Jupiter asking for a king.
Jupiter saw what simple and foolish creatures they were, but to keep them quiet and make them think they had a king he threw down a huge log, which fell into the water with a great splash. The Frogs hid themselves among the reeds and grasses, thinking the new king to be some fearful giant. But they soon discovered how tame and peaceable King Log was. In a short time the younger Frogs were using him for a diving platform, while the older Frogs made him a meeting place, where they complained loudly to Jupiter about the government.
To teach the Frogs a lesson the ruler of the gods now sent a Crane to be king of Frogland. The Crane proved to be a very different sort of king from old King Log. He gobbled up the poor Frogs right and left and they soon saw what fools they had been. In mournful croaks they begged Jupiter to take away the cruel tyrant before they should all be destroyed.
"How now!" cried Jupiter "Are you not yet content? You have what you asked for and so you have only yourselves to blame for your misfortunes.""
Like most conservatives, after last year's election I thought that Obama would prove a President Crane as far as conservatives were concerned.  With large Democrat majorities in the House and Senate I assumed that Obama would implement changes in this country to send it on a left-ward trajectory.  Instead, other than passing the Bankrupt the Nation Act of 2009, sometimes erroneously called the Stimulus bill, Obama has accomplished virtually nothing, a fact which even Saturday Night Live is now mocking. This is astonishing considering the size of his victory last year and the strength of his party in Congress.  Or is it?  I believe there were clear clues from the background of Obama that this might occur.
President Obama will be dropping the socialistic Public Option from his government-run health care plan.  This will certainly anger the liberal wing of the Democratic Party and make for some interesting showdowns with both House Speaker Nancy Pelosi and Senate Majority Leader Harry Reid (emphasis mine).
"…Obama's willingness to forgo the public option is sure to anger his party's liberal base. But some administration officials welcome a showdown with liberal lawmakers… …The confrontation would allow Obama to show he is willing to stare down his own party to get things done."
Megan McArdle links to a Financial Times piece by Clive Cook which includes the following quote:
The gap between the right of the Republican party, which is providing the angriest critics of the reforms, and the left of the Democratic party, which thinks the proposals too timid, is unbridgeable. These groups do not merely disagree. They despise each other. Their differences are only secondarily about policy. They hold each other's values in contempt.

These snarling extremes are nonetheless somewhat alike. They have an equal and opposite penchant for conspiracy theories. Almost a third of Republicans, according to a recent poll, believe the unsupported story that Mr Obama was not born in the US (in which case he would be disqualified from serving as president). But remember that more than a third of Democrats subscribe to the even more outlandish theory that the Bush administration knew about the attacks of September 2001 in advance.
One of the annoying qualities of national debate over the last several months (which seems to increase as Democrats become more desperate about their flagship legislation) is the attempt to find the very looniest possible elements of the right and portray them as being mainstream. Continue reading →