Government-Run Health Care
[Updates at the bottom of this posting as of 3:03am CDT on AD 9-10-2009]
President Obama's speech covered many topics, lets first layout our President's plan:
I. Keep the health insurance you have now.
1.  Pre-existing symptoms or disabilities no longer will disqualify anyone from coverage.
2.  No spending caps set by insurance companies.
3.  No drop in coverage in the middle of an illness.
4.  Limit on out of pocket expense.
5.  Minimal requirements of coverage.
II. Public Option & Exchange

1.  When losing your job you have the Public Option if you can't afford insurance.
2.  Insurance exchange markets will be required for insurance companies to participate in.
3.  Tax credits for small businesses.
4.  In theory this will not lead to a government take over.
[Updates at the bottom of this post as of 5:52am CDT on AD 9-9-2009]
News is emanating from the White House that President Obama's monumental speech will push for the infamous public option.  It is well known that most Republicans will call this a deal breaker but at the same time liberal Democrats will say the opposite that no Health Care bill will get through if it doesn't contain a public option.
Jonathan Weisman and Janet Adamy have reported in the Wall Street Journal that President Obama will be pushing for the public option.  It is also being reported that there will be penalties imposed to those that are not paying for Health Care, regardless of the reasons.
White House aides acknowledged they expect little Republican support if any.
Isn't it obvious that most of our American ancestors came over from Europe because they wanted life, liberty, and the pursuit of happiness?  They fled totalitarian regimes, socialist governments, and anti-Christian repression for the freedom that is afforded all Americans.
We have the best health care in the world precisely because it is not operated by the government.  Private industry drives innovation, government regulation or government-run health care eliminates innovation, awards bureaucrats, and ultimately leads to marginal health care in the long run.
We are Americans, not Europeans.  Yet President Obama, Congressional Democrats, and well-meaning liberals and progressives want to emulate European health care programs.  What Europeans have is not necessarily right nor good.
Today Senator Chuck Grassley, the top Republican on the Senate Finance Committee, said that senators are excluding a provision on end-of-life care from the House bill.  This is a major victory for ordinary Americans.
As senior citizens voice their displeasure with "death-panels" and other provisions in the House bill, the Democrat leaders are grudgingly realizing that maybe, just maybe, some provisions in their House bill will not pass with the American public.
The most recent polls show that the demonizing tactics of President Obama and Speaker Pelosi have failed to cover the growing grassroots activism that is rising among ordinary Americans.
[Updates at the bottom of this posting.  Most recent update at 6:54 pm CST 8-10-09]
Nancy Pelosi, the liberal Democratic Representative from San Francisco, wrote early this morning in a special USA Today
editorial that those protesting against government run health care are "un-American".
It is clear to Representative Pelosi and her cohorts that the majority of Americans do not want further government intrusion into their lives, hence Mrs. Pelosi's attempts at demonizing ordinary Americans.
Drowning out opposing views is simply un-American.
She is referring to the many town hall meetings where Americans were voicing their displeasure to government run health care.  Deliberately smearing Americans for voicing their opinions.
Sadly, the mainstream media is doing their part in painting these town halls as darkly as possible, regardless of the evidence that SEIU goons, Blueshirts, have already attacked health care protesters.
Let's wait until the 2010 congressional elections and see their opinions voiced in turning back European style socialism by voting these malefactors out of office.
Update I: House GOP Leader John Boehner (Ohio) ripped his Democratic counterparts Monday for labeling those disrupting lawmaker town halls as "un-American."  Read the rest of this here.
Update II: The guy that beat up Mr. Gladney:
Elston K. McCowan is a former organizer – now the Public Service Director of SEIU Local 2000 – and board member of the Walbridge Community Education Center, and is a Baptist minister, has been a community organizer for more than 23 years, and now, he is running for Mayor of the City of St. Louis under the Green Party.
McCowan accused the Mayor of setting fire to his van . . . because that's what big city mayors do in their spare time, I guess.  He also called [St Louis Mayor Francis] Slay a racist.  And, on election night, McCowan thanked the family who voted for him.  It was quite touching, actually.
McCowan is not a rank-and-file, card-carrying union guy.  He is a director with SEIU. He IS the union.  He ISSUES the cards. Andy Stern himself might as well have kicked Gladney.
Read the rest here.

It's been an interesting week in the world of American politics.  With the arrogance of congressional Democrats and the White House attempts at discrediting a grassroots movement, the passions will certainly continue to climb after the weekend is over.
Here are some highlights from these past few days:
1. At a town hall last week in Dallas, an elderly "mob" with "manufactured" outrage questioned AARP's support for nationalized health care, asking: "Do you work for us or do we work for you?"
There were no swastika-wearing grannies at Tuesday's meeting, as House Speaker Nancy Pelosi might claim. Nor were they "taking their cues from talk show hosts, Internet rumor-mongers . . . and insurance rackets," as Senate Majority Leader Harry Reid has said.
But they were mad as hell at the perception that AARP was selling them out in the name of government-run medical insurance. That perception was not helped when the AARP town hall on the subject was shut down by the seniors outfit once the members dared to ask questions. The AARP representatives did not want to hear from the members at all. Just send in your dues, granny, and be quiet.
To read the rest of this IDB Editorial click here.
2. You've heard a lot about this crazy, scary, vicious mob on some shadowy GOP payroll. By the way the DNC, Rachel Maddow, and President Obama talk, you'd think it was a motley crue of Hell's Angels.
Let me introduce you to the mob:
[Updates at the bottom of this posting.  Most recent update at 7:41 pm CST]
On Thursday, August 6, the White House call to arms by Deputy Chief of Staff David Axelrod, "punch back twice as hard", at the growing grass roots movement opposing government single-payer health care produced the first violent incident later in the day.  During a Town Hall Meeting with U.S. Rep. Russ Carnahan at Bernard Middle School gym in south St. Louis County, Service Employees International Union (SEIU) members dressed in dark purple shirts, though they look blue in the video below, attacked a black American protester by savagely beating him.  The protester ended up in the Emergency Room of St. John's Mercy Medical Center.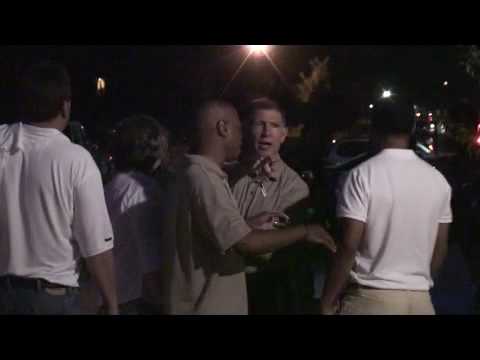 Lots of videos of townhalls here where members of Congress face outraged constituents.
Liberals can relax however.  The AFL-CIO is going to send out union members to restore order at the townhalls.  I look forward to the footage when a union leg breaker decides to take a swing at someone who is not enamored of ObamaCare.  In the age of cell phone videos nothing will escape being placed on video.   Conservative union members, your dues money at work.   My late father was a member of Allied Industrial Workers for 30 years, and it used to anger him intensely that his dues were used to support political causes he adamantly opposed.  If you don't like this and you are a member of a union, you might want to attend a townhall meeting!  Although maybe they won't let you in.  At the Russ Carnahan town meeting in Saint Louis over a thousand protesters were locked out and only Carnahan supporters were allowed in. Similar tactics were used at a townhall in Tampa.  That will solve the problem!  Lock people out who disagree with the person purporting to represent them in Congress!
The Left  is completely misreading this situation.  This isn't a matter of just Republicans and Conservatives.  There is a prairie fire of anger burning in this country, and it is not going to be stopped by biased media, attempts at intimidation, White House calls for informants or locking citizens out of townhall meetings.
Update: An  update here from Gateway Pundit on the violence at the Carnahan town meeting.
[Updates at the bottom of this story]
While the Democrats continue to dig holes big enough for their smarter-than-thou heads to plant in and ignore the rising public outrage of government intrusion, regular Americans continue to raise their voices of displeasure to President Obama's health care "reform".
On August 4, 2009, an A.A.R.P. Town Hall meeting was being conducted for members when a group of well-dressed Nazi's carrying swastika banners sabotaged the meeting.
That's the Nancy Pelosi/CNN version of events, here is what actually happened: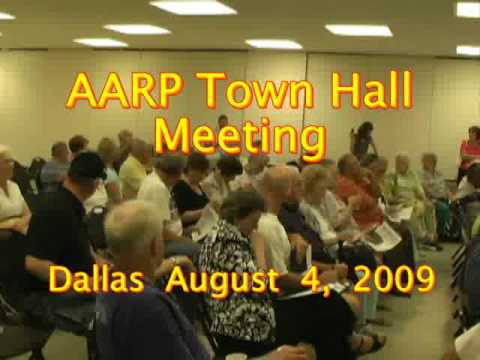 Here are some highlights from the above video:
1.  Spokesperson: "I think we can agree that health care is in need of reform…".
AARP Attendee's: "No, we don't agree!"
I must say, although I have never been a fan of the Lying Worthless Political Hack, I was surprised at this latest example of the depths of her political ineptitude and detachment from reality.  As to her comment about "astroturfing" ( creating a fake, rather than a real, grassroots movement), David Axlerod, the campaign manager of Obama, built a large fortune by mastering the techniques of astroturfing as this article here relates.  Alas for the Lying Worthless Political Hack, as the polls amply indicate, the opposition to ObamaCare is real and growing.
Update: The indispensable Iowahawk has the White House Under Minister for Truth, former ABC and CBS reporter Linda Douglass, explaining here all about those evil townhall mob agitators!
Hattip to the ever reticent Lads and Lasses at the Lair of the Catholic Cavemen. Yesterday I had a post celebrating the warm reception that Secretary Sebelius and Senator Specter received at a town hall meeting.  Now the indispensable Iowahawk has thoughtfully penned here, a response to the voters for Secretary Sebelius and Senator Specter.  No doubt they will be duly appreciative of his efforts, and Iowahawk will probably enjoy his time on the no-fly list.
Hattip to DrewM at Ace of Spades HQ.  This from the White House Blog:
"There is a lot of disinformation about health insurance reform out there, spanning from control of personal finances to end of life care.  These rumors often travel just below the surface via chain emails or through casual conversation.  Since we can't keep track of all of them here at the White House, we're asking for your help. If you get an email or see something on the web about health insurance reform that seems fishy, send it to flag@whitehouse.gov."

I trust that some of the Obama supporters who frequent our site will draw the attention of the White House to a few of my posts regarding ObamaCare on this blog.  When you do please remember that the last name is spelled McClarey, not McCleery, McClaren, McClary, etc.  Thank you!
Update I: Ed Morrissey at Hot Air has some pointed comments here about the sheer political stupidity of the White House making this public call for informants.