George W. Bush
As I watched the situation in Egypt descend into chaos and violence, I started to think about how Bush would have handled these situations. Bush's foreign policy was predicated upon a belief that America had a duty to spread democracy. I wonder if Bush would have been more quick than the Obama administration to side with the protesters. Although I appreciate that the US has a very delicate situation here, I wonder if now we've acted too late and not presented the positive pro-democracy face we could have to the people of the Middle East.
I also wonder if we need to reevaluate our appraisal of Bush. After all, Bush was mocked for believing that bringing democracy to Iraq would help spark the fire of democracy in the Middle East. While I still think the Iraq war did not meet the requirements of a just war, it is hard today to say that Bush was completely wrong. We've already seen Iran's people rise up (though they failed) and today we see the people of Yemen, Egypt, and Jordan protesting. I don't know if they'll be successful, and I don't know how much our presence in Iraq has helped or hurt democracy in the Middle East.
But it does seem clear that the Middle East is seeking more and more to be democratic and that the United States may need to rethink its strategy and partners not only to improve its image in the area, but more importantly help the Arab people secure a free and democratic government.
With the news of Israel's blockade of Gaza still hot all around the world because of the Israeli attack on the activist boats- I think it is important to look back and assess how we have got to this point of chaos, confusion and rage.
1600 words.
Sigh. I hate this. I really do. I was going to write more about populism, but a recent angry outburst directed at me prompted this instead.
I hate having to clarify a position that will likely cause at least some people who agree with me on 95% of issues to become my embittered, mortal enemies over the remaining 5%. But I'm just the sort of guy who must perpetually set the record straight. Don't blame me, blame my personality.
I agree with Ron Paul and Pat Buchanan on American foreign policy. So do a lot of the troops, by the way – the people who actually have to fight America's wars gave more money to Ron Paul than to any other GOP candidate during the 2007-08 primaries (please don't listen to people who factor in McCain's contributions after April of '08, when Paul withdrew from the race).
This is to say, I support an non-interventionist (not "isolationist") foreign policy. I will give you four reasons why.
Read the rest and comment here.
The video speaks for itself.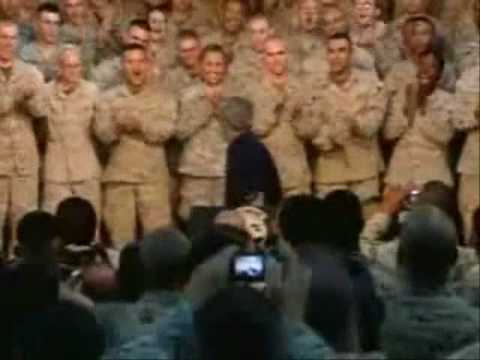 _._
(Biretta tip:  Michael Medved)
Solicitor General Elena Kagan, President Obama's nominee to the Supreme Court, is already being painted as a moderate by the media and some political interest groups. This portrayal of Kagan is difficult to dispute comprehensively because of her lack of a public record and accompanying statements that delineate her actual personal views on judicial philosophy, thus, complicating the venture of placing her on an ideological spectrum. 
Despite this hermeneutical difficulty, allegedly confident political portraits have been made with the details that we do know about Elena Kagan. The New York Times on May 11 published a piece—"As Clinton Aide, Kagan Recommended Tactical Support for an Abortion Ban"—by Peter Baker discussing a memorandum authored by Kagan while she was working for the Clinton Administration. Kagan in the memo counseled President Clinton to support an amendment, authored by Senator Tom Daschle (D-SD), to Republican-sponsored legislation to ban partial-birth abortion that would include an exception for the "health" of the pregnant women in a ban—so broad an exception that it could be easily employed as a loophole that would prevent few, if any, partial-birth abortion procedures.
President Clinton and his advisors (in this case, Kagan) anticipated that the Daschle amendment would not secure enough votes to pass, but White House support could provide enough political cover for Democratic lawmakers who could reiterate their alleged support of the partial-birth abortion ban, but justify their vote against it because of the lack of inclusion of the broad "health" exception for the pregnant woman. In the end, the Daschle amendment failed and the Republican-sponsored partial-birth abortion ban, endorsed by the National Right to Life, was successfully sent to President Clinton who consequently vetoed it.  Kagan's advice to the President was successful and held up the passage of a partial-birth abortion ban for six years.
Douglas Johnson, the legislative director of the National Right to Life, before a joint-hearing before the U.S. Senate Judiciary Committee and the Constitution Subcommittee of the U.S. House Judiciary Committee in 1997 said:
"The Clinton-Daschle proposal is a political construct, designed to provide political cover for lawmakers who want to appear to their constituents as if they have voted to restrict partial-birth abortions, while actually voting for a hollow measure that is not likely to prevent a single partial-birth abortion, and which therefore is inoffensive to the pro-abortion lobby."
In other words, a better reading of the facts is not that Kagan is "in the middle" on abortion, but rather she was advising President Clinton of the pragmatic steps (endorsing a pseudo-ban on partial birth abortion) needed to defeat the actual pro-life measure. Kagan may very well be a "legal progressive" as was recently claimed from the White House defending the nominee from the political left suspicious of her liberal credentials. Continue reading →
In recent months, primarily due to the health care debate, much attention has been given to the contentious issue of public funding of abortion. Though it is true that the status quo, for the most part, has been not to directly subsidize abortion, Americans have been both directly and indirectly subsidizing abortion in a number of ways virtually since its legalization in 1973. Continue reading →
[Updates at the bottom of this post as of 1-27-2010 at 4:20pm CST]
Victimhood personified by a modern liberal of the Democratic Party.  Where is Harry "the BUCK stops here" Truman?
I've written about this before, but it's nice to see Daniel Larison making the point with characteristic clarity in an interview with The Economist:
Iraq was also the policy that turned the public so sharply against President Bush prior to the 2006 mid-term elections, and those elections were and were correctly seen as a rejection of the war and Mr Bush's handling of it. The war was the main issue of those elections, and the GOP lost control of Congress because it had identified itself completely with the war and its members in Congress continued to be its most vocal defenders. By national-security conservatives, I mean those members of the conservative movement who have a primary and overriding focus on foreign policy and national-security questions, and who typically take extremely hawkish positions. They were the leading advocates and cheerleaders for the invasion. Most movement conservatives supported the policy, but it was the national-security conservatives who drove the party into the ditch while the others went along for the ride.
As the recession continue to take its toll on our fellow Americans, rendering more and more of them homeless, tent cities have begun sprouting up across this great country.  It would not be fair to blame President Obama for the predicament that our nation is in, but President Obama has done nothing to help the situation.
President Obama's 'stimulus package' only rewarded government contractors with more spending.  It is also correct to point out that former President George W. Bush's 'stimulus package' did nothing more than President Obama's spending bill.
Small businesses and the private sector in general got almost zero benefit for either porkulus spending bills.  Though this recession is typical of a business cycle, there are some things that can be done to alleviate the stress the economy is undergoing and maybe expedite the expiration of the current recession.  President Obama has done neither.
So it is fitting and fair to label the tent cities that are sprouting across America as Obamavilles.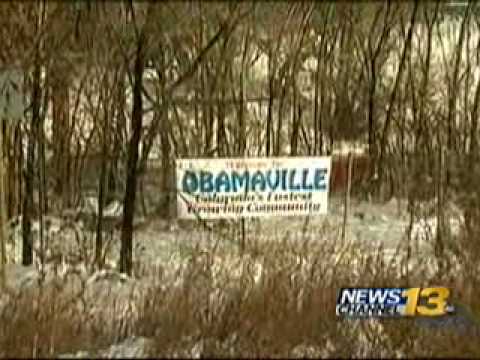 (Note: In case the above YouTube video is taken down by the Blueshirts, you can see the entire story and video here.)
Liberals and Democrats have accused many Americans of overreacting to the speech that President Obama will be delivering to school children today (at 11:00 am Central Daylight Time).
On the surface this would seem a fair evaluation but if you dig a little deeper, those on the Left may well be making another crucial misdiagnosis of the source and cause of this reaction.
First lets examine the prism that those on the Left have viewed this reaction.
From the always insightful and provocative Daniel Larison:
As I noted long ago, and as Ross has suggested again this week, it makes no sense to blame Christian orthodoxy or traditional Christianity for the religiously-tinged ideology of the Bush administration and the resulting failures of this ideology's optimistic and hubristic approach to the world. It is no accident that the most strident and early critics of the Bush administration hailed from traditionalist Catholic and Orthodox circles that make Linker's bete noire of First Things look like the relatively liberal, ecumenist forum that it is. Mr. Bush espoused a horrifyingly heterodox religious vision, one far more akin to the messianic Americanism that forms part of what Bacevich has called national security ideology than it is to anything that could fairly be called orthodoxy.
In an essay entitled A Campaign of Narratives in the March issue of First Things (currently behind a firewall for non-subscribers), George Weigel writes:
Yet it is also true that the 2008 campaign, which actually began in the late fall of 2006, was a disturbing one—not because it coincided with what is usually described in the hyperbole of our day as "the greatest economic crisis since the Great Depression" but because of how it revealed some serious flaws in our political culture. Prominent among those flaws is our seeming inability to discuss, publicly, the transformation of American liberalism into an amalgam of lifestyle libertinism, moral relativism, and soft multilateralism, all flavored by the identity politics of race and gender. Why can't we talk sensibly about these things? For the past eight years, no small part of the reason why had to do with what my friend Charles Krauthammer, in a nod to his former incarnation as a psychiatrist, famously dubbed "Bush Derangement Syndrome."

Raising this point is not a matter of electoral sour grapes. Given an unpopular war that had been misreported from the beginning, plus President Bush's unwillingness to use the presidential bully pulpit to help the American people comprehend the stakes in Iraq, plus conservative aggravation over a spendthrift Republican Congress and administration, plus that administration's failure to enforce discipline on its putative congressional allies, plus public exhaustion with a familiar cast of characters after seven years in office, plus an economic meltdown—well, given all that, it seems unlikely that any Republican candidate could have beaten any Democrat in 2008. Indeed, the surprise at the presidential level may have been that Obama didn't enjoy a success of the magnitude of Eisenhower's in 1952, Johnson's in 1964, Nixon's in 1972, or Reagan's in 1984.

Still, I would argue that the basic dynamics of the 2008 campaign, evident in the passions that drove Obama supporters to seize control of the Democratic party and then of the presidency, were not set in motion by the failures and missed opportunities of the previous seven years but by Bush Derangement Syndrome, which emerged as a powerful force in American public life on December 12, 2000: the day American liberalism's preferred instrument of social and political change, the Supreme Court, determined that George W. Bush (the candidate with fewer popular votes nationally) had, in fact, won Florida and with it a narrow majority in the Electoral College. Here was the cup dashed from the lips—and by a court assumed to be primed to deliver the expected and desired liberal result yet again. Here was the beginning of a new, millennial politics of emotivism (displayed in an astonishing degree of publicly manifested loathing for a sitting president) and hysteria (fed by the new demands of a 24/7 news cycle).

[Emphasis Mine]
I think this analysis gets things exactly backwards.