Gay Marriage
According to Three Fingers of Politics, you have to have been "living under a rock" not to know who Mila Kunis is. I had actually never heard of her until I read an article at Pajamas Media about her by my friend and former editor, Dave Swindle. The fact that Kunis is a very well-known movie actress who makes this claim about promiscuity and communism — in one breath, no less — is enough to get this Catholic's attention:
GQ: Your new movie is called Friends with Benefits. Ever been in one of those relationships?

Mila Kunis: Oy. I haven't, but I can give you my stance on it: It's like communism—good in theory, in execution it fails. Friends of mine have done it, and it never ends well. Why do people put themselves through that torture?
It's certainly refreshing to hear someone of notable fame expressing good judgment in regard to what we Catholics (and many others alongside us) recognize as two great evils: communism and promiscuity.
Swindle, who is himself a member of Generation Y, writes:
Don't expect the trend of a rebellious youth culture to continue indefinitely.
That is certainly good news, if he is right. Still, he makes the argument from a perspective that is based on reason alone. I don't think Swindle holds exclusively to the "reason only" philosophy, but since he uses reason only in his argument, I'd like to address that.
Swindle makes the point that it's not conducive to self-preservation for one to be "sticking one's privates in a blender". Is this what Kunis was referring to when she said "torture"? I'm not sure. Maybe she was talking about the torture of hell. Would it be too presumptuous of me to suggest that? I have to ask because I don't know anything else about her. Whatever her intention may be, those who base arguments on reason alone do have an easier time convincing people of their arguments than we Catholics do, I suppose, as we have to argue for "moral reasoning", not just "reasoning". Making the argument against promiscuity based on health consequences, or perhaps even sociological arguments regarding the practical benefits of bonding, is something we Catholics are charged with, too, but we are charged with the further burden of explaining the moral dimension that is bound to reason. Unfortunately, that part scares some people away…and always has.
Consider this history lesson from Fides et Ratio:
With the rise of the first universities, theology came more directly into contact with other forms of learning and scientific research. Although they insisted upon the organic link between theology and philosophy, Saint Albert the Great and Saint Thomas were the first to recognize the autonomy which philosophy and the sciences needed if they were to perform well in their respective fields of research. From the late Medieval period onwards, however, the legitimate distinction between the two forms of learning became more and more a fateful separation. As a result of the exaggerated rationalism of certain thinkers, positions grew more radical and there emerged eventually a philosophy which was separate from and absolutely independent of the contents of faith. Another of the many consequences of this separation was an ever deeper mistrust with regard to reason itself. In a spirit both sceptical and agnostic, some began to voice a general mistrust, which led some to focus more on faith and others to deny its rationality altogether.

In short, what for Patristic and Medieval thought was in both theory and practice a profound unity, producing knowledge capable of reaching the highest forms of speculation, was destroyed by systems which espoused the cause of rational knowledge sundered from faith and meant to take the place of faith.
Man's own propensity toward self-interest (e.g., avoiding promiscuous behavior to preserve bodily integrity) works against him, in the end, because mistrust of religion becomes inherent in the way he observes facts. Reason inevitably becomes less important to him than self-interest. An example of this is Planned Parenthood's rejection of science to promote an abortion agenda, something they would themselves have characterized as unthinkable a few decades ago.
I happen to know that Swindle believes, as we Catholics do, that man has a fallen nature, but I'm not sure he defines "fallen nature" the way we Catholics do.
Human nature since the fall of Adam. It is a nature that lacks the right balance it had originally. It is a wounded but not perverted nature. Since the fall, man has a built-in bias away from what is morally good and toward what is wrong. He is weakened in his ability to know the truth and to want the truly good. With the help of grace, however, he can overcome these natural tendencies and become sanctified in the process.
Let's take a look at the particular subject: bad health consequences due to promiscuity. Certainly, even animals which possess perishable souls and no moral reasoning will avoid things that they believe are dangerous to their health and safety. Often, too, animals have long-term mates with whom they form a bond. But animals do, overall, engage in rampant "promiscuity" while not suffering from disease as a result.  Imagine that. God has, by and large, reserved these consequences ("tortures") first and foremost for humanity. Faith tells us "why". Science may only tell us "how".
Back to the "living under a rock" point. Personally and subjectively, I tend to think that "living under a rock" would be an appropriate term for those who actually know who people like Mila Kunis are…but then, I'm with the Catholic Church on the dignity of the human person…not Hollywood. Perhaps it's understandable that Hollywood seems like a place "under a rock" to me. A dark and lifeless place. "Glitter" is not "life". I take no offense at the suggestion, however, that I live "under a rock" because I didn't know of this woman until she said something notably moral.
Fortunately, I know that Swindle knows that I love him, respect him and appreciate him. We are friends, so he won't take our difference of perspective on "why Kunis' comments are good" as a personal slam. In fact, we both agree they're good for the same reason…but mine has a moral dimension, too. An important point, though, is that we both know and understand her remarks to be a good thing. I find comfort in knowing that Swindle and I (and perhaps Kunis?) will almost certainly vote for the same person in the general presidential election because we are both disgusted by the socialist philosophy, as well as any government policies that would directly promote promiscuity, not to mention any number of other ills in government that we both believe to be pulling our country into an abyss, economically and otherwise.
Isn't that comforting? It is comforting to me.
On second thought, there is one troubling point he makes about Generation Y, on page 2:
And yes, after multiple generations that exploded the divorce rate in this country, you've got plenty of young people who are taking the institution of marriage a bit more seriously. (But don't expect this to necessarily translate to being against gay marriage.)
Maybe Generation Y should look to the animal world for guidance on that one?
At least, here's hoping that all of us who are generally opposed to the pro-promiscuity Left, socialism, etc., will eventually vote for the same person. I think we will…but then, there's always a write-in option if the Republican supports gay marriage.
A round-up of some of the best punditry in the Catholic Blogosphere, courtesy of ThePulp.it:
"Why Is Mugabe Visiting the Vatican?" – James Kirchick, New Republic
. . .Mark Stricherz of Catholic Vote wrote about this here. . .
God & Political Science – Timothy Shah, Daniel Philpott & Monica Toft, PD
Exposing the Death Dealers – Amy Welborn, Crisis Magazine
Syria Christians Fear for Religious Freedom – Reuters
Pro-Lifers Help Win Canadian Baby Battle – Maryann Gogniat Eidemiller, OSV
About Face on Same-Sex 'Marriage' – Joan Frawley Desmond, NCRegister
Abp. Jose Gomez: You Have a Duty to Confront This Culture – Cal Cth Daily
Fig Leaves & Falsehoods (Lying & Planned Parenthood) – Janet E. Smith, FT
Quaeritur: Selling a Rosary & Other Sacred Things – Father John Zuhlsdorf
Paternalistic Violence in the New World – David, The School of Salamanca
Monster Baptism & Chemical Pregnancy – Doctor Stacy Trasancos
The Sistine Chapel, In the Depths of Wales! – Richard Collins, The Guild
_._
If you liked this roundup of the best posts from around the Catholic blogosphere, visit ThePulp.it for daily updates twice a day.
For ThePulp.it click here.
The same-sex marriage debate is heating up in Maryland, and our Bishops continue to fight the good fight.  Cardinal Donald Wuerl of Washington, Archbishop Edwin O'Brien of Baltimore, and Bishop Francis Malooly of Wilmington together wrote a statement condemning the State Assembly's vote to approve of same-sex marriage, and urged Catholics to continue mounting opposition.  This drew the ire of Francis DeBernardo, Executive Director of something called New Ways Ministry, which is is described as a "Catholic [sic] ministry of justice and reconciliation for lesbian/gay Catholics and the wider church community."  He writes: Continue reading →
There are a pair of companions bills working their way through the Maryland legislature.  HB 55 and SB 116, titled "The Religious Freedom and Civil Marriage Protection Act" will soon be coming up for debate.  Religious freedom and marriage protection – must be a law that good Catholics can get behind.  So what do the bills provide for:
Altering a provision of law to establish that only a marriage between two individuals who are not otherwise prohibited from marrying is valid in the State; prohibiting an official of a religious institution or body authorized to solemnize marriages from being required to solemnize any marriage in violation of the constitutional right to free exercise of religion; etc.
So it's a gay marriage bill.  Oh sure there's a little codicil about protecting religious officials from having to perform gay marriage, but this is a bill about altering the definition of marriage.
You almost have to hand it to the Democrats here in Maryland.  They recognize that while Maryland might be a deeply blue state, there is a very large segment of social conservatives that don't fully embrace social engineering and attempts to subvert traditional morality.  So how coy of them to slip this issue under the radar in the guise of protecting religious liberty.
The phrase "culture of death" has been employed the anti-life agenda of the radical left.  I think the "culture of deceit" might be equally as apt.  From the shenanigans on abortion statistics to this action undertaken by the Maryland legislature, progressives continue to use obfuscation in order to advance their political agenda.  Thus the debate over abortion is morphed into one about choice, privacy, a woman's "control over her body."  Gay marriage becomes a civil rights issue.
We complain about the left utilizing the Courts to advance their agenda, and that is indeed a problem.  But they've also advanced their agenda simply by lying through their collective teeth, or creatively using and abusing the English language.
George Orwell may have gotten some things wrong, but he certainly prophesied correctly in this regard.
You know, it looks like I might have to change my mind on gay marriage.  I've been opposed to the concept for some time, but this video has completely changed my mind thanks to its persuasive logic.  WARNING: Extremely not safe for work or probably your own house language at this video.  Do not click on this link if you do not tolerate cussing, because there's a lot of it.
The video, for those that didn't feel like clicking over and having their audio canals violated, was essentially a bunch of really peeved off gay marriage advocates engaging in a collective primal scream.  The long and short of it is that gay marriage opponents are bleeping hypocrites because Rush bleeping Limbaugh has been married four bleeping times, and also because we don't bleeping oppose no fault bleeping divorce, and bleep bleep bleep we're just a bunch of bleeping bleeps.
Yeah.
I have to say that this video does hammer home one thing for me: the most convincing opponents of gay marriage are gay marriage supporters.
by Joe Hargrave
Recently Kyle Cupp at Vox Nova (one of the good ones, he is) addressed the arguments of a Peter Sunderman at The American Scene regarding the validity of arguments against gay marriage. In brief, Sunderman doesn't really believe there are any. Instead opposition to gay marriage, even his own, is motivated by a vague "intuition" that cannot find adequate manifestation in any rational argument. While Kyle unfortunately appears to agree with Sunderman, I do not.
Let us first be clear that the case for traditional marriage between one man and one woman is already more than amply made. As Kyle points out, gay marriage advocates such as Andrew Sullivan are willing to acknowledge all of the great and useful aspects of traditional marriage. What they maintain is that opponents of gay marriage have not demonstrated how its legal recognition will harm traditional marriage.
I have never been the greatest adherent of the notion that "the law instructs." Oftentimes I believe laws merely reflect shifting economic and cultural trends, often playing catch-up after the fact. In the case of homosexual unions, however, any act that places them on the same level as traditional unions will necessarily send a message to everyone in society, including children, that it is a matter of indifference whether one marries a person of the same sex or of the opposite sex.  And it must be mentioned here that in the face of declining Western birth rates, the case for traditional marriage is stronger than it has ever been. Contrary to overpopulation hysteria, which I suppose some will want to debate over, developed countries need more children, and they need them now. It is hard to see how the problem of declining birth rates will be addressed by a society that is indifferent to sexual behavior.
With that said, let us now make the easiest case against gay marriage.
A Panel of the 9th Circuit has surprisingly issued a wise decision, deciding to allow Proposition 8 to remain in place while the 9th Circuit considers its constitutionality.
This was undoubtedly the right decision. It makes no sense to force a state to marry people while knowing that a later decision could invalidate all those marriages.
One hopes that this is the beginning of a trend in reversing Judge Walker, whose rulings in this case can best be described as what happens when judicial activism meets the dictatorship of relativism.
People justly tire of the term "culture war" and find themselves asking, like the philosopher Rodney King, "Can't we all just get along?"
And yet watching the disparate reactions to yesterday's Federal Court ruling overturning California's Proposition 8 (for now) it struck me that the culture war terminology is quite apt. What is termed the culture was is essentially a zero sum game over which of two roughly equally numerous groups will be allowed to define the dominant understandings of culture and society in our country. by taking this to the federal level, same sex marriage advocates have made it clear that no degree of regional acceptance is satisfactory — their understanding of the nature of marriage must be the single dominant understanding enforced throughout the country, and those with a traditional understanding of marriage must be the ones who find themselves aliens within their country. And, presumably, is same sex marriage advocates lose, they will in turn consider themselves aliens within the country. Given that it is the most basic units and purposes of society which are in dispute, it seems hard to see how it can be any other way. And while the dispute is to an extent regional, it is much more so philosophical and ideological, making the culture war more resemble the Spanish Civil War than the American. Every city and region has representatives of both sides.
A few short years ago the mere suggestion that the Son of God, His Apostles and Saints would face arrest for hate speech would have seemed absolutely ludicrous. However, events have spiraled out of control across the western world. In his opinion that strikes down California's recently voter approved marriage law, Judge Vaughn Walker wrote that those who speak in the name of religion to put across their views that same sex marriage is wrong are "harmful to gays and lesbians."
Across Europe and Canada, faithful Christians speaking out for traditional marriage face the threat of being hauled off to court for citing the teachings of the Catholic Church and various Evangelical Churches. Where will this all end? Some see a great persecution coming against the Christian faithful. Though possible, one need remember that the Christian faith always grew when persecuted.
The Catholic Church has long taught that some individuals have an inclination toward same sex attraction; they are to be loved as all people are to be loved. The Church teaches that these feelings are not to be acted upon. The Church goes on to teach that all individuals are given a cross to carry in this world and for those who are same sex attracted; this is their cross. An organization exists for those who are same sex attracted called COURAGE. It has many chapters and members.
Recently a profile was done in The New York Times on same sex attracted Eve Tushnet, the Ivy League educated Catholic daughter of Harvard Law professors. She has chronicled her growth in Catholicism and the logic of the Church's teachings on sexuality. For years the Catholic Church took some heat from some quarters of Christianity for not stating that anyone who is same sex attracted would be going to hell. The Church now is facing a maelstrom of vitriol from those who claim the Church hates homosexuals.
For the Church to change her teachings would be to deny not only what Christ said (Matthew 11:20-24,) but his Apostles, not to mention Saint Paul's lengthy discourse on the subject (Romans 1:26-28, 1 Corinthians 6:9-10.)  In addition to the Apostles and saints, there is a rich history of saints writing on the subject, particularly the Early Church Fathers like Saint Augustine, St Justin Martyr, St. Basil and St John Chrysostom as well as Church intellectuals like St Thomas Aquinas, Saint Albert the Great (the greatest scientist of his time,) along with mystics like St Catherine of Sienna to name but a few. To say that the greatest minds of their respective eras were all wrong is simply breathtaking.
Many who disagree with the Church tend to forget that homosexuality was much more common and approved of by the Roman government in the early Christian era than it is even in 2010. Many in the upper echelons of Greek and Roman culture experimented with all sorts of sexual practices. It would have been far easier for Jesus, the apostles, saints and popes to approve of this conduct than it would to disapprove of it. Christianity might have grown at a faster pace. However, there was a reason for this swimming against the tide, and the faithful accepted it.
I must confess that today's judicial ruling out of California which overturned Proposition 8 has riled me up, suprisingly so. I heard about the ruling while listening to the livestream of a tech podcast in which one of the three podcasters is a lesbian (previously "married" in CA) and the other two (middle-aged married men) evidently supported the decision. The ease with which they threw out bromides ("finally, equality!") bothered me, primarily because it revealed two things: 1. a group of intelligent people couldn't grasp that there might be real objections to same sex "marriage", and 2. as I've noted previously, too many (probably most) Americans simply don't understand the essential nature of marriage. Simply put, the state's interest isn't strong feelings or commitment… it's children. And — to state the obvious — a homosexual relationship isn't structured towards procreation the way marriage is.
By now I'm sure you all know that Proposition 8 was struck down by a federal judge. Who knows what will happen on appeal. There is much to be said, but I want to focus on one narrow and possibly tangential point. This phrase from the judge's ruling, a phrase being reposted on facebook in many statuses:
"A private moral view that Same-sex couples are inferior to opposite-sex couples is not a proper basis for legislation."
The absurdity of that sentence really struck me. There was nothing "private" about the view of the "superiority" of hetereosexual couples. It has been carried on through generations of communities and in the present day was represented by 52% of Californians. How a popular decision that represented thousands of years of ethical thinking and concern for the family became a private morality is baffling.
More troubling is the implication of the judge that a "moral view" is not a proper basis for legislation. Since when has this been the case? Our laws on pedophilia, minimum wage, health care, torture, human rights, etc. are based at least on part on "moral views," views that in some respects may be just as if not more private than the ones the judge rejects today.
If morality is not a basis for legislation, what on earth is? Morality guides us in making decisions; without a moral or ethical compass (or perhaps even without a religious one) there is no basis for legislation to be made. Laws are supposed to help make society run better, but there is no way to make society run better unless you have a notion of what a "better society" looks like, and you don't get to that notion without morality.
State recognition of homosexual marriage is one thing, but this ruling attacks the foundation of our government. Morality must have a place in the public sphere and must be one of the foremost foundations of legislation.
To be sure, the judge is simply smoke-screening for the fact that he is imposing his own standards of morality. But the fact that his statement rejecting a moral basis for legislation is being so celebrated should worry all Americans.
All that is necessary for the triumph of the same sex agenda is that good men do nothing.  The fear of reprisal, both materially and physically, can cause good men to do nothing.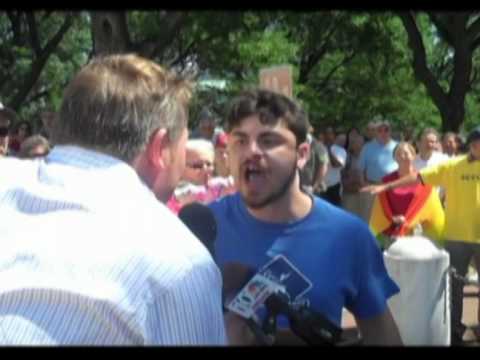 Having not experienced this form of intimidation, I am still disturbed by the tactics that are utilized by the more militant arm of the same sex marriage agenda.  This exposure to such violence is almost non-existent for me.