French Revolution
Something for the weekend.   The La Marseillaise scene from Casablanca.  Today is Bastille Day, the great national holiday in France, the equivalent our Independence Day.  In France it is known as La Fête Nationale, the National Celebration, or Le quatorze juillet, the fourteenth of July, rather like Independence Day is often known here as the fourth of July.  There the similarities end.  Although almost all Americans look back at the American Revolution with pride, many of us dedicated to the great truths embodied in the Declaration of Independence, the French Revolution is looked upon much more ambiguously in France.
Bastille Day recalls an event July 14, 1789 in which the mob of Paris, joined by mutinous French troops, stormed the Bastille, a fortress-prison in Paris which had in the past held political prisoners.  The Bastille fell to the mob after a fight in which some ninety-eight attackers and one defender were killed.  After the fighting, in an ominous sign of what was to come in the French Revolution, the mob massacred the governor of the prison and seven of the defenders.  The Bastille held a grand total of seven inmates at the time of its fall, none of political significance.
So began the Revolution which promised Liberty, Equality and Fraternity in theory and delivered in practice, Tyranny, Wars and Death, with France embarked on a witches' dance of folly which would end at Waterloo, after almost a quarter of a century of war which would leave Europe drenched in blood.  Edmund Burke at the beginning of this madness, in 1790, saw clearly where all this would lead:
Regicide, and parricide, and sacrilege, are but fictions of superstition, corrupting jurisprudence by destroying its simplicity. The murder of a king, or a queen, or a bishop, or a father, are only common homicide; and if the people are by any chance, or in any way, gainers by it, a sort of homicide much the most pardonable, and into which we ought not to make too severe a scrutiny.
 On the scheme of this barbarous philosophy, which is the offspring of cold hearts and muddy understandings, and which is as void of solid wisdom as it is destitute of all taste and elegance, laws are to be supported only by their own terrors, and by the concern which each individual may find in them from his own private speculations, or can spare to them from his own private interests. In the groves of their academy, at the end of every vista, you see nothing but the gallows.
Many Frenchmen also saw this, and fought against the Revolution and all its works.  The Revolution is a history of civil wars, and barbarous massacres.  The Church of course was enemy number one of many of the Revolutionaries, with faithful Catholics undergoing a murderous persecution without parallel up to that point in the history of the Church.
Why would anyone want to celebrate any of this? Continue reading →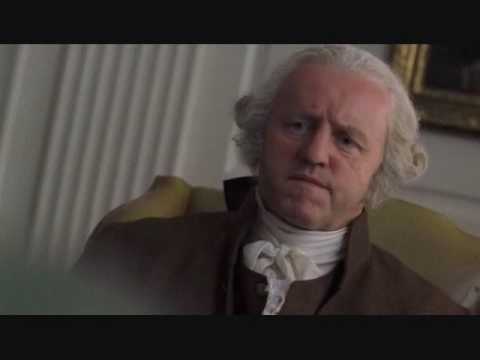 The French Revolution was an early foreign policy crisis for the Washington administration.  Jefferson and his followers were enthralled by the French Revolution, viewing it as the culmination of what they had started in the American Revolution.  Federalists, including Washington, were appalled by the atrocities committed by the French revolutionaries.  More than that, Washington feared that America, due to the enthusiasm of many Americans for the French Revolution, was at risk of being drawn into a war against Great Britain on the side of France.
In the Spring of 1793 Edmond-Charles Genet arrived in America.  The ambassador of the French revolutionary regime, he insisted on being known as Citizen Genet rather than Ambassador Genet.  Genet's mission to America was to enlist American privateers to wage war upon the British.  President Washington quickly told him that this was in violation of American neutrality and denounced all attempts by Genet to drag America into the war between Britain and France.  Genet's attempts to ignore Washington alarmed Jefferson, who, as Secretary of State, had a meeting with Genet that degenerated into a screaming match.  Washington was furious at the behavior of Genet.
The American government formally requested his recall.  Genet received a letter of rebuke from his government:
"Dazzled by a false popularity you have estranged the only man who should be the spokesman for you of the American people. It is not through the effervescence of an indiscreet zeal that one may succeed with a cold and calculating people."
Continue reading →
National Public Radio's ludicrous firing of Juan Williams and a subsequent mainstream media article on Catholic bloggers may seem to be two separate issues. Some may say what does the overwhelmingly conservative leaning Catholic blogosphere have in common with the liberal leaning Juan Williams? The answer is quite simple; both scare the mainstream media because Juan Williams and the majority of the Catholic blogosphere put forth interesting solutions to often discussed questions.
The modus operadi of some in the mainstream media is to find a couple of unnamed fringe Catholic bloggers, who few read, and then make them become bigger players than they really are. Combine this with a Juan Williams quote which most of America agrees with and voila you have it; the ultimate straw man from which you can tear apart any minority who appears on Fox News or any Catholic blogger who faithfully defends the teachings of the 2,000 year old Catholic Church.
In this Associated Press article on the Catholic blogosphere, the piece mentions Thomas Peters and Michael Voris (who is known for his videos not his blogging,) but focuses on harsh unnamed Catholic bloggers. The article quotes John Allen who calls elements of the Catholic blogosphere "Taliban Catholicism." The highly respected Mr. Allen, who though working for the dissident leaning National Catholic Reporter, is often known for his many high ranking Church contacts and his fairness. He should have know better than to give the quote that he did. To take a few bloggers from the right (or even from the left) and call them the Catholic blogosphere is the type of journalism that would not pass muster for a high school paper, let alone the AP. This would be akin to taking the worst rated college or pro football team and telling the world this is the best of American football, or perhaps watching the Walla Walla Community theater production of Hamlet and saying this is Hamlet at its finest. John Allen should have realized where this article was going and chosen his words more carefully.
The AP article continues by naming a Church official who seems worried about the Catholic blogosphere. One wonders if the Church official would know the difference between Father John Zuhlsdorf from Father Richard McBrien, Amy Welborn from Aimee Semple McPherson, Mark Shea from Mark Sanford, Rocco Palmo from Rocco Mediate, or Tito Edwards from Tito Santana. I worked for years in a diocesan office and I have yet to meet, even in my travels, a diocesan official who is well versed in the blogosphere. It seems to be a generational thing and most diocesan officials are not to be confused with the younger, more conservative seminarians or young priests being ordained.
While some in the mainstream media snicker at the Pope and Magisterium (the teaching authority of the Catholic Church) they in reality have their own magisterium. In their secular magisterium anyone who believes in the Catholic Church's authority is hopelessly outdated, because according to gatekeepers in the mainstream media, true thinkers are those in the dying liberal churches who don't know what they believe. Sadly, GK Chesterton prophetically predicted this would happen. He said, "It's not that atheists and agnostics believe in nothing, they believe in everything." In modern parlance, "It's all good." How sad that some who proclaim to be "open minded" can't see the obvious; liberal Christianity is dying on the vine." Continue reading →
In a recent column Washington Post columnist, E J Dionne noted that the Tea Party movement is a great scam. Quite an indictment coming from the self described progressive Catholic who still thinks government can never be big enough and the Church should tell the faithful more about the teachings of the agnostic Saul Alinsky than that of 2,000 year old teachings of the Catholic Church. Dionne has made it his business to comment on all matter of politics and religion for quite some time. His partner in left wing chicanery is New York Times columnist Maureen Dowd who never hesitates to go for the jugular.  Though she says he she comes from humble Washington DC roots, you would never know it by how she mocks those who really came from humble surrounding and never forgot it. She probably grew up with many Sarah Palin's and Christine O'Donnell's around her. Yet, I doubt she mocked many to their face as she gleefully does now to the backs of Palin and O'Donnell.
Dionne and Dowd seem to have it backwards, they don't think citizens should voice their views about the fallacies of liberal Big Government, but they do believe everyone knows better than the divine about religion. This is quite common for liberals who often seem to think they are divine. Dionne and Dowd are part of a movement who thinks they should control government and religion, and those who disagree with them are often labeled as unintelligent; the worst sin as far as liberals are concerned. However, who is the unintelligent one? Big Government has never worked. It has only brought huge debt which has to be repaid by future generations. Individuals who go into debt face a series of tough measures. Yet Dionne and Dowd seem oblivious to this and advocate the same disastrous path for the government, the end result being tough measures for everyone.  In other words Big Government is a disaster that doesn't work.
However, Big Government isn't the only disaster Dionne and Dowd advocate. They want the Catholic Church to turn her back on its 2,000 year old teachings and embrace the Dictatorship of Relativism, so named by Pope Benedict XVI. Dionne and Dowd are happy to embrace dissident Catholics who espouse this sort of thinking. It seems Dionne and Dowd are more comfortable with the views of Marx, Alinsky and Freud than they are with Christ, St Paul, St Thomas Aquinas, St Joan of Arc and Pope Benedict XVI. Continue reading →
It would appear that those in the mainstream media who want to do hit pieces on Pope Benedict XVI need to take a number. The latest to engage in Yellow Journalism is CNN. The "network of record" dispatched Gary Tuchman to do the dirty work. One might recall that it was none other than Tuchman who remarked how distressing it was travelling in the heartland during the 2008 Election campaign. He complained that some who recognized him told him that their Middle American views and ideas were repeatedly mocked by the mainstream media, all the while those of the liberal establishment were hailed. Tuchman's words were quite revealing when it comes to this story.
CNN has been advertising their hit piece on Pope Benedict XVI as if he was already guilty of some sort of cover up, even though during the Abuse Scandal it was none other than the New York Times who praised then Cardinal Ratzinger for tackling the tough problems. What tough problems did he tackle? The most notable example being Father founder of the Legionaries of Christ. Father Marcial Maciel was one of the few prominent conservatives caught up in the Abuse Scandal, most of the abusers were Church liberals who wanted to change the Church. Cardinal Ratzinger took on Father Maciel at the height of his power and popularity. One might recall that Father Maciel was quite close to Pope John Paul II. So from this example we can see that Cardinal Ratzinger (now Pope Benedict XVI) showed no favorites and pulled no punches. The Legionaries of Christ were shaken to the core and as pontiff, Pope Benedict XVI removed their leadership and installed his own, hardly the work of someone who was timid.
The CNN piece was perhaps even more despicable than the New York Times hit piece, because in the interim much of the modus operandi of the Old Gray Lady was exposed. Still CNN used the same material and claimed that they had something new. There is nothing new here. The crux of their argument comes from material provided by Jeffrey Anderson the attorney who has made millions off the scandal. Anderson says he is one a mision to "reform the Church." What kind of reform would that be? Some Catholic dioceses have been forced into bankruptcy, which means the poor whom they dioceses assisted through their social programs are left in the cold. For all his concern of "reform"  Anderson hasn't provided a penny to these particular poor.
Jesus Christ has always been an enigma to those on the left. Some liberal idealists embraced Him; many others on the radical left did not. Some on the radical left actually attacked Jesus by either saying He didn't exist (a rather strange way of dealing with someone) or claiming he was demented. However, after World War II a rather cunning adaptation of Jesus was embraced by the Professional Left.  The solution thought up by the Professional Left was as simple as it was devious; simply say Jesus was one of them.
Today is Bastille Day, typically associated with the start of the French Revolution. In honor of that blessed event, I offer up this classic piece by John Zmirak:
Remember when the L.A. riots spun out of control, and engulfed the whole United States? The key moment was no doubt when police and Army commanders took fright and changed sides, throwing their support to the Committee for Public Safety led by Tom Hayden, along with Noam Chomsky, Barbara Boxer, Michael Moore, and Edward Said. After Hayden's fall and execution, his successor, Marion Barry, insisted that President Bush and his wife Barbara be tried for treason. Their executions shocked the world but sparked wild celebrations in the capital, as the First Couple's severed heads danced on poles in daylong parades. A crack whore was duly enshrined in the National Cathedral as the Goddess of Reason.
Like many intellectual men in Revolutionary America and Western Europe, Alexander Hamilton bought into the Deist ideas of a Creator, but certainly not a Creator who needed a Son to rise from the dead or perform miracles, and certainly not the continuous miracle of the Eucharist. Most leaders of the American Revolution were baptized Anglicans who later in life rarely attended Sunday services, the exception being George Washington.  The first President was the rare exception of a Founding Father who often attended Anglican-Episcopal Services, though he occasionally did leave before Holy Communion, which many intellectuals in the colonies (and most of England) decried as "popery."
Hamilton was a unique man, who unlike many of the Revolution was not born in the colonies, but in the Caribbean and was born into poverty at that. He was practically an orphan as his father left his mother and she subsequently died from an epidemic. At a young age Hamilton showed so much promise that the residents of Christiansted, St Croix (now the American Virgin Islands) took up a collection to send him to school in New England. As a child, Hamilton excelled at informal learning picking up on what he could from passersby and those who took the time to help him. In August of 1772,  a great hurricane hit the Caribbean. Hamilton wrote about it in such vivid detail that it wound up being published in New York.
It was at this point that the residents of Christiansted answered the local Anglican pastor's request and enough money was raised to send Hamilton to school in the colonies. While in school, Hamilton would excel and wound up in the Revolutionary Army as a young officer. By the time of Yorktown, General Washington thought enough of the 24 year old to have him lead a charge on one of the redoubts of Yorktown. It was here that the "Young Americans" and their French counterparts on land and sea, overwhelmed the British and the world turned upside down.
Throughout its history, France has produced some of the finest warriors for the Christian faith and the Catholic Church. I think of Charles Martel, who defeated the Muslim invaders at Tours in 732. I think of St. Louis, or Louis IX, the only French monarch made a saint for his role in the "Crusades", his promotion of the Church, and his intense personal piety.  I think of Saint Jeanne D'Arc, the Maid of Orleans, who was inspired and instructed by God to resist the brutal English occupation of France during the Hundred Years War; a war that the Church repeatedly and unsuccessfully tried to bring to an end for all of the devastation it wrought.
During her darkest hour, Catholic France produced one last great hero: Charles Melchior Artus, the Marquis de Bonchamps.
The title of this article almost sounds surreal. At first one could be forgiven for thinking it was some sort of low budget End Times movie seen on some local cable access channel. However, the information contained within this article is real, fortunately, as believers and specifically those of us who are Catholic we know that Jesus promised that His Church would not fall despite the attempts of those working for the evil one. God is the truth and God is love, but the mere fact that He is both has caused many rebellions against him literally from day one. Sadly, those who often claim to be the smartest act the most childish, by at first claiming God doesn't exist and then claiming if He does exist, He doesn't make sense at least to them. This article will look at this behavior from the world's earliest moments, but will mainly focus on what has happened in the last few years, right up until this very moment.
The French Revolution had the effect of lessening anti-Catholicism in England.  The English admired the courage with which many Catholics fought against the Revolutionaries in France and tolerance was extended to French Catholic refugees in England.  This was a great change as all the French had traditionally been regarded as the mortal enemies of the English.  Edmund Burke began to change this traditional attitude with his Reflections on the Revolution in France.  Here are his comments on Marie Antoinette:
"It is now sixteen or seventeen years since I saw the queen of France, then the dauphiness, at Versailles; and surely never lighted on this orb, which she hardly seemed to touch, a more delightful vision. I saw her just above the horizon, decorating and cheering the elevated sphere she had just begun to move in, glittering like the morning star full of life and splendor and joy. 0h, what a revolution! and what a heart must I have, to contemplate without emotion that elevation and that fall! Little did I dream, when she added titles of veneration to those of enthusiastic, distant, respectful love, that she should ever be obliged to carry the sharp antidote against disgrace concealed in that bosom; little did I dream that I should have lived to see such disasters fallen upon her, in a nation of gallant men, in a nation of men of honor, and of cavaliers! I thought ten thousand swords must have leaped from their scabbards, to avenge even a look that threatened her with insult.
But the age of chivalry is gone; that of sophisters, economists, and calculators has succeeded, and the glory of Europe is extinguished forever. Never, never more, shall we behold that generous loyalty to rank and sex, that proud submission, that dignified obedience, that subordination of the heart, which kept alive, even in servitude itself, the spirit of an exalted freedom! The unbought grace of life, the cheap defense of nations, the nurse of manly sentiment and heroic enterprise is gone. It is gone, that sensibility of principle, that chastity of honor, which felt a stain like a wound, which inspired courage whilst it mitigated ferocity, which ennobled whatever it touched, and under which vice itself lost half its evil, by losing all its grossness."
For the benefit of Mr. Robertson.  The Haitians revolted during the French Revolution and the reign of Napoleon I.  The Haitians were never ruled by Napoleon III (1852-1870), having their independence recognized in 1825 by France.  Although Voodoo has been sadly ubiquitous in Haiti, there is no evidence of a pact between Satan and Haitian insurgents, although Robertson is not the only person to propound this myth, which is quite common in some evangelical circles.  A good article debunking this myth is here and here.  This of course is far from the first time that Pat Robertson has said something factually challenged and insulting, although considering the vastness of the tragedy, Robertson expounding his kook theory at this point as Haiti mourns countless dead and lies prostrate is truly beneath contempt.  Certain Catholic religious orders enjoin silence for the good of the souls of their members.  Mr. Robertson could benefit by following their example.
For those wishing to donate to Catholic Relief Services for Haiti, here is a link.