Freedom of Religion
"The American Legion Auxiliary is the world's largest women's patriotic service organization. Through its nearly 10,500 units located in every state and some foreign countries, the Auxiliary embodies the spirit of America that has prevailed through war and peace. Along with The American Legion, it solidly stands behind America and her ideals."
Well?
While the nation discusses and debates the attacks on religious freedom, a high school junior in Florida has put her academic reputation on the line to stand up for her faith. Margeaux Graham was selected this year to participate in a prestigious 9-day leadership event in her state's capital. The American Legion Auxiliary (ALA) of Florida has an annual "Girls State" program whereby the participants "learn how to participate in the functioning of their state's government in preparation for their future roles as responsible adult citizens." It is a "nonpartisan program that teaches young women responsible citizenship and love for God and Country. They are awarded 3 college credits and rare notoriety in the college application process.
Margeaux is a faithful Catholic. That is, she takes her obligation to attend Mass as just that — her obligation. When she inquired about nearby Catholic churches to plan where she would attend, she was told by the staff that the only opportunity any of the girls would have to participate in a Sunday service is to attend the "non-offensive", non-denominational service offered for all at the conference. The event takes place at the University of Central Florida Florida State University and the cathedral is nearby the campus. [see update] A member of the national American Legion even contacted the Auxiliary to arrange for a priest to celebrate Mass on campus, and this accommodation was denied.
So Margeaux took action herself. She wrote to the organizers declining the invitation, with firm resolve, unless she was allowed to attend Mass. This is her letter, reprinted with permission. Mind you, she is a high school junior.
---
TO: American Legion Auxiliary Unit #21
FROM: Margeaux Graham
RE: Girls State 2012
DATE: May 7, 2012
I am regretfully writing this letter to formally inform you that I will be unable to attend Florida Girls State in June. I am extremely honored that you found me worthy to represent American Legion Auxiliary unit #21 and am devastated that I cannot participate. I attended orientation on May 6, 2012 and was informed by [name private] that I would not be allowed to attend Mass on Sunday.
My faith is very important to me, as it has been to countless Americans. This country was founded on the principles of religious and personal freedom, the fundamental rights that either you or your loved ones fought to protect. It is disheartening that the Florida Girls State program is structured in such a way that it prohibits participation of young women who have a strong conviction for their religious practices.
The only opportunity to participate in a Sunday service is presented in a "non-offensive", non-denominational service. As a Catholic Christian I find it offensive that I am not allowed to attend Mass and am perplexed as to how this service could accommodate the beliefs of other religious groups, such as Jews, Muslims, Buddhists, Hindus, and all Christian religions. I am disappointed to see the lack of respect for religious creed from the Florida Girls State program by limiting participants to only one religious paradigm.
Miss [name private] made it quite clear that I had to choose between my faith and Florida Girls State. I was looking forward to attending with great zeal, the knowledge, experience, and friends gained would have been invaluable. My faith has made me who I am, it has shaped me into the young woman that you chose as your delegate, for me to deny my faith would be hypocritical. Words cannot express my disappointment that the Florida Girls State program is designed to only accommodate delegates who fit into a pre-determined religious belief system or none at all.
Margeaux Graham
---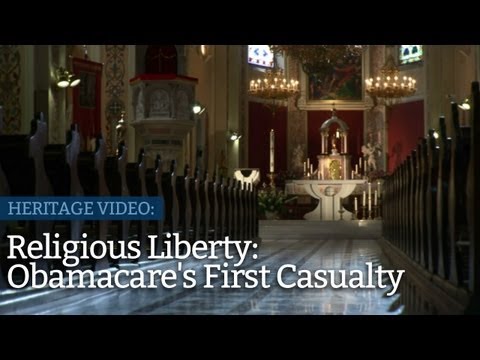 "Enlightened statesmen will not always be at the helm."
James Madison, Federalist 10
The video above is from the Heritage Foundation and incisively sets forth how ObamaCare is at war with religious liberty.  The Founding Fathers made it clear that they viewed freedom of religion as being at the core of the framework of what they were seeking to accomplish:
"We have abundant reason to rejoice that in this Land the light of truth and reason has triumphed over the power of bigotry and superstition, and that every person may here worship God according to the dictates of his own heart.  In this enlightened Age and in this Land of equal liberty it is our boast, that a man's religious tenets will not forfeit the protection of the Laws, nor deprive him of the right of attaining and holding the highest Offices that are known in the United States."
George Washington
"That religion, or the duty which we owe to our Creator, and the manner of discharging it, can be directed only by reason and conviction, not by force or violence; and therefore all men are equally entitled to the free exercise of religion, according to the dictates of conscience; and that it is the mutual duty of all to practice Christian forbearance, love, and charity towards each other."
Patrick Henry
The Religion then of every man must be left to the conviction and conscience of every man; and it is the right of every man to exercise it as these may dictate. This right is in its nature an unalienable right. It is unalienable, because the opinions of men, depending only on the evidence contemplated by their own minds cannot follow the dictates of other men: It is unalienable also, because what is here a right towards men, is a duty towards the Creator. It is the duty of every man to render to the Creator such homage and such only as he believes to be acceptable to him. This duty is precedent, both in order of time and in degree of obligation, to the claims of Civil Society.
James Madison
"Without morals a republic cannot subsist any length of time; they therefore who are decrying the Christian religion, whose morality is so sublime and pure (and) which insures to the good eternal happiness, are undermining the solid foundation of morals, the best security for the duration of free governments."
Charles Carroll of Carollton
Pope Benedict recognizes the threat to religious freedom that exists in our country:
In the light of these considerations, it is imperative that the entire Catholic community in the United States come to realize the grave threats to the Church's public moral witness presented by a radical secularism which finds increasing expression in the political and cultural spheres. The seriousness of these threats needs to be clearly appreciated at every level of ecclesial life. Of particular concern are certain attempts being made to limit that most cherished of American freedoms, the freedom of religion. Many of you have pointed out that concerted efforts have been made to deny the right of conscientious objection on the part of Catholic individuals and institutions with regard to cooperation in intrinsically evil practices. Others have spoken to me of a worrying tendency to reduce religious freedom to mere freedom of worship without guarantees of respect for freedom of conscience.
Here once more we see the need for an engaged, articulate and well-formed Catholic laity endowed with a strong critical sense vis-à-vis the dominant culture and with the courage to counter a reductive secularism which would delegitimize the Church's participation in public debate about the issues which are determining the future of American society. The preparation of committed lay leaders and the presentation of a convincing articulation of the Christian vision of man and society remain a primary task of the Church in your country; as essential components of the new evangelization, these concerns must shape the vision and goals of catechetical programs at every level. Continue reading →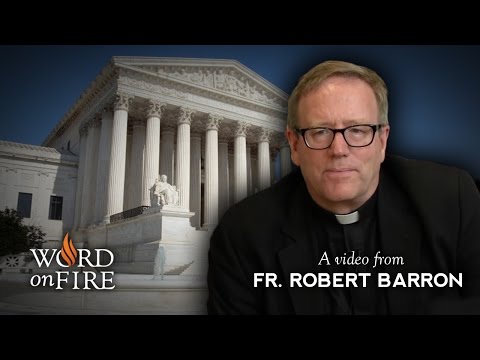 Ashley Samelson McGuire of the Becket Fund for Religious Liberty noted the use of the term "Freedom of Worship" rather than the usual "Freedom of Religion" by Obama back in 2010 in several speeches:
Freedom of worship" first appeared in a high profile speech in Obama's remarks at the memorial for the victims of the Fort Hood shooting last November, a few months after his Cairo speech. Speaking to the crowd gathered to commemorate the victims, President Obama said, "We're a nation that guarantees the freedom to worship as one chooses." Given the religious tension that marked the tragic incident, it was not an insignificant event at which to unveil a new way of referring to our First Freedom.

Shortly after his remarks at Ft. Hood, President Obama left for his trip to Asia, where he repeatedly referred to "freedom of worship," and not once to "freedom of religion."

Not long after his return, "freedom of worship" appeared in two prominent speeches delivered by Secretary Clinton. In her address to Georgetown University outlining the Obama Administration's human rights agenda she used "freedom of worship" three times, "freedom of religion," not once. About a month later, in an address to Senators on internet freedom at the Newseum, the phrase popped up in her lingo once again.

To anyone who closely follows prominent discussion of religious freedom in the diplomatic and political arena, this linguistic shift is troubling.
The reason is simple. Any person of faith knows that religious exercise is about a lot more than freedom of worship. It's about the right to dress according to one's religious dictates, to preach openly, to evangelize, to engage in the public square. Everyone knows that religious Jews keep kosher, religious Quakers don't go to war, and religious Muslim women wear headscarves—yet "freedom of worship" would protect none of these acts of faith.
 
Those who would limit religious practice to the cathedral and the home are the very same people who would strip the public square of any religious presence. They are working to tear down roadside memorial crosses built to commemorate fallen state troopers in Utah, to strip "Under God" from the Pledge of Allegiance, and they recently stopped a protester from entering an art gallery because she wore a pro-life pin.

The effort to squash religion into the private sphere is on the rise around the world. And it's not just confined to totalitarian regimes like Saudi Arabia. In France, students at public schools cannot wear headscarves, yarmulkes, or large crucifixes. The European Court of Human Rights has banned crucifixes from the walls of Italian schools. In Indonesia, the Constitutional Court is reviewing a law that criminalizes speech considered "blasphemous" to other faiths. Efforts to trim religion into something that fits neatly in one's pocket is the work of dictators, not democratic leaders. So why then have our leaders taken a rhetorical scalpel to the concept of religious freedom? Continue reading →
The debate over the so-called Ground Zero mosque near the former site of the World Trade Center in New York has raised public interest in, and opposition to, other proposed or recently built mosques and Islamic centers throughout the country.
In areas where Muslim migration or immigration has been significant, some citizens have attempted to discourage construction of new mosques. Few come right out and cite the threat of terrorism; more often they seem to resort to time-honored NIMBY (Not In My Back Yard) tactics such as creative interpretation of zoning ordinances, claims of decreased property values, or claims of real or potential problems with traffic, noise, etc.
Before I go any further, I want to make it clear that I understand the need to be vigilant regarding the potential for violent subversion, as well as the dangers of taking such a politically correct approach to militant Islam that people hesitate to report obvious suspicious activity for fear of being labeled bigots (as seems to have happened in the Fort Hood massacre case).
One of the interesting (by which I mean dull, predictable and repetitive) aspects of the 24 hour news cycle is that all forms of media have incentives to magnify and actively seek out controversy. Not only does this increase ratings/page views/newspaper sales, it provides media outlets with something – anything in a slow news month – to talk about. I can't help but feel that the recent outburst of commentary about the construction of a mosque near the site of the 9/11 attacks is the type of story designed to increase media consumption and accomplish little else. The First Amendment is not in dispute here; freedom of religion is well established and protected by settled case law. Furthermore, the proposed mosque is to be constructed on private property, and there is no legal reason to challenge its construction. And so most of the discussion revolves (and frequently devolves) around taste and symbolism.
A few short years ago the mere suggestion that the Son of God, His Apostles and Saints would face arrest for hate speech would have seemed absolutely ludicrous. However, events have spiraled out of control across the western world. In his opinion that strikes down California's recently voter approved marriage law, Judge Vaughn Walker wrote that those who speak in the name of religion to put across their views that same sex marriage is wrong are "harmful to gays and lesbians."
Across Europe and Canada, faithful Christians speaking out for traditional marriage face the threat of being hauled off to court for citing the teachings of the Catholic Church and various Evangelical Churches. Where will this all end? Some see a great persecution coming against the Christian faithful. Though possible, one need remember that the Christian faith always grew when persecuted.
The Catholic Church has long taught that some individuals have an inclination toward same sex attraction; they are to be loved as all people are to be loved. The Church teaches that these feelings are not to be acted upon. The Church goes on to teach that all individuals are given a cross to carry in this world and for those who are same sex attracted; this is their cross. An organization exists for those who are same sex attracted called COURAGE. It has many chapters and members.
Recently a profile was done in The New York Times on same sex attracted Eve Tushnet, the Ivy League educated Catholic daughter of Harvard Law professors. She has chronicled her growth in Catholicism and the logic of the Church's teachings on sexuality. For years the Catholic Church took some heat from some quarters of Christianity for not stating that anyone who is same sex attracted would be going to hell. The Church now is facing a maelstrom of vitriol from those who claim the Church hates homosexuals.
For the Church to change her teachings would be to deny not only what Christ said (Matthew 11:20-24,) but his Apostles, not to mention Saint Paul's lengthy discourse on the subject (Romans 1:26-28, 1 Corinthians 6:9-10.)  In addition to the Apostles and saints, there is a rich history of saints writing on the subject, particularly the Early Church Fathers like Saint Augustine, St Justin Martyr, St. Basil and St John Chrysostom as well as Church intellectuals like St Thomas Aquinas, Saint Albert the Great (the greatest scientist of his time,) along with mystics like St Catherine of Sienna to name but a few. To say that the greatest minds of their respective eras were all wrong is simply breathtaking.
Many who disagree with the Church tend to forget that homosexuality was much more common and approved of by the Roman government in the early Christian era than it is even in 2010. Many in the upper echelons of Greek and Roman culture experimented with all sorts of sexual practices. It would have been far easier for Jesus, the apostles, saints and popes to approve of this conduct than it would to disapprove of it. Christianity might have grown at a faster pace. However, there was a reason for this swimming against the tide, and the faithful accepted it.
Last week I wrote here about the firing of Dr. Kenneth Howell who had the audacity, in a class about the Catholicism, to actually state Catholic doctrine about homosexuality.  There has been enough of a furor since that the University of Illinois is acting, according to this story in the Chicago Tribune:
A faculty group at the University of Illinois' flagship campus will review the decision to fire an adjunct religion professor for saying he agreed with Catholic doctrine on homosexuality.
Urbana- Champaign campus Chancellor Robert Easter said Monday he hopes to have a decision on the firing of Kenneth Howell from the Faculty Senate's Committee on Academic Freedom and Tenure by the time fall classes start. The review is to determine whether Howell's academic freedom was violated.
"We want to be able to reassure ourselves there was no infringement on academic freedom here," new university President Michael Hogan told members of the Faculty Senate on Monday. "This is a very, very important, not to mention a touchy and sensitive, issue. Did this cross the line somehow?" Continue reading →
I am an alum of the U of I.  I obtained my BA in 79 and my JD in 82.  My wife is also an alum of the U of I, obtaining her MA in Spanish in 82.  Our eldest son will be entering the U of I as a freshman in August.  I therefore found the news that  Professor Kenneth Howell, an adjunct Professor at the University of Illinois, has been fired for teaching in a course about Catholicism  basic Catholic doctrine on homosexuality quite alarming:
Apparently the police acting to unconstitutionally arrest individuals attempting to hand out proselytizing literature to Muslims in Dearborn is not unusual according to this release from the Thomas More Law Center:
In what some have described as police enforcement of Sharia law at the annual Dearborn Arab International Festival, last Friday night Dearborn Police Officers arrested four Christian missionaries and illegally confiscated their video cameras which were recording the events surrounding their arrests.  The Thomas More Law Center, a public interest law firm based in Ann Arbor, Michigan, today announced it is representing all of the Christian missionaries.
George Weigel wrote a timely article in National Review Online titled, Defending Religious Freedom in Full.
In it cites the extremist attacks in expressing our Catholic faith in the public square.
The forms of these attacks are egregious because they that attack us are also tearing apart the moral fabric of this nation.
Case in point is the Washington Post, and in my opinion they represent secular humanism, when it comes to natural law they painted those that hold to natural law as extremists:
This past October, in the heat of a political campaign, the nation's political newspaper of record, the Washington Post, ran an editorial condemning what it termed the "extremist views" of a candidate for attorney general of Virginia who had suggested that the natural moral law was still a useful guide to public policy.
Occasionally one runs across a post that's particularly nicely done. I think Matthew Boudway's recent reflections on a column by Clifford Longley on the new atheists comes dangerously close to perfect. It's brief, highlights an interesting article, and adds a thoughtful perspective that provides more depth to the article it cites. Here's a snippet:
[In response to Richard Dawkins's claim that it is wrong to "indoctrinate tiny children in the religion of their parents, and to slap religious labels on them,"]

"There is no such thing as value-free parenting," Longley writes…Longley proposes this as an argument about parenting, but it is hard to see why it wouldn't also apply to education. If the argument doesn't apply to education, why doesn't it? If it does — and if it is a good argument — then people of faith have a compelling reason not to send their children to schools where the subject of religion qua religion is carefully avoided. One could, I suppose, argue that the tacit message of such schools is that religion is too important to get mixed up with the tedious but necessary stuff of primary education, but of course public schools approach important matters all the time, and cannot avoid doing so.
Salvete AC readers!
Buckle Up! Because here are today's Top Picks in the Catholic world:
1. Archbishop Timothy Dolan of New York commended President Obama and the Democratic Party efforts in
reforming Health Care.  He said this during the Knights of Columbus Convention in Phoenix, Arizona.  But his Grace gave this caveat that if reform…
"…leads to the destruction of life, then we say it's no longer health care at all – it's unhealthy care and we can't be part of that."
To accentuate this sentiment and as a warning to well meaning Catholics, Cardinal Levada explained that those that want to reform health care at any cost:
"[W]e do not build heaven on earth, we simply prepare the site to welcome the new Jerusalem which comes from God."
2. Catholic convert Joe Eszterhas of Hollywood screenwriting fame, will be writing the screenplay for a movie about
the Virgin of Guadalupe.  Though no director nor a green light has been given on the go ahead of this movie project, the fact that Joe Eszterhas is writing the screenplay is newsworthy in itself because of the author himself is enough to get the ball rolling in the right direction.