France
A million Frenchmen marched on the capital of France, Paris, in defense of Marriage this past weekend.  Catholics, Muslims, Jews, Homosexuals, Heterosexuals, Men and Women all marched to protest François Hollande's attempt at completing the destruction of the Family and the Church which began in the French Revolution and continued with the May 68ers, has been stalled at the moment.
The French don't care what they do, actually, as long as they pronounce it properly.
                         Professor Henry Higgins, My Fair Lady
As longtime readers of this blog know, I have a weakness for humorous posts.  However, it is increasingly difficult to come up with imaginative pieces more humorous than reality.
The hooting and catcalls began as soon as the Cabinet minister stood, wearing a blue and white flowered dress. It did not cease for the entire time she spoke before France's National Assembly. And the heckling came not from an unruly crowd, but from male legislators who later said they were merely showing their appreciation on a warm summer's day.
Cecile Duflot, the Housing minister, faltered very slightly, and then continued with her prepared remarks about an urban development project in Paris.
"Ladies and gentlemen, but mostly gentlemen, obviously," she said in a firm voice as hoots rang out. She completed the statement on her ministry and again sat down. None of the men in suits who preceded her got the same treatment from the deputies, and the reaction was extraordinary enough to draw television commentary and headlines for days afterward.
The same French Assembly on Tuesday took up a new law on sexual harassment, more than two months after a court struck down the previous statute, saying it was too vague and failed to protect women. In the meantime, there has been nothing. All cases that were pending when the law was struck down May 4 were thrown out. And, without a law, there can be no new cases. Continue reading →
This is a somewhat humorous map of how Americans view Europe.
A Geography of Prejudice is one way of calling what Yanko Tsvetkov created.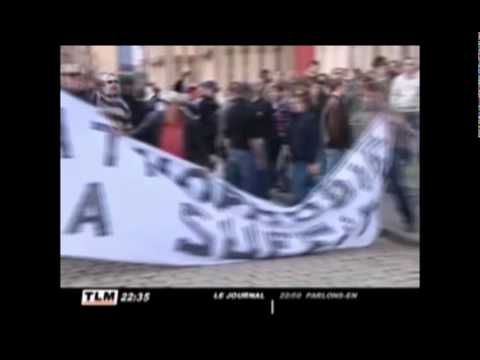 From Father Zuhlsdorf:
Prepare to be disgusted and then edified.
This from LifeSite with my emphases and comments:
Catholics Defend French Cathedral de Lyon During Homosexual "Kiss-In"

By Matthew Cullinan Hoffman

LYONS, June 17, 2010 (LifeSiteNews.com) – Approximately 200 young Catholics came to the defense of the Cathedral of Lyons, France, during a "kiss-in" protest held by homosexuals in front of the building last month.

The homosexuals reportedly came on the eve of the "World Day Against Homophobia" in May to kiss each other in front of the cathedral, [vile] presumably in protest against the Catholic Church's 2,000-year-old condemnation of homosexual sex acts.  [I believe the condemnation is in the Old Testament as well.  It is also written into our being as images of God.]
Perusing the local used bookstore last weekend, I came across a copy of the Third Volume of the Collected Letters of C.S. Lewis. On the whole (or, rather, through the first hundred pages or so), they make an enjoyable light read, at least for Lewis fans. He is always readable and often insightful. Moreover, the letters offer an interesting window into life in mid-twentieth century England. It's rather striking that six years after the end of the Second World War, common items like envelopes and certain foods were still either rationed or unavailable (many of the letters are expressions of thanks to sympathetic American friends who have sent Lewis one package or another). Here, in no particular order, are a few passages I found either amusing or interesting:
Writing to a U.S. Friend About the Korean War
"Seriously, though, we all sympathize with you in the position into which you have been forced; it's all very well to call it a UNO war, but so far as I can gather, it is a USA war. Have you noticed the French contribution? One gunboat!"
Plus ça change, plus c'est la même chose….
Like many intellectual men in Revolutionary America and Western Europe, Alexander Hamilton bought into the Deist ideas of a Creator, but certainly not a Creator who needed a Son to rise from the dead or perform miracles, and certainly not the continuous miracle of the Eucharist. Most leaders of the American Revolution were baptized Anglicans who later in life rarely attended Sunday services, the exception being George Washington.  The first President was the rare exception of a Founding Father who often attended Anglican-Episcopal Services, though he occasionally did leave before Holy Communion, which many intellectuals in the colonies (and most of England) decried as "popery."
Hamilton was a unique man, who unlike many of the Revolution was not born in the colonies, but in the Caribbean and was born into poverty at that. He was practically an orphan as his father left his mother and she subsequently died from an epidemic. At a young age Hamilton showed so much promise that the residents of Christiansted, St Croix (now the American Virgin Islands) took up a collection to send him to school in New England. As a child, Hamilton excelled at informal learning picking up on what he could from passersby and those who took the time to help him. In August of 1772,  a great hurricane hit the Caribbean. Hamilton wrote about it in such vivid detail that it wound up being published in New York.
It was at this point that the residents of Christiansted answered the local Anglican pastor's request and enough money was raised to send Hamilton to school in the colonies. While in school, Hamilton would excel and wound up in the Revolutionary Army as a young officer. By the time of Yorktown, General Washington thought enough of the 24 year old to have him lead a charge on one of the redoubts of Yorktown. It was here that the "Young Americans" and their French counterparts on land and sea, overwhelmed the British and the world turned upside down.
The French Revolution had the effect of lessening anti-Catholicism in England.  The English admired the courage with which many Catholics fought against the Revolutionaries in France and tolerance was extended to French Catholic refugees in England.  This was a great change as all the French had traditionally been regarded as the mortal enemies of the English.  Edmund Burke began to change this traditional attitude with his Reflections on the Revolution in France.  Here are his comments on Marie Antoinette:
"It is now sixteen or seventeen years since I saw the queen of France, then the dauphiness, at Versailles; and surely never lighted on this orb, which she hardly seemed to touch, a more delightful vision. I saw her just above the horizon, decorating and cheering the elevated sphere she had just begun to move in, glittering like the morning star full of life and splendor and joy. 0h, what a revolution! and what a heart must I have, to contemplate without emotion that elevation and that fall! Little did I dream, when she added titles of veneration to those of enthusiastic, distant, respectful love, that she should ever be obliged to carry the sharp antidote against disgrace concealed in that bosom; little did I dream that I should have lived to see such disasters fallen upon her, in a nation of gallant men, in a nation of men of honor, and of cavaliers! I thought ten thousand swords must have leaped from their scabbards, to avenge even a look that threatened her with insult.
But the age of chivalry is gone; that of sophisters, economists, and calculators has succeeded, and the glory of Europe is extinguished forever. Never, never more, shall we behold that generous loyalty to rank and sex, that proud submission, that dignified obedience, that subordination of the heart, which kept alive, even in servitude itself, the spirit of an exalted freedom! The unbought grace of life, the cheap defense of nations, the nurse of manly sentiment and heroic enterprise is gone. It is gone, that sensibility of principle, that chastity of honor, which felt a stain like a wound, which inspired courage whilst it mitigated ferocity, which ennobled whatever it touched, and under which vice itself lost half its evil, by losing all its grossness."
For the benefit of Mr. Robertson.  The Haitians revolted during the French Revolution and the reign of Napoleon I.  The Haitians were never ruled by Napoleon III (1852-1870), having their independence recognized in 1825 by France.  Although Voodoo has been sadly ubiquitous in Haiti, there is no evidence of a pact between Satan and Haitian insurgents, although Robertson is not the only person to propound this myth, which is quite common in some evangelical circles.  A good article debunking this myth is here and here.  This of course is far from the first time that Pat Robertson has said something factually challenged and insulting, although considering the vastness of the tragedy, Robertson expounding his kook theory at this point as Haiti mourns countless dead and lies prostrate is truly beneath contempt.  Certain Catholic religious orders enjoin silence for the good of the souls of their members.  Mr. Robertson could benefit by following their example.
For those wishing to donate to Catholic Relief Services for Haiti, here is a link.
French Catholics let a "trendy" bishop know what they think of his frivolity and sacrilege: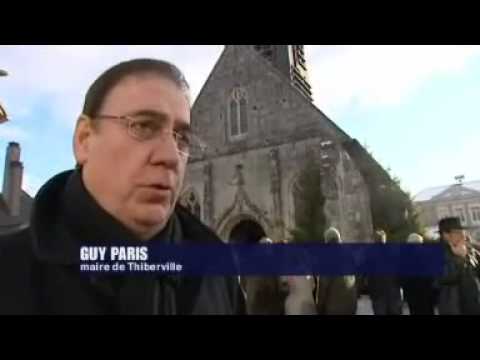 For an English language interpretation of events, see this article by Damian Thompson of the UK Telegraph.
French people are often stereotyped by the American media as cowards, willing to surrender at the first sign of trouble. In this case, these French Catholics have displayed more backbone than many Americans faced with similar nonsense. To them, and to their traditional priest, Fr Francis Michel, go my solidarity and prayers. Keep your chin up!
P.S. – if you're on facebook, here is Mr. Michel's support group.