Fourth of July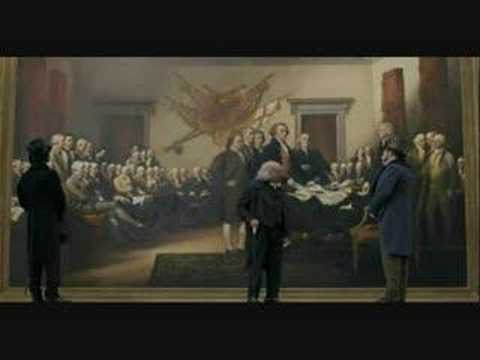 Posterity! You will never know how much it cost the present Generation to preserve your Freedom! I hope you will make good use of it. If you do not, I shall repent in Heaven, that I ever took half the Pains to preserve it. 
John Adams
Beginning for two weeks, up to Independence Day, the Bishops are having a Fortnight For Freedom:
On April 12, the Ad Hoc Committee on Religious Liberty of the U.S.  Conference of Catholic Bishops (USCCB) issued a document, "Our First,  Most Cherished Liberty," outlining the bishops' concerns over threats to religious freedom, both at home and abroad. The bishops called for a "Fortnight for Freedom," a 14-day period of prayer, education and action in support of religious freedom, from June 21-July 4.
Bishops in their own dioceses are encouraged to arrange special events to  highlight the importance of defending religious freedom. Catholic  institutions are encouraged to do the same, especially in cooperation  with other Christians, Jews, people of other faiths and all who wish to  defend our most cherished freedom.
The fourteen days from June  21—the vigil of the Feasts of St. John Fisher and St. Thomas More—to  July 4, Independence Day, are dedicated to this "fortnight for  freedom"—a great hymn of prayer for our country. Our liturgical calendar celebrates a series of great martyrs who remained faithful in the face  of persecution by political power—St. John Fisher and St. Thomas More,  St. John the Baptist, SS. Peter and Paul, and the First Martyrs of the  Church of Rome.  Culminating on Independence Day, this special period of prayer, study, catechesis, and public action would emphasize both our  Christian and American heritage of liberty. Dioceses and parishes around the country could choose a date in that period for special events that  would constitute a great national campaign of teaching and witness for  religious liberty.
We here at The American Catholic are participating in the Fortnight For Freedom with special blog posts on each day.  This is the ninth of these blog posts.
As we are embroiled now in a struggle to preserve our religious liberty, I think the Fourth of July is a good time to recall the price made to establish our liberties.  A number of feature films and miniseries have been made about the events of the American Revolution.  Here are my top ten choices for Fourth of July viewing: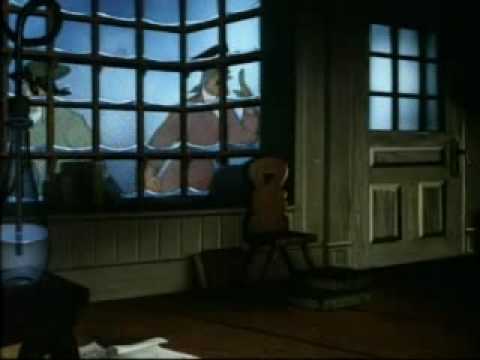 10.  Ben and Me  (1953)- Something for the younger patriots.  Disney put to film the novel of Robert Lawson, Ben and Me, which related how many of Ben Franklin's bright ideas came from his mouse Amos.  Quite a bit of fun.   Not a classic but certainly an overlooked gem.
9.  The Crossing (2000)-A retelling of Washington's brilliant crossing of the Delaware on Christmas 1776 and the battle of Trenton.  This film would rank much higher on my list but for Jeff Daniels' portrayal of Washington as sullen and out of sorts throughout the movie.  Washington had a temper, and he could give vent to it if provoked, although he usually kept it under control, but the peevish Washington portrayed here is simply ahistoric and mars an otherwise good recreation of the turning point of the Revolution.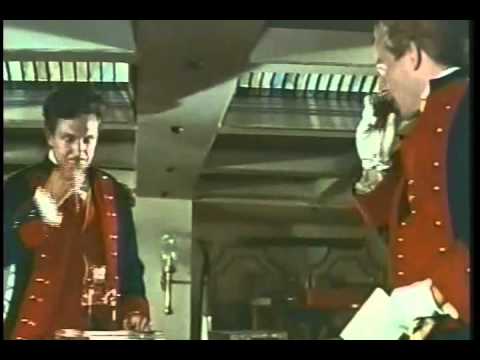 8.  John Paul Jones (1959)  Robert Stack, just before he rose to fame in the Untouchables, is grand in the role of the archetypal American sea hero.  Bette Davis is absolutely unforgettable as Catherine the Great.  The climactic sea battle with the Serapis is well done, especially for those pre-CGI days.  The only problem with the film is that many of the details are wrong.  This is forgivable to a certain extent since scholarship on Jones was badly skewed by Augustus Buell in a two-volume "scholarly biography" which appeared in 1900.  Buell was a charlatan who made up many incidents about Jones and then invented sources to support his fabrications.  Buell was not completely exposed until Samuel Eliot Morison, Harvard professor of history, and an Admiral in the Navy, wrote his definitive biography of Jones. Here is a list of the fabrications of Buell compiled by Morison.  Morison's book appeared after the movie, which is to be regretted.
7.  The Patriot (2000) Finally, a film which depicts the unsung contribution of Australians to victory in the American Revolution!  Actually not too bad of a film overall.  Heath Ledger is quite good as Gibson's oldest son who joins the Continentals at the beginning of the war against his father's wishes.  Jason Isaacs is snarlingly good as the evil Colonel Tavington, very loosely based on Banastre Tarleton, commander of Tarleton's Raiders during the Southern Campaign.  The film of course allows Gibson to carry on his over-the-top vendetta against all things English.  No, the British did not lock up American civilians in churches and burn them alive.  However, the ferocity of the partisan fighting in the South is well depicted, and Banastre Tarleton  at the Waxhaw Massacre earned a reputation for slaughtering men attempting to surrender.  The final battle of the film is based on the battle of Cowpens where General Daniel Morgan decisively defeated Tarleton.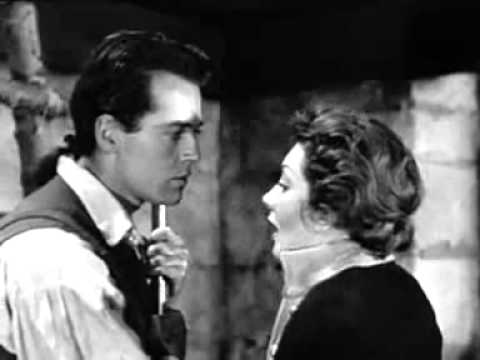 6.  Drums Along the Mohawk (1939)-A John Ford classic starring Henry Fonda and Claudette Colbert.  Through the eyes of a young newlywed couple, Fonda and Colbert, the American Revolution on the frontier is depicted in the strategic Mohawk Valley.  Full of the usual Ford touches of heroism, humor and ordinary life. Continue reading →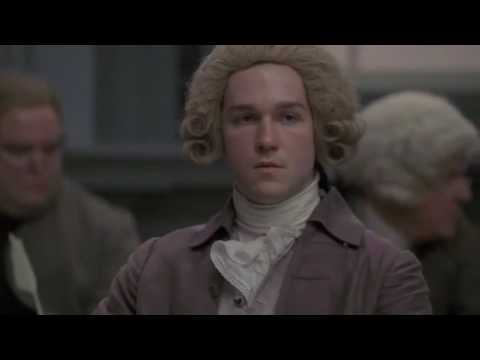 IN CONGRESS, July 4, 1776.
The unanimous Declaration of the thirteen united States of America,
When in the Course of human events, it becomes necessary for one people to dissolve the political bands which have connected them with another, and to assume among the powers of the earth, the separate and equal station to which the Laws of Nature and of Nature's God entitle them, a decent respect to the opinions of mankind requires that they should declare the causes which impel them to the separation.
We hold these truths to be self-evident, that all men are created equal, that they are endowed by their Creator with certain unalienable Rights, that among these are Life, Liberty and the pursuit of Happiness.–That to secure these rights, Governments are instituted among Men, deriving their just powers from the consent of the governed, –That whenever any Form of Government becomes destructive of these ends, it is the Right of the People to alter or to abolish it, and to institute new Government, laying its foundation on such principles and organizing its powers in such form, as to them shall seem most likely to effect their Safety and Happiness. Prudence, indeed, will dictate that Governments long established should not be changed for light and transient causes; and accordingly all experience hath shewn, that mankind are more disposed to suffer, while evils are sufferable, than to right themselves by abolishing the forms to which they are accustomed. But when a long train of abuses and usurpations, pursuing invariably the same Object evinces a design to reduce them under absolute Despotism, it is their right, it is their duty, to throw off such Government, and to provide new Guards for their future security.–Such has been the patient sufferance of these Colonies; and such is now the necessity which constrains them to alter their former Systems of Government. The history of the present King of Great Britain is a history of repeated injuries and usurpations, all having in direct object the establishment of an absolute Tyranny over these States. To prove this, let Facts be submitted to a candid world.
Continue reading →
Red Skelton and his unforgettable rendition of the Pledge of Allegiance.  Skelton rose out of abject poverty to become one of the great comedians of his time.  As the above video indicates Skelton also had his serious side.  His message about the Pledge is good to remember this Fourth and every day.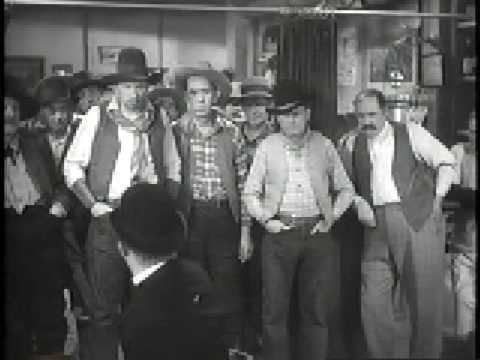 Any understanding of this nation has to be based, and I mean really based, on an understanding of the Civil War. I believe that firmly. It defined us. The Revolution did what it did. Our involvement in European wars, beginning with the First World War, did what it did. But the Civil War defined us as what we are and it opened us to being what we became, good and bad things. And it is very necessary, if you are going to understand the American character in the twentieth century, to learn about this enormous catastrophe of the mid-nineteenth century. It was the crossroads of our being, and it was a hell of a crossroads.
Shelby Foote
Two years ago I compiled a list of the top ten movies for the Fourth of July which focused on films about the Revolutionary War.  Go here to view that post.  Last year I compiled a list of top ten patriotic movies for the Fourth, and that post may be viewed here.  This year we will focus on the top ten Civil War films for the Fourth of July.  I agree with historian Shelby Foote that it is impossible to understand the United States without understanding the Civil War, and it is "therefore fitting and proper" that over the Fourth Civil War movies come to mind.
10.   Ruggles of Red Gap (1935)-We begin with a non-Civil War movie with the video clip at the beginning of this post.  In 1908 English Bulter Charles Ruggles, well played by actor Charles Laughton, comes to work in the American West.  It is a hilarious fish out of water comedy, as Ruggles, with his culture and British reserve comes face to face with the Wild West.  While living in America, Ruggles becomes interested in American history, and becomes a great admirer of Abraham Lincoln.  When he recites the Gettysburg Address, the impact on his listeners is obvious, and reminds us that for Americans the Civil War will never be a matter simply relegated to books or memory, but is something that still has a vast impact on us to this day.
9.    Friendly Persuasion (1956)-Starring Gary Cooper as Jess Birdwell, the head of a Quaker family in southern Indiana during the Civil War, the film is a superb mix of drama and comedy as the Quakers have to determine whether to continue to embrace their pacifist beliefs or to take up arms against General John Hunt Morgan's Confederate cavalry during his Great Raid of the North in June-July of 1863.  When the oldest son of the Birdwell family, portrayed by Anthony Perkins in his pre-Psycho days, takes up arms, his mother, played by Dorothy McGuire is aghast, but Cooper, as Jess Birdwell, defends him.  Although he remains true to his pacifist convictions, Birdwell understands that his son is acting in obedience to his conscience, and, as he tells his wife, " A man's life ain't worth a hill of beans except he lives up to his own conscience."
8.    Major Dundee (1965)-Sam Pekinpah's flawed, unfinished masterpiece, the film tells the fictional account of a mixed force of Union soldiers and Confederate prisoners who join forces to hunt and ultimately defeat an Apache raider, Sierra Charriba, in 1864-65.  Charlton Heston gives an outstanding performance as Major Amos Dundee, a man battling his own personal demons of a failed military career, as he commands this Union-Confederate force through northern Mexico on the trail of the Apache, with fighting often threatening to break out between the Union and Confederate soldiers.  Use of Confederate prisoners as Union soldiers in the West was not uncommon.  Six Union infantry regiments of Confederate prisoners, called "Galvanized Yankees", served in the West.   The final section of the film involving a battle between Major Dundee's force and French Lancers, the French occupying Mexico at the time, has always struck me as one of the best filmed combat sequences in any movie.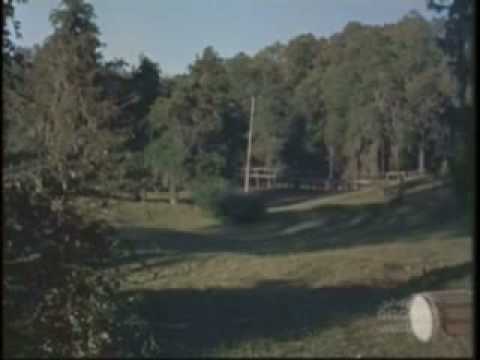 7.    The Horse Soldiers (1959)-In 1959 John Ford and John Wayne, in the last of their "cavalry collaborations", made The Horse Soldiers, a film based on Harold Sinclair's novel of the same name published in 1956, which is a wonderful fictionalized account of Grierson's Raid.
Perhaps the most daring and successful Union cavaly raid of the war, Colonel Benjamin Grierson, a former music teacher and band leader from Jacksonville, Illinois, who, after being bitten by a horse at a young age, hated horses, led from April 17-May 2, 1863 1700 Illinois and Iowa troopers through 600 miles of Confederate territory from southern Tennessee to the Union held Baton Rouge in Louisiana.  Grierson and his men ripped up railroads, burned Confederate supplies and tied down many times their number of Confederate troops and succeeded in giving Grant a valuable diversion as he began his movement against Vicksburg.
John Wayne gives a fine, if surly, performance as Colonel Marlowe, the leader of the Union cavalry brigade.  William Holden as a Union surgeon serves as a foil for Wayne.  Constance Towers, as a captured Southern belle, supplies the obligatory Hollywood love interest.
Overall the film isn't a bad treatment of the raid, and the period.  I especially appreciated two scenes.  John Wayne refers to his pre-war activities as "Before this present insanity" and Constance Towers gives the following impassioned speech:
Well, you Yankees and your holy principle about savin' the Union. You're plunderin' pirates that's what. Well, you think there's no Confederate army where you're goin'. You think our boys are asleep down here. Well, they'll catch up to you and they'll cut you to pieces you, you nameless, fatherless scum. I wish I could be there to see it.
Continue reading →
Happy Independence Day, folks! — Here is a roundup of some choice reads as we commemorate the birth of our nation:
Following are two books which I heartily recommend for some engaging historical reading of the American Revolution and our founding fathers. Continue reading →
Kathryn Elizabeth "Kate" Smith (May 1, 1907 – June 17, 1986) was an American singer, best known for her rendition of Irving Berlin's "God Bless America". Smith had a radio, television, and recording career spanning five decades, reaching its pinnacle in the 1940s.
Smith was born in Greenville, Virginia. Her professional musical career began in 1930, when she was discovered by Columbia Records vice president Ted Collins, who became her longtime partner and manager. Collins put her on radio in 1931.  She appeared in 1932 in Hello Everybody!, with co-stars Randolph Scott and Sally Blane, and in the 1943 wartime movie This is the Army she sang "God Bless America".
Late in the following video you'll see a young Lt. Ronald Reagan make a cameo.  39 years later President Ronald Reagan awarded Kate Smith the Presidential Medal of Freedom America's highest civilian honor.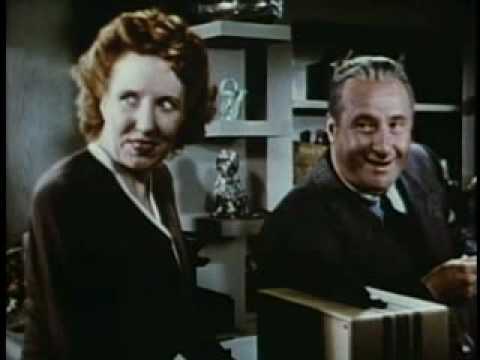 America! America!
God mend thine every flaw,
Confirm thy soul in self-control,
Thy liberty in law!
As we celebrate our Independence from the British Empire, let us remember our total dependence on God.
Last year I listed here my top ten picks for movies about the America Revolution for the Fourth.  This year here is my list of patriotic movies for the Fourth.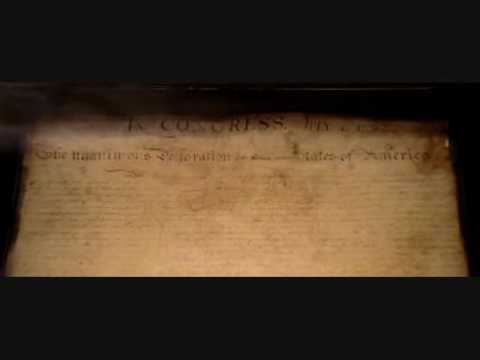 10. National Treasure (2004)-Sure it's cursed with a ridiculous plot involving the masons and a treasure, it is still a lot of fun and calls us back to the foundation document, the Declaration of Independence, that is the cornerstone of our Republic.
9. Hamburger Hill (1987)-Content advisory: very, very strong language in the video clip which may be viewed here.  All the Vietnam veterans I've mentioned it to have nothing but praise for this film which depicts the assault on Hill 937 by elements of the 101rst Division, May 10-20, 1969.  It is a fitting tribute to the valor of the American troops who served their country in an unpopular war a great deal better than their country served them.
8.    Yankee Doodle Dandy (1942)-James Cagney in perhaps the greatest film bio of them all, a salute to George M. Cohan, the legendary composer, playwright and patriot.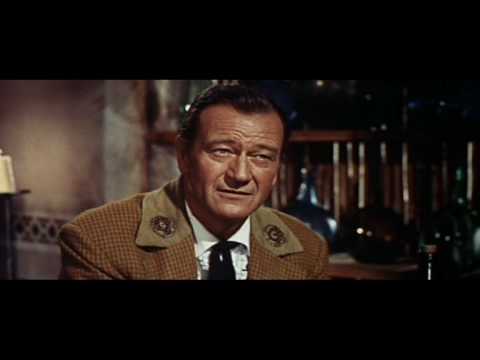 7.    The Alamo (1960)-"The Republic" scene from The Alamo, a film which was basically John Wayne's love note to America.
6.    Gettysburg (1993)-The movie that I think comes the closest to conveying to us the passions of the Civil War.  You really can't understand America unless you understand the Civil War.  As Shelby Foote, one of the greatest historians of the war, said:  "Any understanding of this nation has to be based, and I mean really based, on an understanding of the Civil War. I believe that firmly. It defined us. The Revolution did what it did. Our involvement in European wars, beginning with the First World War, did what it did. But the Civil War defined us as what we are and it opened us to being what we became, good and bad things. And it is very necessary, if you are going to understand the American character in the twentieth century, to learn about this enormous catastrophe of the mid-nineteenth century. It was the crossroads of our being, and it was a hell of a crossroads."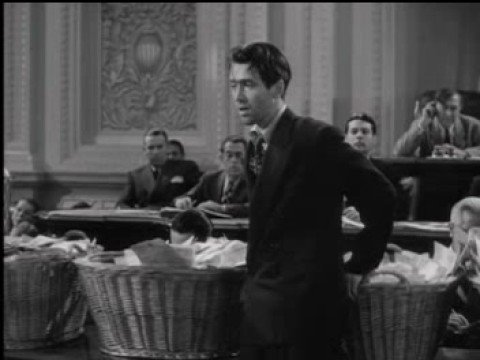 5.    Mr. Smith Goes to Washington (1939)-This movie came out at a time when fascism and communism seemed to be the wave of the future.  In the face of that dark reality, Mr. Smith is a brilliant paean to American democracy, and the idealism and devotion to the principles of the Founding Fathers that constantly battles against political corruption.
4.    Glory (1989)-The tale of the 54th Massachusetts in the Civil War, and a long overdue salute to the black troops who fought for the Union.  A superb film in every regard, and a model of  how history should be recreated on film.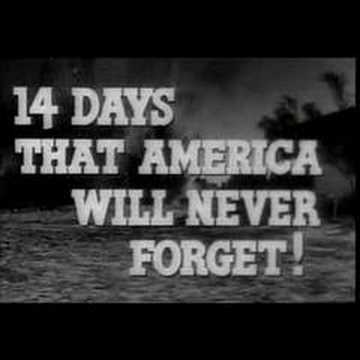 3.    Wake Island (1942)-At the beginning of World War II the 1rst Marine Defense Battalion on Wake Island, gallantly supported by civilian workers, made an unforgettable stand against the Japanese.  This is the story of the American Thermopylae.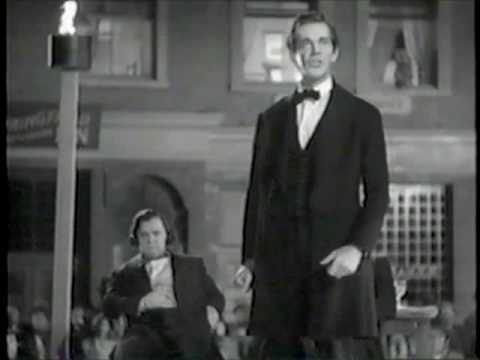 2.  Abe Lincoln in Illinois (1940)-Raymond Massey gives the performance of a life time as the greatest President this nation has ever had, save, perhaps, for George Washington.
1. 1776  (1972)-Singing and dancing Founding Fathers!  What's not to love?  The film does a good job of depicting what a leap of faith the Declaration of Independence was.  For all the Founding Fathers knew, they could have all ended up dangling from British nooses, and cursed by their posterity.  They banished their fears and went boldly forward with their revolution, the most successful revolution in history, and which is still underway.
The 4th of July is the primary patriotic holiday of our country, and yet the event it commemorates (the publication of the Declaration of Independence) was just the first step on our road to nationhood. Although the Second Continental Congress ratified the Declaration of Independence in 1776, the Articles of Confederation were not adopted until November of 1777 and were not ratified until March of 1781 — the year that the Revolutionary War was finally won, with the surrender of General Cornwallis in Yorktown. Yet the Articles turned out to be a fairly unworkable practical form of government, and Shay's Rebellion of 1786-1787 demonstrated that to many of the new country's citizens, armed revolt was still a standard form of political expression.
The ratification of the US Constitution in March of 1789 represented a significant step, creating a stronger central government with more clearly defined powers, and a model for federal constitutions to this day. Yet, whether the words on paper could be translated into a lasting and stable government remained yet to be seen.
To my mind, one of the major milestones was reached in 1794, when President Washington put down the Whiskey Rebellion.
In the midst of his election campaign for the US Senate in 1858, Lincoln gave an address on July 10, 1858 in Chicago in which he spoke about the Fourth of July:
"Now, it happens that we meet together once every year, sometime about the 4th of July, for some reason or other. These 4th of July gatherings I suppose have their uses. If you will indulge me, I will state what I suppose to be some of them.
A number of feature films and miniseries have been made about the events of the American Revolution.  Here are my top ten choices for Fourth of July viewing:
10.  The Devil's Disciple (1959)- I am not a big fan of the plays of George Bernard Shaw, but this film has its moments.  Set during the Saratoga campaign of 1777, Laurence Olivier was an inspired choice as General "Gentleman Johnnie" Burgoyne, and Burt Lancaster and Kirk Douglas as the two American protagonists have their usual fine chemistry together on film.  Not a classic but certainly an overlooked gem.
Part of my ongoing effort to have people read the Declaration on the Fourth.  This video demonstrates two things.  First, that even Hollywood can't foul up the Declaration when Mr. Jefferson's words are allowed to speak for themselves.  Second, that the Declaration is very much a speech, and is best understood when read aloud.  In the ealier days of our Republic, a public reading of the Declaration was usually a part of the festivities on the Fourth.  It is a tradition that I wish we would return to.