FOCA
In my last post, I wrote about tensions, existing or potential, between the libertarian and social conservative elements in the tea party movement. Whereas before I was speaking of Christians in a broad and general sense, I will now turn to what I think the Catholic response to the tea party ought to be.
As I looked into this topic, I was dismayed by the utter predictability of responses from across the Catholic spectrum. The rad-trad response was irrational as always; the leftist response as arrogant and contemptuous as ever; and the mainstream response was unimaginative. Granted this is a very small sampling, but I wouldn't be surprised if it was accurately representative of these currents.
28% of the tea party movement, according to the one poll we have so far, is Catholic. This means Catholics are slightly over-represented in the movement. As I also reported last time, 68% of tea partiers attend religious services regularly; for Catholics, that ought to mean they go to Mass every Sunday. Now one thing I think I can say that isn't very controversial is that when it comes to fidelity to the Church's teaching on non-negotiable issues, such as abortion, marriage, and parental education rights, Catholics that regularly attend Mass are doing a heck of a lot better than Catholics who don't. So these Catholics that are faithful to Church teaching on important issues are also supporting the tea party; that to me is an indicator that there is little in the tea party that fundamentally contradicts Church teaching.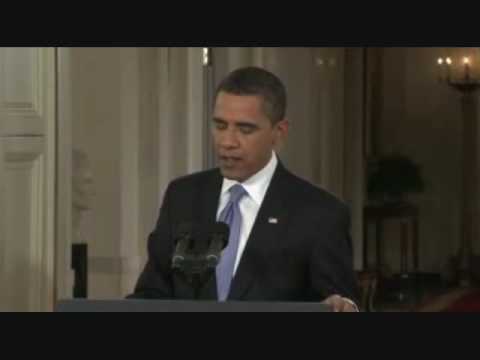 Probably the most interesting part of the press conference last night.  Ed Morrissey at Hot Air has an interesting take on it.  Obama remains an ardent pro-abort, but I think he is beginning to realize that while that position may be popular among a majority of his supporters, it is much less so with the country at large.  I daresay all the upcry over Obama Day at Notre Dame is also having an impact upon him.  The Freedom of Choice Act* has tumbled from the "first thing he would sign" at the White House to "not the highest legislative priority".   The message to the pro-life movement is clear.  Stay active, stay noisy and expose every pro-abort move that this administration makes to the public at large.  Obama is paying attention and he will back down in the face of determined opposition.
 * FOCA
One of the arguments I'm starting to get very tired of is that when Senator Obama addressed Planned Parenthood and promised that the first thing he would do as President would be to sign the Freedom of Choice Act (thus cementing a more drastic pro-abortion regime than has ever existed in the US to day) he was obviously just scoring partisan political points, and that Catholics are not only ill advised to worry about FOCA passing and being signed but that if they do so they are actively behaving in bad faith by accusing Obama of supporting something he never really meant to do.
I don't think it's news to anyone that politicians often pander, and to anyone who doubted it in the first place it's increasingly clear that the only difference between Obama's "new politics" and the old kind of politics is that the "new politics" involves Obama being president. But even if it's common knowledge that one of the good ways of knowing that a politician is lying is to see if his mouth is moving, I don't see how we can even discuss politics if we don't assume that the promises which a politician expressly makes on the campaign trial represent something which the politician at least thinks would be a good idea.
With President-elect Obama assembling together the most anti-life and anti-family radicals imaginable for his upcoming administration.  In addition to ignoring the U.S. Conference of Catholic Bishops (USCCB) statement* (November 12, 2008 AD) to reconsider not signing the misnomered Freedom of Choice Act (FOCA).  Along with other abortion related executive, judicial, and legislative acts, the options to combat this evil are becoming fewer for American Catholics.
With American Catholics being left to their faith for sustenance, our shepherds, the Catholic Bishops (USCCB), may need to review their canonical options for dealing with Catholic legislative support for FOCA.  The USCCB will have to engage the issue of well known "Catholic legislators supporting a specifically and gravely evil bill" as Dr. Edward Peters, a well respected canon lawyer, stated today on his blog.  Dr. Edward Peters sees four (4) canonical options in "dealing with these Catholic legislators who support FOCA" (emphasis mine):
1. Canon 915. Make plain, by public announcement and/or private contact, that a legislator's support for FOCA qualifies as (probably formal, but certainly proximate material) cooperation with objective grave evil and that such conduct, in this case, would render one ineligible for reception of holy Communion under Canon 915.
I confess I am disappointed to see one of my colleagues at American Catholic dismiss the "Open Letter to President-Elect Barack Obama" as only so much "fruitless and pointless rhetoric".
In response, permit me to explain what led to my own signature of the letter in question.
Readers of Catholics in the Public Square are no doubt aware that I have emphatically disagreed with Henry and those contributors at Vox Nova who supported Barack Obama throughout the 2008 election.
At the same time, to say Catholics shouldn't have cast their vote for Obama is not the same thing as asserting that they were prohibited from doing so. This, at least, seems to be the conclusion drawn from the USCCB document "Forming Consciences for Faithful Citizenship":
There may be times when a Catholic who rejects a candidate's unacceptable position [on abortion] may decide to vote for that candidate for other morally grave reasons. Voting in this way would be permissible only for truly grave moral reasons, not to advance narrow interests or partisan preferences or to ignore a fundamental moral evil.
Suffice to say I was among the those who did not believe a "grave moral reason" existed that warranted voting for Obama. And if some members of Vox Nova disagreed, I'll give them the benefit of a doubt, and trust they thought about it as long and hard as my own decision to vote for Senator McCain.
With the election of the most anti-life president in this nations history, Christians across America will soon be facing a daunting gauntlet of attacks on the sanctity of life.  We need to now follow Jesus more than ever, embrace His teachings, practice our faith, evangelize our friends and neighbors, and pray.  Pray and strive for prudence, justice, fortitude, and temperance with faith, hope, and love.
This is spiritual warfare on a massive scale.  We need to win the hearts and minds of our fellow Americans in order to push back against evil.  What is at stake are unknown millions of innocents that will be slaughtered for Mammon's sake.  Not since World War II and maybe even the French Revolution has human civilization been faced with such dark forces arrayed against it.  The time for fruitless and pointless rhetoric ended on November 4th.  We now cannot stand by the wayside and negotiate the nonnegotiables with those that intend to do harm to the most vulnerable among us.  No equivocating, no complacency, and no compromise.
Pray and fast for President-elect Obama and our glorious nation.
As Jim Lackey of the Catholic News Service says, "straight off the presses".  Cardinal George released a statement roughly around 1:00 pm Central Standard Time.  I'll put some commentary later this evening, in the time being here is the official statement by the USCCB concerning President-elect Obama and abortion [emphasis and commentary mine]:
STATEMENT of the President of the United States Conference of Catholic Bishops
"If the Lord does not build the house, in vain do its builders labor; if the Lord does not watch over the city, in vain does the watchman keep vigil." (Psalm 127, vs. 1)
The Bishops of the Catholic Church in the United States welcome this moment of historic transition and look forward to working with President-elect Obama and the members of the new Congress for the common good of all [nice to see the bishops say 'all' to encompass the unborn children and encapsulate them within the common good].  Because of the Church's history and the scope of her ministries in this country, we want to continue our work for economic justice and opportunity for all; our efforts to reform laws around immigration and the situation of the undocumented; our provision of better education and adequate health care for all, especially for women and children; our desire to safeguard religious freedom [this is important as it relates to FOCA later] and foster peace at home and abroad.  The Church is intent on doing good and will continue to cooperate gladly with the government and all others working for these goods [excellent summary of the mission of the Church in America, from economic justice to reformation of immigration law, better education, adequate health care, and the fostering of peace here and abroad].
The fundamental good is life itself, a gift from God and our parents.  A good state protects the lives of all [amen].  Legal protection for those members of the human family waiting to be born in this country was removed when the Supreme Court decided Roe vs. Wade in 1973.  This was bad law [I would say "this is bad law"].  The danger the Bishops see at this moment is that a bad court decision will be enshrined in bad legislation [here is where FOCA is alluded to] that is more radical than the 1973 Supreme Court decision itself.
The United States Conference of Catholic Bishops have made fighting against the Freedom of Choice Act a high priority in their current meeting.  The Catholic Church and the incoming Obama administration are on a  collision course in regard to abortion.  For every American Catholic the choice couldn't be starker:  which side are you on?
So I sit on the couch watching Thursday Night Football, cringing at the poor performance of the Denver Broncos, and alternatively trying to work on my writing and my reading. And then it pops up during one of those lulls in action. Spicy chicken nuggets from Wendy's. My stomach rumbles, and I immediately consider the benefit of running down to Wendy's and ordering some. The store is just a few blocks away, the nuggets are only 99 cents a pack, and I haven't eaten dinner yet. I stand up, contemplating, and then with a sigh I decide to eat the leftover stew from the previous night.
The Knights of Columbus remind us that among the most important issues at stake Nov. 4 is FOCA ["Freedom of Choice Act"]:
As the U.S. Conference of Catholic Bishops declared recently:
"Abortion rights groups and their allies in Congress are promoting a radical bill called the Freedom of Choice Act (FOCA). If this extreme measure is enacted, widely-supported and constitutionally-sound abortion regulations will be knocked down nationwide."