Fiscal Lunacy
Hattip to Instapundit.  John Steele Gordon has a first rate article here detailing how we landed in the debt morass our nation is now bogged down in.    His last sentence is a completely accurate assessment of our options: " Only necessity will force Congress to control long-term spending on its own.  And unless the body politic forces the needed changes, that necessity in the form of overwhelming debt is inescapable."
In this earlier post I reported that the Obama administration is predicting a 9 trillion dollar deficit over the next ten years.  Now, the non-partisan Concord Coalition is predicting here a 14. 4 trillion dollar deficit over the next 10 years.
As Obama goes on vacation, the Administration saw fit late Friday afternoon to release the news that the projected deficit was going up over the next ten years from 7 trillion to 9 trillion.  No doubt the Congressional Budget Office will have even more dire numbers, as the administration has consistently put the best face on the increasingly dire deficit numbers.  As I have constantly warned on this blog, our economy is about to hit a debt wall that will lead to a horrendous economy for years to come.  Fiscal lunacy, simple fiscal lunacy.  Some of my prior posts on the process by which we are careening towards national bankruptcy are below. Continue reading →
In light of Zach's stellar posting which generated over 240 comments ranging from anarchism to Oscar Romero and which inspired a posting by Michael Denton.  These comments, although informative to a certain extent, may have detracted from the original intent of the posting.  Henceforth in regards to said activities being done on Zach's posting concerning Representative Chris Smith, I am starting a new tradition here at American Catholic, the open thread.
So feel free to comment to your hearts delight that isn't related to any other postings on this website.
The comments policy is still in place so don't forget to treat each other as brothers and sisters in Christ.
Enjoy.
As regular readers of this blog know, I have been sounding the tocsin regarding government spending since the Bailout Swindle of 2008.  Here is one of my posts in which I list other posts I have written on the subject.
Yesterday the Director of the Congressional Budget Office had a chilling post on his blog which you may view here.  He states in part:
"Under current law, the federal budget is on an unsustainable path, because federal debt will continue to grow much faster than the economy over the long run. Although great uncertainty surrounds long-term fiscal projections, rising costs for health care and the aging of the population will cause federal spending to increase rapidly under any plausible scenario for current law. Unless revenues increase just as rapidly, the rise in spending will produce growing budget deficits. Large budget deficits would reduce national saving, leading to more borrowing from abroad and less domestic investment, which in turn would depress economic growth in the United States. Over time, accumulating debt would cause substantial harm to the economy. The following chart shows our projection of federal debt relative to GDP under the two scenarios we modeled." 
His chart is at the top of this post.
Keeping deficits and debt from reaching these levels would require increasing revenues significantly as a share of GDP, decreasing projected spending sharply, or some combination of the two.
He concludes on this somber note:
The current recession and policy responses have little effect on long-term projections of noninterest spending and revenues. But CBO estimates that in fiscal years 2009 and 2010, the federal government will record its largest budget deficits as a share of GDP since shortly after World War II. As a result of those deficits, federal debt held by the public will soar from 41 percent of GDP at the end of fiscal year 2008 to 60 percent at the end of fiscal year 2010. This higher debt results in permanently higher spending to pay interest on that debt. Federal interest payments already amount to more than 1 percent of GDP; unless current law changes, that share would rise to 2.5 percent by 2020.
This is fiscal madness.  We have the wealth and the ability to solve this problem by spending cuts, and minor tax increases if, and only if, combined with meaningful and deep spending cuts.  What we lack is the political will.  We are destroying the future prosperity of our kids because of current political cowardice, folly and inertia.
As California continues on a course that may well end in bankruptcy, the indispensable Iowahawk decides to give us a sneak peek of the future California funeral here.  Any relation between California's funeral and the funeral of a pop singer this week is purely intentional.  After all, they both died broke!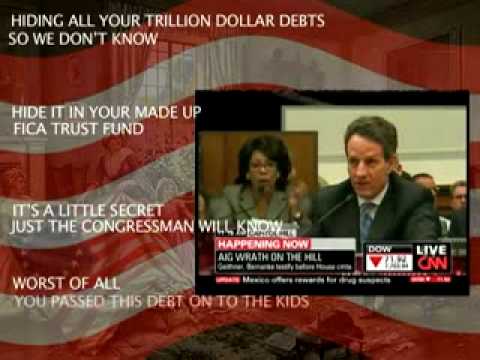 With apologies to Simon & Garfunkel.  Hattip to Smitty at the other McCain.  A parody song dreamed up by Mike Church.  If the Founding Fathers could see the fix we are in today with government spending, I am sure it would anger them but it would certainly not surprise them.
The Washington Post reported Sunday here, hattip to Instapundit, that the White House is getting nervous about the political fallout from the unprecedented spend-and-borrow binge upon which  Obama has placed the country.
"Results from a Gallup survey released last week show that although more than six in 10 Americans approve of Obama's overall job performance, fewer than half say they approve of how he is handling the deficit and controlling federal spending. The poll also shows a decline from the previous month in the percentage of Americans who approve of Obama's handling of the economy, although a majority still does."
Hattip to Daniel Indiviglio at the Atlantic.  USA Today is reporting that the share of the Federal debt for each American household is $546, 668 with private average debt of 121, 953.  Of course these numbers do not include the average household share of liabilities incurred by states and local levels of government.  Does anyone believe that we will ever climb out of this debt abyss except through the terrible remedies of hyper-inflation or debt repudiation?  As I have often stated on this blog the debt that we are amassing is fiscal lunacy and our economy will soon smash into a brick wall of government debt.
Hattip to Instapundit.  The Heritage Foundation supplied the above graphic which compares Obama budget "cuts" of $100,000,000.00 to the appropriations bill for fiscal 2009 of $410,000,000,000.00, the Bankrupt the Nation Act of 2009, sometimes erronously called the "stimulus" bill, which has a price tag of $787,000,000,000.00 and the estimated bill for fiscal year 2010 of $3,600,000,000,000.00.  How ludicrous is all this?  Ludicrous enough that the Obama supportive Associated Press makes fun of it.  Ludicrous enough that even Paul Krugman is chuckling.
The Bankrupt the Nation Act of 2009, sometimes called the "Stimulus" bill, looks like it might pass the Senate.  The amount of money we are about to saddle upon our grandchildren, if not our great-grandchildren, to attempt to pay back, may be as little as $780,000,000,000.  For the sake of comparison,  here is a list of how much other monumental undertakings in our nation's history cost, adjusted for inflation.  Between the Bankrupt the Nation Act of 2009 and the Great Bailout Swindle of 2008, our government will be allocating funds in less than six months that represent one-third the inflation adjusted cost of the US expenditures in WW2 over three years and eight months.  This is fiscal lunacy on a cosmic scale and future generations will wonder at our abysmal folly.