Fiscal Lunacy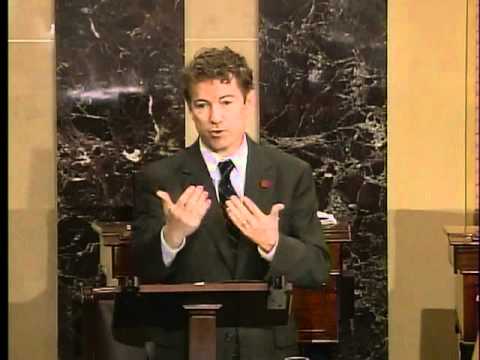 I have never been a fan of Ron Paul, to say the least, but I am rapidly becoming a fan of his son.
Yesterday the Senate in a 44-56 vote rejected the House proposal to cut 57 billion from the budget.  Then the Senate rejected a Democrat proposal to cut the budget by 5 billion dollars, 42 to 58. 
This year the federal budget deficit will be an estimated one and a half trillion dollars and that is probably on the low side.
Senator Rand Paul of Kentucky voted against both proposals because he believes that neither are serious attempts to come to grips with the sea of red ink which is threatening to destroy this nation's future prosperity.  He is absolutely correct.
He has proposed 500 billion dollar cuts.  This would be a serious start, but would still leave a deficit this year of a trillion dollars.  Here, hattip to David Fredosso at the Washington Examiner,  are the details of his plan: Continue reading →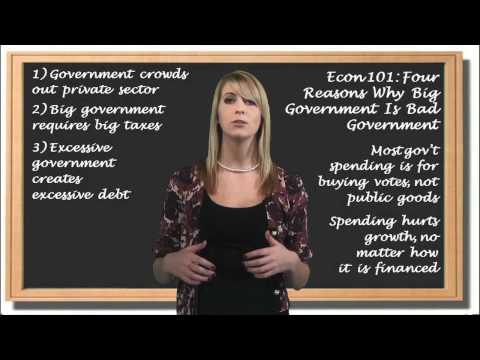 Another fine econ 101 video from the Center for Freedom and Prosperity.  The day after we learned that the Federal debt now equals the annual size of the US economy seems like an appropriate time to watch the above video.  We have attained a size and cost of government in this country which threatens to severely damage the economy which pays our bills, public and private.  This cannot go on and will not go on, either by our elected representatives finally taking steps necessary to curb the size and cost of government or through de facto national bankruptcy.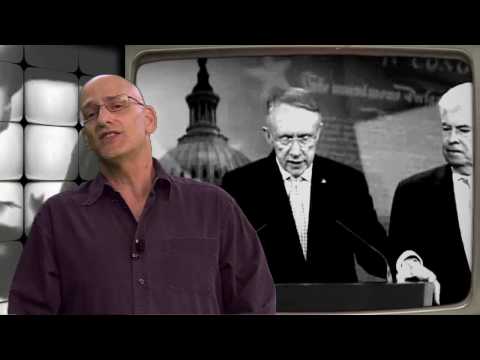 In keeping with the mini-Zombie theme I have started here at TAC, we have the above Klavan on the Culture episode from 2009.  Hmmm, Zombies as metaphor for out of control government spending.  Actually I do not think it is apt.  After all, a horde of ravenous Zombies might eat a few brains, but they would quickly be dispatched to the nether regions since, if Hollywood can be trusted, Zombies are notoriously poor combatants, moving slowly, clumsily, and giving away their positions with incessant growling.  When confronting zombies, the only thing we have to fear is fear itself!  (Plus running out of ammo.)  Continue reading →
Recently a Senator made the following statement:
"We have managed to acquire $13 trillion of debt on our balance sheet" and, "in my view we have nothing to show for it."
What right wing Republican made that statement?  Well actually it was Democrat Senator Michael Bennet of Colorado.
Of course Bennet's rhetoric is completely belied by his drunken sailor voting record when it comes to spending.  However his statement is still interesting for two reasons:
In a remarkably good article here at newgeography, Joel Kotkin details how California has been transformed from the Golden State to the state most likely to go bankrupt.  He sums up his argument as follows:
What went so wrong? The answer lies in a change in the nature of progressive politics in California. During the second half of the twentieth century, the state shifted from an older progressivism, which emphasized infrastructure investment and business growth, to a newer version, which views the private sector much the way the Huns viewed a city—as something to be sacked and plundered. The result is two separate California realities: a lucrative one for the wealthy and for government workers, who are largely insulated from economic decline; and a grim one for the private-sector middle and working classes, who are fleeing the state.
Kotkin notes that government spending was completely out of control prior to the present Great Recession:
Between 2003 and 2007, California state and local government spending grew 31 percent, even as the state's population grew just 5 percent. The overall tax burden as a percentage of state income, once middling among the states, has risen to the sixth-highest in the nation, says the Tax Foundation. Since 1990, according to an analysis by California Lutheran University, the state's share of overall U.S. employment has dropped a remarkable 10 percent. When the state economy has done well, it has usually been the result of asset inflation—first during the dot-com bubble of the late 1990s, and then during the housing boom, which was responsible for nearly half of all jobs created earlier in this decade. Continue reading →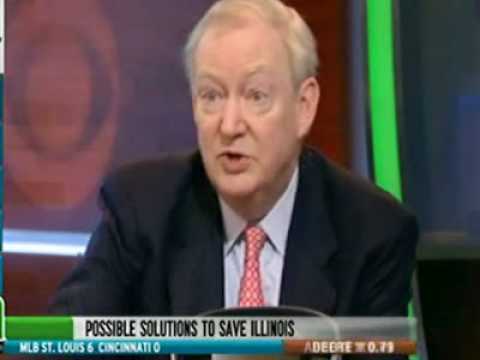 Long time readers of this blog know that I reside in the Land of Lincoln.  Illinois now has the distinction of perhaps being in the worst fiscal mess of any state in the Union, as this recent article by Josh Barro for Real Clear Markets indictates:
If you go to Sacramento this week, don't be surprised to hear champagne corks popping and chants of "We're #2! We're #2!" The cause for celebration? Illinois has overtaken California as the worst credit risk among American states.
As of Monday, the credit default swap spread for Illinois general obligation bonds climbed to 313 basis points for a five-year contract — meaning a bondholder must pay over 3% of the bond's face value per year to be insured against default.
That's a higher price than for all but seven sovereign entities tracked by CMA, and slightly higher than California, whose five-year CDS spread sits at 293. Investors rate Illinois's debt as slightly riskier than Iceland's or Latvia's, but not quite as big a gamble as Iraq's.
Despite this environment, Illinois chose to issue an additional $300 million in taxable Build America Bonds last week. Unsurprisingly, the markets were not keen and demanded a high price: the new 25-year bonds were sold with a yield of 7.1%, a spread of 297 basis points over 30-year treasuries. Illinois' last long term issues, in April, had spreads of 205 and 210 basis points, meaning investors were already nervous about Illinois and are growing moreso.
This issuance provides further evidence that the ratings agencies haven't fully appreciated the dire nature of state finances, at least in states like California and Illinois. While Illinois carries a Moody's rating of A1, six notches above junk status, the markets put Illinois's debt close to the borderline between junk and investment grade. Continue reading →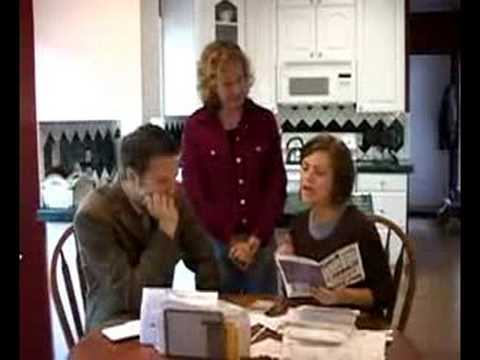 One of the few good things about hard economic times is that it affords us an excellent opportunity to regret the money that was wasted in good economic times (That timeshare in Honolulu sounded so good!) and also requires us, through bleak necessity, to amend our spending in the future.  Mark Steyn has a brilliant column on the likely impact of being broke on government spending.
How did the Western world reach this point? Well, as my correspondent put it, we assumed that we were rich enough that we could afford to be stupid. In any advanced society, there will be a certain number of dysfunctional citizens either unable or unwilling to do what is necessary to support themselves and their dependents. What to do about such people? Ignore the problem? Attempt to fix it? The former nags at the liberal guilt complex, while the latter is way too much like hard work: the modern progressive has no urge to emulate those Victorian social reformers who tramped the streets of English provincial cities looking for fallen women to rescue. All he wants to do is ensure that the fallen women don't fall anywhere near him.
So the easiest "solution" to the problem is to throw public money at it. You know how it is when you're at the mall and someone rattles a collection box under your nose and you're not sure where it's going but it's probably for Darfur or Rwanda or Hoogivsastan. Whatever. You're dropping a buck or two in the tin for the privilege of not having to think about it. For the more ideologically committed, there's always the awareness-raising rock concert: it's something to do with Bono and debt forgiveness, whatever that means, but let's face it, going to the park for eight hours of celebrity caterwauling beats having to wrap your head around Afro-Marxist economics. The modern welfare state operates on the same principle: since the Second World War, the hard-working middle classes have transferred historically unprecedented amounts of money to the unproductive sector in order not to have to think about it. But so what? We were rich enough that we could afford to be stupid. Continue reading →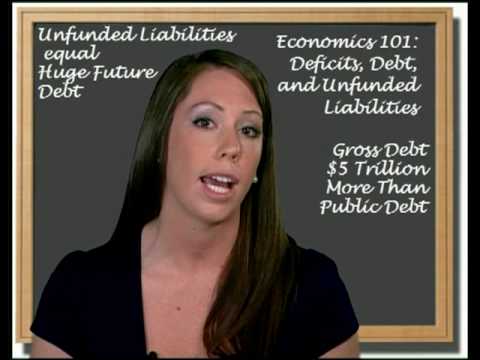 Hattip to Ed Morrissey at Hot Air.  Another fine econ 101 video from the Center for Freedom and Prosperity.   Government debt is rapidly becoming the major issue of our time, both here and abroad.  The welfare states erected throughout the world have always had a resemblance to Ponzi schemes,  and all Ponzi schemes ultimately collapse, which is what is happening around the globe.  Robert Samuelson nailed it this week in the Washington Post:
What we're seeing in Greece is the death spiral of the welfare state. This isn't Greece's problem alone, and that's why its crisis has rattled global stock markets and threatens economic recovery. Virtually every advanced nation, including the United States, faces the same prospect. Aging populations have been promised huge health and retirement benefits, which countries haven't fully covered with taxes. The reckoning has arrived in Greece, but it awaits most wealthy societies.
Americans dislike the term "welfare state" and substitute the bland word "entitlements." The vocabulary doesn't alter the reality. Countries cannot overspend and overborrow forever. By delaying hard decisions about spending and taxes, governments maneuver themselves into a cul de sac. To be sure, Greece's plight is usually described as a European crisis — especially for the euro, the common money used by 16 countries — and this is true. But only up to a point.
Euro coins and notes were introduced in 2002. The currency clearly hasn't lived up to its promises. It was supposed to lubricate faster economic growth by eliminating the cost and confusion of constantly converting between national currencies. More important, it would promote political unity. With a common currency, people would feel "European." Their identities as Germans, Italians and Spaniards would gradually blend into a continental identity.
None of this has happened. Economic growth in the "euro area" (the countries using the currency) averaged 2.1 percent from 1992 to 2001 and 1.7 percent from 2002 to 2008. Multiple currencies were never a big obstacle to growth; high taxes, pervasive regulations and generous subsidies were. As for political unity, the euro is now dividing Europeans. The Greeks are rioting. The countries making $145 billion of loans to Greece — particularly the Germans — resent the costs of the rescue. A single currency could no more subsume national identities than drinking Coke could make people American. If other euro countries (Portugal, Spain, Italy) suffer Greece's fate — lose market confidence and can't borrow at plausible rates — there would be a wider crisis.
But the central cause is not the euro, even if it has meant Greece can't depreciate its own currency to ease the economic pain. Budget deficits and debt are the real problems; and these stem from all the welfare benefits (unemployment insurance, old-age assistance, health insurance) provided by modern governments.
Countries everywhere already have high budget deficits, aggravated by the recession. Greece is exceptional only by degree. In 2009, its budget deficit was 13.6 percent of its gross domestic product (a measure of its economy); its debt, the accumulation of past deficits, was 115 percent of GDP. Spain's deficit was 11.2 percent of GDP, its debt 56.2 percent; Portugal's figures were 9.4 percent and 76.8 percent. Comparable figures for the United States — calculated slightly differently — were 9.9 percent and 53 percent.
There are no hard rules as to what's excessive, but financial markets — the banks and investors that buy government bonds — are obviously worried. Aging populations make the outlook worse. In Greece, the 65-and-over population is projected to go from 18 percent of the total in 2005 to 25 percent in 2030. For Spain, the increase is from 17 percent to 25 percent.
The welfare state's death spiral is this: Almost anything governments might do with their budgets threatens to make matters worse by slowing the economy or triggering a recession. By allowing deficits to balloon, they risk a financial crisis as investors one day — no one knows when — doubt governments' ability to service their debts and, as with Greece, refuse to lend except at exorbitant rates. Cutting welfare benefits or raising taxes all would, at least temporarily, weaken the economy. Perversely, that would make paying the remaining benefits harder. Continue reading →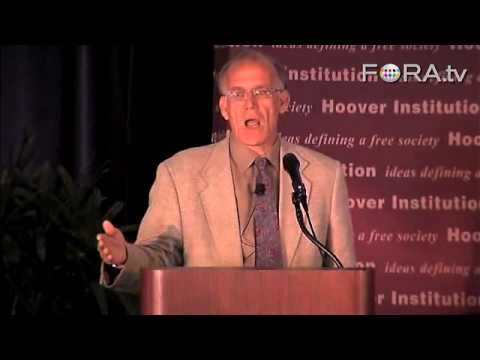 One of my favorite living historians is Victor Davis Hanson.  I have read every book he has written and most of his articles.  Trained as a classicist and historian of antiquity, he has written on a broad range of topics, from the hoplites of ancient Greece, ancient Greek agriculture, a searching examination of the Peloponnesian War, the farming crisis of the 80′s, the history of warfare and culture, the teaching of the classics and the debacle of our non-policy on immigration, and I have been astonished at how skillfully this man writes and with what intelligence, and very dry humor, he cuts to the essence of whatever subject he addresses.  He moonlights as a pundit on current events and in that capacity I have found a recent column of his intriguing on the question of just why the Obama administration is hellbent on compiling such huge annual deficits.  Here is a portion of the column:
We are going to pile up another $3 trillion in national debt in just the first two years of the Obama administration. If the annual deficit should sink below $1.5 trillion, it will be called fiscal sobriety.
Why, when we owe $12 trillion, would the Obama administration set out budgets that will ensure our collective debt climbs to $20 trillion? Why are we borrowing more money, when Medicare, Social Security, the Postal Service, Amtrak, etc. are all insolvent as it is?
What is the logic behind something so clearly unhinged?
I present seven alternative reasons — some overlapping — why the present government is hell-bent on doubling the national debt in eight years. Either one, or all, or some, or none, of the below explain Obama's peculiar frenzied spending.
1) Absolutely moral and necessary?
The country is in need of massive more entitlements for our destitute and near to poor. Government is not big, but indeed too small to meet its moral obligations. Deficits are merely record-keeping. Throwing trillions into the economy will also help us all recover, by getting us moving again and inflating the currency. And we can pay the interest easily over the next 50 years. Just think another World War II era — all the time.
So big spending and borrowing are genuine efforts of true believers to make us safe, secure, and happy.
2) "Gorge the beast"
The spending per se is not so important, as the idea of deficits in general will ensure higher taxes. Nationalized health care, cap and trade, new initiatives in education, more stimulus — all that and more is less important than the fact that huge defects will require huge new taxes, primarily from the upper-classes. I see no reason why the total bite from state income, federal income, payroll, and health care taxes cannot soon in theory climb to 70% of some incomes (e.g., 10% state, 15.3% FICA, 40% federal, 3-5% health care). In other words, "redistributive change" is the primary goal. This aim is premised on the notion that income is a construct, if not unfairly calibrated, then at least capriciously determined — requiring the more intelligent in the technocracy to even out things and ensure an equality of result. After all, why should the leisured hedge-funder make all that more after taxes than the more noble waitress?
So big spending and borrowing mean big deficits, and that means taxing the greedy and giving their ill-gotten gains to the needy.
3) Big Brother?
Or does rampant borrowing for government spending reflect our despair over the inability of millions to know what is best for themselves? For democracy to work, all of us must fully participate. But because of endemic racism, sexism, class bias, and historical prejudices, millions of Americans do not have access to adequate education and enlightenment. Therefore, a particular technocratic class, with requisite skill and singular humanity, has taken it upon themselves to ensure everyone gets a fair shake — if only government at last has the adequate resources to fix things. If it proves problematic for one to register and vote, then there will be a program to make 100% participation possible. If some of us are too heavy and too chair-bound, we can be taught what and how to eat. If some of us do not study, we can adjust academic standards accordingly. In one does something unwise, like buying a plasma TV rather than a catastrophic health care plan, then we still can ensure he is covered. In other words, an all-knowing, all-powerful, all-moral guardian class requires resources to finish the promise of participatory America. After all, why would we allow the concrete contractor to "keep" 70% of his income only to blow it on worthless things like jet skis or a Hummer in his garage or a fountain in his yard — when a far wiser, more ethical someone like Van Jones could far more logically put that now wasted capital to use for the betterment of the far more needy?
Nancy Pelosi, Harry Reid, and Barack Obama continue to spend, spend, spend away money we don't have.  With the public option now firmly established in the current Senate version of the health care bill, Election 2010 comes to mind.
Kick the bums out.
I love democracy.
(Biretta Tip: Glenn Foden of NewsBusters)
Hattip to Instapundit.  John Steele Gordon has a first rate article here detailing how we landed in the debt morass our nation is now bogged down in.    His last sentence is a completely accurate assessment of our options: " Only necessity will force Congress to control long-term spending on its own.  And unless the body politic forces the needed changes, that necessity in the form of overwhelming debt is inescapable."