First Amendment
Jane Fonda, Robin Morgan, and Gloria Steinem have written an op-ed in which they call upon the FCC to revoke the licences of radio stations that carry the Rush Limbaugh show.
That makes this a fitting time to inquire of his syndicator, Clear Channel Communications, whether it intends to continue supporting someone who addicts his audience to regular doses of hate speech. Clear Channel's Premiere Radio Networks Inc., which hosts Limbaugh's program, has defended his recent comments.

If Clear Channel won't clean up its airways, then surely it's time for the public to ask the FCC a basic question: Are the stations carrying Limbaugh's show in fact using their licenses "in the public interest?"

Spectrum is a scarce government resource. Radio broadcasters are obligated to act in the public interest and serve their respective communities of license. In keeping with this obligation, individual radio listeners may complain to the FCC that Limbaugh's radio station (and those syndicating his show) are not acting in the public interest or serving their respective communities of license by permitting such dehumanizing speech.
In the course of an op-ed calling upon the government to restrict free speech rights, the authors compare Rush Limbaugh to Joseph Goebbels.
I know that Wikipedia is not the greatest source of information, but it usually gets the basics correct.  From the article on Goebbels:
Goebbels rose to power in 1933 along with Hitler and the Nazi Party and he was appointed Propaganda Minister. One of his first acts was the burning of books rejected by the Nazis. He exerted totalitarian control over the media, arts and information in Germany.
From Webster's dictionary:
Irony : 3 a (1): incongruity between the actual result of a sequence of events and the normal or expected result (2): an event or result marked by such incongruity
Fonda, Morgan, and Steinem might want to have a look at this book before taking to the keyboard again.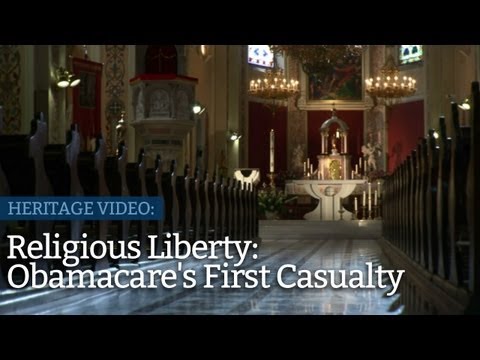 "Enlightened statesmen will not always be at the helm."
James Madison, Federalist 10
The video above is from the Heritage Foundation and incisively sets forth how ObamaCare is at war with religious liberty.  The Founding Fathers made it clear that they viewed freedom of religion as being at the core of the framework of what they were seeking to accomplish:
"We have abundant reason to rejoice that in this Land the light of truth and reason has triumphed over the power of bigotry and superstition, and that every person may here worship God according to the dictates of his own heart.  In this enlightened Age and in this Land of equal liberty it is our boast, that a man's religious tenets will not forfeit the protection of the Laws, nor deprive him of the right of attaining and holding the highest Offices that are known in the United States."
George Washington
"That religion, or the duty which we owe to our Creator, and the manner of discharging it, can be directed only by reason and conviction, not by force or violence; and therefore all men are equally entitled to the free exercise of religion, according to the dictates of conscience; and that it is the mutual duty of all to practice Christian forbearance, love, and charity towards each other."
Patrick Henry
The Religion then of every man must be left to the conviction and conscience of every man; and it is the right of every man to exercise it as these may dictate. This right is in its nature an unalienable right. It is unalienable, because the opinions of men, depending only on the evidence contemplated by their own minds cannot follow the dictates of other men: It is unalienable also, because what is here a right towards men, is a duty towards the Creator. It is the duty of every man to render to the Creator such homage and such only as he believes to be acceptable to him. This duty is precedent, both in order of time and in degree of obligation, to the claims of Civil Society.
James Madison
"Without morals a republic cannot subsist any length of time; they therefore who are decrying the Christian religion, whose morality is so sublime and pure (and) which insures to the good eternal happiness, are undermining the solid foundation of morals, the best security for the duration of free governments."
Charles Carroll of Carollton
Pope Benedict recognizes the threat to religious freedom that exists in our country:
In the light of these considerations, it is imperative that the entire Catholic community in the United States come to realize the grave threats to the Church's public moral witness presented by a radical secularism which finds increasing expression in the political and cultural spheres. The seriousness of these threats needs to be clearly appreciated at every level of ecclesial life. Of particular concern are certain attempts being made to limit that most cherished of American freedoms, the freedom of religion. Many of you have pointed out that concerted efforts have been made to deny the right of conscientious objection on the part of Catholic individuals and institutions with regard to cooperation in intrinsically evil practices. Others have spoken to me of a worrying tendency to reduce religious freedom to mere freedom of worship without guarantees of respect for freedom of conscience.
Here once more we see the need for an engaged, articulate and well-formed Catholic laity endowed with a strong critical sense vis-à-vis the dominant culture and with the courage to counter a reductive secularism which would delegitimize the Church's participation in public debate about the issues which are determining the future of American society. The preparation of committed lay leaders and the presentation of a convincing articulation of the Christian vision of man and society remain a primary task of the Church in your country; as essential components of the new evangelization, these concerns must shape the vision and goals of catechetical programs at every level. Continue reading →
But it is a document that ensures a pesky little thing called religious freedom, something that Herman Cain has seemingly missed.
Herman Cain, a Republican presidential candidate, says Americans have the right to ban Muslims from building mosques.

"They have the right to do that," Cain said on Fox News Sunday, expressing his concerns with Sharia law. "I'm willing to take a harder look at people that might be terrorists."

Cain's comments were in reference to a Tennessee town that is attempting to ban a mosque in its community. "That's not discriminating based upon their particular religion," he said. "There is an aspect of them building that mosque that doesn't get talked about. And the people in the community know what it is and they're talking about it."

"Our Constitution guarantees the separation of church and state," Cain said. "Islam combines church and state. They're using the church part of our First Amendment to infuse their morals in that community, and the people in the community do not like it."
I'm the last person to deny the perniciousness of many elements within Islam, but this is nonsense on stilts.  The most deliciously ironic aspect of this comment is Cain's relying on the "separation of church and state trope."  So Cain doesn't seem to think that the First Amendment guarantees freedom of religion, which it in fact does, but he does think it guarantees a separation of church and state, which it in fact does not.  And I especially have to laugh at Cain saying "They're using the church part of our First Amendment to infuse their morals in that community and the people in the community do not like it."  First of all,  the church part of our First Amendment?  What?  Second, does anyone doubt that if an atheist or hardened leftist (I know, I'm being redundant) had said something like this he would have been excoriated by most conservatives.  Evidently only pre-approved religious viewpoints are allowed to influence people in a given community.  Perhaps Herman Cain would like to share with us which viewpoints are acceptable, this way we can be all clear in the future.
Naturally this has provided an opportunity for people to beat their chests and play "more righteously angry and conservative than thou."  Because only a hippy could possibly think that it is a dangerous thing to start prohibiting certain religions from constructing places of worship.  This selective application of the first amendment could never be applied to Catholics, right?  No one could possibly fathom using the same precise rationale that Cain has advanced here in order justify blocking the construction of a Roman Catholic Church.
I thought the construction of the Islamic cultural center at Ground Zero was a terrible idea, but that had to do with the symbolic import of the location.  Even then, I thought the way to oppose it was through social pressure, not by the strong arm of the state intervening and prohibiting construction.  The people of the local community can certainly express their displeasure, but once we allow the state to intervene we have destroyed the concept of religious freedom.
And yes, I know that many adherents of Islam do not even believe in the concept of religious freedom.  Certainly there is a political element within Islam that makes it as much an ideology as a religion,  at least in certain quarters.  But are we willing to completely write off all Muslims as deranged fanatics unworthy of constitutional protections?  If you think as Herman Cain does, then that's implicitly what you are saying.
The above video is a stirring rendition of a campaign song for Abraham Lincoln in 1860:  Lincoln and Liberty Too, probably the most effective campaign ditty in American political history.  It was sung everywhere by Republicans in 1860, from huge campaign rallies to small gatherings of Lincoln supporters.  Lincoln Wide Awakes would hold torch light processions throughout the North singing the song at the top of their lungs.  The type of enthusiasm generated by the song helped give Lincoln a popular vote plurality in 1860 and an electoral landslide. 
I think the song would probably be illegal under legislation proposed by Congressman Robert Brady (D.Pa). 
"Rep. Robert Brady (D-Pa.) reportedly plans to introduce legislation that would make it a federal crime to use language or symbols that could be perceived as threatening or inciting violence against a federal official or member of Congress." 
Critics originally took Palin to task for the apparent use of the crosshairs of guns to identify the districts. The controversy re-ignited Saturday after the shooting, since Giffords's district was included on the map.  
Brady singled out the map as the type of rhetoric he opposed. 
"You can't put bull's-eyes or crosshairs on a United States congressman or a federal official," he said. 
However, a Palin spokeswoman denied Sunday that the image was intended to depict gun sights. Palin offered condolences to the Giffords family and other victims of the shooting on her Facebook page Saturday. 
 Here is the ad from SarahPac that has Congressman Brady so worked up:  
The crosshairs on the map indicated members of Congress targeted for defeat by SarahPac.  Such targeting imagery of course is commonplace in political campaigns.  Only a moron, or a partisan hack, would think that violence in any way was implied by the use of this image.  As far as American political speech goes, this was pretty tepid stuff.  Continue reading →
I will not tone down my rhetoric.
I will not apologize for my political views.
I will not give up my guns, or my right to purchase more.
I will not give up my right to free speech.
I will not take responsibility for the actions of a dope-smoking, devil-worshiping, Marx and Hitler-loving psychopath.
I will not take seriously anyone who blames an old political ad posted on Facebook for those actions.
I will reject as the contemptible hypocrites and cowards that they are those who refuse to acknowledge the hate and violence in the rhetoric of the left, including the violent phrases and metaphors used repeatedly by Barack Hussien Obama.
I will not listen to lectures on violence by anyone who supports increasing the coercive power of the state over the lives of American citizens, families, and communities.
I will not listen to lectures on violence by anyone who is a sycophantic apologist for the party that escalated the Vietnam War or cheered the bombing of Serbia.
I will not listen to lectures on violence and a "climate of hate" from people who have made the most horrible, violent, and threatening statements imaginable regarding Sarah Palin and her family. There is no hatred more intense in this country than the hate that leftists have for Sarah Palin.
I will not listen to lectures on violence by anyone who supports the "right" to violently dismember innocent unborn children in their mother's wombs.
I will never again listen to calls not to "rush to judgment" when a Muslim fanatic murders American citizens from anyone on the left.
I will not trade God-given, constitutionally-protected liberties for a false and futile sense of security.
I will not accept the idiotic belief that more laws, more regulations, and more police can solve problems of the human soul.
I will continue to advocate for limited government, state's rights, popular sovereignty, free markets, individual and family rights, religious liberty, and a Culture of Life.
I will not be silenced.
Who's with me?
I see that my co-blogger MJ Andrew has already posted about the Christine O'Donnell-Chris Coons debate, and I thank him as that saves me the trouble of having to sort through a whole bunch of links.
I disagree with him, though somewhat reservedly.  Having listened to the entire clip it does seem to me that O'Donnell is questioning whether the concept of the separation of Church and State is in the First Amendment, not the Establishment Clause.  There was some crosstalk at this point in the debate, and it appears to me that she's just repeating her question with regards to the issue of separation.  It's debatable, though, and a candidate should do a better job clearly establishing what she's talking about in such a setting.
That being the case,  I was more intrigued by  Coons's own response to the question.  While O'Donnell possibly made a gaffe – an unfortunate one if indeed it was a gaffe – Coons's response is the more troubling aspect of this exchange. Continue reading →
The debate over the so-called Ground Zero mosque near the former site of the World Trade Center in New York has raised public interest in, and opposition to, other proposed or recently built mosques and Islamic centers throughout the country.
In areas where Muslim migration or immigration has been significant, some citizens have attempted to discourage construction of new mosques. Few come right out and cite the threat of terrorism; more often they seem to resort to time-honored NIMBY (Not In My Back Yard) tactics such as creative interpretation of zoning ordinances, claims of decreased property values, or claims of real or potential problems with traffic, noise, etc.
Before I go any further, I want to make it clear that I understand the need to be vigilant regarding the potential for violent subversion, as well as the dangers of taking such a politically correct approach to militant Islam that people hesitate to report obvious suspicious activity for fear of being labeled bigots (as seems to have happened in the Fort Hood massacre case).
One of the interesting (by which I mean dull, predictable and repetitive) aspects of the 24 hour news cycle is that all forms of media have incentives to magnify and actively seek out controversy. Not only does this increase ratings/page views/newspaper sales, it provides media outlets with something – anything in a slow news month – to talk about. I can't help but feel that the recent outburst of commentary about the construction of a mosque near the site of the 9/11 attacks is the type of story designed to increase media consumption and accomplish little else. The First Amendment is not in dispute here; freedom of religion is well established and protected by settled case law. Furthermore, the proposed mosque is to be constructed on private property, and there is no legal reason to challenge its construction. And so most of the discussion revolves (and frequently devolves) around taste and symbolism.
I am currently reading through one of the most fascinating and relevant books of our time, America Alone, by Mark Steyn. One of Steyn's most provocative and convincing arguments is that demographics  will decide the future of Western civilization and the entire world.
Steyn argues that while the entire planet is or will be entering a phase of birth rate decline, some areas decline faster than others. America's birth rate is falling, but Europe's is falling faster, and Russia's faster still. Meanwhile countries throughout the non-Western world are falling from much higher birth rates and will take decades to match our levels. Falling birth rates are bad news for everyone, but especially bad news for those who fall further and faster.
An analogous situation can be seen in the decline of the Church, and Christianity in general, at least with respect to the Western world. The number of Americans identifying as Christian or Catholic has decreased in recent years, but it will take some time for that number to reach abysmally low European levels. Here however I think it is important to move beyond a pure numbers game and look at some of the more qualitative  aspects of Christian/Catholic decline as well.