Film Analysis
I've become a very big fan of Pixar's works, especially their recent works of Wall-E and Up. I don't know what Pixar's philosophical leanings are, but I think there's a lot in their movies for Catholics of all ages to chew on. Indeed, Pixar provides some of the few films that are excellent visually and in plot, a rarity in Hollywood these days.
If you haven't seen Toy Story 3, I recommend you (and your family) go do so. While I don't think viewing the previous ones is an absolute necessity, much of the emotional punch of the film is added by the backstory and so I would do so.
If you have, come on below for all the spoilers and discussion of the movie.
The following is a column posted by Brad Miner of The Catholic Thing on Monday, March 1, 2010 A.D.:
John Timothy McNicholas, Cincinnati's archbishop from 1925 until 1950, went to a New York convention in 1933 and heard the Apostolic Delegate to the United States, Amleto Cicognani (future Vatican Secretary of State), rail against Hollywood's "massacre" of American moral innocence and call for the "purification of cinema." McNicholas took the message to heart and founded the Catholic Legion of Decency (CLOD). As TIME magazine reported in 1934, the organization's mission was simple: the faithful should stay "away from all motion pictures except those which do not offend decency and Christian morality." So popular did the Legion's campaign become that Jews and Protestants joined the crusade, and the organization was quickly rechristened the National Legion of Decency.
The Legion's descriptions of films were exclusively condemnatory; calling only for protests about and boycotts of films deemed impure. And some of the films CLOD listed have been subsequently delisted by its successor, the U.S. Conference of Catholic Bishops Office for Film and Broadcasting. For instance, "Finishing School," a Thirties production starring Billie Burke, Ginger Rogers, and the too-often ignored Frances Dee, was condemned by CLOD as portraying an "attempted seduction and an accomplished seduction. . . . Protest. . . . Protest. . ." Today, the USCCB rating of the film is A-III, in essence: It's a quality movie. Go ahead and watch it – you're grown-ups.
Archbishop McNicholas
Very loosely based on the Justice Trials of Nazi judges and Reich Ministry of Justice officials, Judgment at Nuremberg (1961) is a masterful exploration of justice and the personal responsibility of good men trapped in a totalitarian state.  Burt Lancaster, an actor of the first calibre, gives the performance of his career as Ernst Janning.  The early portion of the movie makes clear that Ernst Janning is in many ways a good man.  Before the Nazis came to power Janning was a world respected German jurist.  After the Nazis came to power evidence is brought forward by his defense counsel that Janning attempted to help people persecuted by the Nazis, and that he even personally insulted Hitler on one occasion.  Janning obviously despises the Nazis and the other judges who are on trial with him.  At his trial he refuses to say a word in his defense.  He only testifies after being appalled by the tactics of his defense counsel.  His magnificent and unsparing testimony convicts him and all the other Germans who were good men and women, who knew better, and who failed to speak out or to act against the Nazis.  Janning's testimony tells us that sins of omission can be as damning as sins of commission.  When he reveals that he sentenced a man to death he knew to be innocent, we can only agree with his bleak assessment that he reduced his life to excrement.  Yet we have to respect Janning.  It is a rare man who can so publicly take responsibility for his own evil acts. Continue reading →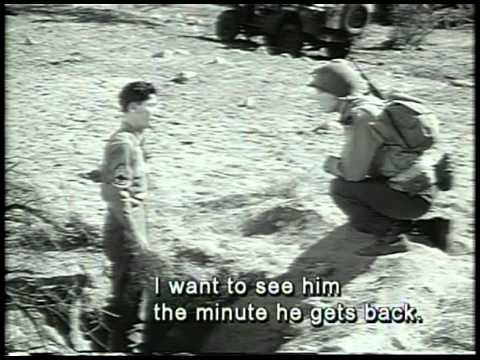 My wife gave me for my birthday on Saturday a compilation collection of 15 World War II films.  I immediately noticed one of the titles:  Go For Broke (1951).  It had been over thirty years since I last viewed that film and I watched it last night and greatly enjoyed it.
Go For Broke, tells the story of the 442nd regimental combat team during World War II.  Made up of first generation Japanese-Americans, Nisei, the 442nd, along with the 100th Infantry battalion, made up of Nisei from Hawaii and which became associated with the 442nd, fought in Italy, France and Germany.   Many of the Japanese-American actors in the film were combat veterans of the 442nd which lends the film a very realistic, almost documentary feel, especially in the combat sequences.
The film opens in 1943 at Camp Shelby, Mississippi where the men of the 442nd are being trained.  Van Johnson, portraying Lieutenant Michael Grayson, is a "90 day wonder", an enlisted man commissioned as a 2nd Lieutenant after completing a 90 days officer's candidate school.  Prior to officer's candidate school he had been a member of the 36th National Guard Division, one of several National Guard units from Texas that fought in World War II, sometimes waggishly refered to as the Texan Army.   Grayson was hoping that he would be reassigned to the 36th and is dismayed to find that he will be leading Japanese-American troops, sharing to the full the prejudice that most Americans felt against everything Japanese following Pearl Harbor.  He immediately asks Colonel Charles W. Pence, portrayed by Warner Anderson, for a transfer to the 36th.  Pence quickly realizes, despite the denials of Grayson, that he is prejudiced against the Japanese-Americans, and informs him in no uncertain terms that his men are loyal Americans, that there will no be transfer, and that he is to take up his duties as a platoon commander, a 40 man unit, immediately.  The scene shifts to the platoon, where the men are relaxing in the barracks.  Other than their ancestry, and different slang, viewers quickly realize that they are like other American soldiers, griping about the Army, wondering what is going on back home, playing craps, etc.  Grayson and his men are a poor fit initially, but he does his job and helps turn them into soldiers.  Continue reading →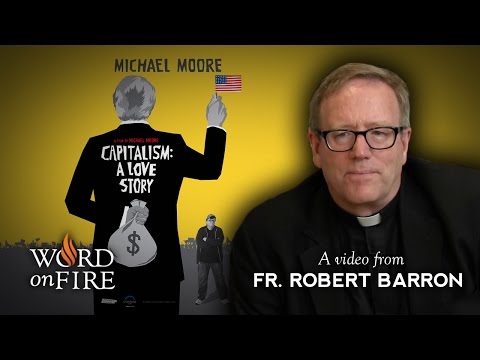 What strikes me as a fair critique of Moore's documentary, which draws, howbeit with some misrepresentation, from Catholic social teaching in addressing the current financial crisis. (Via Carl Olson).
MrsDarwin and I grabbed a rare chance to take an evening out last night and went to see District 9, a science fiction movie that came out a couple weeks ago. Contrary to stereotype, it was actually MrsDarwin who had latched onto this as the movie to see, and I'm glad she did as it was one of the more enjoyable SciFi flicks that I've seen in a while. (Movie Trailer here.)
Here, in my opinion, is one of the more profound observations on film about the Catholic Church and History.  The evil that men do make many a blood stained page of History, but the Church survives throughout History as Caesars, Emperors, Kings, Prime Ministers, Presidents, Commissars, Fuhrers, Caudillos, Duces, General Secretaries, would be fake messiahs, etc, pass away.
The Scarlet and the Black (1983) is one of the better films dealing with the Catholic Church.  Gregory Peck is brilliant as Monsignor Hugh O'Flaherty, the Scarlet Pimpernel of the Vatican, who during World War 2, hid 4000 escaped Allied POWs and Jews from the Nazi occupiers of Rome.  Christopher Plummer gives the performance of his career as Obersturmbanfuhrer (Colonel) Herbert Kappler, the head of the Gestapo in Rome.  John Gielgud gives a stunningly good performance as Pius XII.  At one point when he confronts a Nazi delegation he merely stares at them with steely disdain until they get the hint and leave.  I imagine the actual Pius XII used a similar look of disdain when, on March 11, 1940, his response to a complaint by the Nazi  Foreign Minister Joachim Von Ribbentrop that the Church was siding with the Allies, was to read to Von Ribbentrop a long list of atrocities committed by the Nazis in Poland, which had been compiled by the Church.  This is a superb film that should be seen by every Catholic.
Hands down for me the best film portrayal of  a pope is Rex Harrison of Julius II in The Agony and the Ecstacy.   A sympathetic portrayal of the soldier pope, Harrison portrays him as strong, cunning, a biting wit, a true lover of the arts, and a man of deep faith who fears his service to God has been a failure.   Michelangelo was the master artist of his time, perhaps of all time, but he required a rough hewn pope to hold him to his task.
Here we see Michelangelo explaining to the Pope his conception for the ceiling.
At this link here we have the great Pope and the great Artist discussing art and faith in one of the more profound discussions to be found in a popular film.  The death bed revival of the Pope is also one of the more hilarious sequences to be found in a non-comedy!  I think both Michelangelo and the Pope would have been pleased by their portrayals in this film.  It does justice to both of them, and no subject of any work of art can ask for better.
I saw the movie with Liam Neeson entitled "Taken", the other night. It is the ultimate 'Dads protecting daughters' fantasy. It plays on a whole lot of primal emotions- particularly the temptation to give oneself over to extreme violence to protect the lives and sanctity of one's children. Every father wants to imagine himself capable of defending his beloved children from any and all threats- and the father in "Taken" was that ultimate fatherly force. He represented more of a divine Angelic father who slays spiritually evil forces, than a realistic earthly dad- and as such I was able to excuse the incredible violence as something of a parable of ultimate accountability for those humans who perpetrate the evils of human trafficking and slavery.
For my sins, perhaps, I have spent my career as an attorney.  Over the past 27 years I've done a fair number of trials, both bench and jury, and I am always on the lookout for good depictions of trials in films, and one of the best is The Caine Mutiny.  Based on the novel of the same name by Herman Wouk,  who served in the Navy as an officer in the Pacific during World War II, the movie addresses the question of what should, and should not, be done in a military organization when the man at the top of the chain of command is no longer in his right mind.