European Style Socialism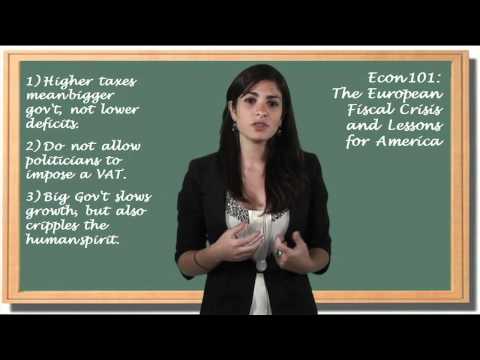 Another fine econ 101 video from the Center for Freedom and Prosperity.   This video exlores the lessons that America can learn from the current European fiscal and debt crisis.
The lessons are very simple:
1.  Higher taxes lead to higher government expenditure and not reduction of government debt.
2.  A value added tax is a recipe for run-away government expenditure.
3.   A welfare state breeds dependency.
4.   Fiscal reform and reduction of government expenditure is impossible once more people are living off the government than are paying taxes to support the government.
5.   Bailouts do not work. Continue reading →
Miss Kay Hagan is doing a poor job of defending the "merits" of ObamaCare to a mother who has sick children.  In addition to her sick children, her and her husbands benefits have been cut down or eliminated in order to comply with ObamaCare.
Yet Miss Hagan insists on pushing for more European style socialism.
(Hat Tip:  Culture War Notes)
The Governors office and both chambers of the Washington State legislature are currently under Democratic control. Years of spending on European style socialist programs have created a budget deficit. The Democrats have decided instead of cutting or trimming their state programs whey will instead add a beer tax (and more) to compensate for the budget shortfall.
Republicans don't have all the answers either.  But you know (most times) it won't be taxes that they turn to to solve a budget deficit.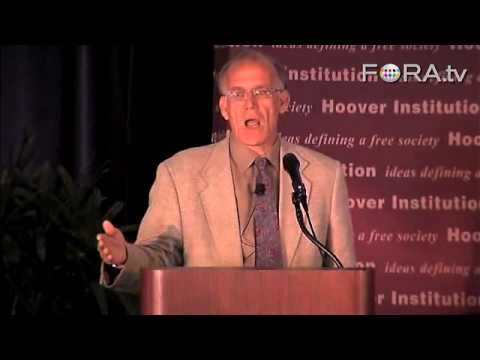 One of my favorite living historians is Victor Davis Hanson.  I have read every book he has written and most of his articles.  Trained as a classicist and historian of antiquity, he has written on a broad range of topics, from the hoplites of ancient Greece, ancient Greek agriculture, a searching examination of the Peloponnesian War, the farming crisis of the 80′s, the history of warfare and culture, the teaching of the classics and the debacle of our non-policy on immigration, and I have been astonished at how skillfully this man writes and with what intelligence, and very dry humor, he cuts to the essence of whatever subject he addresses.  He moonlights as a pundit on current events and in that capacity I have found a recent column of his intriguing on the question of just why the Obama administration is hellbent on compiling such huge annual deficits.  Here is a portion of the column:
We are going to pile up another $3 trillion in national debt in just the first two years of the Obama administration. If the annual deficit should sink below $1.5 trillion, it will be called fiscal sobriety.
Why, when we owe $12 trillion, would the Obama administration set out budgets that will ensure our collective debt climbs to $20 trillion? Why are we borrowing more money, when Medicare, Social Security, the Postal Service, Amtrak, etc. are all insolvent as it is?
What is the logic behind something so clearly unhinged?
I present seven alternative reasons — some overlapping — why the present government is hell-bent on doubling the national debt in eight years. Either one, or all, or some, or none, of the below explain Obama's peculiar frenzied spending.
1) Absolutely moral and necessary?
The country is in need of massive more entitlements for our destitute and near to poor. Government is not big, but indeed too small to meet its moral obligations. Deficits are merely record-keeping. Throwing trillions into the economy will also help us all recover, by getting us moving again and inflating the currency. And we can pay the interest easily over the next 50 years. Just think another World War II era — all the time.
So big spending and borrowing are genuine efforts of true believers to make us safe, secure, and happy.
2) "Gorge the beast"
The spending per se is not so important, as the idea of deficits in general will ensure higher taxes. Nationalized health care, cap and trade, new initiatives in education, more stimulus — all that and more is less important than the fact that huge defects will require huge new taxes, primarily from the upper-classes. I see no reason why the total bite from state income, federal income, payroll, and health care taxes cannot soon in theory climb to 70% of some incomes (e.g., 10% state, 15.3% FICA, 40% federal, 3-5% health care). In other words, "redistributive change" is the primary goal. This aim is premised on the notion that income is a construct, if not unfairly calibrated, then at least capriciously determined — requiring the more intelligent in the technocracy to even out things and ensure an equality of result. After all, why should the leisured hedge-funder make all that more after taxes than the more noble waitress?
So big spending and borrowing mean big deficits, and that means taxing the greedy and giving their ill-gotten gains to the needy.
3) Big Brother?
Or does rampant borrowing for government spending reflect our despair over the inability of millions to know what is best for themselves? For democracy to work, all of us must fully participate. But because of endemic racism, sexism, class bias, and historical prejudices, millions of Americans do not have access to adequate education and enlightenment. Therefore, a particular technocratic class, with requisite skill and singular humanity, has taken it upon themselves to ensure everyone gets a fair shake — if only government at last has the adequate resources to fix things. If it proves problematic for one to register and vote, then there will be a program to make 100% participation possible. If some of us are too heavy and too chair-bound, we can be taught what and how to eat. If some of us do not study, we can adjust academic standards accordingly. In one does something unwise, like buying a plasma TV rather than a catastrophic health care plan, then we still can ensure he is covered. In other words, an all-knowing, all-powerful, all-moral guardian class requires resources to finish the promise of participatory America. After all, why would we allow the concrete contractor to "keep" 70% of his income only to blow it on worthless things like jet skis or a Hummer in his garage or a fountain in his yard — when a far wiser, more ethical someone like Van Jones could far more logically put that now wasted capital to use for the betterment of the far more needy?
Alexis de Tocqueville, Democracy in America, Volume Two, Part Four, Chapter Six: What Kind of Despotism Democratic Nations Have to Fear:
I see an innumerable crowd of like and equal men who revolve on themselves without repose, procuring the small and vulgar pleasures with which they fill their souls. Each of them, withdrawn and apart, is like a stranger to the destiny of all the others: his children and his particular friends form the whole human species for him; as for dwelling with his fellow citizens, he is beside them, but he does not see them; he touches them and does not feel them; he exists only in himself and for himself alone, and if a family still remains for him, one can at least say that he no longer has a native country.
(Updates at the bottom of this article.)
Harry Reid was able to make huge concessions to the state of Nebraska and bought Senator Ben Nelson's vote a la Mary Landrieu.  The vote seems headed to the floor with all 60 votes secured to impose on American's draconian laws that would hike insurance rates and begin the downward slope towards European style socialism.
Nelson secured full federal funding for his state to expand Medicaid coverage to all individuals below 133 percent of the federal poverty level. Other states must pay a small portion of the additional cost. He won concessions for qualifying nonprofit insurers and for Medigap providers from a new insurance tax. He also was able to roll back cuts to health savings accounts.
What's in the bill that I'm aware of?  I've broken down the Washington Post article almost verbatim below:
As the recession continue to take its toll on our fellow Americans, rendering more and more of them homeless, tent cities have begun sprouting up across this great country.  It would not be fair to blame President Obama for the predicament that our nation is in, but President Obama has done nothing to help the situation.
President Obama's 'stimulus package' only rewarded government contractors with more spending.  It is also correct to point out that former President George W. Bush's 'stimulus package' did nothing more than President Obama's spending bill.
Small businesses and the private sector in general got almost zero benefit for either porkulus spending bills.  Though this recession is typical of a business cycle, there are some things that can be done to alleviate the stress the economy is undergoing and maybe expedite the expiration of the current recession.  President Obama has done neither.
So it is fitting and fair to label the tent cities that are sprouting across America as Obamavilles.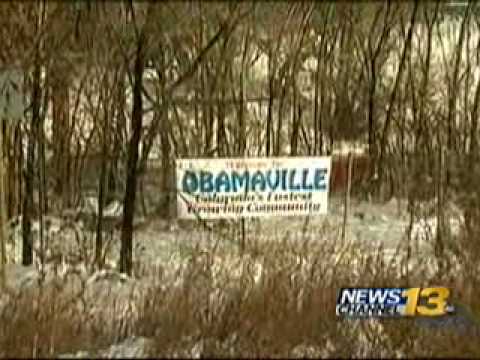 (Note: In case the above YouTube video is taken down by the Blueshirts, you can see the entire story and video here.)
Isn't it obvious that most of our American ancestors came over from Europe because they wanted life, liberty, and the pursuit of happiness?  They fled totalitarian regimes, socialist governments, and anti-Christian repression for the freedom that is afforded all Americans.
We have the best health care in the world precisely because it is not operated by the government.  Private industry drives innovation, government regulation or government-run health care eliminates innovation, awards bureaucrats, and ultimately leads to marginal health care in the long run.
We are Americans, not Europeans.  Yet President Obama, Congressional Democrats, and well-meaning liberals and progressives want to emulate European health care programs.  What Europeans have is not necessarily right nor good.
[Updates at the bottom of this posting.  Most recent update at 6:54 pm CST 8-10-09]
Nancy Pelosi, the liberal Democratic Representative from San Francisco, wrote early this morning in a special USA Today
editorial that those protesting against government run health care are "un-American".
It is clear to Representative Pelosi and her cohorts that the majority of Americans do not want further government intrusion into their lives, hence Mrs. Pelosi's attempts at demonizing ordinary Americans.
Drowning out opposing views is simply un-American.
She is referring to the many town hall meetings where Americans were voicing their displeasure to government run health care.  Deliberately smearing Americans for voicing their opinions.
Sadly, the mainstream media is doing their part in painting these town halls as darkly as possible, regardless of the evidence that SEIU goons, Blueshirts, have already attacked health care protesters.
Let's wait until the 2010 congressional elections and see their opinions voiced in turning back European style socialism by voting these malefactors out of office.
Update I: House GOP Leader John Boehner (Ohio) ripped his Democratic counterparts Monday for labeling those disrupting lawmaker town halls as "un-American."  Read the rest of this here.
Update II: The guy that beat up Mr. Gladney:
Elston K. McCowan is a former organizer – now the Public Service Director of SEIU Local 2000 – and board member of the Walbridge Community Education Center, and is a Baptist minister, has been a community organizer for more than 23 years, and now, he is running for Mayor of the City of St. Louis under the Green Party.
McCowan accused the Mayor of setting fire to his van . . . because that's what big city mayors do in their spare time, I guess.  He also called [St Louis Mayor Francis] Slay a racist.  And, on election night, McCowan thanked the family who voted for him.  It was quite touching, actually.
McCowan is not a rank-and-file, card-carrying union guy.  He is a director with SEIU. He IS the union.  He ISSUES the cards. Andy Stern himself might as well have kicked Gladney.
Read the rest here.

By this stage in the health care debates, most people are aware that roughly 47 million individuals in America do not have health insurance. And many people are further aware that the 47 million statistic is misleading, because roughly 14 million of these individuals are already eligible for (but have not enrolled in) existing government programs, 9 million have incomes over $75,000 and choose not to purchase private insurance, 3-5 million are only temporarily uninsured between jobs, and roughly 10 million do not have the legal right to reside in the country. In the end, this means roughly 10 million U.S. citizens lack meaningful access to health insurance.  It has been noted elsewhere that insuring these individuals would cost a lot less than the $1 trillion proposal currently under consideration in Congress, and further that it would not require a dramatic (and costly) restructuring of the U.S. health care system.
Hattip to Ed Morrissey at Hot Air. John Stossel is an anomaly:  he is a libertarian in a profession, journalism, dominated by liberal democrats.  Here is a column he wrote which summarizes the video, which spent quite a bit of time discussing the shortcomings of Canadian health care.
The experience of Canada under national health care is intriguing.  A battle is raging over the net with opponents of ObamaCare pointing out its shortcomings and proponents rallying to the defense of  the Canadian system.  One often overlooked feature is the role of private medical clinics in Canada.   Recently such clinics have been made legal based upon a Canadian Supreme Court decision and are becoming increasingly popular.  A good article on the subject is here.  Here is another article on the clinics.
I found this quote from the last article linked to curious.
"It's obviously extra billing and queue jumping," says David Eggen, executive director of Friends of Medicare. "If this goes on unregulated, it'll spread like wildfire and we can see it, even in a recession, starting to expand here in Alberta."
Now why would these clinics spread like wildfire if the Canadians are as enamored of their national health care system as the proponents of ObamaCare say they are?  Here is a story from 2006 on the subject which appeared in that notorious right-wing rag The New York Times.   As we debate changing our health care system to something approaching that of the Canadian system, we should also understand that there is a debate in Canada about broadening the availability of private pay health care.