Elijah on Mount Carmel Year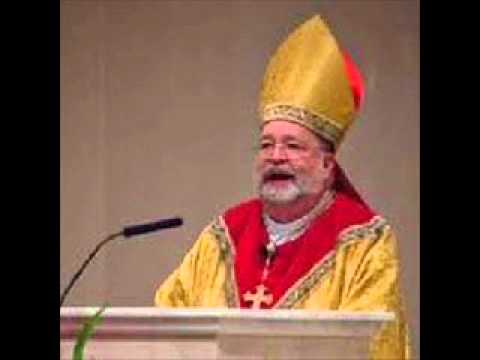 In a prior post, which may be read here, I detailed a speech by Bishop Daniel Jenky of the Peoria Diocese, my Bishop,  in which he blasted the attack of the Obama administration on religious liberty.  Bishop Jenky is a graduate of Notre Dame and was ordained as a priest of the Congregation of Holy Cross, the Catholic religious order which runs Notre Dame.  Bishop Jenky is quite fond of Notre Dame and often speaks of his days there.  He serves on the Board of Fellows of Notre Dame.  Professor Charles E. Rice, Law School Professor Emeritus at Notre Dame, details what happened at Notre Dame after Bishop Jenky's speech:
On April 14, Bishop Daniel R. Jenky, C.S.C., of Peoria, Illinois, delivered a courageous homily at Mass during "A Call to Catholic Men of Faith."  Bishop Jenky said, "This fall, every practicing Catholic must vote, and must vote their Catholic consciences, or by the following fall our Catholic schools, our Catholic hospitals, our Catholic Newman Centers, all our public ministries—only excepting our church buildings—could easily be shut down.  Because no Catholic institution, under any circumstance, can ever cooperate with the intrinsic evil of killing innocent human life in the womb."
Forty-nine members of the Notre Dame faculty denounced Bishop Jenky in a Letter to the  University President, Rev. John I. Jenkins, C.S.C., and the Chairman of the Board of Trustees, Richard C. Notebaert.  The Letter called on them to "definitively distance Notre Dame from Bishop Jenky's incendiary statement."  The signers, said the Letter, "feel" that Bishop Jenky should resign from the University's Board of Fellows.
The faculty Letter claims that Bishop Jenky "described President Obama as 'seem[ing] intent on following a similar path' to Hitler and Stalin."  They accuse Bishop Jenky of " ignorance of history, insensitivity to victims of genocide, and absence of judgment."  The astonishingly simplistic and defamatory character of those accusations can be appreciated only by looking at what Bishop Jenky actually said: Continue reading →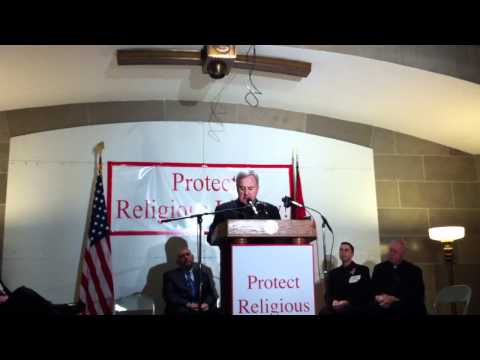 Hattip to Patrick Archbold at Creative Minority Report.   A fiery speech delivered by Archbishop Robert J. Carlson of the Saint Louis Archdiocese at the Missouri State Capitol on March 27, 2012, calling for defiance of the HHS Mandate, and a superb ringing defense of religious liberty:
So Jesus said to them: "Render unto Caesar what belongs to Caesar and to God what belongs to God." (Mt 22:21/Mk 12:17/Lk 20:25)
My brothers and sisters, we stand here today because of an alarming and serious matter that strikes at our fundamental right to religious freedom. The federal government – which was formed to be "of the people, by the people, and for the people" – has decided to tell some of those people that we are free to hold our faith, but we will be required to deny it in practice. We are here to let the government know that we will render unto Caesar what belongs to Caesar, but we will NOT render unto Caesar what belongs to God!
In late January, the Department of Health and Human Services announced that almost all employers — including Catholic employers – would be forced to offer their employees health coverage that includes contraception, sterilization and potentially abortion-inducing drugs. This is in direct contradiction to the teachings of the Catholic faith.
 Recognizing this as a grave threat to religious liberty, many people spoke out against the Mandate.
In response to this reaction, President Obama's Administration announced a so-called "compromise" in early February. Now, instead of the Catholic Church being required to pay for contraception, sterilization and potentially abortion-inducing drugs, the insurance companies will be required to provide those services free of charge.
We need to say loud and clear: Mr. President, there's no such thing as a free lunch! Contraception, sterilization and abortion-inducing drugs aren't free. Someone has to pay for them. If the insurance company has to provide them, the cost will be passed on to the consumer one way or another –that's how the economy works! Continue reading →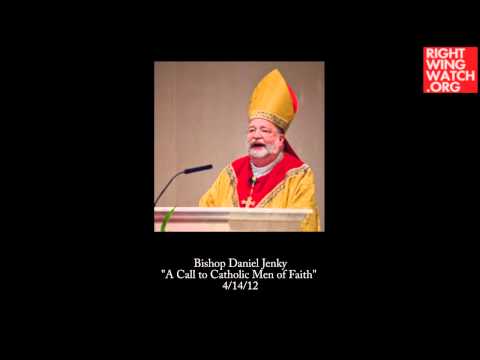 May God have mercy on the souls of those politicians who pretend to be Catholic in church, but in their public lives, rather like Judas Iscariot, betray Jesus Christ by how they vote and how they willingly cooperate with intrinsic evil.
                                                           Bishop Daniel Jenky
My bishop, Daniel Jenky, of the Peoria Diocese, speaks truth about Caesar on April 14 of this year:
There is only one basic reason why Christianity exists and that is the fact that Jesus Christ truly rose from the grave.
The disciples never expected the resurrection. The unanimous testimony of all four Gospels is that the terrible death of Jesus on the cross entirely dashed all their hopes about Jesus and about his message. He was dead, and that was the end of it. They looked for nothing more, and they expected nothing more.
So as much as they had loved him, in their eyes Jesus was a failed messiah. His dying seemed to entirely rob both his teaching and even his miracles of any lasting significance.
And they were clearly terrified that his awful fate, at the hands of the Sanhedrin and the Romans, could easily become their awful fate. So they hid, trembling with terror, behind shuttered windows and locked doors.
When the Risen Christ suddenly appeared in their midst, their reaction was shocked incredulity. They simply could not believe their own eyes.
Reality only very slowly began to penetrate their consciousness when Jesus offers proof of his resurrection. He shows them the wounds on his hands, his feet, and his side. Jesus even allowed them to touch him. He breaks bread with them and eats with them. And only then could they admit to themselves what had seemed absolutely impossible – the one who had truly died had truly risen! The Crucified now stood before them as their Risen, glorious, triumphant Lord.
His rising from the grave was every bit as real as his dying on the cross. The resurrection was the manifest proof of the invincible power of Almighty God. The inescapable fact of the resurrection confirmed every word Jesus had ever spoken and every work Jesus had ever done.
The Gospel was the truth. Jesus was the Christ, the promised Messiah of Israel. Jesus was the Savior of the world. Jesus was the very Son of God.
There is no other explanation for Christianity. It should have died out and entirely disappeared when Christ died and was buried, except for the fact that Christ was truly risen, and that during the 40 days before his Ascension, he interacted with his Apostles and disciples, and on one occasion even with hundreds of his followers.
Today's appointed Gospel reading for this Saturday in the Octave of Easter is taken from the 16th Chapter of Mark. It concludes with a command from the lips of Jesus, given to his disciples, given to the whole Church, given to you and me assembled here today: "Go into the whole world and proclaim the Gospel to every creature."
We heard in today's Second Reading from the Acts of the Apostles that the same Sanhedrin that had condemned Jesus was amazed at the boldness of Peter and John. Perceiving them to be uneducated, ordinary men, they recognized them as companions of Jesus. They warned them never again to teach, or speak to anyone, in the name of Jesus.
But the elders and the scribes might as well have tried to turn back the tide, or hold back an avalanche. Peter and John had seen the Risen Christ with their own eyes. Peter and John were filled with the Holy Spirit. They asked whether it is right "in the sight of God for us to obey you rather than God. It is impossible for us not to speak about what we have seen and heard."
And Peter and John and all the Apostles, starting first in Jerusalem in Judea and Galilee and then to the very ends of the earth, announced the Resurrection and the Good News to everyone they encountered.
According to the clear testimony of the Scriptures, these Apostles had once been rather ordinary men – like you and me. Their faith hadn't always been strong. They made mistakes. They committed sins. They were often afraid and confused.
But meeting the Risen Lord had changed everything about these first disciples, and knowing the Risen Lord should also change everything about us.
You know, it has never been easy to be a Christian and it's not supposed to be easy! The world, the flesh, and the devil will always love their own, and will always hate us. As Jesus once predicted, they hated me, they will certainly hate you.
But our Faith, when it is fully lived, is a fighting faith and a fearless faith. Grounded in the power of the resurrection, there is nothing in this world, and nothing in hell, that can ultimately defeat God's one, true, holy, Catholic, and Apostolic Church.
For 2,000 years the enemies of Christ have certainly tried their best. But think about it. The Church survived and even flourished during centuries of terrible persecution, during the days of the Roman Empire.
The Church survived barbarian invasions. The Church survived wave after wave of Jihads. The Church survived the age of revolution. The Church survived Nazism and Communism.
And in the power of the resurrection, the Church will survive the hatred of Hollywood, the malice of the media, and the mendacious wickedness of the abortion industry.
The Church will survive the entrenched corruption and sheer incompetence of our Illinois state government, and even the calculated disdain of the President of the United States, his appointed bureaucrats in HHS, and of the current majority of the federal Senate. Continue reading →
Judging from this statement on religious liberty issued yesterday, the Bishops understand that the stakes are very high indeed this year:
A Statement on Religious Liberty
United States Conference of Catholic Bishops Ad Hoc Committee for Religious Liberty
We are Catholics. We are Americans. We are proud to be both, grateful for the gift of faith which is ours as Christian disciples, and grateful for the gift of liberty which is ours as American citizens. To be Catholic and American should mean not having to choose one over the other. Our allegiances are distinct, but they need not be contradictory, and should instead be complementary. That is the teaching of our Catholic faith, which obliges us to work together with fellow citizens for the common good of all who live in this land. That is the vision of our founding and our Constitution, which guarantees citizens of all religious faiths the right to contribute to our common life together.   Freedom is not only for Americans, but we think of it as something of our special inheritance, fought for at a great price, and a heritage to be guarded now. We are stewards of this gift, not only for ourselves but for all nations and peoples who yearn to be free. Catholics in America have discharged this duty of guarding freedom admirably for many generations.   In 1887, when the archbishop of Baltimore, James Gibbons, was made the second American cardinal, he defended the American heritage of religious liberty during his visit to Rome to receive the red hat. Speaking of the great progress the Catholic Church had made in the United States, he attributed it to the "civil liberty we enjoy in our enlightened republic." Indeed, he made a bolder claim, namely that "in the genial atmosphere of liberty [the Church] blossoms like a rose."1   From well before Cardinal Gibbons, Catholics in America have been advocates for religious liberty, and the landmark teaching of the Second Vatican Council on religious liberty was influenced by the American experience. It is among the proudest boasts of the Church on these shores. We have been staunch defenders of religious liberty in the past. We have a solemn duty to discharge that duty today.   We need, therefore, to speak frankly with each other when our freedoms are threatened. Now is such a time. As Catholic bishops and American citizens, we address an urgent summons to our fellow Catholics and fellow Americans to be on guard, for religious liberty is under attack, both at home and abroad.   This has been noticed both near and far. Pope Benedict XVI recently spoke about his worry that religious liberty in the United States is being weakened. He called it the "most cherished of American freedoms"—and indeed it is. All the more reason to heed the warning of the Holy Father, a friend of America and an ally in the defense of freedom, in his recent address to American bishops:  
Of particular concern are certain attempts being made to limit that most cherished of American freedoms, the freedom of religion. Many of you have pointed out that concerted efforts have been made to deny the right of conscientious objection on the part of Catholic individuals and institutions with regard to cooperation in intrinsically evil practices. Others have spoken to me of a worrying tendency to reduce religious freedom to mere freedom of worship without guarantees of respect for freedom of conscience.   Continue reading →