Election 2008
RealCatholicTV.com will have special programming this Sunday, June 27 at 5:00 pm CST titled, "Obama's Counterfeit Catholics".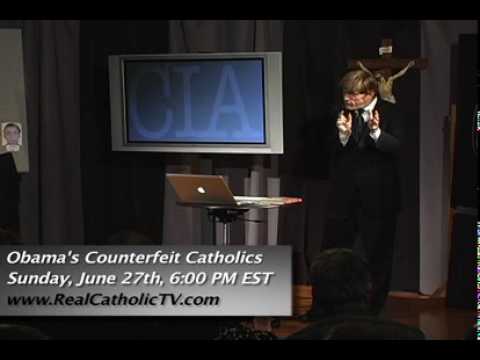 For RealCatholicTV.com click here.
Ever since McGovern, Democrats repeatedly staked their electoral hopes on an expended avalanch of young voters. This year, it appeared to happen, with Obama winning the votes of 18-29 year olds in a landslide:
Democratic brand domination was the corollary to Obama's 66%-32% blowout among 18-29 year-old voters. The youth also voted 63%-34% for House Democrats. So, young voters also voted straight ticket for the Democrats down ballot. The real story about the youth vote is not how many "new" voters Obama got to show up, but rather how he produced a gargantuan 34% differential in the youth, versus a 9% margin for Kerry in 2004.

In 2008, 18% of the electorate was comprised of 18-29 year-olds. That figure, when multiplied by the 34 percent differential in Obama voting equals 6.1 points, or a majority of Obama's popular vote margin. Had the Democratic 18-29 year-old vote stayed the same as 2004′s margin, Obama would have won by about 1 to 2 points, and would not have won 73 electoral votes from Florida, Ohio, North Carolina, or Indiana. "The Electoral College result would not have been the same, nor can we say that Obama would have won the election," said Greenberg.
Does this overwhelming Obama victory among young voters represent a strong likelihood that the Democrats have a long rule ahead of them?
Pope Benedict, the U.S. Conference of Catholic Bishops and a dean from the Regina Apostolorum Pontifical University weigh in on the results of the election.
So we lost. I don't like it a bit, but it's not exactly a surprise, and there it is. What is one to make of it all?
The Historic Moment
A great many people have commented on the historic nature of a black man being elected president of the United States — when in some states he would not have been served at many lunch counters fifty years ago.
I'm glad that those who are deeply inspired by that are having their moment — people should realize that skin color is not a barrier to achievement in the US and if this helps people (black, brown and white) realize that, all to the good. I must admit, as a 29-year-old who grew up in the working class suburbs of Los Angeles, I've figured for basically all my life that it was simply a matter of time till we had our first black president, our first hispanic president, out first female president, etc.
270 Electoral Votes Needed to Win
McCain/Palin: 155
Alabama, Arizona, Arkansas, Georgia, Idaho, Kansas, Kentucky, Louisiana, Mississippi, Nebraska, North Dakota, Oklahoma, South Carolina, South Dakota, Tennessee, Texas, Utah, West Virginia, Wyoming
Obama/Biden: 338 (Obama wins the presidency)
California, Colorado, Connecticut, D.C., Delaware, Florida, Hawaii, Illinois, Iowa, Maine, Maryland, Massachusetts, Michigan, Minnesota, Nevada, New Hampshire, New Mexico, New Jersey, New York, Ohio, Oregon, Pennsylvania, Rhode Island, Virginia, Vermont, Washington, Wisconsin
McCain has conceded and called Obama to congratulate him.  I'm done for the evening.  Another AC contributor can take up the running commentary.
Virginia goes to Obama.  Obama has the election all but wrapped up, barring a major surprise in the evening which none of the pundits, including the McCain campaign, foresee happening.  For now, we probably should begin contemplating an Obama presidency and congratulate him for an excellent campaign.
McCain aides have all but conceded the election to Obama when announcing they see no other pathway to 270 electoral votes.
Ohio goes to Obama.  This election is almost over for McCain.
McCain won the Catholic vote in Pennsylvania 51-49%, but still lost the state to Obama. 
Exit polls are not matching up with actual votes in Indiana, Florida, and North Carolina.  Hence why they haven't been called yet.  The exit polls favor Obama, but the actual results do not reflect this.
Updated 11:22 PM CST
Dear American Catholic readers, this evening I'll be online with continuous updates on American Catholic with election news and commentary.  I'll provide links and information as I gather them for you to peruse.
Political pundits are predicting an easy Obama victory probably early in the night.  
My personal prognostications are that it's going to be a long night due to heavy Republican turnouts.  In addition the P.U.M.A.'s and independents have been breaking late for McCain these past three days according to most polls.  Senator McCain should win it.
Tomorrow is election day.  I am going to make a prediction that will come true.  As in 2004, the exit polls are going to show that the Democrat candidate for President is beating the Republican candidate for President by a very wide margin.
The most accurate poll from the 2004 Election, the Investors Business Daily (IDB) Poll, has been showing a trend of Catholic voters moving away from Senator Obama and into Senator McCain's camp.  Since I first reported this a little over a week ago I can now say that this trend is real and Catholics are now leaning to McCain as of today.
Again, this is only a snapshot and outside of the IDB and Gallup polls, I don't put much into any other poll.  But it is interesting to note that the Catholic vote has switched over to McCain, 51-38%.  A solid majority so to speak.
Obama doesn't believe we should use coal to generate power.
"So if somebody wants to build a coal-powered plant, they can; it's just that it will bankrupt them because they're going to be charged a huge sum for all that greenhouse gas that's being emitted."
I guess under an Obama administration coal miners, bitterly clinging to their God and their guns, can go on welfare.
Kerry Picket of NewsBusters posted a 1995 video of Barack Obama talking about his book, "Dreams From My Father".  In it Senator Obama says of Reverend Jeremiah, "wonderful man" and "the best of what the black church has to offer".  In the video excerpt Senator Obama gives high praise and further positive commentary to the bigot Reverend Jeremiah Wright.
Granting that this isn't exactly a substance-heavy topic, I'm curious about the politically-oriented commentary (i.e. not hard news) blogs and websites that the contributors and commenters of AC visit. My first visits after I wake up on the 5th (and probably the last before I go to the night before) will most likely be: