Distributism
The search for an economic and political "third way" between socialism and capitalism has been underway since the early 20th century, if not sooner. In Catholic circles, Distributism is a third way that many are eager to discuss. I suspect many of the people reading this blog have heard of Distributism by now.
I was once attracted to the idea of Distributism, until I came to the vital question of who would be doing the "distributing" of the private property that everyone was supposed to own and how it would be done. To be vague or silent on this question is completely unacceptable. And yet there are really only two possible answers. Either people will be persuaded via reasonable argument and successful example to get together with like-minded people and distribute property in various ways, or people will be forced to do it at gunpoint.
It didn't take me long to realize that there was really no "middle ground" between these two options, just as there is really no middle ground between free will and determinism (even if various factors can influence person's will). If you haven't persuaded someone to do what you want, the only other way is force. So the question becomes: is it legitimate to use force to impose an ideology on society? Is it legitimate for a band of political visionaries to come together and either use the power of the existing state or establish a new state to drag the unwilling or apathetic masses along? And does a system which is supposedly in man's best interests need to be established at gunpoint, as if it weren't?
My compatriot Paul Zummo posts: Assertion Without Evidence.
Here find my reply.
Mr. Zummo writes:
"Show, don't tell"  is an admonition often given to writers. Usually it applies to fiction, but it works with non-fiction as well. If you make an assertion about someone's beliefs, it is generally good form to provide evidence supporting your argument, at least if you want to be taken seriously. It is true that the blogopshere doesn't necessarily allow for extended treatises, yet it's still possible within the confines of a few hundred words or more to demonstrate credible evidence of your assertions.

When it comes to Paul Ryan and his evil Randian ways, however, such worries are cast aside.
The claim is that there is no evidence to support the assertion that Paul Ryan is "Randian." That is, that he ascribes to the philosophy of Ayn Rand.
First, it is very clear that, in recent years, Paul Ryan was an avid supporter of what he called the "morality of capitalism" as defined specifically by Ayn Rand. (Video here.)
Secondly, when political blowback was clear, Ryan stated that the claims that he supports Ayn Rand are "urban legend." The term "urban legend" is commonly understood to describe a myth. In other words, his reply was that the claims are "not true," but we have the video, don't we? Robert Costa added undue credibility to Ryan's assertion:
These Rand-related slams, Ryan says, are inaccurate and part of an effort on the left to paint him as a cold-hearted Objectivist.
It is ironic that Ryan will not acknowledge that the poor are "due" assistance, even as he is given undue credibility by Costa and National Review. More troubling indeed is Costa's assertion that the source of this "lie" is political opponents on the Left. This gives the impression that Ryan is a person of privilege who will be defended by National Review, which is heavily-staffed with Catholic columnists, even against true claims against him. In this way, the credibility of Catholic conservatives is eroded. That is something I certainly do not want to see.
Let it be noted that I have never claimed that Ryan is an Objectivist, per Costa's article, but only that he is opposed to the preferential option for the poor. I would love to see any quote from Ryan claiming that the poor are "due" economic assistance from those who have more. Certainly, Rick Santorum would tell you that the poor are "due" assistance by virtue of the fact that they are poor. He would say it a thousand times without flinching, though he may disagree with some on the structures it takes to make that happen effectively. Ryan appears to have no belief that the poor are "due" assistance.
Finally, on the main point about whether Ryan is "Randian," if we assume that he's had a "conversion" from Rand, then a couple of things would be required to make it an actual conversion. First, you would have to convert "to" something else. Secondly, you would have to demonstrate somehow that you actually believe that philosophy that you've converted to.
Ryan claims that he follows St. Thomas Aquinas, not Ayn Rand.
"I reject her philosophy," Ryan says firmly. "It's an atheist philosophy. It reduces human interactions down to mere contracts and it is antithetical to my worldview. If somebody is going to try to paste a person's view on epistemology to me, then give me Thomas Aquinas," who believed that man needs divine help in the pursuit of knowledge. "Don't give me Ayn Rand," he says.
If he follows Aquinas, as claimed, this would make him a proponent of Distributism. Try quoting Aquinas' remarks on Distributism to any conservatives who have not read them before and ask them what it sounds like to them. I'll be shocked if they don't call it "socialism."
As stated above (Article 1), in distributive justice something is given to a private individual, in so far as what belongs to the whole is due to the part, and in a quantity that is proportionate to the importance of the position of that part in respect of the whole. Consequently in distributive justice a person receives all the more of the common goods, according as he holds a more prominent position in the community. This prominence in an aristocratic community is gauged according to virtue, in an oligarchy according to wealth, in a democracy according to liberty, and in various ways according to various forms of community. Hence in distributive justice the mean is observed, not according to equality between thing and thing, but according to proportion between things and persons: in such a way that even as one person surpasses another, so that which is given to one person surpasses that which is allotted to another.

Aquinas goes on to say that it is the poor, as Jesus said, who are to be considered to have the more prominent position in the community. G.K. Chesterton was a proponent of Distributism. No heretic, he.
Several times today alone, I have shared the above quote from Aquinas with conservatives and have been told it is "redistribution of wealth," the term frequently employed by conservatives to describe socialism. I would argue that most people would say the quote above describes Obama policy better than it describes Ryan policy. Herein lies the conundrum of ignorance which plagues us and foments division in the Church through political confusion. Not one among us who call ourselves conservative would let Barack Obama get away with saying that he follows Aquinas, but if Paul Ryan says it, no one bats an eyelash? Well, not me. Not me. And so, here I am before you asking you not to let any man get away with claiming he follows Aquinas when he does not, least of all a candidate for high office, and especially so when it is a candidate for high office who identifies as Catholic on the national stage.
Certainly, Ryan's philosophy continues to more closely resemble the philosophy of Ayn Rand than of Aquinas. CLICK HERE to see why that is so dangerous to the Church in America, and yes, even to Western Civilization itself.
As for Mr. Zummo's attempt to compare Paul Ryan to Rick Santorum, there is no comparison. They are vastly different, as stated above, but also considering the fact that Paul Ryan endorsed Mitt Romney, who is running on a solely economic platform, over his fellow Catholic Rick Santorum in Wisconsin. This action effectively knocked Rick Santorum out of the GOP presidential primary for good and certainly indicates strongly that the two are not at all on the same page economically. At the very least, it's clear that Paul Ryan prefers Romney economics to Santorum economics. Mitt Romney believes those who work are "due" what they work for. Fine, fine, but Rick Santorum believes, in addition to that, that the poor are "due" assistance in some form. It's a philosophy that is consistent with our Catholic Faith, whereas Ryan's philosophy is not.
There was no "assertion without evidence." To the contrary, there is a great deal of evidence, and we ignore it at our peril.
The search for an economic and political "third way" has haunted intellectuals for over a hundred years in the Western nations. Many forget that fascism was at one time considered a viable "third way" between liberal capitalism and communism, preserving for the most part private ownership of the means of production for profit but subjecting it to near total control and regulation by the state. Many other models would follow, from the local and anarchistic to the national and statist, appearing under many different names.
I too was caught up in the desperate search for a "third way", as are many Catholics who eventually find their way to Distributism. But it became quite obvious to me that what people who actually defined themselves as libertarians and capitalists were promoting and defending really wasn't what I had always thought it was, nor was it anything I could possibly find objectionable.
I'll begin by stating that part of the blame or praise for this post ought to go to Christopher Blosser and David Jones for their excellent overview and commentary on the ongoing political/economic dispute between Catholic Distributists and Catholic libertarians.
I wish I could easily come up with a logical, smooth flow to all of these points. But really I just want to get them out there, no matter how disjointed in appearance.
Finally, I really mean it this time: we will have a respectful discussion on this topic, or none at all. That means certain people and their comments will likely be banned from the discussion. It will not be possible to avoid charges of "being afraid" to debate with such indestructible champions of the one true political philosophy, given their amazing ability to rule out all other possible reasons, including their coarse and offensive personal behavior, as to why no one wishes to engage in discussions with them. C'est la vie.
The best way to contribute here, though, is to ask questions that I can answer for this FAQ!
*
Where does the word "Distributarian" come from?
The word "Distributarian" was pejoratively applied to me and a few others who have attempted to blend libertarian and Distributist ideas by those not so enamored with the project. Since I see it as a good thing, I don't mind wearing the label as a badge of honor.
What is a Distributarian?
It is one who does not see a necessary conflict between the basic propositions of Distributism and libertarianism, and insofar as possible, seeks to incorporate both of them into their social vision.
What are these propositions?
The following propositions are both necessary and sufficient for each ideology:
Of Distributism: property should be as widely distributed as possible.
Of libertarianism: social relationships should be as voluntary as possible.
Naturally some doctrinaires will dislike the wording "as ___ as possible"; why should we care about what is possible when great ideas are at stake? Either they exist full-fledged without imperfection in the world or they may as well not exist at all! If we move past this childish expectation and begin with the possible, I think we will find that there is no contradiction between these propositions.
Distributism and libertarianism challenge each other in a good way. Distributism challenges libertarianism to move beyond individual autonomy and articulate a vision of the common good; libertarianism challenges Distributism to clearly articulate how property distribution ought to come about – through force, or through consent?
Not only do they challenge each other; they compliment each other. Property owners will thrive in an environment of economic freedom; genuine liberty will thrive as it is rooted in solid social institutions based upon private property. As property ownership will increase the self-sufficiency of individuals, families, and communities, it will decrease dependency upon the state.
Read the rest and comment here.
And please note that this is a work in progress!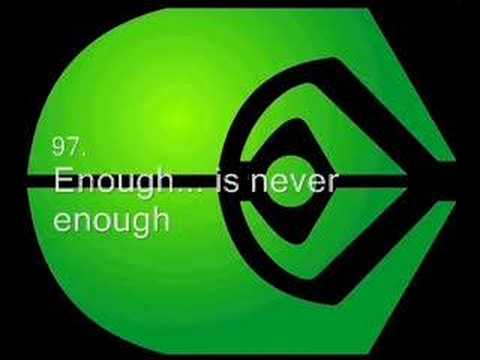 (Content advisory to the above video.  A few of the Rules of Acquisition are off-color.  You know what the Ferengi are like.)
We have been having a debate recently on The American Catholic between Austrians and Distributists.  As a devotee of free enterprise with as little government intervention as possible, I have found some wisdom in the Ferengi Rules of Acquisition as set forth in one of my favorite fictional realms:  Star Trek.  Many of the Rules of Acquisition of course are merely for entertainment purposes and would lead to immoral results, if not bankruptcy or prison, if attempted in reality.  However,  after a quarter century of running my own business, I believe these rules are insightful:
Christopher Blosser:
As a young convert I was very much intrigued by the ongoing discussion between Richard J. Neuhaus, George Weigel, Michael Novak and Fr. Robert Sirico — and their critics, ranging from David Schindler (editor of Communio) to Tracey Rowland and Alisdair MacIntyre. This has sometimes been described as a debate between 'Catholic neocons' and 'Catholic paleocons'; 'Whig-Thomists' vs. 'Augustinian Thomists' (the latter by Tracey Roland in a famous two-part interview with Zenit).
The discussion was centered on such questions as:
What are the religious and philosophical foundations of the 'The American Experiment'?
Is the liberal tradition (understood in the sense of democracy, human rights and the free market) a help or a hindrance to the life of the Church and evangelization?
Is capitalism and the free market compatible with Christian morality and the social teachings of the Catholic Church?
What is the proper role of religion in the public life of America today and how ought we to interpret the 'separation of Church and State'?
What is the proper understanding of freedom, conscience and religious liberty in Catholic tradition?. . . in other words, the kinds of questions that we at American Catholic are largely preoccupied. To aid in my readings and research on this topic I started a website, "The Church and the Liberal Tradition" and a blog, "Religion and Liberty" which was largely active from 2003-2006.

One of my chief sparring partners online was David Jones, founder of the blog la nouvelle theologie. While my time of late has been preoccupied with readings in other subjects (and other pursuits), David has kept up with new developments in this ongoing discussion. Among them, the recent exchanges between Catholic-traditionalist-turned-libertarian Dr. Thomas Woods and his chief critics, Thomas Storck and Christopher Ferrara (of The Remnant)– about which David would like to offer the following remarks in a guest post:
Few things are more annoying to me than the obstruction of both semantic quibbles and logical fallacies to a clear understanding of reality. Thus my experience as a Distributist has become one of near-perpetual annoyance, given the proliferation of both throughout the Distributist camp. Here I want to address a few of the latest examples of this obstruction, and provide some insights as to how and why it ought to be overcome.
First, there is John Medaille's interview with the Young Turks, in which he declares that one cannot be in favor of both free markets and capitalism, simply because he has defined a free market as a situation in which there are vast numbers of competitors, and capitalism as a situation in which economic power has been concentrated in the hands of a few large firms. When challenged on this distinction by the interviewer, who asserted that capitalism could be defined as a free market economy while this economic concentration could be defined as corporatism, Medaille essentially had no choice but to agree. He then decided to add that "the capitalism we have" is what he claims to be talking about, regardless of how one wants to "define it in the abstract."
By answering in this way, however, Medaille might leave you with the impression that people who claim to be in favor of capitalism aren't interested in criticizing that which "we have", when it is beyond obvious to anyone who actually reads the material of self-identified pro-capitalist organizations such as the Mises Institute that they view "what we have" as corporatism or statism or state-capitalism or some variation on that theme, and oppose it as well.
The relationship between markets and morality has been the subject of analysis and sometimes intense debate for centuries, since Aristotle wrote chapter 1 of The Politics and possibly sooner. I myself have participated in many of these debates, and the position I would typically take is that markets were either amoral at best, or a cause of vice at worst. There are many Catholics and many Distributists who probably share the same view. They will concede and even embrace the fact that the Papacy has not categorically condemned market activity, but they will spend the majority of their time highlighting why markets ought to be regulated and taxed, why we need welfare programs, labor unions, and all of the rest.
I have written extensively against a phenomenon called consumerism, which is also heavily critiqued in the Papal encyclicals. But it would be wrong to associate consumerism, which is a byproduct of mass production and communications technology, with market activity as such, since it pre-dates industrial society by thousands of years.
In recent months I have been walking a fine line between libertarianism and communitarianism. Now that Phillip Blond has made his American debut, everyone is weighing on the conflict between these ways of looking at the world. I already covered David Brook's assessment in the NY Times a while back. A brilliant Catholic philosopher by the name of Edward Feser has also given much attention to the viability of the libertarian/conservative "fusion", which shares many similarities with the libertarian/communitarian debate. And now a Patrick J. Deenen weighs in on Blond, for communitarianism and against libertarianism. And a Mike Gibson fires back on his blog.
Since I've had a lot to say about these issues in the past, I'm going to say a bit about the latest round of conflict between libertarians and communitarians, and explain why I don't think there needs to be any conflict at all. For one thing is missing from almost all of these analyses and exchanges – mention of, let alone fidelity to, the US Constitution. Not only that, but I am convinced that "subsidiarity" needs to appear in any discussion or debate between these ideological camps, as it really does bridge the gap between them. I would venture to say that the US Constitution is fairly good embodiment of the principle of subsidiarity.
Rand and Ron Paul are the true face of the Tea Party. I support them 100% in the months and years to come.
Though I agree that with Rand that we don't need to apologize to the world for our economic system, we do need to continually revise and update it in accordance with the demands of the moral law and human dignity. My hope is that Distributist ideas can continue to gain traction in America, and among the Catholics in the tea party and hopefully beyond.
Despite their obvious potential advantages, employee owned businesses tend to be rare. In 2004, there were an estimated 300 worker owned cooperatives in the United States. If that sounds impressive, consider that in 2001, there were over 18.3 million nonfarm proprietorships in the U.S. Nor is the situation much different overseas. The Mondragon Cooperative Corporation is typically cited as an example of a successful worker cooperative, and it is indeed quite successful . . . for a co-op. Compared to other types of businesses, however, Mondragon performs well, but not stellar. It is the seventh largest corporation in Spain, and despite being a conglomeration of more than a 100 different companies, it accounts for less than 4% of the GDP of the Basque region of Spain where it is located. When one considers that Mondragon is in all likelihood the most successful worker cooperative on the planet, the idea that the co-op's success proves the viability of worker cooperatives generally begins to seem doubtful.
There's nothing legally preventing people from choosing to start a workers-owned cooperative rather than some other form of business, and in fact cooperatives receive more favorable tax treatment than do standard business corporations. Why then, aren't they more common? The question has actually inspired a fair amount of research, which has identified at least four obstacles to the success of worker owned businesses.
The "means of production" (which may be defined, roughly, as consisting of capital goods minus human and financial capital), is a central concept in Marxism, as well as in other ideologies such as Distributism. The problems of capitalism, according to both Marxists and Distributists, arise from the fact that ownership of the means of production is concentrated in the hands of the few. Marxists propose to remedy these problems by having the means of production be collectively owned. Distributists want to retain private ownership, but to break the means of production up (where practicable) into smaller parts so that everyone will have a piece (if you wanted to describe the difference between the Marxist and Distributist solutions here, it would be that Distributists want everyone to own part of the means of production, whereas Marxists want everyone to be part owner of all of it).
Where a society's economy is based primarily on agriculture or manufacture, thinking in terms of the means of production makes some sense. In an agricultural economy wealth is based primarily on ownership of land, and in a manufacturing economy ownership of things like factories and machinery plays an analogous role. In a modern service-based economy, by contrast, wealth is based largely on human capital (the possession of knowledge and skills). As Pope John Paul II notes in Centesimus Annus, "[i]n our time, in particular, there exists another form of ownership which is becoming no less important than land: the possession of know-how, technology and skill. The wealth of the industrialized nations is based much more on this kind of ownership than on natural resources."