Dissident Catholics
Is dissident and disgraced theologian Hans Küng calling Pope Benedict a sedevacantist?
Hat tip: The Pulpit/Photo credit: The Curt Jester
Hattip to Mathew Archbold at Creative Minority Report.  The poster is funny and devastating.  However, I would find it even more humorous if purported Catholic newspapers didn't publish articles like this,  or if articles like this were not dead on accurate as to the attitudes of radical nuns or if so many pro-aborts, an example is here, didn't end up in positions of power within agencies associated with the Church.  The pro-life cause would be so much more effective if so many Catholics in this country were not actively supporting the right to kill unborn kids.
I shouldn't have, but I did.
Today I read Fr. Richard McBrien's article on Cardinal Marc Ouellet, the new head of the Vatican's Congregation for Bishops. As the prefect for this congregation Cardinal Ouellet will play a crucial role in the appointment of the Church's bishops in the years to come.
In his article McBrien makes the following observation:
When commenting on the greatest crisis to confront the Catholic Church since the Reformation of the 16th century, Ouellet seemed to blame the scandal of sexual abuse in the priesthood on the weakening of moral standards in society — a common explanation given by those who are reluctant to address the internal problems of the church, including obligatory clerical celibacy, the role of women, and the declining quality of pastoral leadership.
While there might be some who see the clergy sex scandal as the greatest crisis for the Church since the Reformation, I am certainly not one of them. But what I found completely absurd — again, I should've avoided the article to begin with, because it was to be expected — was McBrien's reference to the role of women in this context. How, exactly, would priestesses have prevented the abuse of children by clergy?
Father McBrien: your vision of the Church and of the Second Vatican Council is both erroneous and dying. Only a tiny fraction of young Catholics in general and those seeking degrees in theology in particular accept that erroneous reading.
Might I propose that you get with the times?
Imagine no Catholicism.
Answer:  You get today's Anglican Communion.
(Biretta tip:  Patrick Archbold of the Creative Minority Report)
RealCatholicTV.com will have special programming this Sunday, June 27 at 5:00 pm CST titled, "Obama's Counterfeit Catholics".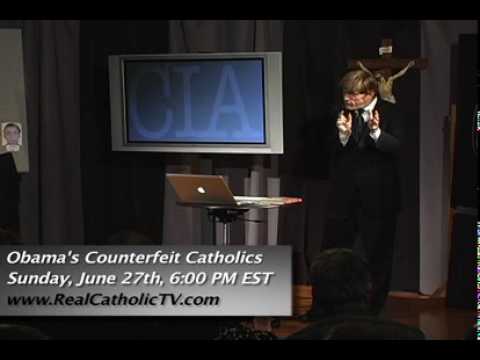 For RealCatholicTV.com click here.
I wasn't going to do this, but now I am. A contributor (Morning's Minion) to a certain blog (Vox Nova),  whose views on gun control I previously challenged, took it upon himself to let it all out about "conservatism" – partially, I believe, in response to our exchange.  The same themes are there at least, though he does go on (and on) about slavish right-wing support for Israel, an issue on which I am not so enthusiastic. I've also made my opposition to America's interventionist foreign policy known.  In doing so I respectfully digress from many of my co-bloggers at The American Catholic.
But there are a number of very broad points made by Morning Minions that are more or less directed at me, and my co-bloggers, and of course conservatives and libertarians in general, and I will answer them here.
The Lying Worthless Poltical Hack, a\k\a Nancy Pelosi, Speaker of the House, tells Priests and Bishops to speak out on immigration from the pulpit based upon a biblical concern for "the dignity and worth of every person".
The respect that the Lying Worthless Political Hack has "for the dignity and worth" of the smallest and most helpless among us was well demonstrated by this quote from Naral Pro-Choice America in 2007 after Pelosi became speaker of the House:
"Americans who value freedom and privacy have many reasons to celebrate as Nancy Pelosi takes the Speaker's gavel to make this historic move forward for our country.  For her nearly 20 years in office, Speaker Pelosi has been an effective advocate for women's health and has championed her pro-choice values by consistently voting to protect a woman's right to choose.  In November, voters across this country endorsed Speaker Pelosi's call for a change and new direction by electing 23 new pro-choice members to the U.S. House of Representatives.  Today, we celebrate as Speaker Pelosi takes the reins; under her leadership Americans can expect a new focus on commonsense solutions, not the divisive attacks that marred the previous Congresses."
Of all places, at the ESPN website, in response to sports boycotts.
The demonization of the state of Arizona, its comparison to Nazi Germany and the Soviet Union, is despicable and dishonest. It is hateful and vile. It is immoral and unjust.
By it, I am outraged and disgusted, not only when, but especially when, it is done by a bishop who has proven himself a promoter of heresy, a corrupt and degenerate criminal, and an ignoramus.
I strongly encourage everyone to hear the governor out before making any further unjust slanders. There will be no comments here because we've all been debating this for days, and we all know each other's positions. So either hear the governor out or don't. Anyone who is dying to say something to me can find my email address through my personal blog.
US Catholic Bishops: Executive Order Deal A Non-Starter:

We've consulted with legal experts on the specific idea of resolving the abortion funding problems in the Senate bill through executive order. We know Members have been looking into this in good faith, in the hope of limiting the damage done by abortion provisions in the bill. We believe, however, that it would not be fair to withhold what our conclusion was, as it may help members in assessing the options before them:

"One proposal to address the serious problem in the Senate health care bill on abortion funding, specifically the direct appropriating of new funds that bypass the Hyde amendment, is to have the President issue an executive order against using these funds for abortion. Unfortunately, this proposal does not begin to address the problem, which arises from decades of federal appellate rulings that apply the principles of Roe v. Wade to federal health legislation. According to these rulings, such health legislation creates a statutory requirement for abortion funding, unless Congress clearly forbids such funding. That is why the Hyde amendment was needed in 1976, to stop Medicaid from funding 300,000 abortions a year. The statutory mandate construed by the courts would override any executive order or regulation. This is the unanimous view of our legal advisors and of the experts we have consulted on abortion jurisprudence. Only a change in the law enacted by Congress, not an executive order, can begin to address this very serious problem in the legislation."

Richard Doerflinger
U.S. Conference of Catholic Bishops

In deal with Stupak, White House announces executive order on abortion (Washington Post):


Resolving an impasse with anti-abortion Democrats over the health-care reform legislation, President Obama announced Sunday that he will be issuing an executive order after the bill is passed "that will reaffirm its consistency with longstanding restrictions on the use of federal funds for abortion," according to a statement from the White House.

"I'm pleased to announce we have an agreement," Rep. Bart Stupak (D-Mich.) said at a news conference announcing the deal.

"I think we're witnessing Bart Stupak write the obit for the concept of the "pro-life Democrat" – Kathryn Jean Lopez (National Review).
Further analysis of the text of the order: Continue reading →