Democratic Party
On the particular issue of abortion, we find solid defense of the unborn in the Republican Party's most recent party platform. It should be expected, therefore, that members of the Republican Party would uphold the pro-life ethic in accordance with the principles outlined by their party. On the pages of the New York Times, however, efforts to enact these principles into law are characterized by "boy wonder" A. G. Sulzberger as an "agenda" of the "GOP" that the courts are right to suppress. Sulzberger opines that such suppression offers "relief to Democrats".
The court actions around the country have brought a measure of relief to Democrats who are hoping some of those cases will result in the courts' overturning laws that they were unable to stop. And while Republican proponents are hoping to see these laws eventually pass muster, even failure would be instructive for legislation explicitly intended to push legal boundaries.
Virtually every bill before every legislature, regardless of the issue, is "explicitly intended to push legal boundaries". Every change in law "pushes legal boundaries" since current "law" is a "legal boundary". There would be no need for legislatures if "legal boundaries" could not rightly be "pushed". The suggestion that "legal boundaries" denying the right to life cannot legitimately be "pushed" amounts to a claim that anti-life law is sacred dogma.
Writing in the context of the judiciary, Sulzberg is operating on the assumption that Roe v. Wade is sacred dogma to the Democratic Party. Roe is ostensibly an objective truth, the "boundary" that may never rightly be "pushed" in any way without causing pain to Democrats. "Relief for Democrats" comes when this sacred dogma is upheld by judges who agree with the Democratic Party that the Republicans' claim that life has sanctity is somehow suspect.
Exactly how far does this dogma extend? According to the Democratic Party platform, the "right" to abortion absolutely includes taxpayer-funding. Sulzberger ends with a quote from a Planned Parenthood official offering the shocking claim that the legal battle to end taxpayer-funding of abortion is "wasting taxpayer dollars".
But Peter B. Brownlie, president of Planned Parenthood of Kansas and Mid-Missouri, was upset despite the early legal victories.

"I find it irresponsible," Mr. Brownlie said, "that publicly elected officials are passing legislation that they should know is illegal and wasting taxpayer dollars going to court to defend things that are not defensible."
Defense of life might currently be characterized as a "GOP agenda" if the Republican Party platform's comparison to the Democratic Party platform is any indication. It would be a travesty, however, if this remains the case. Defense of life is not something that should be confined to the realm of any party's ideology. The paramount right to life should be defended at every time, and in every place, by everyone, regardless of party affiliation.
Though political ideologies, movements and parties may come and go, the dignity of all human life is a constant and objective reality that should be defended by all. Any movement which does not uphold the dignity of the human person is operating in illegitimacy on the point. Without the right to life, all other rights are meaningless.
Perhaps because most people still understand this basic truth, both of the major political parties in America lay claim, on some level, to defense of human dignity, but only one of these — the Republican Party — currently defends the unborn in an official capacity. Democrats would do well to embrace and promote the principle of the sanctity of life so that defense of life might be considered an American "agenda" rather than an "agenda of the GOP".
President Obama seems to carry the world view that of an elite academic, that all the problems this nation faces can be solved with government intervention through high taxes and and legislation that enacts social engineering of a society of independence to that of dependence.
Or as the average layman would say, President Obama is a socialist, plain and simple.
I understand the subtleties of his liberal leanings and his good intentions, but the path to Hell is often made with good intentions.  With the failed Communist experiment in Russia in 1988 and the current economic collapse of Greece with Spain and Portugal on the horizon to experience the same, I don't see how more spending with money we don't have for welfare programs that we don't need will solve our economic woes.
There are two political mantras which have come to symbolize big problems in our mainstream party choices- "My body, my choice!" and "Drill baby! Drill!". The liberal and conservative camps get so excited when their political heroes shout out these short catch-phrases. For me, they represent some really huge moral deficiencies.
Continue reading
I have decided to take some time away from my Democratic Party membership- this includes resigning as Vice President of Florida Democrats for Life. I have been a Democrat in spirit from the age of 13, when I took the initiative to volunteer many hours for the 1976 Jimmy Carter presidential campaign.This decision is not a flippant one. I will not trade one major party for another, I am going in an Independent direction and would like to found an American-version, Common Good Party, when time permits.
Solicitor General Elena Kagan, President Obama's nominee to the Supreme Court, is already being painted as a moderate by the media and some political interest groups. This portrayal of Kagan is difficult to dispute comprehensively because of her lack of a public record and accompanying statements that delineate her actual personal views on judicial philosophy, thus, complicating the venture of placing her on an ideological spectrum. 
Despite this hermeneutical difficulty, allegedly confident political portraits have been made with the details that we do know about Elena Kagan. The New York Times on May 11 published a piece—"As Clinton Aide, Kagan Recommended Tactical Support for an Abortion Ban"—by Peter Baker discussing a memorandum authored by Kagan while she was working for the Clinton Administration. Kagan in the memo counseled President Clinton to support an amendment, authored by Senator Tom Daschle (D-SD), to Republican-sponsored legislation to ban partial-birth abortion that would include an exception for the "health" of the pregnant women in a ban—so broad an exception that it could be easily employed as a loophole that would prevent few, if any, partial-birth abortion procedures.
President Clinton and his advisors (in this case, Kagan) anticipated that the Daschle amendment would not secure enough votes to pass, but White House support could provide enough political cover for Democratic lawmakers who could reiterate their alleged support of the partial-birth abortion ban, but justify their vote against it because of the lack of inclusion of the broad "health" exception for the pregnant woman. In the end, the Daschle amendment failed and the Republican-sponsored partial-birth abortion ban, endorsed by the National Right to Life, was successfully sent to President Clinton who consequently vetoed it.  Kagan's advice to the President was successful and held up the passage of a partial-birth abortion ban for six years.
Douglas Johnson, the legislative director of the National Right to Life, before a joint-hearing before the U.S. Senate Judiciary Committee and the Constitution Subcommittee of the U.S. House Judiciary Committee in 1997 said:
"The Clinton-Daschle proposal is a political construct, designed to provide political cover for lawmakers who want to appear to their constituents as if they have voted to restrict partial-birth abortions, while actually voting for a hollow measure that is not likely to prevent a single partial-birth abortion, and which therefore is inoffensive to the pro-abortion lobby."
In other words, a better reading of the facts is not that Kagan is "in the middle" on abortion, but rather she was advising President Clinton of the pragmatic steps (endorsing a pseudo-ban on partial birth abortion) needed to defeat the actual pro-life measure. Kagan may very well be a "legal progressive" as was recently claimed from the White House defending the nominee from the political left suspicious of her liberal credentials. Continue reading →
In this past Sunday's Florida Today editorial page "letters to the editor", there was an interesting juxtaposition of letters taking radically different sides on the debate in Florida over an Ultrasound requirement for women seeking abortions.  The bill is currently awaiting Gov. Charlie Crist's signature- which is anything but guaranteed. Continue reading →
In recent months, primarily due to the health care debate, much attention has been given to the contentious issue of public funding of abortion. Though it is true that the status quo, for the most part, has been not to directly subsidize abortion, Americans have been both directly and indirectly subsidizing abortion in a number of ways virtually since its legalization in 1973. Continue reading →
[Update at the bottom of this post]
The scandal that has engulfed the U.S. Conference of Catholic Bishops (USCCB) shows no sign in abating.
Today we learn even more incriminating facts that continue to tarnish the image of the USCCB.
In the latest RealCatholicTV.com program Michael Voris explains the deep entanglement of Democratic Party and anti-Catholic operatives that hold high positions within the USCCB.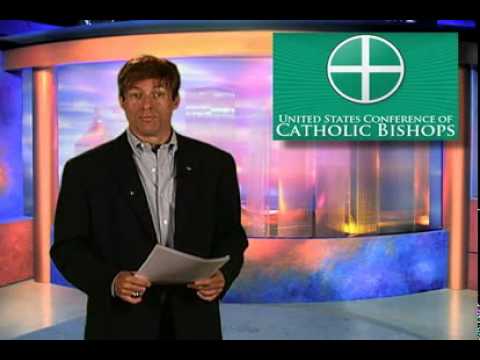 After the breaking news that showed direct links between John Carr, a top executive of the U.S. Conference of Catholic Bishops, with pro-abortion groups dating back 30 years, John Carr has denied any wrong doing.
Below watch the full eight minutes for the most current update of this USCCB scandal on RealCatholicTV.com's Daily Catholic News Roundup and The Vortex.  Vic Faust and Michael Voris will report how both the USCCB and the pro-abortion group scrubbed their websites simultaneously to hide any connection they had with each other plus much more.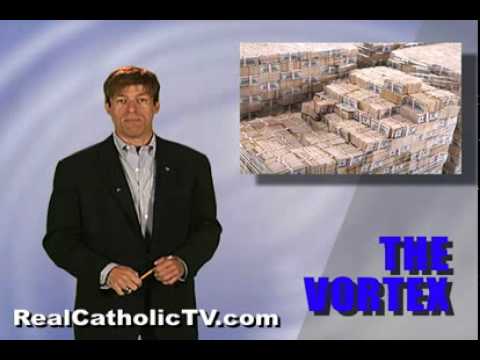 By a vote of 60-40 early this morning in the Senate, the Democrats, with not a Republican vote, voted to cede power to the Republicans in 2010.  The Democrats thought they were voting to invoke cloture on the ObamaCare bill, but the consequences of the passage of this bill, assuming that it passes the House, will likely be to transform a bad year for the Democrats next year into an epoch shaping defeat.  As Jay Cost brilliantly notes here at RealClearPolitics:
"Make no mistake. This bill is so unpopular because it has all the characteristics that most Americans find so noxious about Washington.
It stinks of politics. Why is there such a rush to pass this bill now? It's because the President of the United States recognizes that it is hurting his numbers, and he wants it off the agenda. It might not be ready to be passed. In fact, it's obviously not ready! Yet that doesn't matter. The President wants this out of the way by his State of the Union Address. This is nakedly self-interested political calculation by the President – nothing more and nothing less.
The Democratic primary election rules direly need to be reformed. Admittedly, it would seem at first glance that raising this issue seems to be a bit premature. Yet the primary election rules that will affect 2012 and beyond will be set by the DNC at the 2010 convention. This is especially true since DNC Chair Tim Kaine has already created a Democratic Change Commission, which will recommend changes to the Democratic Party's rules for the 2012 presidential nominating and delegate selection process so that 2012 and beyond never becomes the quagmire that 2008 was. The Democratic Change Commission will address three issues: 1) changing the window of time during which primaries and caucuses may be held 2) reducing the number of super delegates and 3) improving the caucus system. The Commission must issue its report and recommendations to the DNC Rules and Bylaws Committee no later than January 1, 2010. Therefore criticism of the current system now is quite appropriate as it affects the future shape of a system that governs the way Americans may exercise their civic duties.
Looking back on the Election 2008, I fully agreed with Hillary Clinton supporters advocating for the abolition of the caucus system. At the time, of course, Obama supporters were suspicious that such criticism was due to anger that Clinton lost the Democratic presidential primary.  This may have been true for some; but the evidence, I think, overwhelmingly shows that the caucus system is flawed. Continue reading →
Yesterday The Nation's John Nichols wrote a rather scathing piece about President Obama: the piece is entitled "Whiner-in-Chief" and the first line reads, "The Obama administration really needs to get over itself."
Of course, I tend to agree with perspectives like that.
  But near the end of the piece Nichols tries to argue that the country isn't as divided as the White House thinks, and along the way, he makes a heckuva non sequitur: