Democrat Party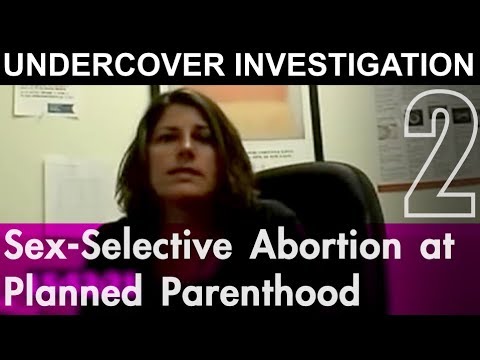 Live Action today released a second video showing that Planned Parenthood, an organization that I have designated  Worse Than Murder, Inc, has no problem with sex selection abortions.  Go here to read my post on the first gendercide video released by Live Action.  Today the House failed to muster the two-thirds vote necessary to pass the  Prenatal Non-Discrimination Act which would have banned this unspeakable evil.  The Obama administration opposed the bill.  Obama has never found any form of abortion he opposes and Planned Parenthood has his complete allegiance.  In the House 276 Republicans voted in favor of the bill, 7 against.   Democrats voted 161 in favor of gendercide and 20 against.
The core of the Democrat party today is abortion.  The vote on gendercide demonstrates just how extreme this allegiance is.  As in the days of slavery, the Democrat party champions the notion that we can, in good conscience, ignore the rights of portions of the human race, and that the unborn, like the slaves of old, are mere property and may be destroyed at the mother's will and whim.  The words of Lincoln should be our battle cry against this old evil in a new form: Continue reading →

Liberal elites frequently profess astonishment at why so many  middle class Americans vote Republican.  Thomas Frank in 2004 published a book, What's The Matter With Kansas , in which he bemoaned the fact that his fellow Kansans, or former fellow Kansans I should say since he resides in Washington DC, did not share his love of the Party of the Jackass.  Lee Siegel at The Daily Beast has a brilliant column in which he explains the political facts of life to the Liberal elites in the form of a letter from Occupy Harvard to their parents:
The man you think is a "sucker" because he votes for Republican candidates who don't seem to give a hoot about him will vote for them every time. He looks at you, the crowd of The-Fix-Is-Always-In, and he casts his lot with the crowd of wealth and initiative.
You see, Mom and Dad, they don't lie about his prospects. They tell him that he has to sink or swim. They don't disrespect his willpower by promising that government will make life easier for him. They tell him that they respect his individuality. They tell him straight out what you, the liberal elite, know to be true but will never say. They tell him that life in America is winner-take-all, and that they are the people who will let him keep what he has. They tell him that his religion, his wife's capacity to reproduce, his children—whether they are "successful" or not—are his treasure. They tell him that they don't care if he is a person of modest ambition, little sophistication, and humble means. What they value is his capacity to change his own life.
What you tell him is that he should put his life in your hands. Yet you scorn his religion. You mock his faith in the sacredness of conception. You deride his belief in family. You tell him that his love for hunting makes him a murderer, and that his terror at being economically displaced makes him a xenophobe and a racist. Then you emasculate his hope for the future by telling him that if his ship comes in—that dream of a ship that makes the grinding disappointment of daily life worth living through—you'll help yourself to a big slice of it. And you expect him to believe your rhetoric about fairness and equality when, all the while, you are accusing him of gullibility in his politics and bad faith toward the least fortunate of his fellow citizens. When, all the while, you are living untouched by your own policies. When you are cushioned against life's hardness, not by government, but by simply knowing other people in your class. You expect him to buy your talk about equitable distribution of wealth when you are sailing through tax loopholes off into the sunset. For this man, his emotions make all the rational sense in the world. Continue reading →
One of the consequences of the Republican sweep in 2010 is that the Republicans control many state legislatures by very wide margins.  A host of pro-life legislation is making its way through these GOP chambers.  One of the latest pro-life bills to be enacted into law is a parental notification law when minors seek to have an abortion in New Hampshire.  The text of the law may be read here.
On its way to becoming a law it was vetoed by Governor John Lynch.  Lynch is a Democrat, a Catholic and a pro-abort, a combination all too common in our nation.  The veto was overridden in the New Hampshire legislature on June 22 by votes of 266-102 in the House and in the Senate 17-7. Continue reading →
Hattip to Ed Morrissey at Hot Air.  Secretary of State Clinton has been at war with Prime Minister Harper of Canada in regard to abortion and the G8 summit meeting, which just concluded yesterday, for months, as the above video from March indicates.
These efforts continued up to the G8 summit, as Clinton wanted to hold any aid hostage until woman's health was defined as including a right to slay the unborn, as this post by Anna Halpine and Greg Pfundstein at National Review Online indicates:
On the agenda at the G8 summit in Canada is promoting maternal and infant health in the poorest parts of the globe.  The high rates of maternal and infant mortality in many countries are an impediment to democracy and social development, to say nothing of a human tragedy for these communities. Commitments of resources from the G8 countries to address these problems should be welcomed and commended. Why, then, is the Obama delegation threatening to derail these agreements? Continue reading →