Declaration of Independence
Something for the weekend.  Cool Considerate Men from the musical 1776.  I have always loved the musical 1776, although I recognize that the actual history and what is depicted in the musical often part company.  Perhaps the greatest divergence is in the case of John Dickinson, a member of Congress from Pennsylvania, who is represented in the play as an arch reactionary and  Tory. Dickinson, as the play rightly indicates at the end, enlisted to fight in the Revolution, and had the odd military career of serving  first as a militia Brigadier General and then as a militia Private.  During the War he also served as President (Governor) of Delaware and as President (Governor) of Pennsylvania.  After the War he served as a delegate from Pennsylvania at the Constitutional Convention, and supported the ratification with a series of articles written under the pen name Fabius.
Dickinson mainly opposed an immediate declaration of independence in 1776 because he wished the Articles of Confederation, which he had largely drafted, to be first sent to the 13 colonies and ratified by them, and for the colonies to obtain a powerful foreign ally before such a declaration was made to the World.  Dickinson was a firm patriot willing to risk his own skin in the War, so his opposition to the Declaration of Independence did no long term damage to his reputation during his life.
On July 1, he made a speech against immediate independence.  The debate was apparently fierce while he spoke, and thus the speech has a fragmentary quality:
Continue reading →
[N]o one in the world who prizes liberty and human rights can feel anything but a strong kinship with America. Yours is the one great nation in all of history that was founded on the precept of equal rights and respect for all humankind, for the poorest and weakest of us as well as the richest and strongest.

As your Declaration of Independence put it, in words that have never lost their power to stir the heart: "We hold these truths to be self evident: that all men are created equal; that they are endowed by their creator with certain inalienable rights; that among these are life, liberty, and the pursuit of happiness…" A nation founded on these principles holds a sacred trust: to stand as an example to the rest of the world, to climb ever higher in its practical realization of the ideals of human dignity, brotherhood, and mutual respect. Your constant efforts in fulfillment of that mission, far more that your size or your wealth or your military might, have made America an inspiration to all mankind.

It must be recognized that your model was never one of realized perfection, but of ceaseless aspiration. From the outset, for example, America denied the African slave his freedom and human dignity. But in time you righted that wrong, albeit at an incalculable cost in human suffering and loss of life.

Your impetus has almost always been toward a fuller, more all embracing conception and assurance of the rights that your founding fathers recognized as inherent and God-given.
Yours has ever been an inclusive, not an exclusive, society. And your steps, though they may have paused or faltered now and then, have been pointed in the right direction and have trod the right path. The task has not always been an easy one, and each new generation has faced its own challenges and temptations. But in a uniquely courageous and inspiring way, America has
kept faith.

Yet there has been one infinitely tragic and destructive departure from those American ideals in recent memory. Continue reading →
Representative Todd Akin (R-MO) lead the Pledge of Allegiance at a rally protesting the Democratic health care reform bills. He gave a short statement beforehand on the importance of the phrase "under God." He then invited everyone to join in the recitation of the Pledge because it "drives the liberals crazy." This statement shouldn't be surprising coming from a member of a party committed to nationalist overtones and calling into question the patriotism of anyone who dares to dissent from their claims of what is "patriotic." Yet Rep. Akin made a fool out of himself when it was time to actually recite the Pledge.
Sure, he simply had an honest stumble. I am sure we all do it. But it is quite hilarious that it took place after he sanctimoniously claimed some sort of patriotic high ground for conservatives because liberals apparently hate our country. So much for his credibility. . .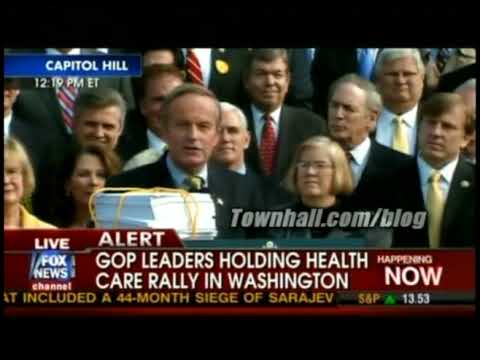 Similarly, House Minority Leader John Boehner was fired up against the Democrats at a Tea Party rally. He went to invoke the Founding Fathers who wrote in the preamble of our Constitution: "We hold these truths to be self-evident…"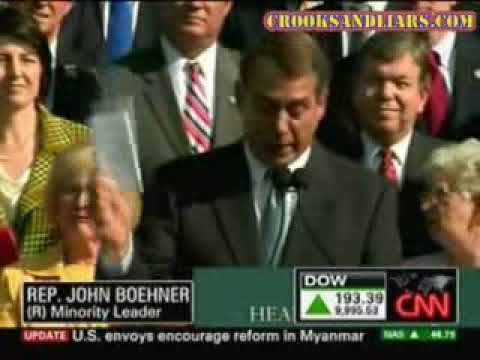 Oops.
Mr. Boehner does not appear to know the difference between the United States Constitution and the Declaration of Independence. Better luck next time.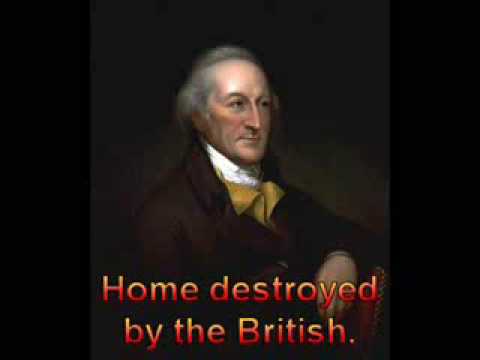 Something for a Fourth of July weekend.  A musical tribute to the Signers of the Declaration of Independence. Here is a list of the Signers by State with short bios.  The last survivor of the Signers was Charles Carroll of Carrollton from Maryland who died at 95 on November 14, 1832.  Carroll also had the distinction of being the sole Catholic Signer of the Declaration and one of two Catholic Signers of the Constitution.  If he had lived four more years he would have been the last surviving Signer of the Constitution also.  That honor fell to James Madison, who died on June 28, 1836 at 85, the last of the Founding Fathers to die.
Part of my ongoing effort to have people read the Declaration on the Fourth.  This video demonstrates two things.  First, that even Hollywood can't foul up the Declaration when Mr. Jefferson's words are allowed to speak for themselves.  Second, that the Declaration is very much a speech, and is best understood when read aloud.  In the ealier days of our Republic, a public reading of the Declaration was usually a part of the festivities on the Fourth.  It is a tradition that I wish we would return to.
My friend & colleague Donald McClarey has proposed that we celebrate the 4th of July with a reading of the Declaration of Independence — a custom I also share, and which I think every citizen of the United States should cultivate.
And to those scornful cranks so quick to dismiss such an appreciation of the principles of our founding as "worshipping at the temple of Enlightenment liberalism," I would remind them of the example set by none other than Pope Benedict XVI and his predecessor, John Paul II: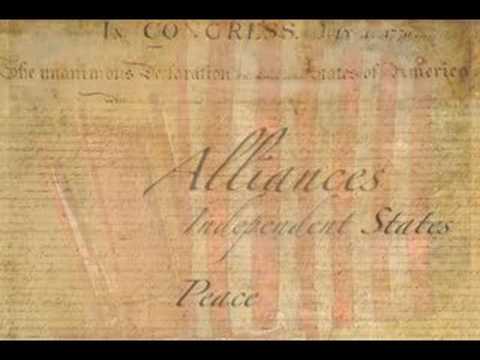 In my family each year we have a group reading of the Declaration of Independence.  The kids enjoy it and so do Mom and Dad.  Each year I am struck by a timeless quality of the words. 
"We hold these truths to be self-evident, that all men are created equal, that they are endowed by their Creator with certain unalienable Rights, that among these are Life, Liberty and the pursuit of Happiness. — That to secure these rights, Governments are instituted among Men, deriving their just powers from the consent of the governed, — That whenever any Form of Government becomes destructive of these ends, it is the Right of the People to alter or to abolish it, and to institute new Government, laying its foundation on such principles and organizing its powers in such form, as to them shall seem most likely to effect their Safety and Happiness. Prudence, indeed, will dictate that Governments long established should not be changed for light and transient causes; and accordingly all experience hath shewn that mankind are more disposed to suffer, while evils are sufferable than to right themselves by abolishing the forms to which they are accustomed. But when a long train of abuses and usurpations, pursuing invariably the same Object evinces a design to reduce them under absolute Despotism, it is their right, it is their duty, to throw off such Government, and to provide new Guards for their future security."