Culture of Death
Sarah Palin and Bristol Palin respond to the vile Family Guy attack on Trig, her son with Down's Syndrome:
People are asking me to comment on yesterday's Fox show that felt like another kick in the gut. Bristol was one who asked what I thought of the show that mocked her baby brother, Trig (and/or others with special needs), in an episode yesterday. Instead of answering, I asked her what she thought. Here is her conscientious reply, which is a much more restrained and gracious statement than I want to make about an issue that begs the question, "when is enough, enough?":
"When you're the son or daughter of a public figure, you have to develop thick skin. My siblings and I all have that, but insults directed at our youngest brother hurt too much for us to remain silent. People with special needs face challenges that many of us will never confront, and yet they are some of the kindest and most loving people you'll ever meet. Their lives are difficult enough as it is, so why would anyone want to make their lives more difficult by mocking them? As a culture, shouldn't we be more compassionate to innocent people – especially those who are less fortunate? Shouldn't we be willing to say that some things just are not funny? Are there any limits to what some people will do or say in regards to my little brother or others in the special needs community? If the writers of a particularly pathetic cartoon show thought they were being clever in mocking my brother and my family yesterday, they failed. All they proved is that they're heartless jerks. – Bristol Palin"
- Sarah Palin
Perhaps it is partially because I have an autistic son, but words literally fail me to adequately describe people evil enough to mock a handicapped child because they differ with the mother of the child politically.
"We Want To Exterminate The Negro Population"
– Margaret Sanger, the founder of Planned Parenthood. [1]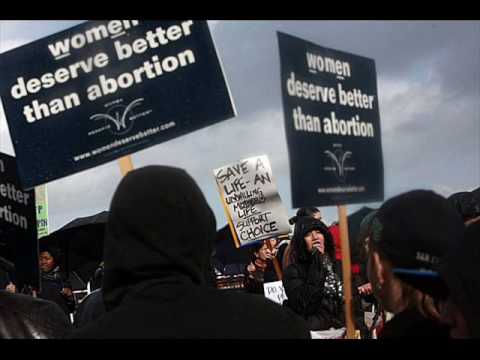 Recently the City of San Francisco got to experience a peaceful and powerful Pro-Life march on January 23.  In what is being billed as the largest gathering of Pro-Lifers in San Francisco ever, an estimated 40,000 volunteers from all ages, cultures, and nations descended on what is known to be the most egregious community of new Carthaginians in the country.
In his encyclical Aeterni Patris, Pope Leo XIII sought to advance the restoration of Christian philosophy against the modern trends of secular philosophy, emerging from Enlightenment rationalism. The critique of modern intellectual errors and the way in which such false thinking manifests itself in the world has deeply shaded my personal reflection on the tragedy of legal abortion.
The Pagans are coming out of the woodwork, or more properly named, coming out of the ice sculpture.
What is turning into an annual event in Fairbanks, Alaska, a frozen ice sculpture of Al Gore, or what the locals call "Frozen Gore", was unveiled.
Steve Dean sculpted the two-ton ice block in tribute to Al Gore and his 'theories' of man-made Global Warming.
The Fairbanks Daily News-Miner reports with my emphases and comments in this truncated article:
This year's version includes special effects, thanks to a system that pipes the exhaust from a Ford F-350 out of Gore's open mouth. Compeau [who funded the ice sculpture] will fire up the truck periodically this winter to create the "hot air" effect.

50 years [ago]. The average temperature for 2009 was 27.8 degrees in Fairbanks, about one degree warmer than normal, said Rick Thoman, a meteorologist with the National Weather Service.

Last winter, however, was unusually cold in Fairbanks. Temperatures in the winter months of 2008-09 were about 4 degrees below normal, according to National Weather Service figures.
The mocking tribute of Al Gore and the pseudoscience that he uses is cause for concern.  We need to start a movement to begin the separation of science and state in order to protect Americans from environmentalist fanatics such as Al Gore.
Diane Francis, a columnist with the Financial Post, a Canadian newspaper, has a column here calling for a global one child policy.
A planetary law, such as China's one-child policy, is the only way to reverse the disastrous global birthrate currently, which is one million births every four days.
The world's other species, vegetation, resources, oceans, arable land, water supplies and atmosphere are being destroyed and pushed out of existence as a result of humanity's soaring reproduction rate.
Ironically, China, despite its dirty coal plants, is the world's leader in terms of fashioning policy to combat environmental degradation, thanks to its one-child-only edict.
The intelligence behind this is the following:
-If only one child per female was born as of now, the world's population would drop from its current 6.5 billion to 5.5 billion by 2050, according to a study done for scientific academy Vienna Institute of Demography.
-By 2075, there would be 3.43 billion humans on the planet. This would have immediate positive effects on the world's forests, other species, the oceans, atmospheric quality and living standards.
-Doing nothing, by contrast, will result in an unsustainable population of nine billion by 2050.
Although I think this proposal of Ms. Francis is both evil and insane, I do give her props for saying out loud what many environmental hysterics only hint at:  Man is the problem.  Eliminate as many humans as possible and the environment can by saved to be enjoyed by the anointed few like Ms. Francis.
Extremist Democrats and liberals are hailing Harry Reid's Health Care bill as a victory for pro-abortion activists.  Though
the United States Conference of Catholic Bishops (USCCB) has called it "completely unacceptable".
…Richard Doerflinger, associate director of the bishops' conference Secretariat of Pro-Life Activities, said Reid's "is actually the worst bill we've seen so far on the life issues."

He called it "completely unacceptable," adding that "to say this reflects current law is ridiculous."
[Warning: Vile language in this posting.]
Larry David is the creative producer of NBC's Seinfeld and HBO's Curb Your Enthusiam.  Over the weekend in an episode of Curb Your Enthusiasm he relieves himself on the picture of Jesus.  The details and context of the episode are not worth explaining due to the unfortunate attack on God and our Christian faith by this depraved human being.
Like so many in Hollywood, anti-Christian, more specifically, anti-Catholicism, is still prevalent among many movers and shakers.  Imagine if they would even consider insulting the founder of Islam, Mohammad, as such?  Not in a million years.
Comedienne Sarah Silverman is known for her profane and vulgar humor in the Hollywood scene.  Miss Silverman, in an attempt at satire, presents a sketch on the HBO program "Real Time with Bill Maher" on  how to solve world hunger.  On the surface the sketch she offers is almost harmless, but her degrading attack on our Pope is insulting to him and all Catholics.
Here is a partial transcript:
Think about it, we need a hero, and who is more primed to be our hero than the Pope? He's literally a caped crusader. What is the Vatican worth, like 500 billion dollars? This is great, sell the Vatican, take a big chunk of that money, build a gorgeous condominium for you and all your friends to live in, all the amenities, swimming pool, tennis court, waterslide, and with the money left over, feed the whole (expletive removed) world.

You preach to live humbly, and I totally agree. So, now maybe it's time for you to move out of your house that is a city.

On an ego level alone, you will be the biggest hero in the history of ever. And by the way, any involvement in the Holocaust, bygones.(sic) [...]
Why bother with something like this?
We need to be aware that we are in this world, not of it.  We need to be a witness to Christ for others.  Sometimes in our endeavors to evangelize the world we can get caught up in all its trappings and are more vulnerable to fall into sin.  One can laugh at oneself without being mean-spirited or degrading.
Miss Silverman may be funny to her fans, friends, and colleagues, but that doesn't mean she is right or that her attempt at humor on our pope is ok.  Yes we can laugh at ourselves and even our beautiful German shepherd, but there are limits and Miss Silverman has more than exceeded these limits.
So the next time you laugh at what you think may be an inconspicuous jab at our Catholic faith, remember, does it denigrate the person it is aimed at in a mean-spirited manner?  Does it cheapen your faith in mockery?  Especially if profane language is used, it's a good indication that the person delivering it is doing it out of hate and spite.
I will not post the video because of the vulgarity she exhibits which is her modus operandi, but you can view at your own discretion on NewsBusters here.
As the Wall Street Journal reports here, the Veteran's Administration is providing seriously wounded veterans with a pamphlet entitled "Your Life, Your Choices", which encourages veterans to refuse treatment and die. Continue reading →
I wasn't sure whether or not to post this as an update to my earlier post on John Holdren, but I thought it was interesting enough to warrant its own posting.
I've read some of the scanned pages of Ecoscience, the 1977 book co-authored by Holdren that calls for horrifying coercive measures for population control. Interestingly, Holdren & Co. felt the need to address pro-life arguments in their book. Their moral reasoning only proves, yet again, how dangerous (not to mention illogical) some 'scientists' can become when they venture into moral philosophy. This provides us an opportunity to take a tour through the inhuman humanism condemned by Pope Benedict in Caritas in Veritate.