Culture of Death
An already busy weekend concluded with the surprise announcement by President Obama that Osama Bin Laden had been killed on Sunday morning, May 1 by a team of American forces in a compound in Pakistan.
There's a lot to be digested, and a lot of questions for what this means for an already uncertain future in the Middle East. However, as the crowds pour into Lafayette Square with jubilation, it is important to remember how this day began. It began as Divine Mercy Sunday, the Second Sunday of Easter, which this year saw the beatification of John Paul II, an event which marked the holiness of the man. One cannot think about the holiness of John Paul II without recalling his powerful forgiveness of his would-be assassin. For Catholics, this day began as a testament to the powerful force of God's love and mercy.
So it should it end the same way. Bin laden did much evil. He killed scores of innocents, contributed to the starts of several wars, and used religion to create a culture of hatred. For Americans, we watched as our brothers and sisters were killed, wounded, or separated from their families. If anyone deserved to be riddled with American bullets, it was he.
But "forgive us our trespasses as we forgive those who trespass against us" has no "but" clauses. The culture of life that John Paul II spoke from womb to tomb; the dignity and beauty of God-given human life is not diminished by one's sins. God's mercy and love has no exceptions; as Christians our mercy and love are to have no exceptions.
Simply put, God loved Osama Bin Laden and extended His mercy to him. It is our duty as Christians, as witnesses to the love of God to extend our forgiveness to Bin Laden and pray that he accepted that mercy and that we will be with us in paradise. The celebration around his death ought to make all Christians uneasy; even more so the many declarations that they hope Osama is burning in hell.
This is a difficult teaching to be sure, especially for those who lost a loved one due to Bin Laden. But the Church has never claimed that its teachings were easy. Instead, it has offered the grace and sacraments to live it out, as well as pointed to the examples of extraordinary human beings who lived it out. Today, the Church named a man blessed who knew deeply about the costs of love and forgiveness. So Blessed John Paul II, pray for us. Pray that our country can use this moment to emerge more unified. Pray for the world that we may escape an era of fear and hatred and violence. Pray for us that in this time, we can follow your example and use this moment to witness to the love & mercy poured out by our Savior, Jesus Christ.
Some time ago I wrote a post expressing some of my reservations about the activities of Lila Rose and her organization, Live Action. In light of their most recent undercover sting operation, it is a good time to revisit some of the objections and debates that came up earlier.  Initially I believed that Live Action's activities were morally questionable in some cases, and definitely wrong in others.
I have to say that I stand by this assessment today, for several reasons I will state below.
First I want to make clear that I am 100% pro-life; I make no exceptions for rape, incest, or "to save the life of the mother", for it is never permissible to kill an innocent human being to save another human being. At the legislative level I would like to see Roe v. Wade overturned, in which case many pre-Roe abortion bans would immediately regain their full force in many states.
Every now and then we need a reminder that true evil exists in this world.
An abortionist arrested in Philadelphia faces eight counts of murder, one for the death of a patient, and the other seven for killing babies who survived his botched abortions.  The district attorney alleges that Kermit Gosnell used a pair of scissors to sever their spinal cords.
Ed Morrissey links to the Grand Jury report.  It is truly gruesome.
One woman, for example, was left lying in place for hours after Gosnell tore her cervix and colon while trying, unsuccessfully, to extract the fetus. Relatives who came to pick her up were refused entry into the building; they had to threaten to call the police. They eventually found her inside, bleeding and incoherent, and transported her to the hospital, where doctors had to remove almost half a foot of her intestines.

On another occasion, Gosnell simply sent a patient home, after keeping her mother waiting for hours, without telling either of them that she still had fetal parts inside her. Gosnell insisted she was fine, even after signs of serious infection set in over the next several days. By the time her mother got her to the emergency room, she was unconscious and near death.

A nineteen-year-old girl was held for several hours after Gosnell punctured her uterus.  As a result of the delay, she fell into shock from blood loss, and had to undergo a hysterectomy.

One patient went into convulsions during an abortion, fell off the procedure table,  and hit her head on the floor.  Gosnell wouldn't call an ambulance, and wouldn't let the woman's companion leave the building so that he could call an ambulance.
And to cap things off: the state did nothing to stop this.
We discovered that Pennsylvania's Department of Health has deliberately chosen not to enforce laws that should afford patients at abortion clinics the same safeguards and assurances of quality health care as patients of other medical service providers. Even nail salons in Pennsylvania are monitored more closely for client safety.

The State Legislature has charged the Department of Health (DOH) with responsibility for writing and enforcing regulations to protect health and safety in abortion clinics as well as in hospitals and other health care facilities. Yet a significant difference exists between how DOH monitors abortion clinics and how it monitors facilities where other medical procedures are performed.

Indeed, the department has shown an utter disregard both for the safety of women who seek treatment at abortion clinics and for the health of fetuses after they have become viable. State health officials have also shown a disregard for the laws the department is supposed to enforce. Most appalling of all, the Department of Health's neglect of abortion patients' safety and of Pennsylvania laws is clearly not inadvertent: It is by design. …
Starting at page 99, the Grand Jury report details of the killing of viable babies.  I do not recommend you read this unless you have a very strong tolerance.  In short, these murders were so awful that even staff began to question the practices of this doctor.
These killings became so routine that no one could put an exact number on them. They were considered "standard procedure." Yet some of the 100

slaughtered were so fully formed, so much like babies that should be dressed and taken home, that even clinic employees who were accustomed to the practice were shocked.
I'm not going to paste it here, but look at the opening paragraph on page 101 and tell me that Satan is not at work in this world.
Regardless if they're Communists or not… China is the place to be. Should we be teaching our kids Chinese?
Must-see video
CNN – Fareed Zakaria sits for a rare and exclusive interview with Chinese Premier Wen Jiabao
TIME
The Real Challenge from China: Its People, Not Its Currency by Fareed Zakaria
Q&A WITH WEN JIABAO – 'The Wish and Will of the People Are Not Stoppable'
Related books on interest
A Bull in China: Investing Profitably in the World's Greatest Market
The Post-American World
Hot, Flat, and Crowded 2.0: Why We Need a Green Revolution–and How It Can Renew America
And they cried with a loud voice, saying:  How long, O Lord (holy and true) dost thou not judge and revenge our blood on them that dwell on the earth? Apocalypse 6:10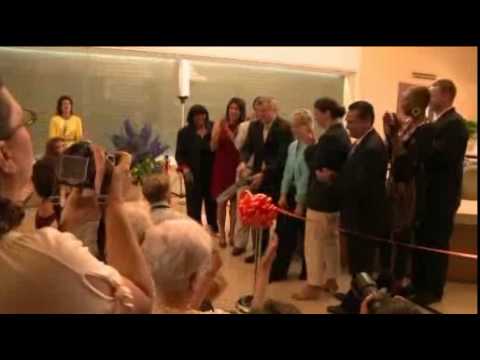 If you listen closely you can hear the attendants (which include the mayor of our fine city of Houston Anise Parker) at this "dedication" commenting on their newly "sacred and holy" ground. They are speaking of the largest abortuary in the United States.
If we are moving toward, or already in, a post-Christian civilization then should we be surprised that those who promote and support abortion and other anti-life policies impart a religious sheen on their actions?  After all, human sacrifice was present in almost all pagan religions to some extent with the Aztec sacrifices being among the most infamous.  These people are willing and proud worshipers of Baal and, unless we pray, fast and offer Masses in reparation for these sins, we will only allow this evil to grow and ever more innocents slaughtered at the altar of "Choice".
In a completely predictable move, ObamaCare will pay for abortions.  Lifesite News is on the story:
Washington, DC (LifeNews.com) — The Obama administration has officially approved the first instance of taxpayer funded abortions under the new national government-run health care program. This is the kind of abortion funding the pro-life movement warned about when Congress considered the bill.
The Obama Administration will give Pennsylvania $160 million to set up a new "high-risk" insurance program under a provision of the federal health care legislation enacted in March.
The American Bar Association will be considering supporting same-sex marriage at their next meeting in San Francisco.
It urges state, territorial and tribal governments to eliminate laws restricting marriage between same-sex partners.

Supporters say the adoption of the measure would build on past ABA policies supporting protections for gay couples and their families. The House of Delegates in 2004 approved a recommendation opposing efforts to enact federal legislation preventing states from allowing same-sex marriage. "Everyone who worked on it is hopeful," said Michele Kahn, a partner at Kahn & Goldberg who chairs a New York State Bar committee on gay rights. The State Bar in June 2009 came out in support of same-sex marriage, dropping its support of civil unions or domestic partnerships as alternative measures.

Kahn said so far no formal opposition has come forward against the measure.
What I find amazing is that there is no formal opposition.
I know a lot of pro-life and practicing Christian lawyers, how can this be?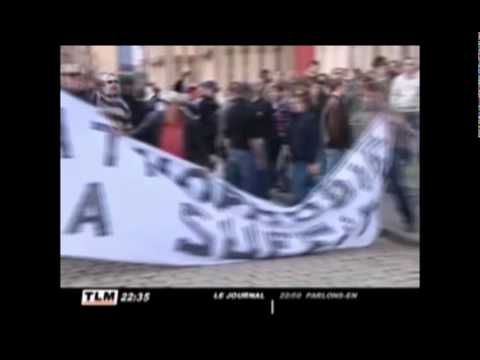 From Father Zuhlsdorf:
Prepare to be disgusted and then edified.
This from LifeSite with my emphases and comments:
Catholics Defend French Cathedral de Lyon During Homosexual "Kiss-In"

By Matthew Cullinan Hoffman

LYONS, June 17, 2010 (LifeSiteNews.com) – Approximately 200 young Catholics came to the defense of the Cathedral of Lyons, France, during a "kiss-in" protest held by homosexuals in front of the building last month.

The homosexuals reportedly came on the eve of the "World Day Against Homophobia" in May to kiss each other in front of the cathedral, [vile] presumably in protest against the Catholic Church's 2,000-year-old condemnation of homosexual sex acts.  [I believe the condemnation is in the Old Testament as well.  It is also written into our being as images of God.]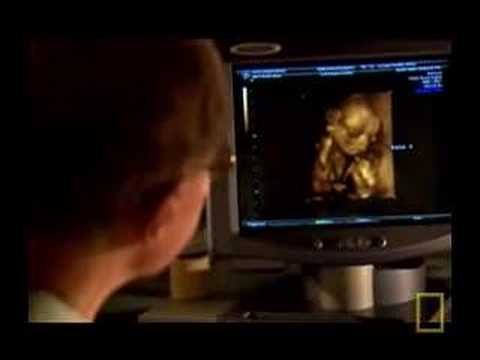 The following is from Florida Right to Life Organization:
"THE MOST IMPORTANT PRO-LIFE, PRO-WOMEN LEGISLATION IN FLORIDA HISTORY WAS VETOED BY GOV. CRIST ON JUNE 11, 2010!
HB 1143 was a pro-life and a pro-choice bill. It required that an abortionist give an ultrasound test before an abortion. 82% of the abortion clinics in Florida already do, but they do not all give the woman the option to see or discuss the ultrasound.