Culture of Death
Over at the Huffington Post a diarist blogging under the name Sasharusa helps explain why babies in utero are treated like so much disposable garbage by so many people in our society:
This is Giardia lamblia. It is an intestinal parasite that is very common and is a pain in the ass to rid of.
I know, I know, it doesn't look like a precious little baby. I know. It looks scary, and gross, and looks like it will bite your head off. But we're not talking about looks. Who knows, maybe aliens think we're ugly as f–k but this parasite would be labeled Miss Universe in their culture? Who knows! Anyway, I am sorry for plastering this as the very first thing in my diary. Consider this just like those exploited photos of miscarried late term fetuses that Anti- Choicers parade around.
Anyways, back to the whole fetus= parasite thing. That is how I see them. I don't see them as cute and cuddly. I see them as terrifying and scary. I see pregnancy the same way. Continue reading →
Michael Moriarty as SS Sturmbannfuhrer (Major) Erik Dorf, in the riveting miniseries Holocaust (1978), attempts at 5:26 in the video above to convince the incredulous SS Reichsfuhrer Heinrich Himmler that rather than concealing the crimes of the Holocaust the SS should stand behind them and and convince the world that the genocide of the Jews and others deemed "undesirable" by the "master race" was right and just.  He anounces to the astounded SS officers, Dorff being an attorney in civilian life, that "A case can be made for Auschwitz!"  He is speaking to mass murderers and monsters, but even they are repulsed by what he says.  They understand deep down that they have been involved in an unspeakable crime for which no excuse, no argument can possibly be made.
Would that most pro-aborts would have some such shred of moral sensibility remaining.  Alas, I am afraid that this statement of Jessica Delbalzo is much more common among pro-aborts, even if they rarely are this forthright:
I love abortion.  I don't accept it.  I don't view it as a necessary evil.  I embrace it.  I donate to abortion funds.  I write about how important it is to make sure that every woman has access to safe, legal abortion services.  I have bumper stickers and buttons and t-shirts proclaiming my support for reproductive freedom.  I love abortion. Continue reading →
Update III:  The USCCB Pro-Life Director Richard Doerflinger and Congressman Chris Smith of New Jersey agree with me that this "accommodation" or "compromise" is unacceptable.  Sadly Sr. Keehan of the the Catholic Health Associate found this "satisfactory".  It looks like Obama will be happy that Sr. Keehan is on board.  Of course, Planned Parenthood and Sr. Keehan agree.
Update II:  Rumor confirmed.  Insurance, that Religious Institutions pay into, will provide contraception, ie, it is still a violation of the First Amendment.
Update I: Rumor is that "Hawaii" compromise will be offered, but the bishops have already rejected this.  So basically it's a poor attempt at stalling and not really offering a solution.
The buzz this morning is that Obama is "caving in" to the pressure and will announce a "compromise" today at 12:15pm Eastern.
The news reports are saying that Religious Organizations won't have to offer birth control, only the insurance companies that these Religious Organizations provide will offer birth control.
Yeah, that's the compromise.
If these reports are true, this is dead on arrival.  Changing the meaning of the words won't do it.
The Susan G. Komen Foundation did not reverse course as many have thought, suggested, or commented all over the Interwebs today.
Even Austin Ruse President of C-FAM is not sure and has issued this press release:
Statement by Austin Ruse on the Susan G. Komen Foundation

"Today the Susan G. Komen Foundation made an announcement that appears that they have reversed themselves on funding of Planned Parenthood. While I do not believe they have reversed themselves, it may turn out to be the case. We do not know.

What happened this week was nothing short of a Mafia shakedown campaign by Planned Parenthood against the Susan G. Komen Foundation.

Planned Parenthood told the Komen Foundation "either give us money or we will destroy you." They were aided and abetted in this hostage taking by the mainstream media.

At this point, pro-lifers should cease their support of the Susan G. Komen Foundation. We should wait and see what happens. We know there are five more Komen grants to Planned Parenthood in the pipeline. If any more come up, we will know we have lost and Planned Parenthood has won.

I do not regret the work I did over the past days on this issue, neither should any pro-lifer. I only regret we could not have done more to make Komen strong and able to fight off the thuggish abortion giant, Planned Parenthood.

What the week has shown is that Planned Parenthood, an organization that is under criminal investigation all over this country, will stop at nothing to maintain their stranglehold on organizations like the Susan G. Komen Foundation.

We should continue to pray for Nancy Brinker and all of her colleagues at the Susan G. Komen Foundation."
The American Papist and Steven D. Greydanus agree with me on this one.
Look at it from Komen's perspective, they're taking a public relations hit by the punks and thugs from Planned Parenthood and their allies.  It's a war, a Culture War out there!
One question that pro-lifers often pose to pro-choicers is how can they reconcile permitting abortion while still prohibiting the murder of newborns?  To put it differently, what is the substantive difference between a newborn child and a child in the latter stages of pregnancy?  For that matter, what is the difference between an unborn child at any stage of development and a born child?  Evidently this logic hit a Canadian judge pretty hard and she recognized the contradiction in distinguishing the born from the unborn. Continue reading →
Imagine you lost your mother, after an illness, at the hospital. In as much as any death is easy, hers is… and then it starts.
Months later, after much legal fighting, they finally give you her mortal remains– a couple of tissue samples in little boxes, kept behind the secretary's counter for when you came in to get them for a proper burial. You're handed the shoebox and told to sign here, here and here, be careful, those are bio waste.
Horrifying, isn't it?
How about this: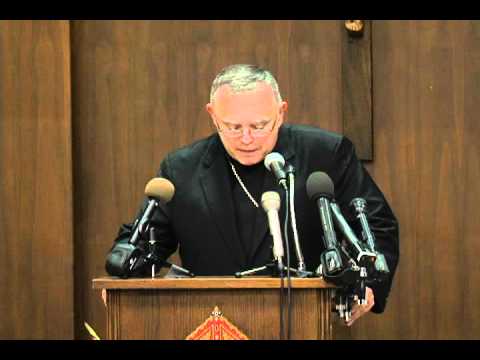 One of the most irritating aspects of life for faithful American Catholics over the past several decades has been how quiet most of our bishops have been in the face of outrageous attacks on the Church.  Too many of our bishops have acted as if they had their spines surgically removed upon consecration.  Fortunately there have always been a handful who have been willing to speak out and suffer the media attacks that then ensue, along with the ambushes of heterodox Catholics frequently eager to lend a hand to anti-Catholics in their ceaseless war against the Church.  One of the more outspoken bishops is Archbishop Charles J. Chaput, who has never been afraid to proclaim the truth, and to do so eloquently.  He is at it again over at First Things.
Hit the keg and smoke a doobie.  No problem.
Courtesy LiveAction.org.
Hat Tip: Matthew Archbold
Last week National Public Radio ran a story called "Narcissism on Rise in Pop Music Lyrics." It opened up with,
On this very day in 1985, the number one song on the Billboard Top 100 was…"We Are the World" ("We are the world. We are the children.")  Fast-forward to 2007 when Timbaland's "Give It to Me" featuring Nelly Furtado topped the charts: "…love my a$$ and my abs in the video for 'Promiscuous.' My style is ridiculous."

So more than two decades ago, we were holding hands and swaying to a song of unity, and these days, we're bouncing to pop stars singing about how fabulous they are.  Psychologist Nathan DeWall has had the pleasure of listening to it all for research, and he found that lyrics in pop music from 1980 to 2007 reflect increasing narcissism in society. And DeWall is an associate psychology professor at the University of Kentucky.
Dr. DeWall proceeded to explain:
I was listening to a song that, really, one of my favorite bands, Weezer, had on one of their albums recently, and it's called "The Greatest Man That Ever Lived," and I kept wondering, who would actually say that out loud?  "I am the greatest man that ever lived. I was born to give and give and give."

The ironic thing is it's a song about how I'm the greatest person in the world, but it's to the tune of "'Tis A Gift To Be Simple," which is a song about humility. And so what I wanted to do, instead of relying on self-report measures of personality like narcissism, I wanted to actually go into our culture, our cultural products, which are tangible artifacts of our cultural environment. And so, for that, I thought maybe song lyrics would be a very good jumping-off spot.

What we found over time is that there's an increasing focus on me and my instead of we and our and us. So, for example, instead of talking about love being between we and us and us finding new things together, it's mostly about how, you know, for example, Justin Timberlake in 2006 said, "I'm bringing sexy back. Yeah. Them other boys don't know how to act. Yeah."
There is no doubt that DeWall is correct.  Pop music is becoming more narcissistic.  The broader, age old question is: Does art imitate life, or does life imitate art?  The answer is probably some of both.  Our culture is increasingly narcissistic.  In the spirit of the NPR article, which was about music, I wish to propose a possible antidote for narcissism: the liturgy, specifically liturgical music.
Unfortunately, we must first distinguish between music that might be heard in any given liturgy and liturgical music, properly speaking.  While the Catholic Church has been plagued with bad versions of the four-hymn sandwich for decades, the fact remains that Holy Mother Church has given us a liturgical hymnbook: The Graduale Romanum,  In this book, one will find the ancient Gregorian chants.  But what many will be surprised to find is that the Church has given us specific chants for every Sunday of the year in the places that we currently sing "hymns."  For any given Mass, there are prescribed chants for the Introit (think here of the "Opening Hymn" you are used to hearing), the Gradual ("Responsorial Psalm"), the Offertorio ("Offertory"), and the Communio ("Communion Song").  Most of these date back more than a thousand years.  Of course, in the Graduale Romanum, one will find the chant written in Latin.  However, vernacular versions of these exist.  What is key is that the liturgical rubrics, while they permit hymns, call for a preference given to these chants.  Vatican II itself held that the Gregorian chant tradition should enjoy a "pride of place" in our liturgies.
Why do I see this as an antidote for narcissism?  The surest way to deal with this problem is to give people the sense that they are not the center of reality, nor are they the source.  The Cartesian turn to the subject has flipped classical metaphysics on its head so that people come to view reality as what is in their own minds rather than what their minds encounter on the outside.  The liturgy is a reality that is given to us, not one that is created by us.  In fact, it is in the liturgy itself that we find our own fulfillment.  When we go to Mass, we participate in reality itself, something that is much bigger than us.  If we see the Liturgy as something that we fit into rather than something that fits into our lives, we can come to understand that we are not the center of reality: God is.
The problem is, as has been observed on several observations over the past decade, there is an increasing narcissism even within the liturgy itself: both priests and people come to think that the liturgy is something that can be created and recreated with the fickle winds of changing culture.  In fact, the lack of narcissistic language in the new translation of the Roman Missal has been pointed out in comparison with the current, defective translation.  Currently, there are several places in the texts that seem to order God to do certain things and to give a primacy to the people over the divine.  The new translation, being more faithful to the Latin, has sought to correct many of these errors.  What remains to be fixed is the same problem in the hymns that are often chosen for Sunday worship.  Many of the modern hymns focus on man rather than God (think here of "Gather Us In," or the ever-elusive "Sing a New Church Into Being").  Quite simply, these hymns are self-centered rather than God-centered.
Contrast this with the use of the Graduale Romanum.  These chants have been given to us by the Church, each carefully constructed around sacred texts in order to serve as a sort of lectio divina for the readings of the day.  Indeed, when Gregorian chant is properly performed, it seems as if it is not of this world.  Part of that is due to the inherent structure of the music, for chant lacks a strict meter (though it has an internal rhythm of its own).  Unlike a hymn, which marches forward towards a climactic conclusion, chant allows the listener to rest in contemplation, a mirror of the eternity which we, God willing, will experience someday.  But another part is due to the words, which become primary (unlike modern pop music, where the words are often a later add-on to an already existing rhythm/chord structure).
Perhaps the most important point, however, is the fact that the music of the Mass inevitably (forgive the pun) sets the tone of the entire celebration.  It stands to reason, then, if we employ a music that is provided for us by the Church (not to mention encouraged by the rubrics), then the people will better understand that the liturgy itself is given and not created.  If they come to understand the liturgy, which is the objective center of reality, in this manner, then they will come to see that they are not the center of reality.  Thus, my rapid fire, probably incomplete, but hopefully coherent, argument that an antidote for the rise in narcissism is Gregorian Chant.  Save the liturgy, save the world.