Constitutional Law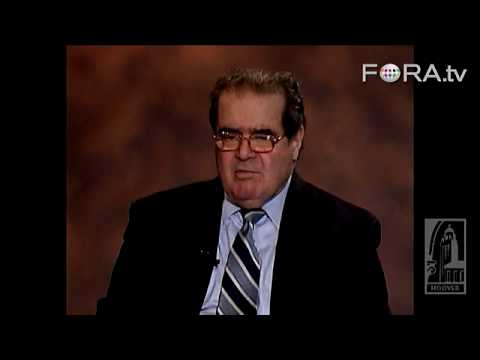 Louis Michael Seidman, a professor of Constitutional Law at Georgetown (surprise!), doesn't think much of the Constitution as he explains in an op-ed in the New York Times:
Consider, for example, the assertion by the Senate minority leader last week that the House could not take up a plan by Senate Democrats to extend tax cuts on households making $250,000 or less because the Constitution requires that revenue measures originate in the lower chamber. Why should anyone care? Why should a lame-duck House, 27 members of which were defeated for re-election, have a stranglehold on our economy? Why does a grotesquely malapportioned Senate get to decide the nation's fate?       
Our obsession with the Constitution has saddled us with a dysfunctional political system, kept us from debating the merits of divisive issues and inflamed our public discourse. Instead of arguing about what is to be done, we argue about what James Madison might have wanted done 225 years ago.       
As someone who has taught constitutional law for almost 40 years, I am ashamed it took me so long to see how bizarre all this is. Imagine that after careful study a government official — say, the president or one of the party leaders in Congress — reaches a considered judgment that a particular course of action is best for the country. Suddenly, someone bursts into the room with new information: a group of white propertied men who have been dead for two centuries, knew nothing of our present situation, acted illegally under existing law and thought it was fine to own slaves might have disagreed with this course of action. Is it even remotely rational that the official should change his or her mind because of this divination?
Of course we should still obey those parts of the Constitution that Professor Seidman likes:
This is not to say that we should disobey all constitutional commands. Freedom of speech and religion, equal protection of the laws and protections against governmental deprivation of life, liberty or property are important, whether or not they are in the Constitution. We should continue to follow those requirements out of respect, not obligation.       
Nor should we have a debate about, for instance, how long the president's term should last or whether Congress should consist of two houses. Some matters are better left settled, even if not in exactly the way we favor. Nor, finally, should we have an all-powerful president free to do whatever he wants. Even without constitutional fealty, the president would still be checked by Congress and by the states. There is even something to be said for an elite body like the Supreme Court with the power to impose its views of political morality on the country.       
What would change is not the existence of these institutions, but the basis on which they claim legitimacy. The president would have to justify military action against Iran solely on the merits, without shutting down the debate with a claim of unchallengeable constitutional power as commander in chief. Congress might well retain the power of the purse, but this power would have to be defended on contemporary policy grounds, not abstruse constitutional doctrine. The Supreme Court could stop pretending that its decisions protecting same-sex intimacy or limiting affirmative action were rooted in constitutional text. Continue reading →
Conservatives looking for some kind of victory in today's decision in National Federation of Independent Business et al. v. Sebelius, Secretary of Health and Human Services, et al. (the Obamacare case) are pointing to two aspects of Chief Justice John Roberts's rulings. First, a majority of the Court ruled that the individual mandate was unconstitutional under the commerce clause. Second, the Court ruled that the Federal Government could not force the states to expand Medicaid coverage under the Affordable Care Act. Therefore, the Court narrowed the scope of Congressional power in two different arenas.
Indeed, 44 pages of Chief Justice Roberts' opinion are absolutely constitutionally sound. During the course of the opinion the Chief Justice made the same argument that many individual mandate opponents have been making for months: you cannot create an economic activity in order to regulate it under the commerce clause. "The power to regulate commerce presupposes the existence of commercial activity to be regulated. If the power to 'regulate' something included the power to create it, many of the provisions in the Constitution would be superfluous." The Chief Justice latter adds that the individual mandate "does not regulate an existing commercial activity. It instead compels individuals to become active in commerce by purchasing a product, on the ground that their failure to do so affects interstate commerce." Construing the Commerce Clause to permit Congress to regulate individuals precisely because they are doing nothing would open a new and potentially vast domain to congressional authority." Furthermore, "[a]llowing Congress to justify federal regulation by pointing to the effect of inaction on commerce would bring countless decisions an individual could potentially make within the scope of federal regulation, and – under the Government's theory – empower Congress to make those decisions for him."
Roberts further tears into the logic of those defending the mandate on commerce clause grounds by pointing out that other activity – such as people not eating a healthy diet – does far more to raise health care costs than does failure to have health insurance. Therefore, under the government's logic, "Congress could address the diet problem by ordering everyone to buy vegetables." Therefore, the government's arguments with regards to the commerce clause are ultimately unsupportable.
The problem with those taking the rosy view; however, is that the Chief Justice's opinion is 59 pages. The Chief takes a detour roughly halfway through the opinion that is so unfathomable, it almost reads as if an entirely different person wrote the opinion.
Chief Justice Roberts holds that despite the statutory language, the penalty for failure to buy health insurance can more accurately described as a tax. This, despite what the language of the bill actually says, and what President Obama himself even said. And that's also in contradiction of what had just been argued when discussing the anti-Injunction act. As Carrie Severino puts it:
The main holding of the case is that the mandate is upheld as a proper exercise of the taxing power. This is a decidedly awkward result, as the first section of the result explains that the mandate is not a tax for the purposes of the Anti-Injunction Act. During the oral argument the courtroom erupted in laughter when the solicitor general was asked how he could argue that the mandate was not a tax on Monday but was on Tuesday. In the end, the court chose that implausible — even laughable — result in a fairly explicit attempt to hold the mandate constitutional.
Jeff Goldstein also mocks this bit of legal jujitsu. Intentionalism is a concept that he blogs about frequently, and he rightfully calls out the Chief Justice for his violation of the concept.
According to the CJ, a penalty is indeed a tax when it can be viewed as a tax for purposes of a ruling.  Meaning, a penalty is a tax when a Justice decides to rewrite the law to turn a penalty into a tax.  Which he justifies because the way the penalty looks to him suggests that "reasonable"  people (or philosopher kings) can, if they squint — and if they ignore the intent that turned the law into law in the first place, and turned a set of marks into a set of signs, into language — see a tax.  How that is "reasonable" is anyone's guess:   we know in no uncertain terms that Obama and the Dems who passed the law didn't devise the mandate as a tax (despite what they later argued); for one to conclude that it is reasonably possible to "read" a penalty as a tax,  therefore, what c0mes to count as "reasonable" must be redefined as "ignoring what we know to be true".  And that seems antithetical to "reason."

Roberts has chosen to see a tax where a penalty was intended — thereby rewriting the law and turning it into a new text, one which he intends, though he incoherently and disingenuously suggests that he is finding meaning in the text that can "reasonably" be ascribed to it.
Roberts justifies this change in terminology by noting that the amount of the penalty that would be levied would not be punitive – in fact the cost of paying the penalty would often be less than the cost of buying health insurance. And since the so-called penalty would not be burdensome, it's not really penalizing behavior.
Yeah.
But the most egregious aspect of this decision, and one which an astounding number of commentators seem to be missing, is that the Chief Justice has massively expanded the use of the taxing power. Roberts asserts that "taxes that seek to influence conduct are nothing new." He then rattles off a list of things that are taxed heavily in order to change behavior, including cigarettes. The problem with this is that people have to buy cigarettes in order to be taxed. This "tax" is applied to people who don't make a purchase. In other words, the federal government is taxing non-activity. It is the same exact logic that the government used to justify the mandate under the commerce clause. All Roberts has done is shift the authority under the Constitution which justifies government intervention.
Then Roberts makes the astounding claim, also amazingly echoed approvingly in certain quarters, that "While the individual mandate clearly aims to induce the purchase of health insurance, it need not be read to declare that failing to do so is unlawful. Neither the Act nor any other law attaches negative legal consequences to not buying health insurance, beyond requiring a payment to the IRS." (emphasis mine)
I'm actually embarrassed for the Chief Justice here. Surely he is not as incapable of making a logical progression as this statement suggests he is. But let's make this crystal clear. If you do not purchase health insurance, you will be penalized, err, "taxed." If you fail to pay that tax at the end of the year, what do you suppose happens to you? Does the IRS send you a series of letters pleading with you to "please, pretty please, with a cherry on top, please pay your tax?" Do they put little frowny faces at the bottom of these letters? Does the Commissioner of the IRS stand outside your window with a boom box blaring "In Your Eyes" by Peter Gabriel, the rain pelting him as he cries out "Please, just pay this tax which, by the way, should in no way be construed as a penalty?"
Oh, that's right, you go to jail. So you totally have the right to not buy health insurance, and there's absolutely no punishment for failure to pay the tax. This assumes, of course, you always wanted to share a very small space with a drug dealer named Zeke. Just think of this as a government-funded vacation where you may, or may not, have discomfort walking towards the end of the vacation. You see – what a bargain!
The Chief Justice makes several more spurious claims. He notes that "tax incentives already promote, for example, purchasing homes and professional education." But tax incentives are reductions in the level of taxation for making certain purchases. Your taxes are not increased when you decide to rent a house instead of purchase one.
Roberts observes that the "Constitution does not guarantee that individuals may avoid taxation through inactivity. A capitation, after all, is a tax that everyone must pay simply for existing, and capitations are expressly contemplated in the Constitution." Really? The income tax was made allowable only through the 16th Amendment, but it's not a tax merely for existing. It's a tax that only applies if you earn money – in other words, it's a tax that applies only when you engage in the activity of earning your daily bread. It's not a "mere existence" tax, and it's certainly not a taxation of non-activity.
According to Article I of the Constitution, Congress has the ability to issue direct taxes apportioned among the several States, but the Chief Justice himself declares that this is not a direct tax.
Section 8 of Article I states:
Clause 1: The Congress shall have Power To lay and collect Taxes, Duties, Imposts and Excises, to pay the Debts and provide for the common Defence and general Welfare of the United States; but all Duties, Imposts and Excises shall be uniform throughout the United States;
Again, I fail to see how that justifies taxation of non-activity. The idea that this kind of tax would have been countenanced by the same people (by and large) who fought the War of Independence is laughable on its face.
Attempts to sugarcoat this opinion are wrongheaded. In many ways, Roberts' basing his decision on the tax power is worse than if he had relied on the Commerce Clause, for he has actually expanded the reach of the federal government in a way heretofore unseen. It's true that Roberts and the four dissenters limit the reach of the commerce clause, but in reality they haven't done much more than what the Rehnquist Court did in the mid-90s in the Lopez and Morrison cases in limiting the scope of the Commerce Clause. No new ground has been broken, and no old precedents were over-ridden. Much the same can be said with respect to the Medicaid ruling. On the other hand, the Chief Justice has broadened the taxing power so that it can now be applied to non-activity. Long story short, the federal government has more power today than it did yesterday. That is the most chilling aspect of this decision.
I believe that the commenter cthemfly25 has it right in the comments on my previous post:
Congress can always use taxing authority to undermine the constitution.  And if a tax can be used to undermine the constitution and modulate and control social behavior, then the all powerful central government can use its unmitigated taxing power to regulate religion (there is no way applying Roberts' logic that the religious mandate could be struck down), regulate home schooling or private schooling ("taxed" for not teaching homosexual curriculum), regulate the size of families (taxed for having more than two kids), regulate food or beverage consumption (taxed based on calorie intake), regulate fuel consumption ("taxed" for excessive fuel consumption), regulate choice of consumer goods such as vehicles ("taxed" for not purchasing a "green" car),—–regulate from a central authority any human or civic activity under the rubric of "taxation".
Perhaps the Anti-Federalist Brutus was right, after all, about the taxing power under the Constitution.
This power, exercised without limitation, will introduce itself into every comer of the city, and country — It will wait upon the ladies at their toilett, and will not leave them in any of their domestic concerns; it will accompany them to the ball, the play, and the assembly; it will go with them when they visit, and will, on all occasions, sit beside them in their carriages, nor will it desert them even at church; it will enter the house of every gentleman, watch over his cellar, wait upon his cook in the kitchen, follow the servants into the parlour, preside over the table, and note down all he eats or drinks; it will attend him to his bed-chamber, and watch him while he sleeps; it will take cognizance of the professional man in his office, or his study; it will watch the merchant in the counting-house, or in his store; it will follow the mechanic to his shop, and in his work, and will haunt him in his family, and in his bed; it will be a constant companion of the industrious farmer in all his labour, it will be with him in the house, and in the field, observe the toil of his hands, and the sweat of his brow; it will penetrate into the most obscure cottage; and finally, it will light upon the head of every person in the United States. To all these different classes of people, and in all these circumstances, in which it will attend them, the language in which it will address them, will be GIVE! GIVE!
The Supreme Court has ruled the individual mandate is constitutional as a tax. So the individual mandate is not a permissible use of the commerce clause; however, it is appropriate for Congress to levy a tax that essentially forces taxpayers to buy health insurance.
I will have to wait until I read the entire opinion before rendering judgment, but at first blush this looks like a terrible defeat for the rule of law.
By the way, it looks like it was a 5-4 decision. Kennedy voted with Scalia, Thomas and Alito. Let that sink in.
Correction: I am now reading that it was 6-3. Honestly, I'm reading a lot of conflicting reports, so I'll refrain from further commentary until I read the opinions.
Correction to the Corrction: Nope, Kennedy, Alito, Thomas and Scalia would have decreed the entire act unconstitutional. It was John Roberts who saved Obamacare.
And now I offer my apologies to all those I scolded for critiquing the John Roberts selection. You were right. I've thus changed the post title.
The Supreme Court's decision on the individual mandate will be delivered on Thursday. Based on who has authored opinions thus far this term, it is highly likely that the majority opinion will be delivered by Chief Justice Roberts. Even if that is the case, that does not mean that the individual mandate is doomed.
Today the Court did deliver an opinion on the Arizona immigration law, striking down three of the four major provisions. The Court permitted the "show your papers" provision, though the language suggests that it must be applied narrowly. Justice Kennedy delivered the opinion of the Court. The case was decided 5-3, with Justice Kagan recusing herself. Justices Alito, Scalia, and Thomas dissented. The opinions can be found here.
The Court also ruled that juvenile convicts cannot be subject to life in prison without parole. As Shannen Coffiin quipped, next "look for the Court to decide that juvenile offenders cannot be sent to their room without possibility of their supper." The decision is here.
In another case, the Court ruled that its Citizens United decision applies to a Montana state law.
All in all, today's decisions remind us that, no matter how the Court rules on the individual mandate, the Court is still a bloody mess.
I hope to have further analysis of the Arizona case later today.
Update: Reading through the opinions now in the Arizona case, and I just want to note that Alito agreed with the majority in declaring Section 3 of the AZ law (which forbids the "willful failure to complete or carry an alien registration document") to be preempted by federal law. Both Thomas and Scalia would have upheld all four sections of the law.
Update 2: And the fig leaf that the Court gave to the state of Arizona proved to be of little use:
The Obama administration said Monday it is suspending existing agreements with Arizona police over enforcement of federal immigration laws, and said it has issued a directive telling federal authorities to decline many of the calls reporting illegal immigrants that the Homeland Security Department may get from Arizona police.

Administration officials, speaking on condition they not be named, told reporters they expect to see an increase in the number of calls they get from Arizona police — but that won't change President Obama's decision to limit whom the government actually tries to detain and deport.
Shorter headline should be, "Obama to Arizona: Drop Dead."
Don has covered President Obama's not too subtle threat to the Court that it not dare strike down all or even part of Obamacare.  Yesterday he somewhat toned down his remarks, but still managed to step in it.
At an appearance this afternoon, a reporter asked Obama a question following up on yesterday's comments: "Mr. President, you said yesterday that it would be 'unprecedented' for a Supreme Court to overturn laws passed by an elected Congress. But that is exactly what the court's done during its entire existence. If the court were to overturn the individual mandate, what would you do, or propose to do, for the 30 million people who wouldn't have health care after that ruling?"

Obama's answer to the question was that he expects to win in court, and "as a consequence, we're not spending a whole bunch of time planning for contingencies." He went on to talk at some length about the "human element"–that is, people who would supposedly suffer in the absence of ObamaCare. Message: Obama cares, though not enough to spend "a whole bunch of time planning for contingencies."

But the most interesting part of his answer was the beginning, in which he tried to walk back, or at least clarify, his statement from yesterday. He spoke slowly, with long pauses, giving the sense that he was speaking with great thought and precision: "Well, first of all, let me be very specific. Um [pause], we have not seen a court overturn [pause] a [pause] law that was passed [pause] by Congress on [pause] a [pause] economic issue, like health care, that I think most people would clearly consider commerce. A law like that has not been overturned [pause] at least since Lochner,right? So we're going back to the '30s, pre-New Deal."
As James Taranto points out, this response is wrong on multiple levels.  The case that Obama cites in fact pre-dates the New Deal by a good thirty year.  Second, the full title of the case – Lochner vs. New York – tells us that this was a case involving state law, not federal legislation.  As Taranto further explains, there have been plenty of Supreme Court cases in which the high court struck down state laws, some dealing with economic matters.  And there of course have been plenty of cases where the Court has in fact declared federal statutes unconstitutional.  In fact two cases in the late 90s – US v. Lopez and US v. Morrison – directly implicated the commerce clause, and in both cases the Court rendered a 5-4 decision overturning acts of Congress which relied upon the commerce clause for their justification.
But other than that, I guess Obama was spot on.
The broader issue, other than Obama's seeming ignorance of constitutional law, is that the left has suddenly decided that they don't much care for this concept of judicial review. Continue reading →
There is some excitement that oral arguments are going well for opponents of Obamacare.  Though oral arguments are not perfectly indicative of how the Supreme Court will vote in the end, there is some cause for guarded optimism.  That being said, even if the Court completely strikes down Obamacare, it will be something of a hollow victory.
Don't get me wrong.  There is no other correct course of action for the Court to take than to strike down the individual mandate and thus effectively kill Obamacare.  It is one of those remarkable monstrosities that happens to be both bad policy and unconstitutional.  The problem is that something this monumental is essentially being decided on the whims of a single Justice.  How did we reach the point where our basic liberties come down to what Anthony Kennedy may have had for breakfast one day?
I don't mean to be flip, but it feels like we've taken a very wrong turn somewhere along the line.  Continue reading →
One of the big items today is news that the Romney campaign is bleeding cash.  Considering his all out assault first on Newt Gingrich, and now Rick Santorum, this comes as no surprise.  Yet while Romney spends more in a day than Santorum spent through most of the campaign thus far (only a slight exaggeration, I think), Santorum continues continues to poll ahead of Romney nationally and is neck-and-neck in Romney's home state.  Of course Romney still has plenty in reserve thanks largely to his Super PAC.  Even Newt Gingrich's fledgling campaign is still alive thanks to the generosity of one supporter funding a pro-Newt Super PAC.
These Super PACs have come under fire.  They are the indirect result of the McCain-Feingold campaign finance law, a law which itself amended the Federal Election Campaign Act (FECA), a law meant to restrict the amount of money that individuals could donate to individual candidates.  FECA created a two-tiered structure that basically divided federal contributions into two categories: hard money and soft money.  Professional sports fans probably recognize the terms as related to soft and hard caps, and it's really the same concept. Under FECA individuals could only contribute $1,000 to a candidate per election cycle.  Yet there were no restrictions placed on "soft money," meaning contributions to party committees.  This was the original end-run around campaign finance law.  Under the Bipartisan Campaign Reform Act (BCRA), or McCain-Feingold, individual contribution maxes to candidates were raised, but soft money contributions were phased out.  This, in turn, gave rise to other organizations, mainly 527s, which were able to raise unlimited amounts of money to air issue advocacy ads against candidates.  These various organizations are not technically affiliated with any candidate, and it is a violation of campaign finance law for candidates to collaborate in any way with these groups.
So is it time for another set of reforms?  Indeed it is.  And the reform is simple: repeal all these ridiculous (and arguably unconstitutional) provisions, and allow individuals to contribute whatever amount of money they want directly to candidates.
Senior Federal District Judge Ronald Lagueux, a 1986 Reagan appointee, has ordered the Cranston High School in Cranston, Rhode Island to remove a mural, pictured above, depicting a school prayer.  The mural had been in the school since 1963.  The suit, as is usual in these modern iconoclastic cases, was brought by the American Civil Liberties Union on behalf of an atheist student and her father, Mark Ahlquist.  Jessica Ahlquist, the 16 year old atheist who brought the suit, has become an atheist celeb on atheist sites on the internet.  She doesn't think much of the Catholic Church, is indeed a fallen away Catholic, and Cranston is 90% Catholic, so this suit was her way, actually I suspect more her father's way, to poke a stick in the eye of local Catholics.  Go here to read the opinion.  Judge Lagueux's decision is notable for its overall reliance on the Lemon test, and I will leave to Justice Scalia below to set forth my views of that court created doctrine.
In few areas of the law has the Constitution been more twisted and deformed than in the area of First Amendment allowance of religious expression in schools.  Justice Scalia gave a useful summary in 1993 in the Lamb's Chapel v. Moriches Union Free School District case:
As to the Court's invocation of the Lemon test: Like some ghoul in a late night horror movie that repeatedly sits up in its grave and shuffles abroad, after being repeatedly killed and buried, Lemon stalks our Establishment Clause jurisprudence once again, frightening thelittle children and school attorneys of Center Moriches Union Free School District. Continue reading →
President Obama does his best Hugo Chavez impression as he chucks the U.S. Constitution for election gain.
Election 2012 can't come soon enough for this tin teapot to get booted out of office.