Civil War
Easily the most controversial figure in the Civil War, probably the most controversial figure in American history, Nathan Bedford Forrest has always been the subject of fierce debate.  Self-made millionaire who rose from poverty with much of his money made as a slaver trader;  a semi-literate whose tactics and strategies as the most successful cavalry commander of the  Civil War are still studied at military academies around the world;  a brilliant general celebrated by the South and condemned by the North as the perpetrator of a massacre at Fort Pillow;  a man who killed in combat 31 Union soldiers in the War but who after the War constantly had former Union soldiers visit him to shake his hand; and  a racist who helped found the Ku Klux Klan after the War, but who also made a remarkable speech near the end of his life.
In 1875 Forrest was invited to address a meeting of the Independent Order of Pole Bearers, an early black civil rights organization in Memphis, at their Fourth of July barbecue on July 5.  Forrest was told by many whites that he should not accept, but Forrest went.  Just before he spoke he was presented a bouquet of flowers by Miss Flora Lewis, a daughter of one of the members of the Pole Bearers.   Here is Forrest's speech.
Continue reading →
Edward Coles, the second governor of Illinois, is largely forgotten today, which is a pity.  His actions in 1824 helped lead to Union victory in the Civil War.
Illinois came into the Union as a free state in 1818.  However, a majority of settlers in Illinois initially came from the South and some of them brought slaves, illegally, into the Sucker State.  In 1822 Edward Coles, a 36 year old native of Virginia who had settled in Illinois in 1818, was elected Governor.  Coles came from a slave-holding family, but he had long been convinced that slavery was morally wrong.  When he arrived in Illinois he freed his ten slaves and deeded to each head of a family 160 acres of land to help give them a new start in a free state.  He ran for governor because he was alarmed with the growing strength of pro-slavery forces in his new home state.  In a tight four way race he won.
As Governor, Coles fought against laws in Illinois that discriminated against blacks and against indenture laws that attempted to establish black slavery in Illinois under another name.  In 1823 pro-slavery forces had a call for a constitutional convention put on the ballot in 1824.  Had a convention been called, there is little doubt that Illinois would have been transformed into a slave state.  Working feverishly, Coles and his allies narrowly defeated the call for a constitutional convention at the ballot box in 1824 and Illinois remained a free state.  Had the Civil War begun with an Illinois that had been part of the Confederacy, or, more likely, split in two as Missouri was throughout the war between rival Union and Confederate camps, it is hard for me to see a Union victory.  Illinois contributed a quarter of a million men to the Union cause, and without those men the war in the West could never have been won.
It has long been an article of faith of many admirers of Jefferson Davis that, while he was in Union captivity after the Civil War, he received a crown of thorns from Pope Pius IX woven by the hands of Pio Nono himself.  The Museum of the Confederacy in New Orleans has it on display.  It is a romantic story and appealing on an emotional level.  It is also false.  The Pope did send the imprisoned Davis his photograph with the text  from Matthew 11:28  'Venite ad me omnes qui laboratis, et ego reficiam vos, dicit Dominus.' (Come to me all all ye who labor and are heavy burdened and I will give you rest, sayeth the Lord.)
Continue reading →
Something for the weekend.  Stonewall Jackson's Way, sung by the endlessly talented Bobby Horton who has waged a one man crusade to bring Civil War music to modern audiences.
Of Thomas Jonathan Jackson, nicknamed Stonewall by General Barnard Bee at the battle of Bull Run, it was said he lived by the New Testament and fought by the Old.  Certainly throughout his life he was a convinced Christian.  As a young man he would attend services of various Christian denominations.  In Mexico, during his service in the Mexican War, he attended mass, although sadly he did not convert to Catholicism.  Instead he eventually became a Presbyterian.  His Bible was his constant companion, and he would often speak of God and theological matters in private conversation.
Jackson in his professional life was a soldier.  Just before the Civil War he was a professor of natural and experimental philosophy (science) and artillery instruction at the Virginia Military Institute.  As a teacher he made a good soldier.  His lectures were rather dry.  If his students seemed to fail to grasp a lecture, he would repeat it the next day, word for word.
His home life was a mixture of sorrow and joy.  His first wife died in childbirth along with their still-born son, a tragedy that would have crushed many a man less iron-willed than  Jackson.  His second marriage, like his first, was happy, but heartache also haunted it.  A daughter died shortly after birth in 1858.  A second daughter was born in 1862, shortly before Jackson's own death in 1863.
He and his second wife established and taught a Sunday school for black slaves.  At the time it was against the law in Virginia to teach slaves to read, but apparently that is precisely what Jackson and his wife did.   One of the last letters he ever posted was his regular contribution he mailed off throughout the war for the financial support of the Sunday school for slaves he and his wife had founded. Continue reading →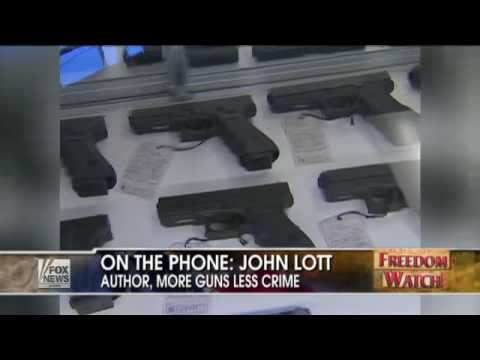 In the case of McDonald v. the City of Chicago, the Supreme Court of the United States ruled that the Second Amendment applies to the states.  Read the decision here.  The decision was 5-4 which is absolutely stunning since I think that there was no intellectually respectable argument to be made that the Second Amendment does not apply to the states.
The bill of rights applies to the States due to the Fourteenth Amendment.   In the opinions written by the majority justices, emphasis is given to the importance that the drafters of the Amendment placed upon the rights of freed slaves after the Civil War to keep and bear arms for their defense.  A good day for the Constitution at the Supreme Court.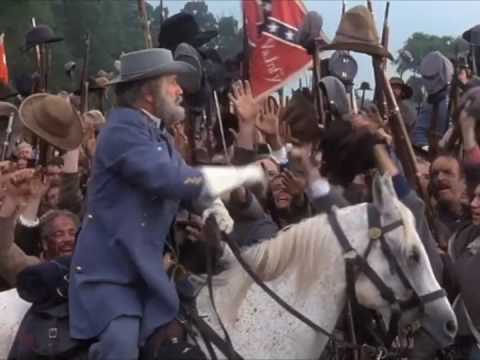 Paul Zummo, the Cranky Conservative, and I run a blog on American History:  Almost Chosen People.  Yesterday Paul raised the question:  Is Robert E. Lee Overrated?
Yeah, the post title is somewhat deliberately provocative, but it's also meant to be a serious question that I hope will spark some discussion.  I was going to ask it in the comments to Donald's post below, but thought it might be useful fodder for debate in its own right.
This video is unsurpassed for conveying in such a brief time, with each minute representing one year, the major events and shifting areas controlled by the Union and the Confederacy during the War. It also graphically portrays the human cost of the War as the seconds roll by and the dead and wounded toll grows ever higher. Continue reading →
The American Civil War was the bloodiest in our history, a total war of attrition waged on our own territory, which an at times none to congenial peace. It is, thus, all the more inspiring to read about the reunion which was held at Gettysburg in 1913, celebrating the 50th anniversary of one of the war's bloodiest battles. An open invitation was made to all those who had served in either army, north or south, and been honorably discharged, and more than 50,000 men came to the three day event.
Personnel from the United States Army Quartermaster Corps and Engineer Corps arrived at Gettysburg National Military Park in 1912 to plan military and civilian support for the encampment. The engineers surveyed the field adjacent to the fields of "Pickett's Charge" where they laid out the arrangement for "The Great Camp", divided into areas for Union veterans and for Confederate veterans. Soldiers installed utility systems, erected hundreds of tents to house the veterans, built picnic tables, benches, and boardwalks throughout the camp. By the first of June the sprawling Great Camp occupied 280 acres, included 47 1/2 miles of avenues and company streets, was lit by 500 electric arc lights, and 32 bubbling ice water fountains were installed. Over 2,000 army cooks and bakers manned 173 field kitchens, ready to provide three hot meals per day for veterans and camp personnel alike….


The first veterans arrived on June 25 and within days the Great Camp swelled to overflowing. Every veteran was provided a cot and bedding in a tent that would hold eight men. Meals were served from a kitchen at the end of each company street and varied from fried chicken suppers to roast pork sandwiches with ice cream for desert. By the end of the reunion, the army kitchens had supplied over 688,000 meals to reunion participants. Invariably the days were hot and the thermometer topped 102 degrees on July 2. Heat exhaustion and physical fatigue resulted in hospitalization of several hundred veterans. Over 9,980 patients were treated by medical personnel for ailments ranging from heat exhaustion to stomach disorders. Remarkably, only nine veterans passed away during the week-long encampment. Despite the heat and often dusty conditions, nothing could keep the aged men in camp and hundreds wandered the battlefield. Many visited battle sites where they or their comrades had been fifty years before. Confederate veterans especially were pleased to find old cannon mounted on metal carriages to mark the locations where their batteries had been during that fateful battle. Invariably, the presence of khaki-clad US Army personnel caused a lot of excitement. The soldiers were there to guard camp supplies, give demonstrations, and provide services to the veterans who delighted themselves discussing the modern weapons of war. Many an aged veteran was eager to explain how much things had changed in fifty years to any soldier who was handy and army personnel were constantly entertained by the old soldiers at every turn. [source]
One of the major events of the reunion was a reenactment of Pickett's Charge. Confederate veterans assembled to walk the three-quarters-of-a-mile across open fields towards Union lines, retracing the charge which on which fifty years before 12,500 men had set out and suffered 50% casualties.
As union veterans watched the men in gray approaching them across the field again, many eyes were far from dry. And as the Confederate veterans approached the wall, their old adversaries broke ranks and came forward to meet them, not with lead and steel this time, but with the embraces of friendship.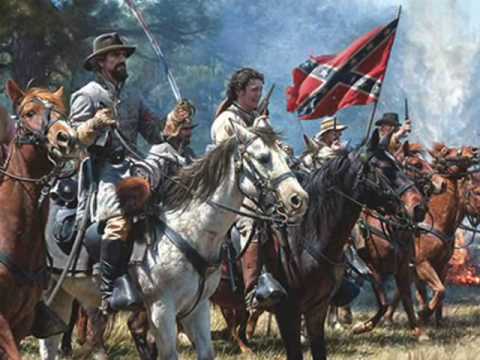 I have had a few posts, here, here  and here, on the famous Irish Brigade that fought for the Union in the Army of the Potomac.  There were however other Irish units, North and South.  This song celebrates Kelly's Irish Brigade that fought for the Confederacy in the West.  The Brigade was actually a regiment, the Washington Blues, organized by Joseph Kelly, a grocer in Saint Louis, prior to the Civil War.  Kelly was an Irish immigrant as were most of the men in his regiment.  They provided good service for the Confederacy, and you may read about them here. Continue reading →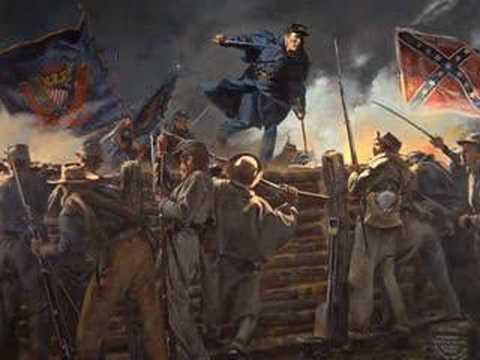 Something for the weekend.  As we enjoy the fun and festivities of the Memorial Day Weekend unofficial start of summer, it is fitting and proper that we recall why Monday is a National Holiday.  Tomorrow I will have something for our readers who favor the gray over the blue. Continue reading →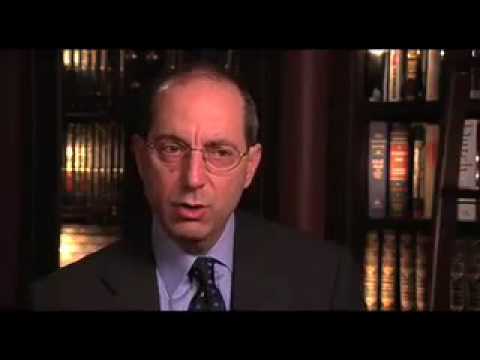 Hattip to commenter Dennis McCutcheon for giving me the idea for this post.  We Americans today view the Civil War as part of our history.  If different decisions had been made at the end of that conflict, the Civil War could still be part of our current reality.  Just before the surrender at Appomattox, General Porter Alexander, General Robert E. Lee's chief of artillery, broached to Lee a proposal that the Army of Northern Virginia disband and carry out a guerrilla war against the Union occupiers.  Here history balanced on a knife edge.  If Lee had accepted the proposal, I have little doubt the stage would have been set for an unending war between the North and the South which would still be with us.  Douglas Southall Freeman, in his magisterial R. E. Lee, tells what happened next, based upon Alexander's memoirs, Fighting for the Confederacy.
"Thereupon Alexander proposed, as an alternative to surrender, that the men take to the woods with their arms, under orders to report to governors of their respective states.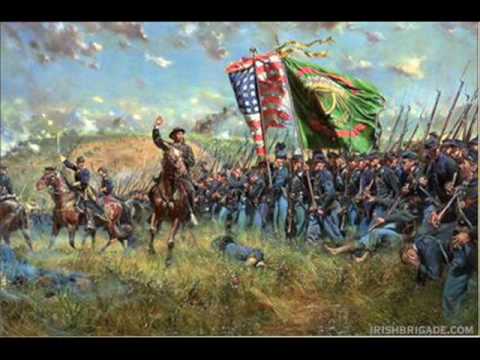 Something for the weekend.  We'll Fight For Uncle Sam sung to the tune Whiskey in the Jar.  A nice tribute to the Irish volunteers who were a mainstay of the Union Army of the Potomac.  The song is also celebratory of George Brinton McClellan who led the Army of the Potomac in 1861-62.  Little Mac was a good organizer and he made sure his men were well fed and clothed.  He took care of his men and they were fond of him as a result.  Unfortunately, although not a bad strategist, he was a lousy battlefield commander.  During the battles of the Seven Days, though McClellan outnumbered the Confederates under Lee, he allowed Lee to take the initiative and force him back from Richmond.  At Antietam, in spite of enjoying better than two to one odds,  McClellan's uncoordinated attacks blew a prime opportunity for the Army of the Potomac to destroy Lee's army.  As a battlefield commander McClellan was worse than having no commander at all. Continue reading →