Christopher Johnson
Part 12 of my ongoing survey of the follies of many modern day Jesuits.  For a nano second the Jesuit rag America was on the side of every Catholic bishop in this country in opposition to the HHS Mandate.  However, where your heart is so is your treasure, and America is back on the side of Team Obama.  I was going to take the Jesuits of America to task, but Christopher Johnson, a non-Catholic who has taken up the cudgels so frequently in defense of the Faith that I have named him Defender of the Faith, has eloquently beaten me to the punch:
You Roman Catholic bishops have had your fun and put on your little temper tantrum, the editors of The REAL Magisterium Wannabe Episcopalian Weekly America write.  But the adults are here now so why don't you all just look liturgically impressive, babble a little Latin and keep your stupid opinions to yourselves.  We'll take it from here:
For a brief moment, Catholics on all sides were united in defense of the freedom of the Catholic Church to define for itself what it means to be Catholic in the United States. They came together to defend the church's institutions from morally objectionable, potentially crippling burdens imposed by the Obama administration under the Affordable Care Act. Catholic journalists, like E. J. Dionne and Mark Shields, and politicians, like Tim Kaine and Robert P. Casey Jr., joined the U.S. bishops in demanding that the administration grant a broad exemption for religiously affiliated institutions from paying health care premiums for contraceptive services. Then, on Feb. 10, President Obama announced a compromise solution by which religious institutions would be exempt from paying the objectionable premiums but women would not be denied contraceptive coverage. A confrontation that should never have happened was over. But not for long.
Every single time we let the hierarchy think it's in charge, the idiots completely screw things up.  Every.  Single.  Time.
After a nod to the White House's retreat as "a first step in the right direction," the U.S. Conference of Catholic Bishops rejected the president's "accommodation" as insufficient. Their statement presented a bill of indictments on the fine points of public policy: It opposed any mandate for contraceptive coverage, expanded the list of claimants for exemption to include self-insured employers and for-profit business owners and contested the administration's assertion that under the new exemption religious employers would not pay for contraception. Some of these points, particularly the needs of self-insured institutions like universities, have merit and should find some remedy. Others, with wonkish precision, seem to press the religious liberty campaign too far.
"Some of these points…have merit and should find some remedy?"  From where?  From the same people who wrote the initial rule and the transparently fraudulent "compromise?"  I can't for the life of me understand why the bishops might be reluctant to take that offer.  Foxes, hen houses and all that.
And it's difficult for me to see how the objections of the bishops constitute "press[ing] the religious liberty campaign too far" since forcing Church ministries to facilitate the acquisition of free contraceptives by any employee who wants them is the only option left on the table.  The idea of not being forced to provide free birth control at all seems no longer to be possible.
The bishops have been most effective in influencing public policy when they have acted as pastors, trying to build consensus in church and society, as they did in their pastorals on nuclear war and the economy. The American public is uncomfortable with an overt exercise of political muscle by the hierarchy. Catholics, too, have proved more responsive to pastoral approaches. They expect church leaders to appeal to Gospel values, conscience and right reason. They hope bishops will accept honorable accommodations and, even when provoked, not stir up hostility. In the continuing dialogue with government, a conciliatory style that keeps Catholics united and cools the national distemper would benefit the whole church.
I think you all know what's going on there.  It's the age-old story.  As long as the bishops are commenting on the issues that are important to the America editorial staff the right issues, we're behind them 100%.  But once they move on to those…other issues(you know the ones America means), they are exercising "political muscle" and contributing to the "national distemper."
On issues like nuclear war and the economy, the bishops should certainly take no prisoners and accept no compromises.  But on those relatively trivial issues that the laity constantly insists on whining about, Roman Catholic bishops need to "accept honorable accomodations," they need to "not stir up hostility," and, most importantly, they need to be "conciliatory."
After all, we have the example constantly before us of the Author and Finisher of our faith who was always willing to accept honorable accomodations, who never stirred up hostility and Whose first name was Conciliatory.  Actually, we don't have that at all.  What the heck was I thinking?
The campaign also risks ignoring two fundamental principles of Catholic political theology. Official Catholic rights theory proposes that people should be willing to adjust their rights claims to one another. It also assigns to government the responsibility to coordinate contending rights and interests for the sake of the common good. The campaign fails to acknowledge that in the present instance, claims of religious liberty may collide with the right to health care, or that the religious rights of other denominations are in tension with those of Catholics. But as Pope Benedict XVI wrote in "Deus Caritas Est," the church does not seek to "impose on those who do not share the faith ways of thinking and modes of conduct proper to the faith." Furthermore, the campaign fails to admit that the administration's Feb. 10 solution, though it can be improved, fundamentally did what Catholic social teaching expects government to do—coordinate contending rights for the good of all.
Um…nuh-uh.  I have no idea what "Catholic rights theory" really consists of but I seriously doubt that "adjust[ing] their rights claims to one another" obligates Catholics to commit sins themselves or acquiesce in their commission.
As for the "contending rights" that America believes were coordinated by the Administration's "compromise," we have the long-established Constitutional right of Christian churches to order their own affairs versus the newly-created "right" to free birth control pills, a "right" which remains in place by means of an accounting trick.
Once again, there is no possibility of the Catholic Church not being forced to provide free birth control at all; the default position is the liberal one.  And that is not coordination of contending rights at all; it is soft tyranny.
By stretching the religious liberty strategy to cover the fine points of health care coverage, the campaign devalues the coinage of religious liberty. The fight the bishop's conference won against the initial mandate was indeed a fight for religious liberty and for that reason won widespread support. The latest phase of the campaign, however, seems intended to bar health care funding for contraception. Catholics legitimately oppose such a policy on moral grounds. But that opposition entails a difference over policy, not an infringement of religious liberty. It does a disservice to the victims of religious persecution everywhere to inflate policy differences into a struggle over religious freedom. Such exaggerated protests likewise show disrespect for the freedom Catholics have enjoyed in the United States, which is a model for the world—and for the church.
What are you mackeral snappers complaining about?  It's not like anyone's burning down your churches or anything.  And you don't have to pay for anyone's abortion so chill out.
But here's the problem.  A government that thinks it has the right to determine what are or are not Christian ministries is a government that can(and probably one day will) not only order Christian hospitals to provide free birth control but also order Christian hospitals and churches to provide free abortions for any staff member who wants one.
Were that to happen, what would America say?  That the bishops shouldn't be so "wonkish" because this is yet anothern policy difference that doesn't rise to the level of religious persecution?  That the bishops shouldn't "provoke hostility" and need to take the lead toward cooling the "national distemper" over the fact that the Church is now being forced to participate in one of the greatest evils it is possible to conceive simply because somebody claims a right to access to it? Continue reading →
Christopher Johnson, the non-Catholic proprietor of Midwest Conservative Journal who has taken up the cudgels in defense of Catholicism so frequently that I have named him Defender of the Faith, has a brilliant spoof column, taking off from a news story on "let's pretend" women Catholic "priests":
Thank you for your interest in becoming a certified Catholic priest.  We here at Certified Catholic Priests International, Inc. have helped thousands of people around the world to lead richer, more fulfilling lives as certified Catholic priests.
You probably have lots of questions.  The first question everyone asks is, "Do I have what it takes to become a certified Catholic priest?"  Our research staff here at CCPI has put together this quick aptitude test to help you find out.
(1) The Roman Catholic Church was founded by:      (A) Romulus      (B) Former Los Angeles Rams quarterback Roman Gabriel      (C) Jim Rome      (D) None of the above
(2) "Missal" is:      (A) A long-range rocket containing some sort of weapon      (B) The opposite of "hittal"      (C) What everybody in Council Bluffs, Iowa used to call Miss Alberta Leffingwell, head      librarian of the Council Bluffs Public Library from 1939 until 1983      (D) None of the above
(3) When the telegraph was the only form of long-distance communication, the average amount of time that it took to complete one level of Angry Birds was:      (A) Six months      (B) Four years      (C) It depended on the difficulty of the level      (D) None of the above Continue reading →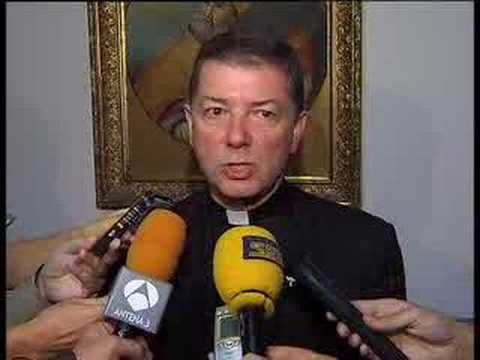 On Sunday I received a request from a Catholic blogger for my suggestions for readings in regard to the Spanish Civil War, a subject which I have always found fascinating.  Here is my response:
The go to man on the Spanish Civil War is Stanley Payne.  He has been writing on the conflict since the Fifties.  He interviewed many of the leaders of the various factions in the Fifties, Sixties and Seventies.  Originally a man of the Left, I think it would be fair now to call him a conservative, but what he is above all is a first class historian.
Susan Brooks Thistlethwaite, current faculty member and former president of the Chicago Theological Seminary ,(don't laugh yet), doesn't think much of Catholic bishops expressing opposition to gay marriage, and she  said so recently at some length in the "On Faith" (trust me that is a misnomer) blog at the Washington post.  Christopher Johnson at Midwest Conservative Journal, a Protestant who takes up the cudgels in defense of the Church so often that I have named him Defender of the Faith, gives her a fisking to remember:
Nobody, and I mean nobody, does pompous, arrogant self-righteousness better than liberal Protestants.  Via David "He Reads 'On Faith' So You Don't Have To" Fischler comes this drivel from the Chicago Theological Seminary's Susan Brooks Thistlethwaite criticizing a Catholic bishop for being…well…a Catholic bishop:
How can we expect other nations around the world to create and sustain pluralistic democracies when prominent religious leaders in the United Sates, such as Bishop Nicholas DiMarzio of New York, fail to grasp the fundamentals of this concept?
Who was delivered up for our sins, and rose again for our justification.
Saint Paul, Romans 4:25
Jamie Manson of the National Catholic Fishwrap Reporter doesn't think much of the dogma of the Catholic Church that Christ died for our sins, viewing that as a silly pre-Vatican II guilt trip.  Unfortunately for her, two of the finest masters of the art of fisking decided to take notice of her scribblings.
First up, Christopher Johnson at Midwest Conservative Journal who I have designated Defender of the Faith because of the number of times, he, a non-Catholic, has taken up the blogging cudgels in defense of the Faith:
Here's another.  At the National Catholic Reporter, Jamie Manson doesn't want to know what happened on Good Friday as much as she wants to know why it happened:
I've had more than one Catholic who grew up either before or on the cusp of Vatican II tell me horror stories of how they were taught that Jesus died because of their sins.
"Horror stories of how they were taught that Jesus died because of their sins."  I think you already know where Ms. Manson is going with this.
This was a particularly heavy-handed way for priests and nuns to lay an even thicker coat of guilt on impressionable Catholic school children. Because they were sinners, Jesus had to suffer and die to redeem them. It was one rendering of the traditional theological interpretations of the crucifixion — that Jesus had to die to fulfill the Scriptures and that his death atoned for the sins of the world.
Get ready for the customary condescending pat on the head.
I know that countless people throughout the centuries have found profound, life-changing and even comforting meaning in this understanding of the Cross.
Since Ms. Manson has much more important fish to fry(see what I did there?), she'll let the rest of you have your little legend.
But I've often felt that if we immerse ourselves in the accounts of Jesus' arrest, passion, and death as told by the four Gospels, these texts can broaden and deepen our understanding of the crucifixion.
I don't know how much deeper one needs to go than getting one's sins taken care of so that one can go home to the Father.
It can help us make meaning of so much of the anguish that we witness in our world and in our church.
I stand corrected.  Jesus died the most horribly agonizing death that it is possible to imagine in order to "help us make meaning of so much of the anguish that we witness in our world and in our church."  Got it.
Me, I've never ever been able to "make meaning" of diseases, wars, genocides, famines, earthquakes, tsunamis and other tragedies with their attendant human suffering.  I guess I'm not trying hard enough.
When I read the passion narratives of the Gospels, I don't hear simply that Jesus suffered and died for our sins. Rather, I hear the four evangelists very clearly say that Jesus' suffering and death was the will of those who conspired against him — those whose political systems he had undermined, those whose religious convictions he had offended.
Glad we've finally cleared that up.  Neither Romans nor Jews killed Christ.  It was the Republican Party and the religious Right.
Christopher Johnson, a non-Catholic who I have designated Defender of the Faith, has a not to be missed post on the farce that ensued when the Paulists had the presiding bishopess of the Episcopalian church in this country deliver a lecture to some Paulist seminarians:
Each year, St. Paul's College, a Roman Catholic institution for Paulist seminarians in Washington, DC, hosts what it calls the Hecker Lecture.  This year's speaker was the Presiding Bishop of the Episcopal Organization, the Most Rev. Katharine Jefferts Schori.  And I cannot remember the last time I read any sort of message about anything at all that fell completely apart in the very first sentence:
We are the respective heirs of different strands of western Christianity.
No "we're" not.  "We" were all one big happy family until the 1500?s when "we" Anglicans decided to go it alone.
I will not begin with the Reformation, but with a much earlier, indigenous Christianity in the British Isles.
And herrrrrrrrre we go.
Roman soldiers appear to have taken the Christian tradition with them when they were posted to the frontiers of the Roman Empire – at least by the second century.
An alternative theory suggests that British Christianity was kept alive in Middle Earth by hobbits and that Frodo is Elvish for Jesus.  That's my story and I'm sticking to it; if the Presiding Bishop can live in a fantasy world, so can I, consarnit.
That tradition remained when the Roman Empire receded, but the faith continued to grow and develop in its new context.
Sort of makes one wonder why the western Church sent all those missionaries to the British Isles.  Why did Columba leave Ireland and set up Iona?  And just what was he telling the Picts anyway?
If we would look for a modern parallel, we might point to the development of the Three Self Movement in China, with roots in the various colonial plantings of Christianity in the 16th to 19th centuries.
Awkward analogy, that, insofar as, whatever its origins, Three Self was at one time shot through with Communists who didn't believe all this supernatural crap, becoming, in effect, a sort of Episcopal Organization backed by fiercely-atheist state coercion.
Gregory sent Augustine to 6th century Britain, and challenged him at least in part to bless the best of local tradition in recognition that God had already been at work there.
I believe that would be Pope Gregory and does the fact that Pope Gregory sent Augustine to Britain suggest anything to you, Kate? Continue reading →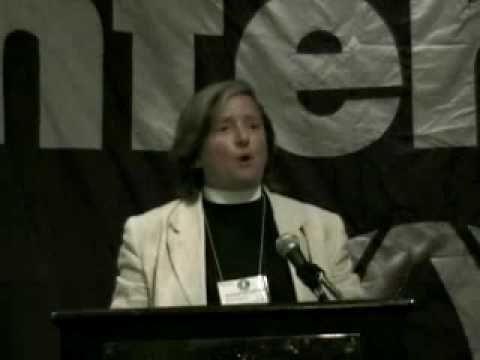 Occasionally pro-aborts make the argument that no one is pro-abortion.  Anglican priestess Katherine Ragsdale is Exhibit A that this is rubbish.  Christopher Johnson, a non-Catholic who I have designated Defender of the Faith for his spirited defenses of the Church, at the Midwest Conservative Journal examine Katherine Ragsdale's views on abortion as a blessing in a post simply entitled "Monster":
Abortion is a blessing — sometimes a joyful relief; sometimes a painful choice — but a blessing still.
Why is that so hard to see? How can anyone not understand that unless women can control our reproductive lives we can't control our economic lives either, we can't be fully functioning members of the commonwealth or stewards of the gifts God has given us unless we can decide when or if to have children?
There is, of course, one simple way around that little problem.  It's a very old idea that has a number of names.  Keeping your clothes on, locking the barn door, keeping it zipped up, keeping the one-eyed snake in the cage, viewing men/women as human beings rather than ambulatory narcotics, saving yourself for marriage, etc.
I have been stunned, since all the uproar, to hear self-described feminists – feminists – say, "oh, abortion is always a morally complex tragedy but it's sometimes a necessary evil and so must remain legal." Is it any surprise that people are becoming less and less willing to call themselves pro-choice if even feminists are lamenting a necessary evil rather than celebrating a means to our own liberation and empowerment? 
"You use the phrase 'killing every single Jew in the entire world' like that's a bad thing." – Heinrich Himmler.
Look, the only way abortion is a tragedy or an evil is if a fertilized egg is a baby. The Roman Catholic Church teaches that (and they're entitled to) but science doesn't, most theologies don't, and common sense doesn't. Why should we believe that? Yet every time we called abortion a tragedy we reiterate the position that a zygote is a human being of equal moral standing with a woman. We create an antiabortion climate and I fear it has come back to bite us.
Two things.  Katie Rags was a fertilized egg once.  So was her entire audience and so was every single person reading this.  And as far as Rags is concerned, you're still a "fertilized egg" nine months after one of your dad's swimmers made it inside one of your mom's eggs, as demonstrated by her lionization of Old Partial-Birth Abortion.
It is only this that makes it possible for people to be as outraged as many have been by the characterization of George Tiller as a saint and martyr. Dr. Tiller — like most if not all people who work in clinics that provide abortions — did difficult, demanding, and dangerous work under constant threat, harassment, and terrorism. He did it even though he could make more money doing easier, and certainly safer, work. He did it because he believed it was the right thing to do. It was his ministry. He spent and gave his life on behalf of others. That's a saint and martyr. The only reason anyone could question that is if they thought abortion was a bad thing. The only way they can think that if they believe a fertilized egg is a baby. And we contribute to that whenever we try to compromise and be conciliatory by calling abortion a tragedy.
Says here that participation in the Einsatzgruppen during the Second World Was was terribly stressful on the German soldiers involved.  But the fact that they needed copious quantities of booze to get through the day didn't make those bastards virtuous. Continue reading →
For years I've read Christopher Johnson's first rate blog Midwest Conservative Journal.  If you want to know what is going on in the Anglican world, his is the blog to read.  I have always been impressed by how frequently a man who says he will probably never convert to Catholicism has taken up the cudgels in defense of the Faith.  Recently Newsweek decided to give Richard Dawkins, an ignorant, in matters of religion, bigot, an opportunity to vent his hatred of Catholicism by asking him to comment on the Anglican initiative of Pope Benedict.  (That is akin to asking Madonna, the strumpet, not the Mother of God, to give her opinion on the Summa Theologica.)  Christopher gives his hate filled screed a fisking to remember here.  Bravo Christopher!  You may never swim the Tiber, but you will always have a cheering section on this side of the bank!