Christmas
All the armies that have ever marched
All the navies that have ever sailed
All the parliaments that have ever sat
All the kings that ever reigned put together
Have not affected the life of mankind on earth
As powerfully as that one solitary life
From One Solitary Life
I am an historian, I am not a believer, but I must confess as a historian that this penniless preacher from Nazareth is irrevocably the very center of history. Jesus Christ is easily the most dominant figure in all history.
H. G. Wells Continue reading →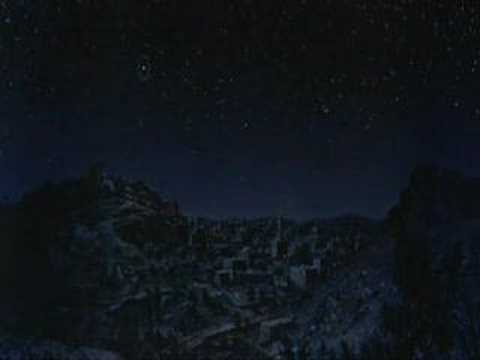 The twenty-fifth day of December.
In the five thousand one hundred and ninety-ninth year of the creation of the world from the time when God in the beginning created the heavens and the earth;
the two thousand nine hundred and fifty-seventh year after the flood;
the two thousand and fifteenth year from the birth of Abraham;
the one thousand five hundred and tenth year from Moses and the going forth of the people of Israel from Egypt;
the one thousand and thirty-second year from David's being anointed king;
in the sixty-fifth week according to the prophecy of Daniel;
in the one hundred and ninety-fourth Olympiad;
the seven hundred and fifty-second year from the foundation of the city of Rome;
the forty second year of the reign of Octavian Augustus;
the whole world being at peace,
in the sixth age of the world,
Jesus Christ the eternal God and Son of the eternal Father,
desiring to sanctify the world by his most merciful coming,
being conceived by the Holy Spirit, and nine months having passed since his conception,
was born in Bethlehem of Judea of the Virgin Mary, being made flesh. Continue reading →
All His angels worthily praise Him, for He is their everlasting food, nourishing them with an incorruptible feast. He is the Word of God, by whose life they live, by whose eternity they live forever, by whose goodness they live happily forever. They praise Him worthily, as God with God, and they render glory to God on high. May we, 'his people and the sheep of his hand,' reconciled to Him by our good will, merit peace in consideration of the limited measure of our weakness. For these words to which the angels themselves gave utterance in jubilation at the birth of our Saviour are their daily tribute: 'Glory to God in the highest, and on earth peace among men of good will.' Therefore, they praise Him duly: let us praise Him in obedience. They are His messengers; we, His sheep. He filled their table in heaven; He filled our manger on earth. He is the fullness of their table because 'in the beginning was the Word, and the Word was with God; and the Word was God.' He is the fullness of our manger because 'the Word was made flesh, and dwelt among us.' so that man might eat the Bread of angels the Creator of the angels became man. The angels praise Him by living; we, by believing; they by enjoying, we by seeking; they by obtaining, we by striving to obtain; they by entering, we by knocking.
Saint Augustine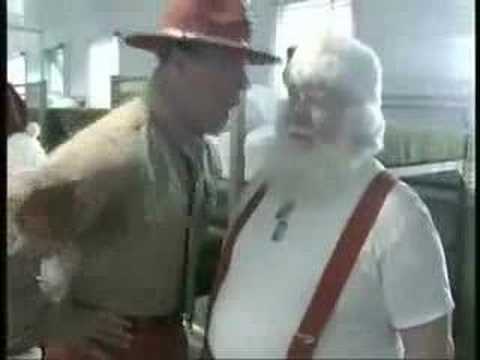 Hattip to Bookworm.  Mild language advisory.  Didn't you always think it was odd that the United States Marine Corps Reserve runs Toys for Tots?  Now you know why!  Semper Santa! Continue reading →
Death had to take him in his sleep, for if he was awake there'd have been a fight.
Thomas R. Marshall, Vice President of the United States, on hearing of the death of Theodore Roosevelt
One of his worst enemies once said about Theodore Roosevelt that a man would have to hate him a lot not to like him a little.  It was hard not to admire Roosevelt for his courage, his enthusiasm and his obvious good will.  That last aspect of his character is illustrated by the fact that for many years he would go to Cove School at Oyster Bay dressed as Santa Claus, talk to the kids, and give them presents he had purchased out of his own pocket.  When he did it in 1898, after achieving renown leading his Rough Riders in Cuba, the little boys at the school mobbed their Santa hero! 
Continue reading →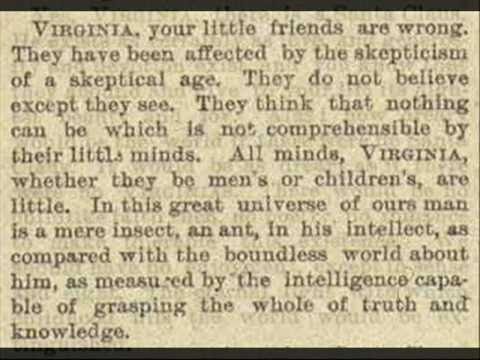 Francis Pharcellus Church was a newspaper man to his marrow.  As a young man he had covered the Civil War for the New York Times and with his brother William he founded the Army and Navy Journal which dedicated itself to reporting news about the military forces of the United States, along with historical pieces on US military history, and opinion pieces about innovations or reforms in the military.  It is still being published today.
After the War he served as lead editorial writer on his brother's newspapers the New York Sun.  He died in 1906 at 67, leaving behind no children.  Although he lived a full life, he would be all but forgotten today except for one incident.
In 1897 Virginia O'Hanlon was upset.  She was eight years old and some of her friends had been telling her that there was no Santa Claus.  Her father, Dr. Philip O'Hanlon, suggested that she write to the Sun and see what that newspaper had to say.  Virginia followed her advice and duly wrote the letter.  Mr. Church wrote the reply to the letter which appeared on September 21, 1897 in the New York Sun.
DEAR EDITOR:
I am 8 years old.   Some of my little friends say there is no Santa Claus.   Papa says, 'If you see it in THE SUN it's so.'   Please tell me the truth; is there a Santa Claus?
VIRGINIA O'HANLON.
115 WEST NINETY-FIFTH STREET
VIRGINIA, your little friends are wrong. They have been affected by the skepticism of a skeptical age. They do not believe except they see. They think that nothing can be which is not comprehensible by their little minds. All minds, Virginia, whether they be men's or children's, are little. In this great universe of ours man is a mere insect, an ant, in his intellect, as compared with the boundless world about him, as measured by the intelligence capable of grasping the whole of truth and knowledge.
Yes, VIRGINIA, there is a Santa Claus. He exists as certainly as love and generosity and devotion exist, and you know that they abound and give to your life its highest beauty and joy. Alas! how dreary would be the world if there were no Santa Claus. It would be as dreary as if there were no VIRGINIAS. There would be no childlike faith then, no poetry, no romance to make tolerable this existence. We should have no enjoyment, except in sense and sight. The eternal light with which childhood fills the world would be extinguished.
Not believe in Santa Claus! You might as well not believe in fairies! You might get your papa to hire men to watch in all the chimneys on Christmas Eve to catch Santa Claus, but even if they did not see Santa Claus coming down, what would that prove? Nobody sees Santa Claus, but that is no sign that there is no Santa Claus. The most real things in the world are those that neither children nor men can see. Did you ever see fairies dancing on the lawn? Of course not, but that's no proof that they are not there. Nobody can conceive or imagine all the wonders there are unseen and unseeable in the world.
You may tear apart the baby's rattle and see what makes the noise inside, but there is a veil covering the unseen world which not the strongest man, nor even the united strength of all the strongest men that ever lived, could tear apart. Only faith, fancy, poetry, love, romance, can push aside that curtain and view and picture the supernal beauty and glory beyond. Is it all real? Ah, VIRGINIA, in all this world there is nothing else real and abiding.
No Santa Claus! Thank God! he lives, and he lives forever. A thousand years from now, Virginia, nay, ten times ten thousand years from now, he will continue to make glad the heart of childhood.
Continue reading →
Most liberals prize tolerance, except when they have the opportunity to show some:
A church in Little Rock, Ark., canceled one performance of "Merry Christmas Charlie Brown"  after an atheist organization complained and said students should not be exposed  to a show with Christian themes as part of a school field trip.
Happy Caldwell, pastor of Agape Church, issued a statement on the church's  website on Wednesday, stating that while he believes the school was within its  constitutional rights to bring students to the production, the church has  nevertheless decided to cancel a Friday showing for students.
"It is not our desire to put hard working, sacrificial teachers and cast  members in harm's way," wrote Caldwell. "What we want said is that we love our  city, our schools, parents and families. People are at the heart of the matter  to us."
He also said Principal Sandra Register of Terry Elementary School took a  "courageous stand" when she decided not to cancel the trip after learning that  someone had complained about it.
The controversy began when a parent became upset at the school's offer to  take students to the church to watch the play, which is based on the "A Charlie  Brown Christmas" cartoon and contains some Christian themes. Although the field  trip was optional, the woman planned to allow her daughter to attend the  production out of fear she would be singled-out by her classmates. The upset  mother also contacted the Arkansas Society of Freethinkers (ASF), the  organization that complained to the Little Rock School District on her  behalf.
Continue reading →
Something for Christmas Day.  Hark the Herald Angels Sing.  Written by Charles Wesley in 1739, the hymn we enjoy today developed and changed over a century with input from many hands.  No hymn I think better exemplifies the sheer joy that the coming of Christ should awake in the hearts of all Christians.
Continue reading →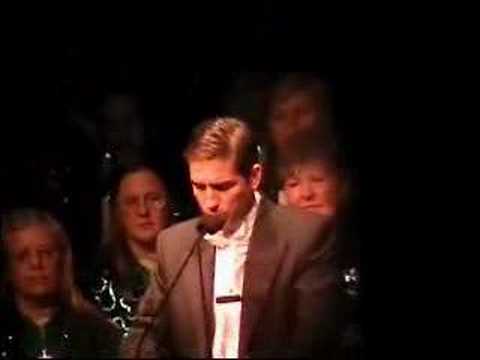 I am an historian, I am not a believer, but I must confess as a historian that this penniless preacher from Nazareth is irrevocably the very center of history. Jesus Christ is easily the most dominant figure in all history.
                                                       H.G. Wells
Here is a man who was born in an obscure village, the child of a peasant woman. He grew up in another village. He worked in a carpenter shop until He was thirty. Then for three years He was an itinerant preacher.
He never owned a home. He never wrote a book. He never held an office. He never had a family. He never went to college. He never put His foot inside a big city. He never traveled two hundred miles from the place He was born. He never did one of the things that usually accompany greatness. He had no credentials but Himself…
While still a young man, the tide of popular opinion turned against him. His friends ran away. One of them denied Him. He was turned over to His enemies. He went through the mockery of a trial. He was nailed upon a cross between two thieves. While He was dying His executioners gambled for the only piece of property He had on earth – His coat. When He was dead, He was laid in a borrowed grave through the pity of a friend.
Nineteen long centuries have come and gone, and today He is a centerpiece of the human race and leader of the column of progress.
I am far within the mark when I say that all the armies that ever marched, all the navies that were ever built; all the parliaments that ever sat and all the kings that ever reigned, put together, have not affected the life of man upon this earth as powerfully as has that one solitary life.
I know men and I tell you that Jesus Christ is no mere man. Between Him and every other person in the world there is no possible term of comparison. Alexander, Caesar, Charlemagne, and I have founded empires. But on what did we rest the creation of our genius? Upon force. Jesus Christ founded His empire upon love; and at this hour millions of men would die for Him.
                                           Napoleon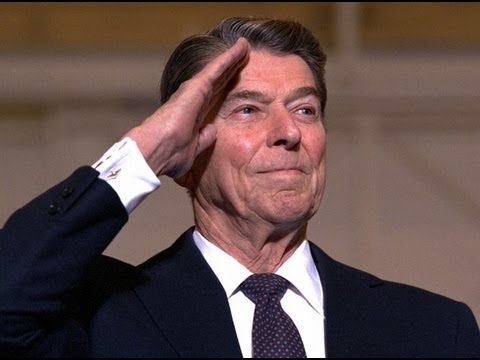 On December 23, 1981, President Ronald Reagan addressed the nation.  The video above is an excerpt from that speech.  The portion of the address dealing with the attempt by the then Polish Communist regime to crush Solidarity, the Polish labor union leading a movement for freedom that would ultimately be the spark that destroyed Communism in Eastern Europe and the Soviet Union, is omitted.  A few things struck me about the address:
1.  When is the last time a president quoted G.K. Chesterton?
2.   Reagan's reference to children as a gift from God.
3.   His reference to Christ's first miracle being His coming to humanity as a helpless babe.
They don't make them like Reagan anymore, and more is the pity.  Here is the text of his address: Continue reading →
In 1944 at Christmas the American and German armies were fighting it out in the Battle of the Bulge, the last German offensive of the War.
Patton's Third Army fought its way through to relieve the Americans desperately fighting to defeat the attacking German forces.  The weather was atrocious and Allied air power was useless.  Patton had a prayer written for good weather.  Patton prayed the prayer, the scene from the movie Patton depicting this may be viewed here.  The skies cleared after Patton prayed the weather prayer, and Allied air power was unleashed on the attacking Germans.
During the Battle of the Bulge, the 101rst Airborne Division made a heroic stand at Bastogne from December 20-27 which helped turn the tide of the battle.  On December 25, a packed midnight mass was held in Bastogne, with Brigadier General Anthony McAuliffe, who commanded the 101rst troops at Bastogne, in attendance.  Afterwards the General listened to German POWS singing Silent Night, and wished them a Merry Christmas.
General McAuliffe issued a memorable Christmas message to his troops:
Continue reading →
Now Judas celebrated the festival of the restoration of the sacrifices of the temple for eight days, and omitted no sort of pleasures thereon; but he feasted them upon very rich and splendid sacrifices; and he honored God, and delighted them by hymns and psalms. Nay, they were so very glad at the revival of their customs, when, after a long time of intermission, they unexpectedly had regained the freedom of their worship, that they made it a law for their posterity, that they should keep a festival, on account of the restoration of their temple worship, for eight days. And from that time to this we celebrate this festival, and call it Lights. I suppose the reason was, because this liberty beyond our hopes appeared to us; and that thence was the name given to that festival.
Josephus
I have always thought it fitting that Christmas and Hanukkah, the Festival of Lights, are so close together usually on the calendar.  Approximately 160 years before the Coming of Christ, the Jews revolted against the Seleucid Empire.  This was one of the most important struggles in all of human history.    It determined that the Jews would remain a people set apart, worshiping Yahweh, and not become, like so many Peoples before and since, a lost people, blended into larger populations, their god forgotten.  It was this revolt, led by Mattathias, his name meaning "gift of Yahweh", and his sons, known collectively as the Maccabees, that is told in First and Second Maccabees.  The revolt was successful, but ultimately, through civil wars and the overpowering military might of Rome, the Jews again fell under foreign domination, and Jesus was born into a world ruled by Rome.  However, the revolt established that the Jews would remain a separate people, worshiping their God and safeguarding their faith.  This was an essential element in setting the stage for the coming of Christ. Continue reading →