Christianity
My wife and I went to see Inception this weekend and I've been mulling over it the past two days. I've been looking through the internet to find a good analysis and, not finding one fully to my satisfaction, look Tolkien & Lewis's advice and just wrote my own. If you haven't seen the movie, I don't know why you're reading this but rest assured you will be lost. For those who did see it, I'll see you after the break.
Most of us are aware of the Christian exodus from the Middle East where the fundamental problem is Muslim intolerance towards non-Muslims.
Father Samir hopes to change all of that.
In this interview with Father Samir Khalil Samir done by Mirko Testa of Zenit, Father Samir explains the possibility of learning form Lebanon's coexistence between Christians and Muslims:
The coexistence of Christians and Muslims is good for civil society because their mutual questioning of the other's faith acts as a stimulus and leads to deeper understanding, says a Jesuit priest who is an expert in Islamic studies.
This is the opinion of Father Samir Khalil Samir, an Islamic scholar and Catholic theologian born in Egypt and based in the Middle East for more than 20 years.
He teaches Catholic theology and Islamic studies at St. Joseph University in Beirut, is founder of the CEDRAC research institute and is author of many articles and books, including "111 Questions on Islam."
ZENIT spoke with Father Samir regarding the June 21-22 meeting in Lebanon of the Oasis International Foundation, which seeks to promote mutual knowledge among Christians and Muslims.
ZENIT: Why was the subject of education placed at the center of the Oasis meeting this year?
Father Samir: The problem we are experiencing both in the Church as well as in Islam is that we are not always able to transmit the faith easily to the new generation and the generations to come. The question we ask ourselves is: In what way should we rethink the faith for young people, but also in parishes or in mosques, in the talks that religious address to their faithful?
This is what we want: to make a study of the Christian experience in Lebanon, and the Muslim Sunni experience and the Muslim Shiite experience in this ambit. We want to compare, to identify even if it is only the common difficulties, to seek together an answer to them. I think this has been the main objective of our meeting in face of a dialogue of cultures in the Christian and the Muslim faith.
ZENIT: What effect would the disappearance of the Churches of the Middle East have on the Christian and Muslim world?
Father Samir: The disappearance of the Churches of the Middle East would be, first of all, a loss for Christianity, because, as John Paul II said, the Church, as every human being, lives with two lungs: the Eastern and the Western. Now, the Eastern Churches were born here in the land of Jesus, in the territories of the Middle East, where Christ lived. And if this experience, these millennia of tradition are lost, then the loss will be for the whole Church, both of the Christians of the East as well as the Christians of the West.
However, there is more to this: if Christian leave the Middle East, in other words, if the Muslims remain alone, an element of stimulation will be lacking — represented, in fact, by that element of diversity that Christians can contribute. Diversity of faith, because Muslims ask us every day: How is it that you say that God is One and Triune? This is contradictory. And we say: How is it that you say that Mohammed is a prophet? What are, for you, the criteria of prophecy? Does Mohammed answer to these criteria? And what does it mean that the Quran is from God? In what sense do you say that it descended on Mohammed? We say that the Bible is divine, but mediated through human authors, whereas Muslims want to remove Mohammed's mediation.
These questions that they ask us and that we ask are a stimulus, not only for civilization, but also for civil society. It would be a great loss because the risk exists of wishing to found a society, a state based on the sharia, that is, on something that was established in the seventh century in the region of the Arabian Peninsula, even if for Muslims the sharia is generic and true for all centuries and all cultures.
And this is Islam's great problem: how can Islam be re-thought today? The absence of Christians would make the problem even more acute.
The cowards at Comedy Central who censored South Park after receiving death threats from Jihadists, as I detailed here and here, now show their "courage" by announcing a new show mocking Christ.  My friend Jay Anderson at Pro Ecclesia gives us the details:
"Fresh off of heavily editing a depiction of Mohammad in "South Park" following threats from practitioners of the "Religion of Peace", the "edgy" comedy network, Comedy Central, shows its artistic "courage" in announcing a new series blaspheming Jesus Christ:
Comedy Central might censor every image of the Prophet Muhammad on "South Park," yet the network is developing a whole animated series around Jesus Christ.
Today, Palm Sunday, and throughout the rest of Holy Week, we devote ourselves to the central mysteries of our faith as Christians: Christ's triumphant entry into Jerusalem. The Last Supper, which instituted for us the mystery of the Holy Eucharist. The suffering and death of Christ on the cross. His resurrection on the third day.
These miracles are the very center of our faith. As Saint Paul said, if Christ did not rise from the dead, then our faith is in vain. Or to paraphrase Flannery O'Connor's use of rather more modern parlance, "If it isn't true, to hell with it."
This central miracle, Christ's death and resurrection, is the miracle which gives our faith meaning and sets it radically apart from the "he was a good man killed by the authorities for standing up for the poor" substitute which some propose. For if Christ was not God, if He did not rise from the dead, if He did not offer to us eternal salvation, then "he was a good man" is no half-way-there substitute. The resurrection is a miracle so unlikely, so scandalous that we must either embrace it wholly or reject Christianity with scorn. The events of Holy Week are not something we can accept half-way, and by accepting them we accept something which goes utterly and completely beyond the natural and predictable world. A miracle.
Continue reading →
This is an fascinating story: a Russian soldier who was killed on his 19th birthday in 1996 is being venerated in his home country as a martyr and an icon of him is giving off aromas of myrrh:
Today according to Inferfax of Russia in  Penza, an Icon of Evgeny Rodinov  gave off aromas of myrrh in the St. Lukas Church at the Penza regional oncologic dispenser. Russian soldier Rodionov was executed in Chechnya in 1996 after refusing to renounce Orthodox faith and take off his cross.
"Myrrh came out in two spots, in a palm of his hand and where one wears the cross," the church Rector Alexy Burtsev told journalists.
According to the Church Rector, it happened during the All-Night Vigil on February 15.  Those in attendance, at the Church, stood behind praying, and took in the strange pleasant aroma.
The priest noted that on February 15, 1996, Penza-born Evgeny Rodionov was captured in Chechnya, imprisoned for hundred days and when he refused to renounce Christian faith, militants beheaded him.?
Yevgeny Aleksandrovich Rodionov (Russian: ???????? ??????? ?????????????) (May 23, 1977 – May 23, 1996) was a Russian soldier who was kidnapped and later executed in Chechen captivity. The purported manner of his death has garnered him much admiration throughout Russia, and even prompted calls for his elevation to sainthood.
Rodionov was born in the village of Satino-Russkoye, near Podolsk, Moscow Oblast. Though he aspired to be a cook, he was conscripted into the Armed Forces of the Russian Federation in 1995. Private Rodionov was deployed to Chechnya, he served in border troops and on February 13, 1996 he was captured by Chechen rebels. They held him captive for more than three months.
On his 19th birthday Rodionov was beheaded on the outskirts of the Chechen village Bamut. According to his killers, who later extorted money from his mother in exchange for knowledge of the location of his corpse, they beheaded him after he refused to renounce his Christian faith or remove the silver cross he wore around his neck.
Yevgeny Rodionov was posthumously awarded the Russian Order of Courage. There is a growing movement within the Russian Orthodox Church to canonize him as a Christian saint and martyr for faith. Some Russian soldiers, feeling themselves abandoned by their government, have taken to kneeling in prayer before his image. One such prayer reads:
Thy martyr, Yevgeny, O Lord, in his sufferings has received an incorruptible crown from thee, our God, for having thy strength he has brought down his torturers, has defeated the powerless insolence of demons. Through his prayers save our souls.
As of 2003, religious icons depicting Yevgeny were becoming increasingly popular. Yevgeny's mother has one herself; she has suggested that the icon of her son sometimes emits a perfume which she believes to be holy, to the extent that it actually drips with it.
Evgeny Rodinov, pray for us!
_._
Reprinted with permission by Eric Sammons of The Divine Life.
Christianity has a twofold challenge: to present the Good News of salvation to explain why the Good News should concern everyone. The second challenge is uniquely modern. After all, the Good News is salvation from sin, and sin is an idea foreign to most modern people. Explaining to someone that they are a sinner in need of a savior is never easy. It's easy to come off as rude, insulting, or worse: a holy roller.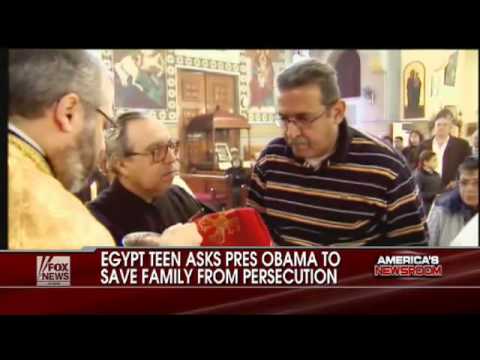 A sad story coming from Egypt where a father and daughter recently converted from Islam to Christianity.  They have been attending a different church each Sunday and have slept in a different home each night in fear of the government.
In Egypt it is illegal to convert to Christianity.
For many Christians today, the thought that the leaders of the Protestant Reformation believed in the Immaculate Conception of Mary or her bodily Assumption into heaven would seem ludicrous, even more bewildering would be the devotions many of the Reformation's leaders had for the Blessed Mother. Believe or not it, they did. In this month of December when Catholics celebrate three feast day's commemorating the Mother of our Lord, perhaps it is time to remind our separated brethren of the truths their founder's believed.
Sometime ago when I was writing my book, The Tide is Turning Toward  Catholicism,  I showed a friend of mine, who is an Evangelical, a homily about the Virgin Mary delivered in the 1500s. I asked him who gave that homily, "probably some pope," he exclaimed. No, I said it was Martin Luther. He replied, "Dave I trust in almost everything you say, but I am going to have to call you out on this one. I mean isn't that what the Reformation was all about, ending superstitions like those about Mary?" His mouth dropped when I showed him the passages. I am sure many of today's Evangelicals, especially of the Calvinist lineage, would have the same reaction.
Some time ago, someone asked me:
Suppose–just for the sake of argument–you were convinced that an honest reading of the Tradition of the Church required you to believe that the initial chapters of Genesis were historical. Would you be able to do it, or do you think that Darwinism is so irrefutable that you would have to abandon or radically redetermine your faith?
I think this is the question that worries a lot of Catholics without a strong scientific background as they watch the evolution/creationist/ID debate on Catholic blogs. Here are these otherwise solid Christians taking common cause with the likes of the Richard Dawkins against their brother Christians. What gives? Are these folks really Christian? Do they care more about science than about faith? Do they only accept Catholicism so long as it agrees with science?