Charity
In the vast tragedy of Japan, an example of canine fidelity and devotion.  Both dogs were rescued and are receiving treatment and care.  Go here to The Lookout to read more about the story and to read a translation of the Japanese dialogue in the video. Continue reading →
In the previous part of this series, I gave a detailed comparison of the views of John Locke and Pope Leo XIII on the state of nature, the origin of private property, and the proper use of private property. In this final part, I want to make a few more points regarding what I think can be called "Lockean" thought, at least as it exists in contemporary America, explore the relationship between the Catholic Church and the United States, and explain why I think all that has been considered thus far is relevant for our political situation today.
Jefferson Davis was always a friend to Catholics.  In his youth as a boy he studied at the Saint Thomas School at the Saint Rose Dominican Priory in Washington County Kentucky.  While there Davis, the only Protestant student, expressed a desire to convert.  One of the priests there advised the boy to wait until he was older and then decide. Davis never converted, but his early exposure to Catholicism left him with a life long respect for the Faith.
When the aptly named anti-Catholic movement the Know-Nothings arose in the 1840s and 1850s, Davis fought against it, as did his great future adversary Abraham Lincoln.
During the Civil War, Pope Pius wrote to the archbishops of New Orleans and New York, praying that peace would be restored to America.  Davis took this opportunity to write to the Pope:
Pope Benedict visits a local shelter in Rome and is moved to tears by woman who was once homeless and is now helping others with the same plight.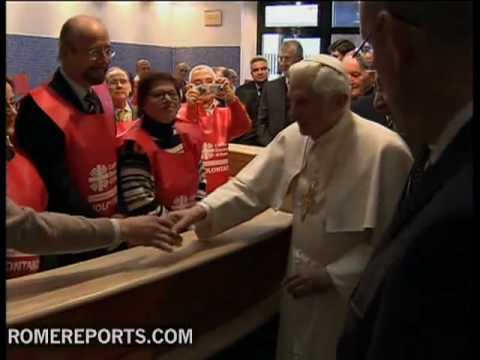 Here is the complete text of the above YouTube video:
Workers, volunteers and those who are served at  homeless shelter in Rome, were filled with joy by Pope Benedict XVI's visit.
But it was the pope who was moved to tears while listening to what this woman had to say about over coming homelessness.
"When I got to the hostel I was desperate, but now I'm a changed person."
She got help and after being rehabilitated she wanted to help others in her shoes and is now a volunteer at the shelter.
During the pope's visit to Don Luigi di Liegro shelter he affirmed the Church's commitment to helping the poor.
Papa Bene:
"The Church loves you deeply and will not abandon you."
Works of Penance, Frequent Confession, Mortification, Almsgiving is by Father Francis Fernandez Carvajal from his series on meditations In Conversation with God, Daily Meditations Volume Two: Lent and Eastertide, 1.2:
True conversion is shown by the way we behave.  We show that we really want to improve by the way we do our work or our study.  We show it by the way we behave towards our family; by offering up to God, in the course of the day, little mortifications which make life for those around us more pleasant, and which make our work more effective.  We can also show it by making a careful preparation for and going frequently to Confession.
Today God asks us also for a rather special mortification, which we offer up cheerfully: it is fasting and abstinence, which strengthens our spirit as it mortifies our flesh and our sensuality.  It raises our soul to God.  It gets rid of concupiscence by giving us the strength to overcome and to mortify our passions, and it disposes our heart that it may seek for nothing except to please God in everything.9
[Updates at the bottom of this posting; latest update on 1-26-2010 at 12:24pm CST]
The Catholic blogosphere is currently in an uproar over an event that occurred at Saint James Church on Friday, January 15, 2010 A.D. when a Christian youth group requested and organized an event to draw more young adults into the Catholic Church.  This seemed as an innocuous request since the parish in the past held a classical piano concert in honor of the church's founder Father Felix Valera.
At times looking at an example of someone getting an idea wrong is actually the most helpful thing in formulating a better understanding of the topic. That's how I felt, some while back, when I ran into this post descriptively entitled, "Love Never Ends, So How Could A Just Society Bring An End To Charity?" which argues:
I have heard it said by many people that if the government provides for the needs of society through its social services, there will no longer be any need for charity. Yet, we are called to charity, and therefore, we must not allow governments to interfere in our acts of charity. There is something very mixed up with this notion. It is perverting the very nature of charity, twisting it in a way to make sure there will be people who are suffering, so that they can be the objects of our good will. We are being told we cannot wish for a more just society because if such a society exists, charity will vanish.

But this cannot be the case, can it?

What exactly is the aim of charity but love? Love can be manifest in many ways; when someone is in dire straights, love seeks to help them out of it. But that is not all love seeks for them. Indeed, does a husband or wife love their family less after they have provided for their family's needs? Certainly not! If we would not look at our family relationship in this way, why do we look at the world in this fashion?

…

Charity is caritas, love; to act in charity is to follow the dictates of love. Charity seeks for the betterment of others; in doing so, it recognizes that the most immediate need should be taken care of first (food, shelter, clothing, health, quality of life, etc). If these are taken care of, this does not diminish the need for charity: it provides room for greater forms of charity, for greater forms of love.
Now, I don't think that, "Where will that leave charity," is a universally good answer to suggestions of instituting social services. In a society which is already weak and uncohesive, there's clearly a need for some minimal level of social services. The legitimate question to be argued between political factions is what the appropriate extent and form of social services should be — not whether there should be any at all. (If you're unsure of this, ask yourself if you'd really support closing government homeless shelters and food assistance, abolishing unemployment, or eliminating the federal deposit insurance that assures that if your bank runs into problems your saving account doesn't vanish over night. The sight of people literally dying in the street was not uncommon 150 years ago in many parts of what is now the developed world, and the fact that we've largely eliminated that — though social programs as well as through charity — is certainly not a bad thing.)
Continue reading →
"We should all pray … and often … to/through the intercession of Mother Teresa for the conversion of [Christopher] Hitchens."
– A First Thoughts reader, in response to Hitchens' latest pathetic diatribe against Blessed Mother Teresa of Calcutta.
As you can clearly see, I have been bitten by the writing bug. This will be my last post for a little while, so I wanted to make it a good one. Starting Monday my contributions to the discussion will be sporadic at best for at least a week.
Consider it yet another fulfillment of my promise to certain commentators here to get back to economic issues so we can continue our disagreements after so much agreement on life issues and the liturgy
Archbishop Charles Chaput writing in First Things this month:
We need to rededicate ourselves to the work of Christian charity and the Catholic soul of our institutions. Charity is a duty for the whole believing community. But is also an obligation and privilege for every individual member of the Church, flowing from our personal encounter with the mercy of Jesus Christ. Government cannot love. It has no soul and no heart. The greatest danger of the modern secularist state is this: In the name of humanity, under the banner of serving human needs and easing human suffering, it ultimately, ironically – and too often tragically – lacks humanity. As Benedict foresees in his encyclical, Deus Caritas Est: Continue reading →
Every so often, when dealing with Church projects and non-profit work in general, one hears someone who does a lot of volunteer work toss off a disparaging remark alone the lines of, "Oh, those people. They only give money. You'd never see them down here working."
Sometimes this is used to support a claim as to "who really cares" about an issue, along the lines of:
"Sure, you'll find lots of [members of group X] a pro-life fundraising banquets, but you'll never see them working at a crisis pregnancy center."
or
"[Members of group X] may give money to 'charity', but you'll never find them filling boxes down at the foodbank or working with at-risk kids."
This has always struck me as a somewhat unfair criticism, for reasons I will get into in a minute, but I was particularly reminded of this last week when I had to go down to the diocesan offices to be trained to count and report the collections for the diocesan Catholic Services Appeal. The annual appeal provides a about the third of the operating expenses for the diocese — and since I deal with financial-ish stuff at work and I'm going to be rotating off the pastoral council in a couple months, I half volunteered, half was dragooned, into helping out with the processing of the collection this year at the parish. At the training session, I was particularly struck by the numbers of where the money in the appeal comes from:
Continue reading →