Celibacy
An Article by Melinda Selmys, author of the book Sexual Authenticity: An Intimate Reflection on Homosexuality and Catholicism.
Twelve years ago, I converted to Catholicism and began a long dialogue with my own sexuality. At the time, I was involved in a lesbian relationship that had been going on for a little over six years. I had, in the course of researching the Catholic position  with  a  view  to  refuting  it,  encountered  the  Church's  teachings  on homosexual relationships before, so when I decided to embrace the Church as my mother, I knew that meant giving up my lesbian partner. I called her that night and explained my decision.
At the time, I thought that I was signing up for a life of celibacy. I was okay with that:  before I became a Catholic I was a hard rationalist, and it wasn't a long stretch to port my idealistic devotion to rational self-possession into an iron-clad commitment to  Catholic sexual teaching. I would simply apply my will to the problem, subsume my passions to the rule of Reason, and everything would be fine. Right?
In a recent interview, the Prefect of the Congregation for the Clergy, Cardinal Mauro Piacenza, said that celibacy is not the cause of the lack of priestly vocations.
The Cardinal cites some statistics to support his assertion:
More than 40% of marriages fail, while only 2% of priests fail in celibacy.  The crisis in the sacrament of marriage as one and indissoluble is obviously greater magnitude than is the decline in the number of vocations to the priesthood.
The decline in the number of births in recent decades inevitably has led to fewer young men and, thus, of priestly vocations.
Protestant denominations which do not require their clergy to be celibate are in a state of deep crisis regarding vocations to the ministry.
In Cardinal Piacenza's estimation, the issue from which these problems stem is much larger in scope:
[The issue is] the contemporary inability to make definitive choices, in the dramatic reduction of human freedom that has become so fragile as not to pursue the good, not even when it is recognized and intuited as a possibility for one's own existence.
Discourse concerning mandatory celibacy, the Cardinal believes, must not begin with the assumption that freedom is the absence of ties and permanent commitments.  Instead, this discourse must begin with the assumption that freedom consists in the definitive gift of self to the other and to God.  Every human being, in freedom, must understand and welcome one's vocation and must work every day more and more to become what God created that person to be.
[Update:  Great job TACers!  The poll has swung heavily to Catholic teaching.  It is now 83.3% wanting to keep to Catholic teaching, which was 44% previously.  See the updated poll below after the jump.]
The Wall Street Journal is running a poll on whether or not the Church should drop the requirement for celibacy by priests.
The results so far as of September 24, 2010 at 2:17pm US Central time:
We recommend our readers go visit the poll with fidelity to the Church.
Hat Tip:  Father Zuhlsdorf.
Father Edward L. Beck, a Passionist Priest, and a contributor to ABC, wrote a column for ABC in which he calls for Vatican III.  I think the article is worth a fisking.
April 2, 2010 —Surely this was originally intended for April 1?
As Christians begin their celebration of the Easter season, the Catholic  church seems stuck in Good Friday. No Father, the Catholic Church is always "stuck" in Easter. Just when some would like to turn  their attention to the profound mysteries of their faith, they are  instead mystified by yet another round of horrendous sex abuse storiesmaking headlines. Yeah, totally by accident, and too bad Father doesn't spend time mentioning how spurious this piece of tripe by the New York Times was.
Most Catholics in the United States were convinced that the issue of  sexual abuse by priests had been adequately dealt with after the last go round more than eight years ago.   I do not think this is the case.  Most Catholics in this country are still fuming about predator priests and the bishops who protected them. Many are also outraged by the ambulance chasing attorneys and the suspicion that some of the victims are merely cashing in on flimsy evidence.  There is still a lot of outrage about this whole mess. In many ways, it has been. U.S. bishops adopted strict policies of zero-tolerance after the abuse scandal exploded in 2002. Bishops are now required to comply with state laws for reporting abuse and to cooperate fully with authorities.   For the most  part the stories once again generating news in the United States concern old cases and the previous negligence of bishops to deal effectively and  justly with the crisis. New to the controversy has been the suggestion by some that the Pope himself bears responsibility for lapses. Actually such accusations have been flying around for years.  They have gotten nowhere because they lack substance.
The recent reports indicate this is not — and never has been — a distinctly American church problem.  I doubt if many Catholics in this country thought that it was. The European Catholic Church is now  experiencing what the U.S. Catholic Church did nearly a decade ago. Once reports from Pope Benedict's native Germany emerged that boys had been abused in a church-run school there, hundreds more from other European countries came forward admitting that they too had been victims of abuse decades ago. We have not heard the last of these stories. Africa and  Latin America have yet to weigh in, but they will. Reports from those parts of the world will eventually emerge to increase the dismay of those who expected more diligence and, indeed, holiness, from religious institutions.
What is readily observable from the avalanche of reports is that the sexual abuse of minors is a systemic, worldwide problem. But it is not exclusively a Catholic or ecclesial one. True. It cuts across all faiths, institutions and family systems. Presently, however, it is the Catholic church in the spotlight, so it must take the lead in dealing with this issue in a transparent, effective and ultimately transformative way. Though its halo has been dimmed by past negligence, if only the scandal of the criminal protection afforded by bishops to predator priests had been limited to mere negligence the church can still be a beacon of light to lead the way if it now proceeds with haste and unwavering conviction. We might start by ordaining only those who believe what the Church teaches when it comes to sexual morality.  We must also understand that a fair number of the people who attack the Church on this issue are motivated much more by raw hatred of the Church than concern for the victims.  The evil from our ranks must be excised, but let us not assume we will receive plaudits from the World for doing so.
So then, what is the best way for the church to move forward? Dramatic failure requires a dramatic solution. Nothing gets the attention of the church and, perhaps the world, like a Vatican Council. Here we get to the purpose behind this article. The last one, of course, ended more than 45 years ago in 1965. While some would maintain that we have yet to fully execute the decrees of that Council, the world and the church have changed dramatically in the interim.  When has the World not been changing?  As to Vatican II, all the turmoil in the Church since that Council should cause us to hesitate before calling the next one. The current crisis in the church can serve as the impetus for once again calling together the worldwide church community in pursuit of modernization, reform and spiritual integration for a new time and world.  Always be alarmed when anyone proposes a radical step for the sake of vague terms like modernization, reform and spiritual integration.
What issues might this Council address?  The death of the Faith in Europe?  Rampant immorality?  The failure of the Novus Ordo Mass to inspire many Catholics? Many to be sure, but chief among  them could be the current crisis confronting the priesthood.  Homosexuality?  Lack of fidelity to their vows?  A desire for a life of ease? Certainly the issue of sexual abuse and the devastating toll it has taken in the church might be examined and addressed definitively, once and for all. In addition, while pedophilia and the sexual abuse of minors and priestly celibacy are not organically related, the abuse crisis has once again raised the issue of the necessity and relevancy of mandatory celibacy for diocesan priests.  How long has celibacy been bugging you Father?  Wasn't that particular requirement spelled out clearly enough for you when you were ordained? The majority of Catholics and priests want an open discussion about this issue, but up to this point, that has not been permitted.  Rubbish.  This " issue" isn't even on the radarscope for most priests and laity.
The practice of celibacy in the priesthood is apparent in the years following Jesus' resurrection.  Single priests and priests who were married abstained from sex, of course with approval from their wives. Just as Jesus chose celibacy giving up a family in order to give himself to mankind, priests are called by God to imitate Jesus. In fact, the priest is able to better serve all people because he is more available.
Monsignor Angelo Amato of the Prefect of the Congregation of the Causes of Saints states:
"Jesus was chaste, virgin, celibate and he defended it. His virginity distanced him from others, but it's what made him able to show, compassion and forgiveness to others."
Thus priests are called by God to imitate Jesus in this discipline.
By the end of the fourth century Pope Saint Siricius pushed for a celibate priesthood in order to maintain continuity with earlier centuries.  Later this became a discipline* in order to carry out the tradition of celibacy, thus priests could not marry in the Catholic Church.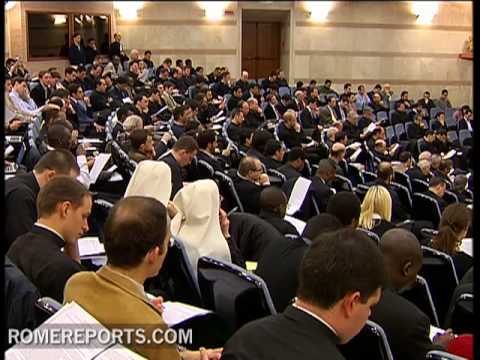 Video courtesy Rome Reports.
_._
* The Eastern Orthodox still allow their priests to marry, but they must be so before entering the seminary and are not allowed to become bishops.
Here is a good explanation on the origins of Saint Valentine's Day, which today has been truncated to Valentine's Day.  It is written by Ronald J. Rychlak of InsideCatholic titled simply St. Valentine's Day.
The Catholic Church actually recognizes several different saints named Valentine or Valentinus (including St. Valentin Faustino Berri Ochoa, St. Valentine of Genoa, and St. Valentine of Strasbourg). Most people, however, trace the story of St. Valentine back to a Roman priest in the year 270. He was arrested and imprisoned for performing marriage ceremonies for Christian couples at a time when such ceremonies were prohibited (as married men were exempt from the Roman army). Valentine also may have aided other Christians who were being persecuted during the reign of Emperor Claudius Gothicus (Claudius II).
Valentine was brought before the emperor and told to renounce his faith, but even under extreme torture he refused to do so. According to legend, couples whom he had married brought him flowers and gifts while he was in prison, which gave rise to the tradition of giving flowers and gifts in his honor.
Valentine tried to convert Emperor Claudius to Christianity, but his efforts were not well received: Claudius had Valentine executed outside Rome's Flaminian Gate on February 14, 270. According to another legend, while still in captivity, Valentine restored the sight of his jailer's blind daughter. On the day before his execution, he sent her a farewell message and signed it, "from your Valentine." That, of course, is said to have established another tradition.
More than two centuries later, in 496, Pope Gelasius marked February 14 as a celebration in honor of Valentine's martyrdom. According to some accounts, this date was chosen to preempt a pagan fertility festival known as Lupercalia, which took place at about that same time. Lupercalia involved a lottery by which young people would draw the name of a mate for a year. With the new holiday, Gelasius instead had participants draw the name of a saint to emulate for a year.
Unfortunately, the heroic story of Valentine's piety has been almost completely eclipsed by the "flowers, candy, and cards" holiday that we know today. Gelasius's efforts to Christianize mid-February seem to have come to naught, and we are left in the ironic position of celebrating romance on a day named after a celibate priest.
To read the complete article click here.
Happy Saint Valentine's Day!
Salvete AC readers!
Buckle Up! Because here are today's Top Picks in the Catholic world:
1. Newspapers outlets and news agencies are reporting that Pope Benedict XVI has signed off on the laicization of Father Tomislav Vlasic.  Tomislav Vlasic is one of the leading priests alleging that apparitions of the Blessed Virgin Mary have been appearing continuously to six Croat seers since June 24, 1981 in the Bosnian town of Medjugorje.  These apparitions are continuing to this day and has been visited by an estimated 30 million pilgrims.  An estimated 40,000 messages have been conveyed to the seers by the Blessed Virgin Mary.
Officially the Vatican has not decided on the matter of these alleged apparitions of the Blessed Virgin Mary.  The Vatican has recently taken over the case of reviewing these allegations from the local Bosnian diocese.
There are skeptics and proponents debating the facts and implications of the latest scandal over Medjugorjie.  But what is clear is that Medjugorgie has lost more of its tarnish these last few years.
I won't argue with the genuine conversions and sincerity of many believers that have occurred at Medjugorie.  Though I have a couple doubts concerning these apparitions which I will write to in a separate posting for a later date.
2. Quote of the Day:
"We do know that at the end of time, when the great conflict between the forces of good and evil takes place, Satan will appear without the Cross, as the Great Philanthropist and Social Reformer to become the final temptation of mankind."

– Archbishop Fulton Sheen (Life of Christ, p. 10)
Kind of sucks the wind out of your sails doesn't it if you believe in the redistribution of wealth and all.
The Ordination of Women, Pt. II
Just recently, I came across a well-written entitled Catholic Women Deacons seeking to make a case for the restoration of the female diaconate. The author, a professor of Religious Studies, makes her case by drawing largely upon the historical evidence of deaconesses in the early Church and during the Patristic era.
The presence of a female diaconate in the church is a matter of historical fact. While it is clear that the role of deaconesses in previous times differs drastically from the role of deacons today, the question remains about the nature and status of their position—whether it was an ordained ministry or a celebrated and respected non-ordained position in Christian communities.
From my knowledge of church history, sacramental theology, and ecclesiology, particularly as it relates to the Latin and Greek traditions of the Church, the author is inquiring within the boundaries of Christian orthodoxy. The position, in favor of a female diaconate, as far as I know, is legitimately an orthodox position; this does not mean, Catholics of good faith, cannot contradict this position. Admittedly, I do not fully embrace her view.
Salvete AC readers!
Here are today's Top Picks in the Catholic world:
1.  Archbishop Donald Wuerl of Washington, DC made some extraordinary claims of how to manage dissenting Catholics such as Nancy Pelosi.  His Excellency believes that Canon 915 does not apply in advancing the salvific mission of the Church which is basically a losing argument because there are no exemptions for Nancy Pelosi in regards to Canon 915.  Archbishop Wuerl is mistaken if he can escape from his episcopal duty to apply Canon 915 to the pro-abortion representative from California.
Dr. Ed Peters responds to Archbishop Wuerls misapplication of Canon 915 here.
To learn what Canon 915 is click here.
2.  Bishop Robert Morlino of the Diocese of Madison continues with his house cleaning of heterodoxy in his diocese.  It was reported earlier this week that dissident 'Catholic' Ruth Kolpack was removed from her position of pastoral associate at St. Thomas the Apostle Church.  In addition:
"Kolpack will be barred from all leadership roles in the parish, paid or volunteer."
The diocese has not said explicitly why she was fired but strongly suggested that it may have had something to do with her opposition to church doctrine in her capacity as a Catholic teacher.  The tide is continueing to turn as more American bishops evanglize boldly as St. Paul and act strongly as St. Ambrose.  Deo gratias!
For the story click here.
3.  There is more than meets the eye from the Vatican's L'Osservatore Romano newspaper that showed an article giving a glowing review of President Obama's presidency thus far.  Apparently anything labeled from "The Vatican" carries magisterial weight, especially if it's contra the Church's position.  Let's get something straight first, a janitor walking out of St. Peter's Basilica can give an interview and that can be called news from "The Vatican".  Second, there were glaring mistakes in said article and it was plainly obvious that Giuseppe Fiorentino, who wrote the article, did not know what he was talking about concerning embryo destruction and abortion.  Mr. Fiorentino has fallen under President Obama's rhetorical spell, just as many dissenting Catholics have, of falling for style over substance.
Austin Ruse of The Catholic Thing breaks it all down for you here.