Catholicism
After the college football national championship game, faith filled fans of Notre Dame Football need something positive on which to dwell, so how about a miraculous story surrounding Knute Rockne? Many readers may be aware of legendary Notre Dame Football Coach Knute Rockne's winning prowess on the football field. However, he was also a budding scientist and man of faith. Before becoming a coach, then promising student Knute Rockne worked with famed Notre Dame Priest and scientist Father Julius Nieuwland who helped invent synthetic rubber and is the only priest in the Inventor's Hall of Fame. Father Nieuwland CSC believed that a bright future lie ahead for his promising Chemistry student named Rockne. Both Father Nieuwland and the future Notre Dame Coach were immigrants, Father Nieuwland from Belgium and Knute Rockne from Norway. However, the labratory was not to be for Rockne, for it was the college gridiron where he would earn his lore.
While Rockne was surrounded by Catholicism, he was a Norwegian Lutheran. However, it was Coach Rockne's players that helped convert him to Catholicism. What was it about Catholicism that did it? The Eucharist.  During the early 1920's when the Four Horseman strode the gridiron in South Bend, Coach Rockne was worried that all of the new found fame might make his players stray from the straight and narrow. The late George Gipp was known to do just that and a slightly older 30something Coach Rockne didn't want that to happen again, so the coach would often keep a close eye on his players.
One morning Coach Rockne noticed several of his players leaving their dorms in the wee hours of the morning. He followed them to early morning Mass. Before practice that day he asked them about their movements in the wee hours. They informed him that they had early classes and couldn't get to Mass any other time.  "It's that important to you," Coach Rockne asked?"They told him that the Eucharist was just that important.
Coach Rockne then discussed the matter with several priests who gave him books to read about the Faith. In 1923, Knute Rockne was received into the Church, thanks in great part to the personal witness of his own players.
Knute Rockne is hardly alone in being a faithful example of Catholic leadership on the gridiron at Notre Dame. While Coach Gerry Faust will hardly be remembered for his record, no coach stands taller as a faith leader than Coach Faust who would tell anyone who would listen about the Catholic Church and "Our Lady."  Coach Faust was certainly helpful to me with regard to my first book and went out of his way to help me promote it. Keep in mind he didn't know me from Adam only from meeting me at a high school football game, talking on the phone and reading the book's manuscript. He spends many days a year at small Catholic school fundraisers that help those schools keep their doors open.
He is much beloved by his former Notre Dame players as well as those at Archbishop Moeller High School in Cincinnati where Coach Faust garnered his fame. While some have gone on to become college and NFL stars, others have achieved success in many different venues. In the late 1960s, one overachieving young man who played for Coach Faust at Archbishop Moeller High school came from a large working class Catholic family. He would go on to become the current Speaker of the House. Speaker John Boehner and Coach Faust remain in contact to this day and speak highly of of another.
I would be remiss in not mentioning former Coach Lou Holtz who also does his fair share of fundraisers for worthy Catholic charities. He can rattle of the names of every grade school nun who taught him back in East Liverpool, Ohio. Obviously there is so much more I could write, but I go into much more detail about this and many other matters in my book; The Catholic Tide Continues to Turn. I hope this helps paint the picture of Knute Rockne and two other coaches at Notre Dame who were leaders of men and personal examples of faith.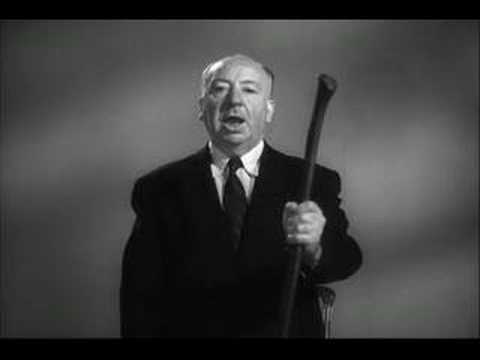 When I was a kid I loved watching Alfred Hitchcock Presents, known in its last four years as The Alfred Hitchcock Hour.  His sardonic wit and macabre sense of humor I found vastly appealing and no doubt had an impact on my own developing sense of humor.  Hitchcock was a Catholic, although some have claimed that he became estranged from the Faith later in life.  Father Mark Henninger in The Wall Street Journal relates his own encounter with Hitchcock shortly before his death.
At the time, I was a graduate student in philosophy at UCLA, and I was (and remain) a Jesuit priest. A fellow priest, Tom Sullivan, who knew Hitchcock, said one Thursday that the next day he was going over to hear Hitchcock's confession. Tom asked whether on Saturday afternoon I would accompany him to celebrate a Mass in Hitchcock's house.
I was dumbfounded, but of course said yes. On that Saturday, when we found Hitchcock asleep in the living room, Tom gently shook him. Hitchcock awoke, looked up and kissed Tom's hand, thanking him.
Tom said, "Hitch, this is Mark Henninger, a young priest from Cleveland."
"Cleveland?" Hitchcock said. "Disgraceful!"
After we chatted for a while, we all crossed from the living room through a breezeway to his study, and there, with his wife, Alma, we celebrated a quiet Mass. Across from me were the bound volumes of his movie scripts, "The Birds," "Psycho," "North by Northwest" and others—a great distraction. Hitchcock had been away from the church for some time, and he answered the responses in Latin the old way. But the most remarkable sight was that after receiving communion, he silently cried, tears rolling down his huge cheeks. Continue reading →
Their stories are as old as time but worth repeating in this present age where so many seem to think they are too smart for God, religion and all of His love and grace. I must admit that being a fan of contemporary music and literature, I threw the stories of Jack Kerouac, John Lennon and Bob Marley's late in life embrace of faith and tradition into my book without giving it much thought. However, I am surprised to find that so many who have read or perused my just released book, The Catholic Tide Continues to Turn have stated that they were not familiar with these stories and found them very revealing. Perhaps it is because our rebellious society has lionized figures who want to throw out God or just leave him as far distant as possible. Yet all three men realized that the traditional values, in which they were raised and the love of God they were once shown, was too important to forever jettison. Continue reading →
Newt Gingrich was interviewed by Sean Hannity a few days ago where the topic of conversation were his thoughts on his presidential run.  During the course of the conversation the topic of faith came along in which Speaker Gingrich spoke about receiving the Eucharist.
Look for his comments on the Eucharist at the 00:52 exactly.
Growing up, my family had a lot of odd conversations, especially on the rare occasions we watched TV. One of these led to my mom pointing out that a lot of the "strange" things that the Bible told the Jews to do were not just for religious reasons (I think it came out of a TV character using 'religious' as a synonym for 'serves no practical purpose')—they made very good practical sense, too. Simplest example, pork is horrifically dangerous if you don't have a fridge and don't know about invisible dangers. Continue reading →
(First time posting, so hopefully I don't mess up the formatting too much; that would be a bit much after folks were kind enough to invite me to post!)
Time for a bit of Catholic applied to geekery! (Not to be confused with straight up Catholic Geekery, which is more the Holy Father's area– does anyone doubt that he dearly loves thinking about, playing with and elaborating on Catholic theology? You just don't end up writing THREE books on the life of Jesus without the love, intellectual interest and deep enjoyment of a geek for his geekdom.)
There's something about Catholics and blogs that always ends up going into the old question of what makes a man– or, more correctly, a person. "Man" in this context would be a human, and there are several examples of people that aren't humans– like most of the Trinity. Sadly, the topic usually comes up in terms of abortion; even the utterly simple-science-based reasoning that all humans are human and should be treated thus will bring out the attacks. (Amusingly, the line of attack is usually that someone is trying to force their religious beliefs on others, rather than an attempt to explain why a demonstrably human life is objectively different from, say, an adult human. The "bioethicist" Singer is famous for being open about valuing life in a utilitarian manner, but there aren't many who will support that angle.[thank God]) Continue reading →
Prof. Dr. Richard Russell, a former CIA analyst who is a convert to the Catholic Faith, a man who describes himself as a "student of war", recently delivered an address in The Netherlands about the messages of Our Lady of All Nations. All I can say about this is that is truly fascinating, and I strongly recommend a listen.
Watch the Video Now at Air Maria.
As a Catholic, one is sometimes accused of being so mindlessly doctrinaire that one "accepts anything the pope says without thinking". However, at other times, one is faced with the opposite challenge: Does your Catholic faith cause you to take any political or moral positions that you wouldn't take anyway?
Typically, both of these objections are leveled by people who don't like one's political or moral stances, but while in the one case it stems from a belief that one would obvious agree with the speaker if only one's head wasn't befuddled by religious notions, the other seems to stem from the idea that if only one really took one's faith seriously, one would agree with the speaker on the point at issue. (Or perhaps alternately, merely a skepticism as to whether anyone actually modifies his life at all due to religious beliefs.)
I think this is a pretty valid question, but if one attempts to think about it seriously, it is a very difficult question to answer, since it leaves one to try to puzzle out how much of one's beliefs and character are the result of one's faith, versus how much one picks one's faith based on beliefs or tendencies one already has. Continue reading →
I honestly can't believe they're doing this again. I oppose gatherings such as Assisi for many reasons that I could explain with a lengthy diatribe full of references and quotations, but I decided to go with withering sarcasm instead.
Check it out and comment on it here.
I believe these meetings are immoral and imprudent. Even if they're called by the pope and supported by the hierarchy. And I think they would find some of the answers to their own questions about the crisis of the Church, of Christianity, and religious faith in general if they examined their personal reasons for being a part of,  as well as the objective social effects, of such gatherings. It was quite disappointing to hear a man who has spoken out so many times about the dangers of relativism call for an event that practically embodies the abstract concept in the physical world.