Catholic Culture
Here are what Catholics are saying on the passing away of Edward Moore Kennedy around the web (updates from around the web have ended as of 8-26-2009 AD at 6:32 pm CST):
It's Already Started: The Party of Wellstone Uses Kennedy's Death for Political Opportunism by Jay Anderson of Pro Ecclessia
Mixed Record?! my hind end by Rich Leonardi of Ten Reasons
I had been praying for his spiritual health by Jean M. Heimann of Catholic Fire
William Park (InsideCatholic.com) lists, in his judgement, "the fifty best Catholic movies of all time".
Some readers, myself included, were very surprised by the absence of The Mission. A magnificent cast (including Robert DeNiro, Jeremy Irons and Liam Neeson); a play by Robert Bolt (A Man for All Seasons) — it has, in my estimation, one of the most powerful illustrations of penance and forgiveness in cinema.
The Mission deservedly won seven Academy Awards, and made the top 15 films under 'Religion' selected by the Vatican, commemorating 100 years of cinema.
So why didn't it make the list? — the author doesn't offer much of an explanation, save that "Bolt's screenplay for The Mission looks at the Church from the point of view of Dostoevsky's "Grand Inquisitor." Steven D. Greydanus, however, explores the complexities and ambiguities of The Mission for DecentFilms.com.
Question for our readers: do you agree with the list? — Do you agree with Warren's list? Any notable omissions? What would you have selected?
The Transfiguration of the Lord can sound embarrassingly magical. Jesus goes up onto a mountain and his clothes become dazzlingly white. Prophets appear and talk to him. And then it is all over and Jesus tells his disciples to say nothing.

We should hold on to the absurdity of the incident. There is simply no reason for all this to have happened. In particular, there is no reason to put it into a gospel – the evangelist makes no capital out of it, it is simply there.

And this is the strength of the Transfiguration as an historical incident. There is no reason for anyone to have invented it. It is not central to the Christian case. It is not used to win arguments. There is only one reason to put it into the Gospel, and that is because it happened. It is one of those cases of the evangelists writing things down without knowing why they were important, and their very puzzlement is what makes the story so convincing.

Why, then, did it happen? Surely so that we could see and understand that Jesus is at once one of the prophets and the one that was prophesied by them; and that he is God, and lives for all eternity in a blaze of dazzling and unapproachable light.

The true miracle of the Transfiguration is not the shining face or the white garments, but the fact that for the rest of the time Jesus hid his glory so well.
[Reflection courtesy of Universalis.com]
Saint John Vianney is being staged as a one-man production titled "VIANNEY" and will be debuting in the Archdiocese of Galveston-Houston on August 4, 2009 AD.  This is in celebration of the 150th anniversary of the death of this patron saint of parish priests.  The play will continue in other dioceses across America.
Leonardo Defilippis plays the role of Saint John Vianney as he performs at various churches across the archdiocese.  Mr. Defilippis's one-man stage production opens amidst the chaos of the French Revolution, a time which mirrors the secularization, materialism and anti-religious sentiment of today. Against this dramatic backdrop, a simple ignorant peasant priest enters the backwater town of Ars, a place where no one cares much about their faith, or sees the Church as particularly relevant. They don't expect much out of John Vianney.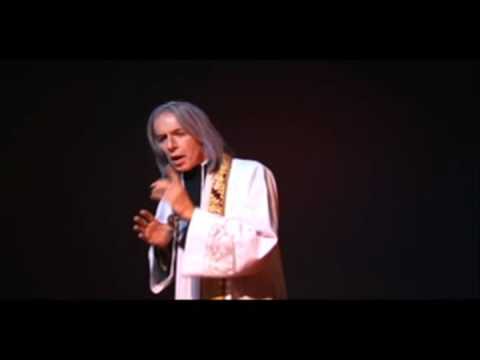 Salvete AC readers!
Buckle Up! Because here are today's Top Picks in the Catholic world:
1. Newspapers outlets and news agencies are reporting that Pope Benedict XVI has signed off on the laicization of Father Tomislav Vlasic.  Tomislav Vlasic is one of the leading priests alleging that apparitions of the Blessed Virgin Mary have been appearing continuously to six Croat seers since June 24, 1981 in the Bosnian town of Medjugorje.  These apparitions are continuing to this day and has been visited by an estimated 30 million pilgrims.  An estimated 40,000 messages have been conveyed to the seers by the Blessed Virgin Mary.
Officially the Vatican has not decided on the matter of these alleged apparitions of the Blessed Virgin Mary.  The Vatican has recently taken over the case of reviewing these allegations from the local Bosnian diocese.
There are skeptics and proponents debating the facts and implications of the latest scandal over Medjugorjie.  But what is clear is that Medjugorgie has lost more of its tarnish these last few years.
I won't argue with the genuine conversions and sincerity of many believers that have occurred at Medjugorie.  Though I have a couple doubts concerning these apparitions which I will write to in a separate posting for a later date.
2. Quote of the Day:
"We do know that at the end of time, when the great conflict between the forces of good and evil takes place, Satan will appear without the Cross, as the Great Philanthropist and Social Reformer to become the final temptation of mankind."

– Archbishop Fulton Sheen (Life of Christ, p. 10)
Kind of sucks the wind out of your sails doesn't it if you believe in the redistribution of wealth and all.
Over Holy Week some strange force caused the Harry Potter controversy to suddenly break out (like the story of the villagers of Eyam, subjected to a delayed-action outbreak of the Plague when a bolt of cloth carrying the fleas was brought out of storage) on our local Catholic homeschooler email list.
These discussions always seem to have two parts, first an explanation of how reading stories in which characters perform magic tempts children to occult practices, than an apologia for Tolkien and Lewis in which it is explained how these authors were Good Christians and their books are deeply Christian because: Aslan is God, good characters never do magic (unless they're not human characters, at which point it doesn't count), Galadrial is really Mary, the elves' lembas is the Eucharist, etc.
Two things annoy me about this whole set of arguments.
So you're a single Catholic sitting at home with nothing to do on St. Valentine's Day, what are your options?  Well there are many things that you can do, especially if you want to resolve your current status as a non-married person.  If you're not called to religious life, you are most certainly called to married life with very few exceptions, yet you're sitting on your couch still being single.  In this column I'll offer a basic and fundamental template for a single Catholic in pursuing your future spouse(1).