Catholic Church
I have decided to take some time away from my Democratic Party membership- this includes resigning as Vice President of Florida Democrats for Life. I have been a Democrat in spirit from the age of 13, when I took the initiative to volunteer many hours for the 1976 Jimmy Carter presidential campaign.This decision is not a flippant one. I will not trade one major party for another, I am going in an Independent direction and would like to found an American-version, Common Good Party, when time permits.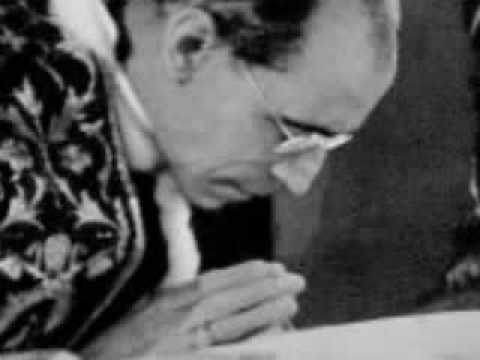 Venerable Pius XII always believed that it was part of his duties as Pope to be accessible to virtually everyone who wished to see him.  His audiences would normally be crowded as a result.  In the autumn of 1941 he held an audience which was no different.  Italians, pilgrims of all nations, German soldiers (German soldiers flocked to see the Pope until the Nazis forbade such visits, fearing the influence the words of the Pope, in direct contradiction to the doctrines of National Socialism,  might have on the Landsers.), humanity from across the globe, all eager to see, and perhaps have a word with, the Vicar of Christ on Earth.
I don't have much patience for "Earth Day" b/c it's a made-up (holi?)day. I tried to avoid wearing green today and decided to take the day to announce that my wife & I are expecting to add to the environmentalists' fear of overpopulation.
But environmentalism matters; we can't be distracted by the sappy appeals to Mother Earth. Care for the environment is an important aspect of the faith as the Holy Father tells us:
51. The way humanity treats the environment influences the way it treats itself, and vice versa. This invites contemporary society to a serious review of its life-style, which, in many parts of the world, is prone to hedonism and consumerism, regardless of their harmful consequences[122]. What is needed is an effective shift in mentality which can lead to the adoption of new life-styles "in which the quest for truth, beauty, goodness and communion with others for the sake of common growth are the factors which determine consumer choices, savings and investments"[123]. Every violation of solidarity and civic friendship harms the environment, just as environmental deterioration in turn upsets relations in society. Nature, especially in our time, is so integrated into the dynamics of society and culture that by now it hardly constitutes an independent variable. Desertification and the decline in productivity in some agricultural areas are also the result of impoverishment and underdevelopment among their inhabitants. When incentives are offered for their economic and cultural development, nature itself is protected. Moreover, how many natural resources are squandered by wars! Peace in and among peoples would also provide greater protection for nature. The hoarding of resources, especially water, can generate serious conflicts among the peoples involved. Peaceful agreement about the use of resources can protect nature and, at the same time, the well-being of the societies concerned.

The Church has a responsibility towards creation and she must assert this responsibility in the public sphere. In so doing, she must defend not only earth, water and air as gifts of creation that belong to everyone. She must above all protect mankind from self-destruction. There is need for what might be called a human ecology, correctly understood. The deterioration of nature is in fact closely connected to the culture that shapes human coexistence: when "human ecology"[124] is respected within society, environmental ecology also benefits. Just as human virtues are interrelated, such that the weakening of one places others at risk, so the ecological system is based on respect for a plan that affects both the health of society and its good relationship with nature.

In order to protect nature, it is not enough to intervene with economic incentives or deterrents; not even an apposite education is sufficient. These are important steps, but the decisive issue is the overall moral tenor of society. If there is a lack of respect for the right to life and to a natural death, if human conception, gestation and birth are made artificial, if human embryos are sacrificed to research, the conscience of society ends up losing the concept of human ecology and, along with it, that of environmental ecology. It is contradictory to insist that future generations respect the natural environment when our educational systems and laws do not help them to respect themselves. The book of nature is one and indivisible: it takes in not only the environment but also life, sexuality, marriage, the family, social relations: in a word, integral human development. Our duties towards the environment are linked to our duties towards the human person, considered in himself and in relation to others. It would be wrong to uphold one set of duties while trampling on the other. Herein lies a grave contradiction in our mentality and practice today: one which demeans the person, disrupts the environment and damages society.
Not wasting resources has nothing to do with saving "Mother Earth" but rather everything to do with forming ourselves to not be dependent on material things and preserving things for others (both the poor of our generation and the future generations). In this, we are better formed to protect human dignity.
This shows just how detrimental it is for environmentalists to be pushing abortion & contraception to solve overpopulation; by teaching lack of respect for human dignity and selfishness, they are promoting the very behaviors that contribute to environmental damage.
So on "Earth Day" let us as Catholics reaffirm the Church's holistic and inseparable teachings on human dignity and the environment.
Breaking news as the House of Bishops of the Anglican Church in America has formally requested to enter the Catholic Church. All 99 parishes and cathedrals!
Here is the complete text [emphases mine]:
Orlando, FL – 1 pm EST – Bp. George Langberg

Released by the House of Bishops of the Anglican Church in America, Traditional Anglican Communion 3 March 2010

We, the House of Bishops of the Anglican Church in America of the Traditional Anglican Communion have met in Orlando, Florida, together with our Primate and the Reverend Christopher Phillips of the "Anglican Use" Parish of Our Lady of the Atonement (San Antonio, Texas) and others.

At this meeting, the decision was made formally to request the implementation of the provisions of the Apostolic Constitution Anglicanorum coetibus in the United States of America by the Congregation for the Doctrine of the Faith.
Reverend Mark Siegel, the Dean of the Cathedral of the Incarnation in Orlando, Florida, expressed his desire and excitement in this historic move by a large Anglican body in more or less the following words.
'I can't say anything more than what the ACA announcement says, but we are all excited with this first step.'
_._
Biretta tip: Notes on the Culture Wars.
That thou art Peter; and upon this rock I will build my church, and the gates of hell shall not prevail against it. [cf. Mat 16:18]
Video courtesy of The Vatican on YouTube.
Pope Benedict visits a local shelter in Rome and is moved to tears by woman who was once homeless and is now helping others with the same plight.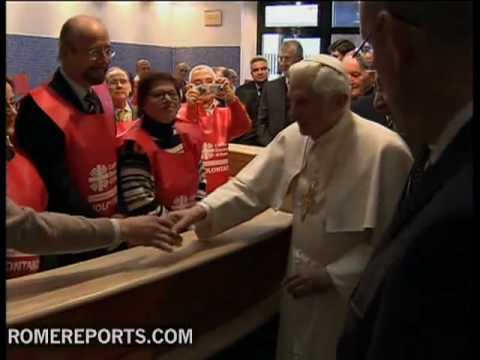 Here is the complete text of the above YouTube video:
Workers, volunteers and those who are served at  homeless shelter in Rome, were filled with joy by Pope Benedict XVI's visit.
But it was the pope who was moved to tears while listening to what this woman had to say about over coming homelessness.
"When I got to the hostel I was desperate, but now I'm a changed person."
She got help and after being rehabilitated she wanted to help others in her shoes and is now a volunteer at the shelter.
During the pope's visit to Don Luigi di Liegro shelter he affirmed the Church's commitment to helping the poor.
Papa Bene:
"The Church loves you deeply and will not abandon you."
The Dominican Sisters of Mary, Mother of the Eucharist is based in Ann Arbor, Michigan.  They are a new order that arose from Pope John Paul II's call for a new evangelization.  They are devout and orthodox in our Catholic faith which explains why the average age of a nun is 26 and they are already turning back inquiries since they are packed to capacity in their new convent.
They recently made an appearance on the Oprah Winfrey Show this past Tuesday, February 9.  I've only seen some of the show online and my assumptions were validated.  That being they were knowledgeable about our faith, energetically orthodox, and calm in their disposition.
I strongly advice you to watch all four videos that I have been able to track down of the entire show.  Some of the videos have a few seconds where the digital relay distorts the picture, but the sound is not disturbed.
Part I:  I love hearing the sisters talk about their faith unapologetically, ie, you hear "God called me", "I am married to Jesus Christ", etc, etc.  Simply beautiful!
Channel surfing the other night, I came across a slew of 1980s "coming of age" movies on cable television. With all of their flaws (too much sexual innuendo, which is mild by today's comparisons,) one can easily see a positive theme of a bright future and endless possibilities running through this genre of films. I had almost forgotten that in the 1983 film Valley Girl, Julie played by Deborah Foreman actually chastises her hippy parents for their suggestion that if she and her new boyfriend Randy, played by Nicholas Cage, want to explore their sexuality it would be alright by them.  Julie rebukes her parents for having such beliefs as well as the nostalgia surrounding their involvement in the 1960s anti war movement; after all it was the era of Ronald Reagan. Everything seemed possible; it was Morning in America again. Many of these movies were set in California which at the time exuded excitement for those of us growing up in colder, Midwest climates. Economically, California was booming and it was also the heart of a growing and diverse music scene.
Fast forward some 25+ years later and many of today's films have a dark undercurrent with more than a little subtle leftwing political and cultural propaganda running through them. While there are certainly hopeful signs in Hollywood, especially with the advent of stars like Eduardo Verastegi and his movie Bella and associated Metanoia Films, (Click here for my interview with Eduardo Verastegui,) the secular film industry has fallen even farther into the cesspool. Sadly the Golden State's economic boom seems but a distant memory, which was bound to occur when California's Big Government mentality rivaled that of Sweden or the Canadian province of Quebec. The bigger question remains; is California setting the trend once again for the nation and the western world, and if it is what hope is there? The hope remains as it always has not in mortal man and the latest left wing hypothesis about the world's failings, but in the teachings of the Catholic Church.
While browsing Jennifer Fulwilers fine blog, Conversion Diary, I came across this trailer for the book The Crucified Rabbi by Taylor Marshall:
(Biretta Tip: Jennifer Fulwiler of Conversion Diary)
There is a undercurrent in American society that somehow believes that if the mafia ran things, the country would be better off. There was one city (Newark, New Jersey) where the mafia once controlled much of the city. When their grip on power was done, the city was in tatters. The same could be said for liberals running religion.
Throughout the last few years and specifically the last decade or so, the voluminous number of kooky quotes and statements coming from religious believers (heterodox Catholics included) and non believers alike is mind boggling. It can't but help push the reasonable minded into the Catholic Church. Most casual observers are familiar with the number of high profile converts and reverts to the Catholic Church in the last 25 years or so. They range from theological luminaries like Dr Scott Hahn and Dr Francis Beckwith to political figures like Deal Hudson, Laura Ingraham and former Speaker of the House Newt Gingrich. Many like them have come to the Church after years of study and reason, but many also have come to the Church after years of seeing their particular religious denomination become unrecognizable.
The latest world calamity has given us two examples of sheer kookery coming from a religious leader and a secular voice. After the horrific earthquake that left the western world's most impoverished nation in tatters, the Reverend Pat Robertson chimed in with a quote that was not only tragically insensitive but historically inaccurate. The onetime presidential candidate (who actually came in second in the 1988 GOP Iowa Caucus) and a leading voice of the Evangelical world blamed the earthquake on Voodoo, a cult that sadly far too many people practice in Haiti.  Robertson voiced his opinion on his popular 700 Club television program. Robertson repeated the fundamentalist canard that in the early 1800s the leaders of a slave revolt fighting against French colonial forces forged a pact with the Satan to thrown off the chains of their oppressors.
In 2010 the Catholic Church in particular and Christianity in general are under attack because age old truths are being abandoned for the Dictatorship of Relativism. One might ask; how did we get here? It didn't happen overnight; as a matter of fact many of those doing the rebelling actually think they are doing us all a favor.  Centuries and millennium evolved into a construct of rebellion where self appointed leaders who thought knew better than the Church and society itself tried to change all that was sacred and holy into something, they but most importantly their friends in the intelligentsia, could accept. Too many cooks in the kitchen can be bad for your acquired culinary tastes, but when truth is watered down it is something entirely different and far more serious. In this instance, we are talking about souls, not taste buds.  If this is so then how could the thesis of my book, The Tide is Turning Toward Catholicism be true? The answer is simple because the world is getting closer and closer to the precipice. Some may chose to jump but thankfully more will chose to come back from ledge into the world of reality and when they do they will see the many positive developments happening in the Church. One's own mortality has a way of causing self preservation.