Catholic Chaplains
Number 3 of my series on great Jesuits of American history.
A year before the colonies won their fight for independence, John McElroy first saw the light of day in Brookeborough, County Fermanagh, Ireland on May 11,1782.  At this time English imposed penal laws meant that Irish Catholics were treated like helots in their own land.  The great Edmund Burke described the penal laws well:
"For I must do it justice;  it was a complete system, full of coherence and consistency, well digested and well composed in all its parts.   It was a machine of wise and deliberate contrivance, as well fitted for the oppression, impoverishment and degradation of a people, and the debasement of human nature itself, as ever proceeded from the perverted ingenuity of man."
As a result of these laws McElroy could receive little education in Ireland.  Ambition and a thirst for knowledge caused him, like many Irish Catholics before and since, to emigrate to the US, landing on our shores in 1803.  He became a bookkeeper at Georgetown College, studying Latin in his off hours.  In 1806 he joined the Jesuits as a lay brother, but his intelligence and his industry quickly marked him down to his Jesuit superiors as a candidate for the priesthood.  Ordained in 1817 , for several years he served at Trinity Church in Georgetown, until being transferred to Frederick, Maryland, where, during the next twenty-three years, with the boundless energy which was his hallmark,  he built Saint John's Church, a college, an orphan's asylum, and the first free schools in Frederick.  He was then transferred back to Trinity in Georgetown where he remained for a year until the Mexican War began.
Frederic Gehring was probably lucky that he was born and reared in Brooklyn.  It has always been a tough town and it prepared him for the adventurous life he was to lead.  Born on January 20, 1903,  he went on to attend and graduated from Saint John's Prep.  Setting his eyes on being a missionary priest, he entered the minor seminary of the Vincentians, Saint Joseph's, near Princeton,  New Jersey.  Earning his BA in 1925, he entered the seminary of Saint Vincent's in Philadelphia.
Ordained as a priest on May 22, 1930, he was unable to immediately go to China due to military activity of the Communists in Kiangsi province.  For three years he traveled throughout the US raising funds for the missions in China, and, at long last, in 1933 he was able to pack his bags and sailed for China.  Laboring in the Chinese missions from 1933-1939 in the midst of warlordism, civil war and the invasion of China, commencing in 1937, by Japan must have been tough, but Father Gehring was always up to any challenge.  For example,  in 1938 Japanese planes strafed a mission he was at.  Father Gehring ran out waving a large American flag in hopes that the Japanese would not wish to offend a powerful neutral nation and would stop the strafing.  The Japanese planes did fly off, and Father Gehring was pleased until someone at the mission pointed out that maybe the Japanese had simply run out of ammo!  In 1939 Father Gerhring returned to the States to raise funds for the missions.
October 27, 1913.  The Great War was soon to begin in Europe and Leo Peter Craig was born into this world in Everett, Massachusetts.  He was five years old when his mother died, leaving his father with five young children to raise.  Under these unusual circumstances, his Aunt, Veronica Craig, a member of the Dominican Sisters of Springfield Kentucky, received a dispensation from her vows in order for her to help raise her brother's children.  For 18 years she dedicated herself to this task, becoming a second mother to young Leo.  After the children were all raised, she returned to the religious life.  Leo attended the LaSalle Academy of the Christian Brothers in Providence, Rhode Island.  Going on to Providence College, he obtained his BA in 1935, at which time he entered the Dominican novitiate at Saint Rose's in Springfield, Kentucky.  He completed his philosophy courses at the Dominican House of Studies in River Forest, Illinois, and his theological training at the Dominican House of Studies in Washington, DC.  He was ordained to the priesthood on May 21, 1942.
Hattip to the Curt Jester.  Father Emil Kapaun, the POW Servant of God who died a heroic death in a Chinese POW camp during the Korean War, and who I have written about here, here and here may soon have a new earthly honor.  Army Secretary Peter Geren has recommended that Father Kapaun be awarded the Medal of Honor.  Now it is up to Congress to pass the legislation to send the award on to President Obama.  I recall when I drafted my original post I was surprised that Father Kapaun had not been awarded the Medal of Honor since clearly he had earned it many times over.  If awarded the Medal, he would bring the number of chaplains to eight who have received the highest military decoration this nation can bestow.
Part 2 of my series on great Jesuits in American history.  Ireland has given many great gifts to the United States of America and one of them was Joseph B. O'Hagan who was born in the Olde Sod in County Tyrone on August 15, 1826, the feast of the Assumption.  His family emigrating to Nova Scotia, he entered the seminary in 1844.  Meeting a Boston Jesuit in 1847, he joined the order in December of that year.  Finishing his theological studies in Louvain, he was ordained a priest in 1861.
Returning to the US he joined the Union Army as a chaplain for the New York Excelsior Brigade, one of the hardest fighting outfits in the Army of the Potomac.  Assigned to the 73rd New York, at first Father O'Hagan didn't think much of many of his fellow soldiers as this passage from a letter he wrote on August 7, 1861 indicates:  "Such a collection of men was never before united in one body since the flood. Most of them were the scum of New York society, reeking with vice and spreading a moral malaria around them. Some had been serving terms of penal servitude on Blackwell's Island at the outbreak of the war, but were released on condition of enlisting in the army of the Union, and had gladly accepted the alternative.."  The sense of humor of Father O'Hagan is demonstrated by his account of a regiment electing a chaplain:  "Over four hundred voted for a Catholic priest, one hundred and fifty-four, for any kind of a protestant minister; eleven, for a Mormon elder; and three hundred and thirty-five said they could find their way to hell without the assistance of clergy." . Continue reading →
Larry Lynch was born, the first of 12 kids in his family, in the City Line neighborhood of Brooklyn on October 17, 1906.  He grew up on some pretty tough streets while also serving as an altar boy at Saint Sylvester's.   He came to greatly admire the Redemptorists, an order of missionary priests founded by Saint Alphonsus Liguori in 1732.  In America the order had distinguished itself by its work in some of the roughest slums in the country and thus it was small wonder that a tough street kid would be attracted to them.  Larry Lynch was ordained a priest in the Redemptorist Order in 1932. Continue reading →
Night, February 15, 1898, the American battleship USS Maine lay at anchor in the harbor of Havana.  Although tensions were running high between the US government and Spain, the colonial power occupying Cuba, the night was calm.  Suddenly, at 9:40 PM,  a huge explosion devastated the forward section of the Maine, an external explosion setting off the powder in the magazines of the Maine.  Into this vision of hell on Earth strode the Catholic Chaplain of the Maine, John P. Chidwick. Continue reading →
Hattip to Creative Minority Report and to Father Zimmerman.  As I detailed here,  a miracle attributed to the intercession of Father Emil Kapaun, the heroic Army Catholic Chaplain who died in a Chinese POW camp during the Korean War, has been under investigation by the Vatican.  As reported here, the Vatican investigator Andrea Ambrosi has apparently found indications of the miraculous having taken place.  Perhaps one day I will be able to refer to Father Kapaun not as the POW Servant of God but as the POW Saint!
In April of this year I wrote a post about the remarkable POW Servant of God, Father Emil Kapaun, a heroic Catholic Chaplain who died in a Chinese POW camp during the Korean War.  Now, and a grateful hattip to reader Rick Lugari, the Vatican is investigating a miracle attributed to the intercession of  Father Kapaun.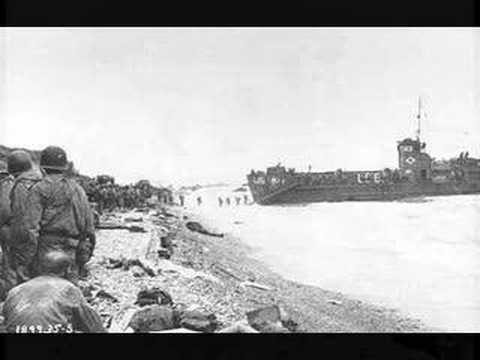 The men of the 5th Ranger Battalion could barely keep from laughing when they first saw their chaplain, Lieutenant Joe Lacy, a week before D-Day.  These were young men, in peak physical condition.  Father Joe Lacy was old by Ranger standards, knocking on 40, overweight by at least 30 pounds, wearing thick glasses and short, 5 foot, six inches.  He was described by one Ranger as "a small, fat old Irishman."  No way would he be able to keep up when they  invaded France.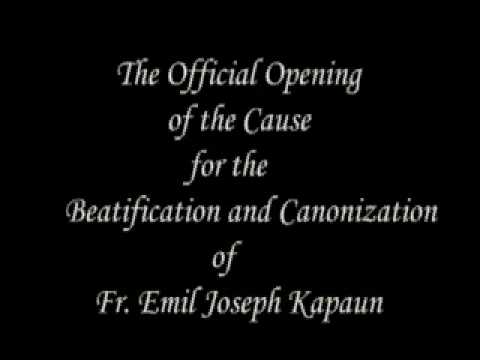 In the midst of a World War, Emil Kapaun was born in peaceful Pilsen, Kansas on August 20, 1916.  His parents were Czech immigrants and virtually everyone in the area spoke Czech.  From an early age Emil knew that he wanted to be a priest and would play mass with his younger brother. Continue reading →
I normally take great pride in being an American, but there are passages in our history which all Americans should be ashamed of.  During our Civil War in many prison camps, both North and South, POWs were treated wretchedly with inadequate shelter, clothing and food.  The worst by far was Andersonville.