Catholic Blogosphere
With the new year upon us the fledgling Catholic website for Young Adults has changed their name from VirtuousPla.net to Ignitum Today.  Ignitum Today offers wonderfully well written articles by young adults from all walks of life.  In our short time, I am one of the Chief Editors, we have introduced to the Catholic blogosphere such dynamic writers such as Fr. Ryan Erlenbush and Marc Barnes.
The change of the name is only cosmetic, the mission and overall content of Ignitum Today remains the same.  This change was set upon us by a copyright dispute that has not affected us in any other way besides the name change.
We look to evangelize our faith by sharing the stories of the JP2 and B16 Generation for all.  We hope you come and visit us soon (now would be better)!
There are a slew of politically based TV talk shows on network and cable television. Have you ever had the desire to see a conservative oriented talk show that wasn't full of gimmicks, one that brought in guests from the conservative and liberal sides? Sadly the current state of affairs seems geared for conservatives to either engage in name calling, a tactic often used by liberals, or worse yet negotiate away the conservative truths in which we believe. There is a better way; announcing the television program Non Negotiable; a new type of political program hosted by Dave Hartline and Damon Owens.
Both Hartline and Owens have appeared on various national television and talk radio programs. In addition they have written national and web based articles.  Non Negotiable was  created and will be produced by television and movie producer Christian Peschken who himself hosted Radio & TV talk shows in Germany , before he came to America some twenty years ago. Peschken has produced a variety of television programs and feature films. In addition, he has produced a number of programs for EWTN.
Non Negotiable will have seven truths rooted in the ideas of the US Constitution and Natural Law. The hosts of the show will discuss what can and cannot be negotiated with regard to these seven time honored principals. If after a discussion the idea proposed doesn't fit the 7 Point Criteria, the hosts will simply announce; "This Non Negotiable." The program will debut in 2012. Currently Peschken is in negotiations with several cable networks with regard to purchasing airtime to reach 90 million potential households nationwide.   
In 1996 the fledging Fox News Channel and their CEO Roger Ailes was laughed at by conservatives for putting Bill O'Reilly the host of a TV tabloid Show called Inside Edition as their number one Prime Time focus. Fifteen years later most political talk shows still try to copy O'Reilly's The Factor. The point being that Ailes didn't use conventional wisdom, his gut told him that Americans wanted something different, and so it is today with Producer Christian Peschken.
In 2012 the new political oriented TV talk show Non Negotiable will air in this pivotal election year. However, it is not just any election year but an election that comes against the backdrop of the most serious economic crisis since the Depression. Add to that a growing political movement called the Tea Party juxtaposed against a resurgent but as of late crestfallen liberal revival that first surfaced in 2006. These combustible ingredients parlay themselves into an attentive television audience the likes of which has never been seen in the modern, internet, social media age.
As this show's production ramps up, there certainly are some of you out there, and you know who you are, who could help the investors get this show immediately up and running.  Investors are being sought now to procure the necessary funds for this program series.  Please keep this show in your prayers and look for updates as the fall of 2011 turns to winter.
To Contact Christian Peschken e-mail to Pesckenmedia@aol.com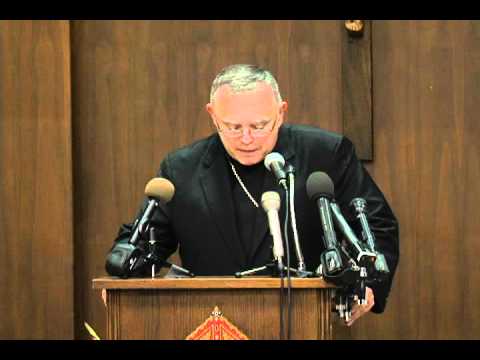 One of the most irritating aspects of life for faithful American Catholics over the past several decades has been how quiet most of our bishops have been in the face of outrageous attacks on the Church.  Too many of our bishops have acted as if they had their spines surgically removed upon consecration.  Fortunately there have always been a handful who have been willing to speak out and suffer the media attacks that then ensue, along with the ambushes of heterodox Catholics frequently eager to lend a hand to anti-Catholics in their ceaseless war against the Church.  One of the more outspoken bishops is Archbishop Charles J. Chaput, who has never been afraid to proclaim the truth, and to do so eloquently.  He is at it again over at First Things.
The Cross & Eagle Awards (C&EA) will be recognizing another legend and this particular blogger is in the field of apologetics.
This defensor fidei travels the country evangelizing both Catholics and non-Catholics alike, educating in the Catholic faith, and defending the eternal Truths.
In my estimation, he probably created his blog with minimal thought, not knowing what a tremendous tool it could be to evangelize.
Imagine not having to travel to another parish hall or hotel to do another presentation in person.  Not that he has stopped doing this, it's that he can now reach a wider audience.
Unfortunately his blog wasn't one of the best out there.
This all changed recently.
He changed the layout, improved the graphics by leaps and bounds, and made it much more interactive.  Yes, he improved the look of his blog overall.
Who is this mustachioed Catholic?
I am happy to present the 2011 Cross & Eagle Award for the Most Improved Blog in the Catholic Blogosphere to. . .
The Cross & Eagle Awards (C&EA) will be honoring a true legend in Catholic Blogosphere history.
To qualify even for consideration you need not only be talented in writing and knowledgeable about our Catholic faith, you need to write often.  That is the kicker.
Many a Catholic blogger has stopped blogging due to an increase in the family unit, new job, blogging fatigue, carpal tunnel affliction, and even death.  And that's just a short list.
This particular blogger didn't allow a growing family nor inclement weather stop him.  Not even a beard that has gotten out of control has slowed down this convert.
Being a warrior for Christ, he is horizontally integrated in various forms of media battling heresy and anti-Catholicism in it's many forms as well as educating the faithful and non-Catholic in our rich and long Catholic Tradition.
Even when his template was no longer supported or his antiquated version of blogger, he stayed the course, WordPress be damned!
Don't know who this character of the Wild, Wild Web is?
Here is only a sample of the many publications he writes for online:
Crisis Magazine, National Catholic Register, Catholic Exchange, Inside Catholic, and a whole lot more.
I am happy to present the 2011 Cross & Eagle Award for the Most Prolific Blogger in the Catholic Blogosphere to. . .
I'd like to announce a new Catholic website targeted for Young Adults:
VirtuousPla.net will be providing Catholic perspectives on every topic that matters to young adults–life, religion, relationships, and fun.
We have gathered 30 of some of the brightest young adult Catholics in the world that are already providing insightful articles ranging from current events to poetry.
Please click on the pic above or click here to see what it's all about!
The continuing Cross & Eagle Awards (C&EA) is breaking new ground by honoring a non-Catholic blog today.
No, no, no, I will no longer entertain any submissions for the National Catholic Reporter, The Tablet, U.S. Catholic,  or America Magazine for this award.  This is a serious category and I will not tolerate such ornery suggestions.
Where were we, ah yes. . . there are a few notable exceptions to our separated brothers and sisters in Christ in the Protestant Blogosphere.
VirtueOnline, Mere Comments, and yes Get Religion come to mind.
But the winner of this rapidly-becoming prestigious award does more than be almost Catholic, he actually defends Catholic Church teaching when under assault from the world.  That cannot be said for some aforementioned "Catholic" blogs.
As much as this particular blogger reads like a solid orthodox Catholic blog, he is resistant to put his swim-trunks on to jump the Tiber.  Yet he is able to show to the world, more so than his state's motto, that timeless Truths always lead back to the Church that Jesus established with Saint Peter as its Rock.
His wit is quick and his humor dry and to the point, he certainly reflects his proud patrimony he inherited from Canterbury.
I am happy to present the 2011 Cross & Eagle Award for the Most Catholic Non-Catholic Blog in the Catholic Blogosphere to. . .
The Cross & Eagle Awards (C&EA) will venture again into the unique today.
In the Catholic Blogosphere there are many authors that can make their point in a paragraph or two.  There are others that can write a 2,000 word essay in driving their point.  Still there are others that, like today's cinema movie trailers, like to make their point not in their post, but in the title of their post!
This particular blogger makes a habit of writing his essay in the post title.  He, yes there's no way around that, demonstrates that you can pack a powerful SEO punch by loading up on the post title.
He's on the other side of the pond, but remember we are Catholics first before we are Americans or British or other.
Lately though he has been blogging on the Rupert Murdoch scandal in Britain.  He normally reports on all things Catholic and Anglican.
I am happy to present the 2011 Cross & Eagle Award for the Longest Post Title in the Catholic Blogosphere to . . .
The Cross & Eagle Awards (C&EA) aren't your run-of-the-mill awards with standard categories and predictable results.  
Not that all C&EA's will be off-beat, but that some names, or pseudonym in this instance, in the Catholic Blogosphere are just so unforgettable, they need a category to themselves.
This next winner is just that, pretty unforgettable, genuine, and unique.
This 15th Century Hussite romantic is the Master of Ceremonies for his parish as well as the liturgy editor of a crusading blog, that frankly has stopped blogging (but only recently).  Nonetheless, his name deserves recognition because I can't imagine anyone else ever making up this pseudonym.
His attention to detail may well explain his love of protocol in all things liturgical.
So without further delay:
I am happy to present the 2011 Cross & Eagle Award for the Best Pseudonym in the Catholic Blogosphere to. . .