Catechism of the Catholic Church
I would like to join Michael Denton in his critique of Catholic Vote's endorsements (here and here). For the record, I am still technically a guest blogger for Catholic Vote, although I rarely find the time to blog there these days (the life of a Theology grad student isn't always conducive to the 24-hour news cycle). I also would like to state that I very much support the work of Catholic Vote and I have the utmost respect for Thomas Peters and Josh Mercer (CV's Communications Director). I have not had the pleasure of meeting Mr. Burch, but I am sure we would get along quite well.
First, I agree with Mr. Denton's critique of Catholic Vote's endorsement criteria, but I also think their very practice of making endorsements hurts their overall credibility. By engaging in elections they sully the wonderfully non-partisan creditability they gained via their Life: Imagine the Potential Campaign. What attracted me to their mission initially is their advancement of Catholic beliefs in the public square in a way that was educational rather than political. Perhaps, my fears will be proven wrong (I hope they are). Kudos to CV though for endorsing a Democrat, at a time when endorsing Democrats is almost an anathema in the social conservative world this is downright courageous.
Secondly, as a theologian-in-training, I feel I need to speak out against two common misunderstandings of Catholic Social Teaching, which Catholic Vote and countless others seem to be making. Before I go into this, I would like to say that I am trying to "think with the Church" on this. I ask that anyone responding to this post, likewise, try to think with the Church and not impose your political biases onto our attempt to better understand the teachings of the Church.
As the New York Times remembers Hiroshima, Richard Fernandez asks us to name the two greatest losses of civilian life in the Pacific war. ("Hint. In both cases the civilian casualties were greater than Hiroshima's. In one case the event took place on American soil.")
Meanwhile, Donald Sensing (Sense of Events) thinks it's past time for Western churches to stop treating Japan as victim every Aug. 6 and 9:
I refuse on principle to pollute God's ears with prayers dedicated only to Hiroshima Day and the dead of those cities while ignoring the tens of millions of Japanese-murdered souls who cry for remembrance, but do not get it, certainly not from the World Council of Churches and its allies who have no loathing but for their own civilization. If the prayers of the WCC's service are to be offered, let them be uttered on Aug. 14, the day Japan announced its surrender, or on Sept. 2, the day the surrender instruments were signed aboard USS  Missouri. Let our churches no longer be accessories to Japan's blood-soaked silence but instead be voices for the  millions of murdered victims of its bloodlust, imperialist militarism.
(HT: Bill Cork).
This article originally appeared on The New Theological Movement written by Reginaldus on July 29, 2010 Anno Domini.  Re-posted with permission.
18th Sunday in Ordinary Time, Luke 12:13-21
The rich man of this Sunday's Gospel is blessed with a bountiful harvest. Rather than thanking God for this gift, he hoards the grain in his barns – his heart is possessed by his possessions. At the moment of death, the Lord calls him a fool, for he was not rich in what matters to God.
The Fathers of the Church, and St. Thomas Aquinas following them, see in this parable a strong teaching of social justice. Their teachings have in turn been integrated into the Social Doctrine of the Church. Here we will consider St. Thomas' exposition of the doctrine as well as several important quotations from the Church Fathers.?
The common destination of all goods and right to private property
We must first affirm that man has a right to own private property. All men have a natural right to make use of material goods. According to positive human law, men also have a right to private property – this is necessary for the good order of society and the proper care of the goods themselves, it also serves as a means of restraining greed and inciting toward generosity (a man can give alms only if he has some property of his own).
However, it is equally clear in the Church's Tradition, as expressed by the Fathers of the Church and magisterial teachings, that the right to private property is subordinate to the universal destination of all goods. That is, the right to private property cannot be extended to the point of depriving others of the basic material necessities of life. Every man has the right to the material necessities of life – when he is deprived of these, while another has excess wealth, a grave injustice has occurred.
All that is necessary for the triumph of the same sex agenda is that good men do nothing.  The fear of reprisal, both materially and physically, can cause good men to do nothing.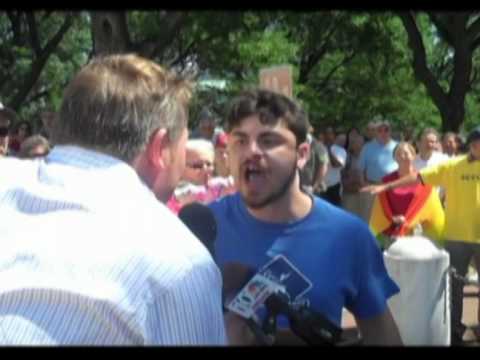 Having not experienced this form of intimidation, I am still disturbed by the tactics that are utilized by the more militant arm of the same sex marriage agenda.  This exposure to such violence is almost non-existent for me.
I wasn't going to do this, but now I am. A contributor (Morning's Minion) to a certain blog (Vox Nova),  whose views on gun control I previously challenged, took it upon himself to let it all out about "conservatism" – partially, I believe, in response to our exchange.  The same themes are there at least, though he does go on (and on) about slavish right-wing support for Israel, an issue on which I am not so enthusiastic. I've also made my opposition to America's interventionist foreign policy known.  In doing so I respectfully digress from many of my co-bloggers at The American Catholic.
But there are a number of very broad points made by Morning Minions that are more or less directed at me, and my co-bloggers, and of course conservatives and libertarians in general, and I will answer them here.
In the face of an ever-emerging "culture of death," the ancient truth that death is a mystery and not a "problem" is needed more than ever. To designate death as a problem implicitly suggests a need for a remedy, which underlines the modern assumption of possession of the resources necessary to exercise technical mastery over the "problem"—in this case, death. The predominance of the technical solution over the respectful awe rightly due in the face of something greater than us puts mankind in quite a predicament.
The Church, as Pope John Paul II attentively reminded us in Redemptor Hominis, is the guardian of transcendence. This image of the Church is particular fitting in dealing with complex ethical questions of life and death. In recent times, the very mystery of death—real death—has been debated extensively as it relates to the theory of "brain death," which is effectively interrelated to ethical questions regarding organ donation.
Catholics see death in the light of divine revelation. Death, the fruit of original sin, now exists as the means by which we participate in the Passover of Our Lord, passing from death into new life. Death is not the end of our human existence; to say otherwise would be an embrace of the fallacious pagan trap of modern philosophical thought overflowing with agnostic existential anxiety over this very unsettling question.
The cross-blog discussion that was initiated on the topic of "social sin" has now evolved into a debate over the origins and causes of sin. In response to my post on social sin, Nate Wildermuth at Vox Nova posted his own ideas about the relationship between society and sin, forthrightly admitting that he was going to "venture into heretical pastures" in doing so.
My intention here is not to beat up on Nate. He has expressed to me that he feels I may not be understanding his argument, though I do believe I have made the attempt in earnest. Rather than dissect in detail his argument once again, I am going to put forth here what I already placed in a com-box, but would like to open up to wider discussion – that is, my own view of sin and human freedom. Then Nate or anyone else may issue whatever challenges they like to any of my premises or conclusions, and perhaps we will have some clarity on the issue.
I came across this American Thinker article on the exclusion of Amish and Muslims from ObamaCare:
The Senate health care bill just signed contains some exemptions to the "pay-or-play" mandate requiring purchase of Obamacare-approved health insurance or payment of a penalty fine. As Fox News has pointed out, for instance, the Amish are excused from the mandate:
So while most Americans would be required to sign up with insurance companies or government insurance plans, the church would serve as something of an informal insurance plan for the Amish.

Law experts say that kind of exemption withstands scrutiny.

"Here the statute is going to say that people who are conscientiously opposed to paying for health insurance don't have to do it where the conscientious objection arises from religion," said Mark Tushnet a Harvard law professor. "And that's perfectly constitutional."
Apparently, this exemption will apply similarly to believers in Islam, which considers health insurance – and, for that matter, any form of risk insurance – to be haraam (forbidden).
Steve Gilbert of Sweetness & Light calls our attention to the probability that Muslims will also be expempt. According to a March 23 publication on an authoritative Islamic Web site managed by Sheikh Muhammed Salih Al-Munajjid, various fatwas (religious decrees) absolutely forbid Muslim participation in any sort of health care or other risk insurance:
Health insurance is haraam like other types of commercial insurance, because it is based on ambiguity, gambling and riba (usury). This is what is stated in fatwas by the senior scholars.

In Fataawa al-Lajnah al-Daa'imah (15/277) there is a quotation of a statement of the Council of Senior Scholars concerning the prohibition on insurance and why it is haraam:

It says in Fataawa al-Lajnah al-Daa'imah (15/251):

Firstly: Commercial insurance of all types is haraam because it involves ambiguity, riba, uncertainty, gambling and consuming people's wealth unlawfully, and other shar'i

Secondly: It is not permissible for the Muslim to get involved with insurance companies by working in administration or otherwise, because working in them comes under the heading of cooperating in sin and transgression, and Allaah forbids that as He says: "but do not help one another in sin and transgression. And fear Allaah. Verily, Allaah is Severe in punishment"

[al-Maa'idah 5:2]. End quote.

reservations.
And Allaah knows best.
So, it turns out that observant Muslims are not only strictly forbidden from buying any health insurance under the ObamaCare mandate, but may also not even work for any company that provides such insurance or any other form of commercial insurance.
(…)
Being an observant Catholic I don't have to participate because it goes against my faith to kill unborn innocent children?
The 5th, 7th, and 10th Commandments and the Catechism of the Catholic Church (CCC) forbids me from participating.
5th Commandment & CCC 2268-2269: You shall not kill. (ObamaCare kills unborn babies)[1]
Formal cooperation in another's evil act (that is, undertaking to help expressly another to perform an act known to be evil) is itself evil. Davis, Moral and Pastoral Theology (1938), I: 341-342. There are no exceptions to this rule; no supervening circumstances can ever render formal cooperation in evil good.
Archbishop George H. Niederauer of San Francisco addressed on January 13, 2010 a free will defense of abortion by Nancy Pelosi, Speaker of the House:
In a recent interview with Eleanor Clift in Newsweek magazine (Dec. 21, 2009), House Speaker Nancy Pelosi was asked about her disagreements with the United States Catholic bishops concerning Church teaching. Speaker Pelosi replied, in part: "I practically mourn this difference of opinion because I feel what I was raised to believe is consistent with what I profess, and that we are all endowed with a free will and a responsibility to answer for our actions. And that women should have the opportunity to exercise their free will."
Embodied in that statement are some fundamental misconceptions about Catholic teaching on human freedom. These misconceptions are widespread both within the Catholic community and beyond. For this reason I believe it is important for me as Archbishop of San Francisco to make clear what the Catholic Church teaches about free will, conscience, and moral choice.
Catholic teaching on free will recognizes that God has given men and women the capacity to choose good or evil in their lives. The bishops at the Second Vatican Council declared that the human person, endowed with freedom, is "an outstanding manifestation of the divine image." (Gaudium et Spes, No. 17) As the parable of the Grand Inquisitor in Dostoevsky's novel, The Brothers Karamazov, makes so beautifully clear, God did not want humanity to be mere automatons, but to have the dignity of freedom, even recognizing that with that freedom comes the cost of many evil choices.
Catholic Relief Services have labeled the earthquake that has left Haiti literally in ruins as the Disaster of the Century.
As The American Catholic has posted about the 7.0 earthquake that hit Haiti and the devastation it has wrought, we should turn to Christ for hope.
Let us hold fast the confession of our hope without wavering (for he is faithful that hath promised), And let us consider one another, to provoke unto charity and to good works: Not forsaking our assembly, as some are accustomed; but comforting one another, and so much the more as you see the day approaching. [1]  For we are saved by hope. [2]
Hope, O my soul, hope. You know neither the day nor the hour. Watch carefully, for everything passes quickly, even though your impatience makes doubtful what is certain, and turns a very short time into a long one. Dream that the more you struggle, the more you prove the love that you bear your God, and the more you will rejoice one day with your Beloved, in a happiness and rapture that can never end. [3]
To help our Haitian brothers and sisters in Christ you can donate to Catholic Relief Services here.
The Pagans are coming out of the woodwork, or more properly named, coming out of the ice sculpture.
What is turning into an annual event in Fairbanks, Alaska, a frozen ice sculpture of Al Gore, or what the locals call "Frozen Gore", was unveiled.
Steve Dean sculpted the two-ton ice block in tribute to Al Gore and his 'theories' of man-made Global Warming.
The Fairbanks Daily News-Miner reports with my emphases and comments in this truncated article:
This year's version includes special effects, thanks to a system that pipes the exhaust from a Ford F-350 out of Gore's open mouth. Compeau [who funded the ice sculpture] will fire up the truck periodically this winter to create the "hot air" effect.

50 years [ago]. The average temperature for 2009 was 27.8 degrees in Fairbanks, about one degree warmer than normal, said Rick Thoman, a meteorologist with the National Weather Service.

Last winter, however, was unusually cold in Fairbanks. Temperatures in the winter months of 2008-09 were about 4 degrees below normal, according to National Weather Service figures.
The mocking tribute of Al Gore and the pseudoscience that he uses is cause for concern.  We need to start a movement to begin the separation of science and state in order to protect Americans from environmentalist fanatics such as Al Gore.