Books
Our very own Dave Hartline talks to CatholicTV on their ClearVoice™ program concerning his new book, The Catholic Tide Continues to Turn.
CatholicTV is the oldest Catholic TV network in the United States having been launched on January 1, 1955 by the Archdiocese of Boston.  58 years later they are still in operation, available on cable and via the Internet; in HDTV as well!  They are called America's Catholic Television Network with their studios and offices located in Watertown, Massachusetts.
[The topic here is neither American nor Catholic, so I was originally going to relegate it strictly to my personal blog, but in the end I found it too interesting to avoid sharing.]
Some years ago, I wrote here about Patrick Leigh Fermor's A Time of Gifts
, a beautifully written travel book about the first stage of the author's 1933 walk across Europe from from Holland to Constantinople.
The only customer, I unslung my rucksack in a little Gastof. Standing on chairs, the innkeeper's pretty daughters, who were aged from five to fifteen, were helping their father decorate a Christmas tree; hanging witch-balls, looping tinsel, fixing candles to the branches, and crowning the tip with a wonderful star. They asked me to help and when it was almost done, their father, a tall, thoughtful-looking man, uncorked a slim bottle from the Rudesheim vineyard just over the river. We drank it together and had nearly finished a second by the time the last touches to the tree were complete. Then the family assembled round it and sang. The candles were the only light and the solemn and charming ceremony was made memorable by the candle-lit faces of the girls — and by their beautiful and clear voices. I was rather surprised that they didn't sing Stille Nacht: it had been much in the air the last few days; but it is a Lutheran hymn and I think this bank of the Rhine is mostly Catholic. Two of the carols they sang have stuck in my memory: O Du Heilige and Es ist ein Reis entsprungen: both were entracing and especially the second, which, they told me, was very old. In the end I went to church with them and stayed the night. When all the inhabitants of Bingen were exchanging greetings with each other outside the church in the small hours, a few flakes began falling. Next morning the household embraced each other, shook hands again, and wished everyone a happy Christmas. The smallest of the daughters gave me a tangerine and a packet of cigarettes wrapped beautifully in tinsel and silver paper. I wished I'd had something to hand her, neatly done up in holly-patterned ribbon — I thought later of my aluminum pencil-case containing a new Venus or Royal Sovereign [pencil] wound in tissue paper, but too late. The time of gifts.
I've since read what was intended to be the second volume of a three part narrative of the trip, Between the Woods and the Water
. It is similarly a joy to read. Continue reading →
Spanish American philosopher George Santayana once noted, "Those who do not remember the past are condemned to repeat it." Fallen man will make essentially the same mistakes that his forbears have made unless he learns from the lessons of history. For this reason, the study of political and philosophical history is essential to understanding current political theory in order to ensure that dangerous philosophies — those which threaten the inalienable rights of human persons — may be identified and rejected through reasoned, free and informed debate before their dangers become brutal reality. People educated in the lessons of history are people wise enough to reject its horrors. So it is that I have come to understand the necessity of learning more about Marxism in light of the current administration's political machinations which seem to be, on some level, inspired by it.
Main Currents of Marxism: The Founders – The Golden Age – The Breakdown
by Polish philosopher Leszek Kolakowski is widely hailed as the definitive work on the subject and his book is credited with "laying some of the paving stones that would eventually lead to the Solidarity movement", a movement which itself led to the collapse of the Soviet Union. As I read through this volume, which is actually three books in one, I'll be sharing my thoughts on what I am learning from it. This will be part one in a series and covers the introduction.
Avoiding subjective presumptions.
Kolakowski outlines the reasoning behind the methods he uses to offer an accurate history of Marxism. He immediately mentions the German philosopher Karl Marx and notes that the very fact that Marx was German may, in and of itself, invoke in the reader certain presumptions about his philosophy. When we make an assessment about something, we always bring our subjective experiences to the table with us. One might be familiar with the differerent schools of thought in the world and presume that Marx, because he was German, held a philosophy somewhat consistent with the German philosophers most commonly known at the time in which the reader is living. Subjective presumptions like this often get in the way of finding out the truth about something. I recall once hearing a teacher tell her class in Kentucky that she had moved from Pennsylvania and was surprised when she got to Kentucky that there were not many people running around barefoot. Reality is very often completely inconsistent with what we presume must be true. Kolakowski sets out to answer questions about the Communism of his day by studying the history of Marxism with a determination not to let subjective presumption get in the way.
Things rarely occur in real life exactly as written on paper.
Kolakowski notes the difficulty in his endeavor being primarily that one cannot precisely connect the dots between the words of a particular philosophy on paper and a social movement of people who follow that particular tradition and thereby prove that one absolutely beget the other with no other factors having impact. As a Catholic, I see this dynamic in the Church which defines through theMagisterium what is believed by Catholics to be absolute dogma leading us to the highest good while, due to man's fallen nature, the highest good is never fully manifest among her members as a whole. There are Catholic saints alongside those who betray the doctrine through various levels of dissent. So it is with any philosophy, even if the philosophy ostensibly guides a large number of people. The historian should do his work with the understanding that what Marx wrote on paper should not necessarily be presumed to be exactly what Communism became as a social movement of living, breathing people. So it is that we cannot reasonably indict Karl Marx alone for Communism, nor say that Communism is fully Marxist, to the absolute exclusion of everything else. Kolakowski argues that the social movement itself, though it may represent itself as the body of true keepers of a given ideology, is generally quite stronger than the ideology itself.
The particular rallying point of any movement is one key to understanding it.
All movements have their rallying point. For the current Tea Party movement, which is decidedly anti-Marxist, the rallying point is widely credited to the February 19, 2009, plea by Rick Santelli from the floor of the Chicago Mercantile Exchange. Though this came decades after Kolakowski penned "Main Currents of Marxism
", his claim that other factors cause social movements to evolve over time is ringing true in the Tea Party movement now, less than three years after the rallying point. It is because of this inevitable evolution that we find it difficult to delineate with accuracy what ideals make one a "true" Tea Party "patriot" or "representative". This same difficulty faces Kolakowski in his examination of Marxism, and he argues that for any "historian of ideas", the correct question on this matter should be to find out what ideas caused the rallying point in the first place.
No single, flawed human being can represent the epitome of a philosophy.
Kolakowski offers an important caution, that it is a fruitless endeavor, at least in the context of historical analysis, to insist that only those who hold to the particular idea(s) that launched the rallying point are the "true" representatives of the movement. A president may be "Marxist". He may even be a "true" Marxist, but at the same time disagree on key issues with other "true" Marxists. The leader of the movement does not necessarily precisely define the movement or the ideology, nor vice versa. Further, there may be different groups which carry the banner of "Marxist" (or "Tea Party", or "Progressive", as the case may be), and movements may change from generation to generation. These are all difficulties for historians of philosophy. The primary reason for this point is to explain that while a study of the history of a philosophy entails the study of the ideas of individuals who clearly, on some level, hold forth that philosophy, this process of discovery is misused if it is given as reason to classify certain individuals as being absolutely "true" or absolutely "false" representatives of that philosophy. Certainly, people have their loyalities to particular political leaders, and fallen man will seek to put a brand name on his hero or his opponent in order that others may be encouraged to follow, or reject, that leader. We see this phenomenon at times in the Tea Party movement with the debate on who leads the movement and with the Left's attempt to smear the brand "Tea Party" in order to discredit its leaders. Such debates, inevitable due to man's human nature, are reflections of the very same difficulties Kolakowski describes as being problematic during his Communist-era historical study of Marxism.
The role of culture in the development of philosophy.
Culture plays a significant role in the development of philosophy, and Kolakowski describes his view of the role of culture as being similar to that of the German writer Thomas Mann. Mann did not seek to absolve German culture of the evils of Nazism. Rather, he approached the question by seeking to find those aspects of German culture which allowed Nazism to take root. Though Mann was, as a citizen of Germany, a part of the very same German culture he studied, he did not seek to protect Germany from learning hard truths about the culture which may or may not have facilitated the horrors of fascism. The very clear influence of Nietzsche did not, after all, occur within a vacuum. Again, we see this point about culture holding true in America today with the Tea Party laying claim to the hallmarks of American civilization in the use of imagery of the Founding Fathers, the American flag, the American Bald Eagle, etc.. This cultural imagery represents America's historic opposition to totalitarianism. Meanwhile, as the far left rejects the idea that one culture is better than another, there is backlash against the use of American imagery and, often, the propogation of Islam in an attempt to establish it as a major cultural component of our national identity. An interesting question to pose might be whether or not the "multi-cultural" far left in America has a culture itself and, if so, what does that culture look like? Also, is there, as with a power vacuum, a danger in having a "cultural vacuum"?
Limitations regarding the flow of information.
There are practical limitations in studying the history of Marxism specifically. Among them is the fact that so many of Marx's works were not even in print until the Communist Revolution had already taken place, though they were later considered by Communists to be essential works. Fortunately, in this age of more advanced technology, it is far easier to offer for mass distribution the writings of college student Obama, community organizer Obama, or Senator Obama so that the public might examine trends in his thinking and whether or not those trends are the source of his current policies as president. Unfortunately, this did not happen. Another difficulty is that Marx addressed multiple fields — "basic philosophic anthropology, socialist doctrine, and economic analysis" — and that varities of opinions abound, not only on the particular division of fields, but also on the question of how (and whether) they are related. We see this same difficulty in our examination of the far left in America as a movement made up of various dimensions including radical environmentalism, multiculturalism, anti-capitalism, etc. Despite this variety of "talent" and goals, it is still possible to assess similarities in thinking which are common threads in the philosophy.
The role of tradition.
We will always find, even in the anti-tradition Left, a certain level of adherence to traditional thinking. Though the "democrat" may reject the idea that tradition is worthy of our consideration, surely he points to figures from tradition, like the Reverend Dr. Martin Luther King, Jr., and Abraham Lincoln (both of whom were Republicans) and claims them as forbears.
Catholic philosopher G.K. Chesterton wrote on the topic of "democrats" and their rejection of tradition:
Tradition may be defined as an extension of the franchise. Tradition means giving votes to the most obscure of all classes, our ancestors. It is the democracy of the dead. Tradition refuses to submit to the small and arrogant oligarchy of those who merely happen to be walking about. All democrats object to men being disqualified by the accident of birth; tradition objects to their being disqualified by the accident of death. Democracy tells us not to neglect a good man's opinion, even if he is our groom; tradition asks us not to neglect a good man's opinion, even if he is our father. I, at any rate, cannot separate the two ideas of democracy and tradition; it seems evident to me that they are the same idea. We will have the dead at our councils.
Surely, the Communist regime had the deceased Karl Marx at their "councils" in the form of adherence to his ideas. So, too, we may endeavor through the research of common threads to see if Karl Marx is similary seated at the table with President Obama's Cabinet.
The impossible goal of Utopia.
Considering the many challenges involved in the analysis of a philosophy, Kolakowski resolves to focus his efforts "on the question which appears at all times to have occupied a central place in Marx's independent thinking…" which is the question of how one can possibly adopt a utopian ideal when there exist so many variables that contribute to what is, in reality, an inevitable diversity of opinions and of outcomes. There is a further difficulty, as well, that Kolakowski points out. Marxists believe that history has "progressed", and will continue in a "progressive" manner, in stages of class warfare, with the end result being "true" socialism. I am reminded of a quote from our progressive President Obama which he borrowed from Reverend Dr. Martin Luther King, Jr.:
"Dr. King once said that the arc of the moral universe is long but it bends towards justice."
The "bending arc" toward "justice" is one way of describing Marxist thought about history's "progressive" stages toward socialism. Unfortunately for us, the "moral universe" of Marx rejects both tradition and natural law, finding its basis in economics and class warfare, unlike Dr. King's "moral universe". King said that law not rooted in natural law is unjust. Dr. King himself borrowed his quote on the arc of the moral universe from Theodore Parker, who inspired Abraham Lincoln's Gettysburg Address and was a proud grandson of Captain John Parker, American Revolutionary leader at the Battle of Lexington and Concord. Perhaps the historians of the future can sort out the reasons why a progressive would use a quote about justice from a Christian preacher who stood firm on the justice of natural law. Was President Obama's quote an act of preserving or usurping traditional values? I would argue that it is an usurpation.
Indeed, values and philosophies are carried on from generation to generation, from sea to shining sea and beyond. Some preserve while others usurp. I look forward to reading more of "Main Currents of Marxism
" and sharing my thoughts with you as I delve deeper into the history of Marxism.
So many books! So little time! And, unfortunately, not enough to afford them all. Erasmus' motto, "When I get a little money I buy books; and if any is left I buy food and clothes" worked during college, but is hard to get away with once you're married with children and have a spouse to answer to. =)
We've heard much lately of Pope Benedict's interview with Peter Seewald: Light of the World: The Pope, The Church and The Signs Of The Times, regarding which Ignatius Press' Carl Olson has been doing a magnificent job rounding up reviews and discussion across the web;
and George Weigel's "sequel" to his reknowned autobiography of John Paul II: The End and the Beginning: Pope John Paul II — The Victory of Freedom, the Last Years, the Legacy, and Patrick W. Carey's biography Avery Cardinal Dulles, SJ: A Model Theologian.
Here are a few more on the horizon that might be of interest to our readers (and which are definitely on my "to read" list from 2010). Continue reading →
I've been ending day lately with an hour or two of reading Jose Maria Gironella's, The Cypresses Believe in God
, a massive novel set on the eve of the Spanish Civil War. Given the novel's sheer size, and that it starts out spending so much time just giving a sense of early 30s Spain as a place and time, as the civil war itself begins to approach one feels with the characters a certain creeping unreality, as the descent of politics and then society as a whole into factional violence seems to become first imaginable, then possible, and finally inevitable.
Having fallen asleep, as it were, in 1935 Catalonia, it was with an odd sense of unreality that I clicked on a link this morning and found a New York Times columnist declaring it impossible to work with his political opponents peacefully and darkly predicting "there will be blood".
The Pope's comments in an unauthorized excerpt release from Peter Seewald's latest book, "Light of the World, The
Pope, The Church and The Signs of the Times", has caused quite a stir.
Basically he said, as an extreme example, if a male prostitute was to use a condom during sex, it was a step towards a better morality.
Pope Benedict wasn't speaking ex-cathedra.
Nonetheless, the secular media, like clockwork, has declared that condoms are now allowed by all fornicators (not like dissident Catholics were following the teachings of the Church anyways).
So here is a short roundup of the better informed among us:
Pope Approves Restricted Use of Condoms? – M.J. Andrew, TAC
Understanding Pope's Dilemma on Condoms – Jimmy Akin, NCRgstr
Condoms, Consistency, (mis)Communication – Thomas Peters, AmP
Pope Changed Church Condoms Teaching? – Q. de la Bedoyere, CH
A Vatican Condom Conversion? – Mollie, Get Religion
Pope: Condoms, Sex Abuse, Resignation & Movie Nights – John Allen
What The Pope Really Said About Condoms in New Book? – Janet Smith
Ginger Factor: Pope Approves of Condoms! – Jeff Miller, The Crt Jstr
The Pope and Condoms – Steve Kellmeyer, The Fifth Column
Condoms May Be 'First Step' In Moralization of Sexuality – Cth Herald
Pope Did Not Endorse the Use of Condoms – Fr. Zuhlsdorf, WDTPRS?
Did Pope Change Teaching About Condoms? – Brett Salkeld, Vox Nova
(Hat tips:  The Pulpit & Henry Karlson)
George Weigel's new book, The End and the Beginning: Pope John Paul II — The Victory of Freedom, the Last Years, the Legacy,
which was published by Doubleday on September 14, is the fulfillment of a promise the author made to Pope John Paul II less than four months before the pope died. In "A Promise To Pope John Paul II" ("The Catholic Difference" 9/17/10), Weigel gives his account of his parting words to the late Pope before his death:

The conversation over dinner was wide-ranging, and at one point, after the usual papal kidding about my having written "a very big book," John Paul asked about the international reception of Witness to Hope, his biography, which I had published five years earlier. He was particularly happy when I told him that a Chinese edition was in the works, as he knew he would never get to that vast land himself. As that part of the conversation was winding down, I looked across the table and, referring to the fact that Witness to Hope had only taken the John Paul II story up to early 1999, I made the Pope a promise: "Holy Father," I said, "if you don't bury me, I want you to know that I'll finish your story."

It was the last time we saw each other, this side of the Kingdom of God.
The End and the Beginning covers the last six years of John Paul II's life, including:
Karol Wojtyla's epic battle with communism through the prism of previously classified and top-secret communist files
the Great Jubilee of 2000 and his historic pilgrimage to the Holy Land
September 11th, and the Pope's efforts to frustrate Osama bin Laden's insistence that his war with the West was a religious crusade
the Long Lent of 2002, when the Church in America grappled with the twin crises of clerical sexual abuse and episcopal misgovernance;
John Paul's ongoing efforts to build bridges of dialogue and reconciliation with the Churches of the Christian East
his struggle with illness, "which brought him into at least one 'dark night' spiritually; and his heroic last months, in which his priestly death became, metaphorically, his last encyclical"
(Given that Weigel was personally engaged in the Catholic just war debate over the war in Iraq, it will be interesting to see the extent to which he covers this aspect of John Paul II's pontificate).
Related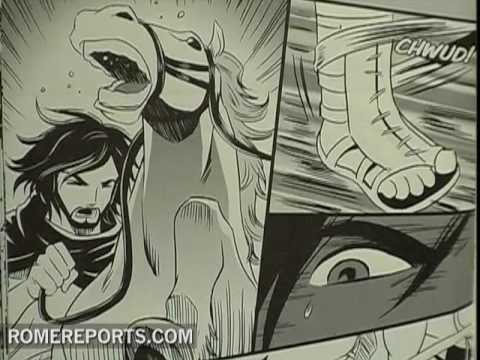 Rome Reports has a spiffy video report on a Japanese form of comic book entertainment called manga that is utilized to teach the story of Saint Paul:
The manga comic book, a Japanese style, illustrates the story of Saint Paul's conversion to Christianity.

The book is full of vivid images of Paul's journey from his violence towards Christians to ultimately his with them.

It is recommended for ages 12 and up.  With Japanese-influenced art and simple, descriptive quotes, readers can learn about Paul in this easy to read comic book.  The creators are releasing a second volume on Saint Paul this summer.
For a prior posting on this comic book genre by Rome Reports click here.
SCOTUS nominee Elena Kagan has argued before the Supreme Court that it's fine if the Law bans books.
Her rationale?
Because the government won't really enforce it.
I'm no legal scholar but this sounds like a 3rd grade argument.
Aren't our nominees suppose to have better reasoning skills and a solid grasp of the U.S. Constitution?  As well as a fundamental understanding  of such concepts like Freedom of Speech?
While browsing Jennifer Fulwilers fine blog, Conversion Diary, I came across this trailer for the book The Crucified Rabbi by Taylor Marshall:
(Biretta Tip: Jennifer Fulwiler of Conversion Diary)
Evelyn Waugh's Brideshead Revisited
is one of my favorite novels, and unquestionably my favorite Catholic novel. (Spoiler warning for those who haven't read it — this post has to do with events which take place at the very end.) Not only does Brideshead give powerful and beautiful expression to Catholic themes, but having read it in my late teens, not long before leaving home, it represents one of those crystallizing experiences for me through which Catholicism became not merely something I was brought up in, but something deeply my own and at the root of my understanding of the world.
And yet, there's a key element of the plot which clashes with the modern experience of joining the Church — as I was reminded tonight when attending the opening RCIA meeting as a member of this year's team. Near the very end of the novel, Julia (a cradle, though intermittently lapsed, Catholic) tells the man she has been living with for several years (they're in the process of divorcing their estranged spouses so they can marry): Continue reading →