Blessed Virgin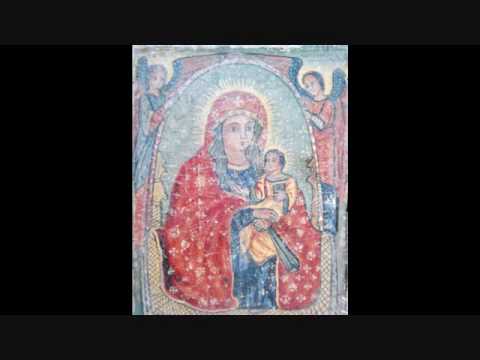 The twentieth in my ongoing series examining the poetry of Rudyard Kipling. The other posts in the series may be read here, here , here , here, here , here, here, here, here, here, here, here , here, here, here , here, here, here and here.  Kipling was something of a mystery when it came to religion.  He once jokingly referred to himself as a Christian Atheist.  However, religion not infrequently came up in Kipling's poetry and prose.  For a Protestant he seemed to have a fondness for the Virgin Mary.  In his poem A Hymn Before Action we see this devotion in this stanza:
Ah, Mary pierced with sorrow,
Remember, reach and save
The soul that comes to-morrow
Before the God that gave!
Since each was born of woman,
For each at utter need –
True comrade and true foeman –
Madonna, intercede!
We also see this devotion in a poem Kipling wrote in the year before his death, Our Lady of the Sackcloth.  It is based on one of the stories in a 15th Century Ethiopian book, One Hundred and Ten Miracles of Our Lady Mary that had been translated into English in 1933.  At age 68 and his health declining I suspect Kipling saw himself in the role of the elderly priest who could only recall the daily prayer to the Virgin.  Note the reference to the Eucharist:  When the Bread and the Body are one.   Kipling's poem reminds us that we are all beneficiaries of the love of the Mother of God, even though we are unaware of it: Continue reading →
1. The most bountiful God, who is almighty, the plan of whose providence rests upon wisdom and love, tempers, in the secret purpose of his own mind, the sorrows of peoples and of individual men by means of joys that he interposes in their lives from time to time, in such a way that, under different conditions and in different ways, all things may work together unto good for those who love him.[1]
2. Now, just like the present age, our pontificate is weighed down by ever so many cares, anxieties, and troubles, by reason of very severe calamities that have taken place and by reason of the fact that many have strayed away from truth and virtue. Nevertheless, we are greatly consoled to see that, while the Catholic faith is being professed publicly and vigorously, piety toward the Virgin Mother of God is flourishing and daily growing more fervent, and that almost everywhere on earth it is showing indications of a better and holier life. Thus, while the Blessed Virgin is fulfilling in the most affectionate manner her maternal duties on behalf of those redeemed by the blood of Christ, the minds and the hearts of her children are being vigorously aroused to a more assiduous consideration of her prerogatives.