Blessed Virgin Mary
I must admit a certain reticence to writing this article because I don't think in one article I can truly do the Schoenstatt Movement justice, but the movement's nearly 100 year old story and that of its founder Father Josef Kentenich really needs to be told. In 1914 a young German priest Father Kentenich started a movement that was so unique it took nearly 50 years before many would understand the groundbreaking effects it could have on the Church. This future saint would not only survive the suspicions of some on the theological left and right, but he would also survive Dachau. He died in 1968, the same year as another misunderstood priest, Saint Padre Pio.
When writing my just released book, The Catholic Tide Continues to Turn,  even I was stunned about the new movements that keep cropping up within the Church, even as so many have written off the Church. Indeed this is the History of the Church, when one thinks she is coming under attack by the dark side, she only grows stronger in faith due to her burgeoning movements.
However, Father Kentenich left behind an amazing outlook which every believer should emulate and a perseverance that few could imagine. In a modern world full of individuals making millions of dollars on self help, pep talks and new age "spiritual guidance," Father Kentenich reminded everyone that Jesus is our true Spiritual Guide and His Blessed Mother the model for us all to follow. Continue reading →
It is appropriate that on the first day of the year we honor the woman who brought the Alpha-Omega to us.  It has ever been the glory of the Catholic Church that we venerate the Mother of God.  From His Cross, Christ told the the Apostle John to look at Mary and behold his Mother, an indication that he was entrusting all of mankind into the maternal care of His mother.  Throughout the ages Mary has ever been vigilant to continue to make visits to her children, visits that we celebrate at Tepeyac, Lourdes and Fatima, to name only a few of hundreds.  God recognizes how precious to us are our Earthly mothers, and he deigns to share His mother with us.  We see in God's love for Mary a glorious reflection of the love He has for each of us. Continue reading →
The Qur'an (Quran, Kuran, Koran, Coran or al-Qur'?n), the religious text ostensibly revealed to Muhammad by "Allah" through the angel "Jibril", is considered by Muslims to be the "final revelation" of 'Allah". In it, we find fables about various persons who are also mentioned in the Torah and in the Christian New Testament. Among them is "Isa", who Muslims claim is Jesus.
Though Christians believe Jesus to be the Son of God and the Second Person of the Holy Trinity, Muslims consider "Isa" to be merely a prophet, in much the same manner that Jews and Christians consider Elijah to be a prophet. Muhammad also is considered a prophet; the last one sent by God and, therefore, because he ostensibly brought the "final revelation", he is deemed by Muslims to be the most special prophet of all. As a "prophet", "Isa" holds a special place in the mind of Muslims. Among the more zealous Muslims, we may find a willingness to strongly defend the name of "Isa", who they will sometimes refer to as "Jesus". For this reason, it is sometimes perceived that Muslims hold "Jesus" in higher honor than even Christians do. Since zeal for error should never be mistaken for holiness, it's important that we understand more precisely what it is that Muslims believe about "Isa" ("Jesus").
As a convert who was raised in a protestant home, I completely understand what it's like to know "about" Jesus without really "knowing Jesus". Today, Ash Wednesday, 2011, is the twentieth anniversary of my recognizing the Real Jesus in the Eucharist. Because of my own life experience, I understand that ignorance can be remedied through the grace of God and through our willingness to spread the truth about the Real Jesus provided that those who do not really know Jesus are willing to accept that their current view of Him is not altogether the truth. For this reason, it is important that we understand what Muslims believe, on some level, and be willing to engage them in dialogue and also to pray for their understanding of the Real Jesus.
Muhammad's view of Jesus is fundamentally flawed, both in the Qur'an and in the "Hadith" which offers context for the Qur'an much like the writings of the Early Church Fathers offer context for the Christian Scriptures.
In the Qur'an, we can hear certain 'echoes' of stories from the Christian Scriptural account of Jesus. As an example, I will offer two passages from the Christian Scriptures about Jesus and a passage from the Qur'an about Muhammad's "Jesus" character. Continue reading →
Stacy McCain writes about an incest case that is all over the conservative political blogosphere: Palin-Hating Columbia Professor, Huffington Post Blogger, Busted for Incest
This quote from an article at Salon on the matter caught my attention.
Most courts are concerned about parents preying on their children, [University of Akron law professor J. Dean Carro] said. "Regardless of the age of the child, there's still a theory that a parent is always a parent, a child is always a child and, as a result, there truly can't be a consensual sexual act."
One might just as well say that a man is always a man and a woman is always a woman….right?
When two adults have an incestuous relationship, "consent" isn't the issue. Natural Law is the issue here.
From the Catholic Encyclopedia entry on Natural Law:
[T]he natural law is the rule of conduct which is prescribed to us by the Creator in the constitution of the nature with which He has endowed us.
In other words, God has put into all human beings a nature that is actually the reason for this quote from Stacy McCain in his article:
All together now: Eeeeewww! Yuck!
Yes, all of us together can say "Eeeeewww! Yuck!" because God has instilled in us a natural revulsion to such things. Deep down, we all know that incest is wrong, even if the two engaged in it are consenting adults. So, you see, 'consent' isn't what makes something 'moral'.
'Natural Law' is the basis for the claim that we have "inherent rights". Any claim of validity for incest (or gay marriage, or other things contradictory to Natural Law) is a claim that Natural Law is invalid, hence it is a claim that the whole idea of "inherent rights" is invalid. (Watch Birth of Freedom for a better understanding of where the idea of "human rights" actually came from.)
Despite the fact that incest and homosexuality naturally cause most of us to say, "Eeeeewww", there are a few holdouts who insist on engaging in behavior that is morally abhorrent. Some people do immoral things 'because' they are immoral. Also, Satan does exist and he does tempt us to do immoral things. He lies and tells us they are 'okay' or even that they are 'good'. It has ever been so.
Though we are all full of holes, God will fill the holes with Himself if we will allow Him to. We are all connected to the past, to the future, to God, and to each other. Natural Law is a part of that connection…but the full truth is far bigger and far more beautiful than anyone (even myself) can imagine. I've decided to learn all I can about it and to grow into a better understanding of these Truths on my journey. I hope everyone will at least take a moment to consider "the big picture"…and not merely what makes us say "Eeeeewww". It's a lot deeper (and more important) than you might think.
Here's an example of what I'm talking about.
Many have heard the term, The Family That Prays Together Stays Together. Yet, how many are familiar with the life of Father Patrick Peyton, his rosary rallies which drew millions, and Family Theater which he started in Hollywood in 1947 and is still going strong today?  How many are aware that Father Patrick Peyton drew over 1,000,000 people to several rosary rallies in the 1950s. He even drew over 550,000 to a 1961 San Francisco Rosary Rally, six years before the city became a focal point for the 1960s counter culture revolution and subsequent 1967 Summer of Love. As you can see, when we turn our back to faith, we find ourselves going down a very slippery slope. Yet, Father Patrick Peyton was a true visionary. He saw the slippery morals in tinsel town long before the 1960s and knew he needed to do something to counterbalance what was going on. He knew of Hollywood's bad influence and moral collapse long before most realized it, and yet he truly believed that Family Theater would one day bring faith back to Hollywood and all who are influenced by her.
Who was this Renaissance man, a man of wealth and privilege, a man of many letters? Hardly, Father Patrick Peyton CSC came to the US during his teen years, penniless, uneducated and according to the world's precepts harboring little potential. However, before he left the docks of Ireland his mother told him in no uncertain terms that with the Blessed Mother's aid, he could do great things. After doing manual work for the Holy Cross Fathers he was allowed to enter the seminary at Notre Dame. Yet, shortly before he was to be ordained, he received a dire medical prognosis and it appeared that not only was his ordination in question, but his life itself was in peril. He did the only thing he could, pray unceasingly. His prayers were answered and he thanked the Blessed Mother along with St Joseph, both of which he had a strong devotion. He along with his brother was ordained in 1941. Continue reading →
Marian apparitions have always been a sign of God's love. It truly is one of His greatest graces, which physically shows us the Blessed Mother along with her love, words of encouragement and warnings about the world in which we live. Sometimes the Church Militant heeds her call, but sadly often it doesn't. This article will only cover a handful of Church approved apparitions (this can be a little tricky, more on this later,) but what it will show is that often the Blessed Mother appears in lands that have experienced great suffering with often more suffering to follow. Her message to bring the world closer to her Son and live according to Jesus' teachings is one of God's greatest graces, something that is often met with violent, evil attacks. The miraculous events surrounding her appearances often take place in the presense of great vistas; a window of sorts into God's loving handiwork. The said could be said about Jesus at The Transfiguration and the Sermon on the Mount.
Something to keep in mind before we begin; during the early days of the Church investigative bodies were the last thing the Church was worried about at a time when the Church was trying to literally stay alive during an array of persecutions. Following the Protestant Reformation, a more detailed structure emerged for investigating appartions. They often took a long time to investigate in order to prevent any hoaxes. Most reported modern day apparitions are not approved. In the 20th Century only 8 of the 300+ reported apparitions were approved. This link from the University of Dayton, a Marianist institution, which houses the largest collection of Marian Apparitions, might be a helpful.
The year was 1300. Though parts of Spain remained under Islamic control, a liberated area, near the Guadalupe River would reveal an amazing find. A cow herder named Gil Cordero would be told by the Blessed Mother to dig, and there he would find holy treasure. Though laughed at by his fellow villagers, his faithful dig yielded a secret burial vault that would house many relics including that of a lifelike carving of the Blessed Mother. It was said to be carved by St Luke and transported to Spain in the sixth century by Bishop Leander, a relative of Pope Gregory the Great.
The vault had been placed there as Islamic armies were making their way to Spain.  The lifelike carving, which still exists today, was said to have been processed through the streets of Rome around the year 590 AD, at the direction of Pope Gregory the Great. He had been given the famous carving while he was Papal Legate in Constantinople.
The famous pontiff had ordered this procession during a terrible plague and famine that had engulfed the city, some one hundred and fifty years after the Roman Empire had collapsed.  As the procession ended, the assembled crowd saw the Archangel St Michael sheathing his sword, signifying that the famine and plague were over. (One can still see the statue of the Archangel St Michael atop the Castel Sant Angelo which commemorates this momentous event.)  The carved statue of the Blessed Mother was then sent to Spain where it remains today, seemingly unscathed after spending years underground during the Muslim conquest.
Years later a young Italian navigator named Christopher Columbus would come to pray at this now famous shrine. He was at the end of his financial rope in seeking backing for a "new way to India." Soon after his prayer, he was granted an audience with King Ferdinand and Queen Isabella and the rest is history. Few know about this religious side of Columbus. Even fewer know that when he first caught sight of what would be known as the Americas, he had minutes before ordered his crew to pray the Rosary. In gratitude, he named one of the islands he discovered for the site at which his prayers were answered back in Spain, the isle now known as Guadeloupe. Continue reading →
Karen L. Anderson of Online Christian Colleges wrote a timely piece on the many myths, misconceptions, and outlandish lies told about Catholics:
With nearly one quarter of the U.S. population Catholic, they make up a huge part of society and the largest Christian denomination. Yet with so many, how is it they are so misunderstood and characterized by films, television shows, etc.?
Failing to do the proper research explains a great deal of it. With a simple search on the internet, we were able to find many interesting answers to the top 15 misconceptions about Catholics. They are both from official sources, reporters, academics, and more.
1. Priests Are More Likely to be Pedophiles : The most dangerous of all myths concerning Catholics, this can lead to many negative and unfair consequences. Recently in a book entitled Pedophiles and Priests, an extensive study – and the only one of it kind – took a look at the pedophile statistics of over 2,200 priests. It found that only 0.3% of all Catholic clergy are involved in any pedophilia matter, guilty or not. This number is actually very low and according to Counter Pedophilia Investigative Unit, who reports that children are more likely to be victims of pedophile activity at school with nearly 14% of students estimated to be molested by a member of the school staff.
2. Everything in "The Da Vinci Code" is True : Even author Dan Brown himself doesn't agree to this. In this free film from Hulu, Mr. Brown admits to writing his novel as a step in his own spiritual journey. As he confesses to being swayed by his extensive research, the experts behind the research weigh in with facts. Simon Cox is the author of "Cracking the Da Vinci Code" and tells more about his work in this documentary. If you don't have 90 minutes to view it, you can get the real story behind Opus Dei, the villain organization in the novel, from ABC news.
3. Women Are Oppressed in the Catholic Church : Although women are still not eligible to become priests as explained by Pope John Paul II, they were still acknowledged as valued members of the church as far back as 1947. In a Papal Directive from then Pope Pius XII, he expressed his admiration of women "to take part in the battle: you have not sought to do so, but courageously you accept your new duties; not as resigned victims nor merely in a defensive spirit." Also, in 2004 then Pope John Paul II historically appointed two women theologians to the International Theological Commission and named another as the president of the Pontifical Academy of Social Sciences.
Today, March 19, 2010, is the Solemnity of Saint Joseph, husband of the Blessed Virgin Mary; it is also a Friday during the season of Lent. According to Canon Law 1251, the obligation to abstain from meat is lifted, therefore it is permissible to eat meat today or voluntarily observe Lenten abstinence on Fridays.
Have a blessed Feast of Saint Joseph!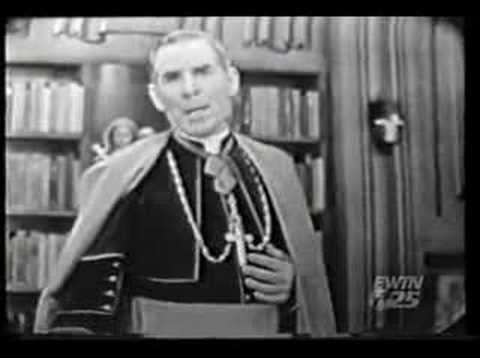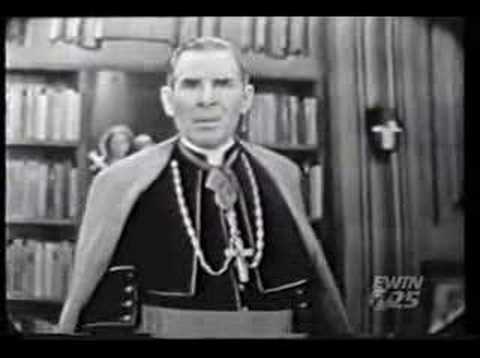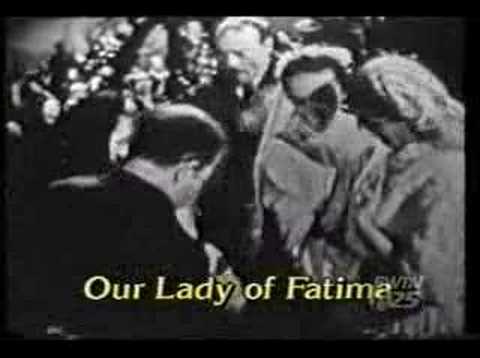 The things that you find on the internet!  Bishop Sheen gives a brilliant exposition of the miracle of Fatima.
Bishop Sheen believed that our Lady of Fatima would lead to the conversion of Islam.  Here are his thoughts on that subject:
Moslemism is the only great post-Christian religion of the world. Because it had its origin in the seventh century under Mohammed, it was possible to unite within it some elements of Christianity and of Judaism.
Moslemism takes the doctrine of the unity of God, His Majesty, and His Creative Power, and uses it as a basis for the repudiation of Christ, the Son of God.
Misunderstanding the notion of the Trinity, Mohammed made Christ a prophet only.
The Catholic Church throughout Northern Africa was virtually destroyed by Moslem power and at the present time (circa 1950), the Moslems are beginning to rise again.
The twenty-fifth day of December.
In the five thousand one hundred and ninety-ninth year of the creation of the world from the time when God in the beginning created the heavens and the earth;
the two thousand nine hundred and fifty-seventh year after the flood;
the two thousand and fifteenth year from the birth of Abraham;
the one thousand five hundred and tenth year from Moses
and the going forth of the people of Israel from Egypt;
the one thousand and thirty-second year from David's being anointed king;
in the sixty-fifth week according to the prophecy of Daniel;
in the one hundred and ninety-fourth Olympiad;
the seven hundred and fifty-second year from the foundation of the city of Rome;
the forty second year of the reign of Octavian Augustus;
the whole world being at peace,
in the sixth age of the world,
Jesus Christ the eternal God and Son of the eternal Father,
desiring to sanctify the world by his most merciful coming,
being conceived by the Holy Spirit, and nine months having passed since his conception, was born in Bethlehem of Judea of the Virgin Mary, being made flesh.
Some swine in Auckland, New Zealand have decided to grab some cheap publicity by blaspheming the Mother of God at Christmas time.  If you want your blood to boil you may see a story about the blasphemy here.  Other than urging actions that a lawyer should not, I think the proper response to this is to repeat this prayer:
Act of Reparation to the Blessed Virgin Mary
O blessed Virgin, Mother of God, look down in mercy from heaven, where thou art enthroned as Queen, upon me, a miserable sinner, thine unworthy servant. Although I know full well my own unworthiness, yet in order to atone for the offenses that are done to thee by impious and blasphemous tongues, from the depths of my heart I praise and extol thee as the purest, the fairest, the holiest creature of all God's handiwork. I bless thy holy name, I praise thine exalted privilege of being truly Mother of God, ever virgin, conceived without stain of sin, co-redemptrix of the human race. I bless the Eternal Father who chose thee in an especial way for His daughter; I bless the Word Incarnate who took upon Himself our nature in thy bosom and so made thee His Mother; I bless the Holy Spirit who took thee as His bride. All honor, praise and thanksgiving to the ever-blessed Trinity, who predestined thee and loved thee so exceedingly from all eternity as to exalt thee above all creatures to the most sublime heights. O Virgin, holy and merciful, obtain for all who offend thee the grace of repentance, and graciously accept this poor act of homage from me thy servant, obtaining likewise for me from thy divine Son the pardon and remission of all my sins. Amen.

Hat tip to Amy Welborn
Pope Benedict XVI on Tuesday took advantage of a traditional homage paid to Our Lady by residents of Rome on the Feast of the Immaculate Conception to deliver this timely reflection on urban life.
Some of you may remember the TV series "Naked City", which closed with the famous line "There are eight million stories in the Naked City. This… has been one of them."  Then as now, of course, the media focused mainly on the stories of corruption, violence, and depravity; however, Pope Benedict reminds us that there are many, many other stories of grace which go untold and unnoticed.
I find this address particularly pertinent in light of the fact that many cities have come to be identified so closely with their most notorious residents or elements (e.g. gambling and prostitution in Las Vegas; decadent entertainment and lifestyles in L.A./Hollywood; political corruption in Chicago; financial greed on Wall Street/NYC) that it's easy to forget the good that many of their residents do quietly and faithfully every day.
Here is his address in its entirety:
Dear brothers and sisters!

In the heart of Christian cities, Mary constitutes a sweet and reassuring presence. In her self-effacing style, she gives everyone peace and hope during the happy and sad moments of life. In churches, chapels or the walls of buildings, a painting, mosaic or a statue stand as a remainder of the Mother's presence, constantly watching over her children. Here too in Piazza di Spagna, Mary stands high, on guard over Rome.

What does Mary tell the city? What does her presence remind us? It reminds us that "where sin increased, grace overflowed all the more (Rom., 5:20), as the Apostle Paul wrote. She is the Immaculate Mother who tells people of our time: Do not be afraid, Jesus defeated evil, uprooted it, freeing us from his rule.

When do we need such good deeds? Every day, in the newspapers, television and radio, evil is told to us, said again, amplified, so that we get used to the most horrible things, and become desensitised. In a certain way, it poisons us, because the negative is never fully cleansed out of our system but accumulates day after day. The heart hardens and thoughts become gloomy. For this reason, the city needs Mary, whose presence speaks of God, reminds us of Grace's victory over sin and makes us hope even in the humanly most difficult situations.

Those who invisible live or rather survive in the city. They make it to the front page of newspapers or the top of TV newscast—they are exploited until the end, for as long as the news and the images are newsworthy. Few can resist such a perverse mechanism. The city first, hides then exposes them to public scrutiny, without pity or with false pity. Everyone would like to be accepted as a person and considered as something sacred, because each human story is a sacred story that deserves the utmost of respect.

Dear brothers and sisters, we are the city! Each one of us contributes with our lives to its moral climate for better or worse. The border between good and evil runs across everyone's heart and none of us should feel entitled to judge others. Instead, each one of us must feel duty-bound to improve ourselves. Mass media make us feel like "spectators" as if evil only touched others and that certain things could not happen to us. Instead, we are all "actors" for better or worse, and our behaviour influences others.

We often complain about air pollution, that in some parts of the city the air is unbreathable. That is true. Everyone must do his or her part to make the city a cleaner place. However, there is another kind of pollution, which the senses cannot easily perceive, but which is equally dangerous. It is the pollution of the spirit, which makes us smile less, makes us gloomier, less likely to greet one another or look into each other face . . .

The city has many faces, but sadly, collective factors lead us to forget what is behind them. All we see is the surface. People become bodies, and these bodies lose their soul, become faceless objects that can be exchanged and consumed.

Mary Immaculate helps us rediscover and defend what is inside people, because in her there is perfect transparency of soul and body. She is purity in person in the sense that the spirit, soul and body are fully coherent in her and with God's will. Our Lady teaches us to open up to God's action and to look at others as he does, starting with the heart, to look upon them with mercy, love, infinite tenderness, especially those who are lonely, scorned or exploited. "[W]here sins increased, grace overflows all the more."

I want to pay tribute publicly to all those who in silence, in deeds not in words, strive to practice the Evangelical law of love which drivers the world forward. There are so many of them even here in Rome. They do not make the headlines. They are men and women of all ages, who realise that it is not worth condemning, complaining or recriminating; that it is better to respond to evil doing good; to changes things; or better, to changes people, hence improve society.

Dear Roman friends and all of you who live in this city! Whilst we are busy in everyday tasks, let us listen to Mary's voice. Let us hear her silent but pressing appeal. She tells each one of us that wherever sin increases, may grace overflow all the more, first in our hearts, and then in our lives! Thus, the city shall be more beautiful, more Christian and more humane.
Thank you, Holy Mother, for this message of hope. Thank you for your silent but eloquent presence in the heart of our city. Immaculate Virgin, Salus Populi Romani, pray for us!