Bishop Fulton Sheen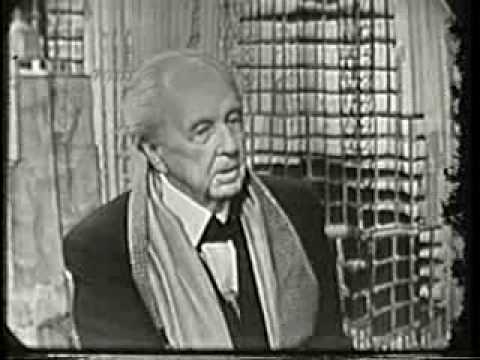 Oh the gems that can be found on Youtube!  From 1957, two legends discussing a third.  Frank Lloyd Wright, one of the greatest American architects of the 19th and 20th centuries, and Carl Sandburg, poet and Lincoln biographer, talking about Thomas Jefferson!
Carl Sandburg, in his multivolume biography of Lincoln, got closer to the heart of the man than many professionally trained historians, telling the tale of a man's life requiring the touch of a poet as well as a chronicling of facts.  Frank Lloyd Wright developed a style of architecture that causes his buildings to be treasured.  In my town of Dwight, the building of the First National Bank of Dwight was designed by Wright, and is a little gem of his style.  Go here to read all about it. 
It is interesting to hear two men who are now legendary themselves, discussing a third legendary American.  In the world beyond one can hope that Jefferson has since taken part in the conversation! Continue reading →
In my first article The Coming Open Rebellion Against God, I spoke of a time where God would reveal his omnipotence and some would simply leave their faith behind.  Why? Because just as in John 6, some would say it simply doesn't make sense and walk away. Some have prayed that if only God would show His omnipotence; many would fall on their knees and believe. I truly believe the time is coming when some of our intelligentsia, including clergy will see the hand of God and say; "No thanks, this doesn't mesh with my worldview."
Father Dwight Longenecker recently wrote a review of the movie The Rite Starring Sir Anthony Hopkins, a movie somewhat inspired by a real life Italian exorcist. The movie was given praise by many Catholic writers including Father Longenecker for actually showing the Church in a positive light. Perhaps this was due to the film's producers using a California based exorcist Father Gary Thomas who actually was present at the filming of the movie. In a key passage Father Longenecker pondered the fact that far too many in this modern rationalistic world see the idea of the devil and demonic possession as beyond them, even though if they truly followed their rationalistic approach, they would come to see that there simply was no medical or scientific explanation for some cases. Sadly, for too many the sin of pride all too often is their downfall.
Recently Father Gary Thomas was interviewed by Leticia Velazquez of Catholic Exchange; some of his remarks about the way in which the teachings of the Church with regard to evil were defiantly rebuked by some within the Church including bishops were more than a little disconcerting. This movie review of The Rite by Father Raymond Schroth SJ associate Editor of America Magazine is one such example. As you can see, the devil is so passé to Father Schroth SJ. It hardly jibes with the high mindedness of those to which he and his urbane friends associate. Check out the comments section in the article, some of the comments left are as elitist and depressing as his treatise on who God is and who He should be.
George Weigel has noted the sad state of some quasi dissident bishops that Pope John Paul II and now Pope Benedict XVI have had to confront. They came from a mindset that preferred the adulation of the dissident intelligentsia of the Ivy League rather than the working class Catholic roots from which many came.
With regard to Jesus and the devil, Jesus spent a good deal of his time fighting the devil and his minions, but alas those who don't believe in such things seem to indicate that Jesus and the Gospel writers got it wrong, Jesus was not fighting demonic powers but those who were dealing with bouts of depression and epilepsy. According to these liberal dissident elites, Jesus was the precursor to Dr Phil and Deepak Chopra helping those poor seemingly possessed people get their groove back and find their Zen destiny. Never mind what the Church teaches on the subject or the fact that both Pope John Paul II and Pope Benedict XVI have specifically spoken of evil and the needs for more exorcists in the Church, these elites know better. Talk about hutzpah, Pope John Paul II and Pope Benedict XVI have been labeled as intellectually brilliant, even by their detractors, but no matter to those who don't believe in such archaic things as the devil. Perhaps we should ask those in the Church, especially in the Church Hierarchy, if you don't believe what Jesus said about the devil and the manifestation of evil, what else don't you believe? Continue reading →