Bigotry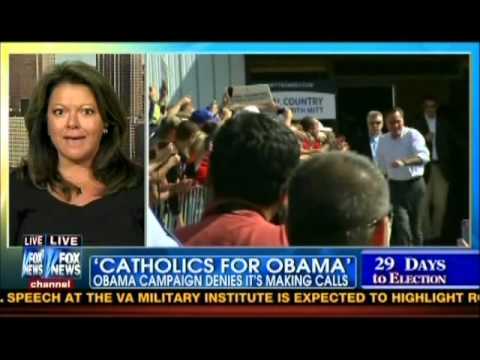 The Obama campaign is very worried about Catholic voters.  They have two strategies:  lie about Obama's record and bash Mitt Romney for being a Mormon.
Deal Hudson reports at Lifesite News the type of calls that are being targeted to Catholics by the Obama campaign:
Just a week ago, I reported a call from an Obama supporter received by a Catholic in Pennsylvania. The caller, identifying herself as Catholic, insisted Obama was not pro-abortion and Planned Parenthood did not encourage abortions.
Joy Allen, co-chair of the pro-life committee of her parish, Saints John and Paul in Franklin Park, PA, received another call yesterday.  The first Obama caller had asked for her daughter; the second asked for her son — both are registered Republicans. The call came from 215-796-4259 at 2:00 p.m. on Sunday.
After telling the caller her son was not at home, the caller said she was from the Obama campaign and wanted to know how he would be voting.
Joy reported to me:
"Well, I could not believe that I had received another call from the Obama campaign looking for another of my college aged children in less than a week. I informed the caller that my son was a practicing Catholic and would not be supporting a pro-abortion, pro-gay marriage candidate who did not respect the Catholic faith in his HHS mandate that would force all Catholics to pay for birth control, sterilization, and the abortion pill."
At that point, the Obama supporter started reading from the same script that Joy had heard from the first call.
"Well, I am a practicing Catholic, and I have no problem supporting Obama. How can you support a Mormon who does not believe in Jesus Christ…." Continue reading →
In Florida, a judge has ordered the use of 'Ecclesiastical Islamic Law' to decide a case among litigants in a suit involving an internal dispute at a mosque. Why are some so accepting of the idea that the melding of "Mosque and State" in American jurisprudence is acceptable?  I submit that, at least in some cases, political motivations stand in the way of intelligent, reasoned debate on issues related to Islam. Leftist disdain for the Right and the leftist political doctrine of multiculturalism cripple their ability to reasonably debate these issues.
Those critical of Islam and the terror which is born from it are frequently accused of trying to pigeon-hole all Muslims into one category of believers who are seeking Islam's domination. In this accusation, the reality that some actually do seek to do just that is brushed under the rug. Though I would agree that not all Muslims desire that political Islam should become a part of America's legal system, it is clear that the desire for Islam to dominate in America does exist among some Muslims. There is perhaps no more serious example of this than in attempts to make Islamic Law hold precedence over American Law.
Many on the Left will leap to the defense of Islam at every turn. It is true even in this case, even though the leaders of the mosque themselves argue that Florida law should hold precedence. Why would the Left press for Islam when the mosque itself argues the contrary?
Since the fall of the Soviet Union, the Left has introduced new doctrines that are Marxist in nature, but that have a non-Soviet flavor which may make them more palpable to Americans. One such doctrine — "multiculturalism" — has replaced "melting pot" thinking all too frequently in America. Multiculturalism is one avenue through which Sharia courts in America could gain more acceptance whereas this could not happen wherever the traditional "melting pot" thinking is applied.
In our traditional "melting pot" society, immigrants "blend in". They accept the basic values of the American system into which they have moved while retaining those elements of their culture which do not trample over the most basic American values. For instance, in Chinatown, Americans can experience the flavor of Chinese culture, but still be fully American and retain all the freedoms guaranteed under the Constitution. There is no need to be concerned that on a visit to Chinatown, you might automatically become a citizen of China or be otherwise subject to Chinese law. You'd be  hard pressed to find an American on the Right or the Left who does not accept Chinatown as a highly welcome part of American society. Chinatown is a textbook example of America's "melting pot" values system.
Multiculturalism is the polar opposite of the "melting pot." "Multiculturalism," a "major ideological successor" of Soviet-style Marxism, rejects the idea that immigrants should "blend in" to the American system of values.
Values like universal human rights, individualism and liberalism are regarded merely as ethnocentric products of Western history. The scientific knowledge that the West has produced is simply one of many "ways of knowing." In place of Western universalism, this critique of the West offers the relativism of multiculturalism, a concept that regards the West not as the pinnacle of human achievement to date, but as simply one of many equally valid cultural systems.
I can see the Left's embrace of the ideological doctrine of multiculturalism — as opposed to a "melting pot" — reflected in the exposition of Sharia Law as a system of law that is equally valid to other systems of law. An example of this is a recent report at Salon by Justin Elliott. Though Elliott has taken great pains to claim that Tea Party protests against radical Islamists are "anti-Muslim hate," he admits to having little idea about what Sharia Law is.
Indeed, anti-Muslim political operatives have been warning of "creeping sharia" and "Islamist lawfare" for years, though the anti-sharia efforts have gained new prominence in recent months.

But even basic facts about sharia — what is it? how is it used in American courts? — are hard to come by. So I decided to talk to Abed Awad, a New Jersey-based attorney and an expert on sharia who regularly handles cases that involve Islamic law. He is also a member of the adjunct faculties at Rutgers Law School and Pace Law School. He recently answered my questions via e-mail.
Here we have a writer at Salon who is operating from a presumption that the protests against Sharia are "anti-Muslim" efforts by "political operatives." He claims these protests are based in bigotry, instead of what they really are — legitimate concerns about support for terror and anti-Semitism at the Islamic Circle of NorthAmerica.
Operating from a foundation of disdain for the Right, he hangs on to the presumption that the protests are not legitimate opinions expressed by citizens but, instead, are a campaign run by "political operatives". It is from that foundation of flawed belief that he builds. Further, in realizing that he is completely ignorant of Sharia, he seeks to build his arguments against those who would seek to discredit Islam by doing research made up entirely of an email exchange with one Muslim attorney.
It is in this manner that the Left's knee-jerk disdain for the Right, the doctrine of multiculturalism and downright ignorance about Islam are so often found together in a formula that causes them to jump to the defense of Islam in every issue…even issues wherein they are taking the position opposite of a mosque that is opposed to Islamic supremacism in our courts.
We hear a lot about the "Far Right" in America's political discourse on Islam. Indeed, the Far Left and their ideological doctrines contrary to America's founding values are very much at play in these debates. Let us not forget that important point.
Last week I wrote here about the firing of Dr. Kenneth Howell who had the audacity, in a class about the Catholicism, to actually state Catholic doctrine about homosexuality.  There has been enough of a furor since that the University of Illinois is acting, according to this story in the Chicago Tribune:
A faculty group at the University of Illinois' flagship campus will review the decision to fire an adjunct religion professor for saying he agreed with Catholic doctrine on homosexuality.
Urbana- Champaign campus Chancellor Robert Easter said Monday he hopes to have a decision on the firing of Kenneth Howell from the Faculty Senate's Committee on Academic Freedom and Tenure by the time fall classes start. The review is to determine whether Howell's academic freedom was violated.
"We want to be able to reassure ourselves there was no infringement on academic freedom here," new university President Michael Hogan told members of the Faculty Senate on Monday. "This is a very, very important, not to mention a touchy and sensitive, issue. Did this cross the line somehow?" Continue reading →
I am an alum of the U of I.  I obtained my BA in 79 and my JD in 82.  My wife is also an alum of the U of I, obtaining her MA in Spanish in 82.  Our eldest son will be entering the U of I as a freshman in August.  I therefore found the news that  Professor Kenneth Howell, an adjunct Professor at the University of Illinois, has been fired for teaching in a course about Catholicism  basic Catholic doctrine on homosexuality quite alarming: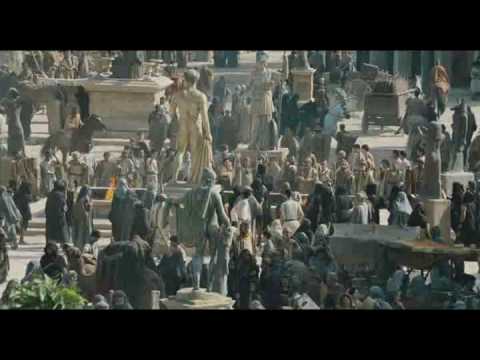 One of my favorite historians is Edward Gibbon.  I have made my way through his Decline and Fall of the Roman Empire several times.  I find his style entertaining, his wit dry, and his scholarship, for his time, adequate.  Unfortunately Gibbon was also an anti-Catholic bigot, in part a reaction to a brief conversion to the Faith as a teen-ager, which exposed him to considerable paternal displeasure.  His bigotry is on full display whenever he treats of the Church, but usually he does not distort the facts.  That was not the case in his account of the female philosopher Hypatia, and the fate she met in Egypt in 391 AD.  That account, usually in distorted form, is a staple of anti-Catholic and atheist websites.  Now Hypatia is the heroine of a Catholic bashing movie Agora. The English trailer of the movie is at the top of this post.  David Hart has a superb post at First Things correcting Gibbon and the movie.
The occasion of my misery is the release of Alejandro Amenábar's film Agora, which purports to be a historical account of the murder of the female philosopher Hypatia by a Christian mob in the early fifth century, of the destruction of the Great Library of Alexandria, and (more generally) of an alleged conflict that raged in the ancient world between Greek science and Christian faith. I have not actually seen the movie, and have no intention of doing so (I would say you couldn't pay me to watch it, but that's not, strictly speaking, true). All I know about it is what I have read in an article by Larry Rohter in the New York Times. But that is enough to put my teeth on edge.
Breaking News: The USA Today is reporting that Helen Thomas has retired following her anti-Semitic comments from last week (Biretta tip to TAC reader Phillip)
The Hearst Corporation, which owns Hearst Newspapers, continues to stand behind their 'news reporter' the anti-Semite Helen Thomas despite video evidence of her anti-Semitic remarks.
In her anti-Semitic remarks she called on Jews in the Middle-East to 'get the hell out of Palestine' and go back home to 'Germany' and 'Poland'.  Apparently forgetting that they have been inhabiting the Holy Land for several thousands of years.
The Hearst Corporation, Helen Thomas' employer, continues to stand behind her, but are saying her comments do not represent the values of the Hearst Corporation.
Helen Thomas, the Deaness of the Washington Press Corps, delivered the above charming sentiments at a Jewish Heritage Celebration at the White House on May 27.  Thomas has been a left wing loon forever, and has always been hostile to Israel, but here she let the mask slip to reveal the bigot within.  She later made a perfunctory apology for saying what she obviously believes with all her heart.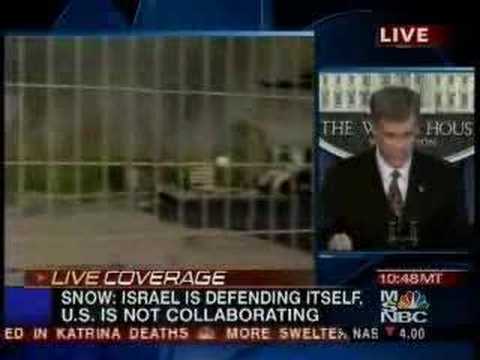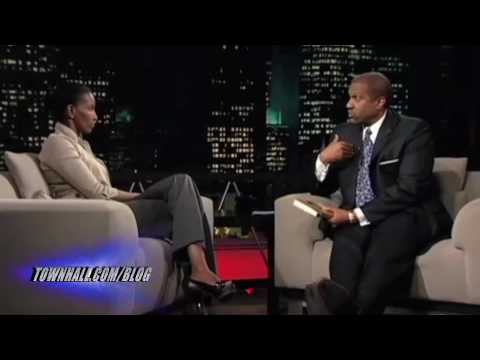 Tavis Smiley claims that terrorist activities by Christians happens quite often in the United States.  Not only does he make the claim that Christians do terrorism, but there are more terrorist acts done by Christians than by Muslims.
Mr. Smiley expressed these thoughts on a program hosted by Ayaan Hirsi Ali on the Public Broadcasting System (PBS).
Here are his exact words:
"Oh, Christians, every day, people walk into post offices, they walk into schools, that's what Columbine is – I could do this all day long. There are so many more examples of Christians – and I happen to be a Christian. That's back to this notion of your idealizing Christianity in my mind, to my read. There are so many more examples, Ayaan, of Christians who do that than you could ever give me examples of Muslims who have done that inside this country, where you live and work."
Incredible.
[Updates at the bottom of this post as of 4-25-2010 AD at 8:28pm Central time]
An internal U.K. government memo titled "Policy planning ahead of the Pope's visit" have caused an uproar in Britain and which included the following suggestions:
The launching of Papal-branded condoms.
Blessing homosexual marriages.
Opening an abortion ward.
There is more, but you get the picture.
The memo was distributed to key officials in Downing Street and Whitehall.  Many recipients were not so pleased which eventually led to an investigation and finally to a public apology by the U.K. Foreign Office:
"The text was not cleared or shown to Ministers or senior officials before circulation. As soon as senior officials became aware of the document, it was withdrawn from circulation."

"The individual responsible has been transferred to other duties. He has been told orally and in writing that this was a serious error of judgement and has accepted this view."

"The Foreign Office very much regrets this incident and is deeply sorry for the offence which it has caused."
Pure and unadulterated evil.
Attorney Jeffrey Anderson of Saint Paul, Minnesota, has had success in winning millions of dollars[1] from homosexual pedophile abuse cases against the American Catholic Church over the years.
He has stated many times that he will not be satisfied until he sues the Vatican in federal court with Pope Benedict in tow [2].
"We're chasing them. We're taking bites out of their a@#," said the lawyer. "All the roads lead to Rome. What we're doing is getting us closer every single day."
He may have been driven in the past in pursuit of justice for many victims of homosexual pedophiles, but what was a mission to bring justice is apparently now driven by diabolical forces to take down the Catholic Church Herself at all costs and with prejudice.
Nicholas D. Kristof wrote another New York Times editorial condemning the Church. It's not worth reading; it's the same stuff about the Vatican is not the Church, but the real Church are the ones helping the needy (i.e. the ones doing what Kristof likes-except for obviously Mother Teresa b/c she didn't like contraception) and the Church needs to expand its ideas on women and contraception in order to avoid the sex abuse crisis. For example
That story comes to mind as the Vatican wrestles with the consequences of a patriarchal premodern mind-set: scandal, cover-up and the clumsiest self-defense since Watergate. That's what happens with old boys' clubs
That's not interesting. We've heard it before. What is interesting is his blog. He himself comments on the article.
One question that I'm still puzzling over is this: how much difference would it make if the Vatican did admit women as deacons, or ordain them? It's certainly true that women can be abusers as well as men. The painful report of the Irish Commission of Inquiry last year made that clear, with accounts of nuns brutally mistreating children and in some cases raping them. Likewise, ordination of women is no guarantee of popular support: mainline Christian denominations have been ordaining women, and still losing ground to more conservative Evangelical denominations.
Karen L. Anderson of Online Christian Colleges wrote a timely piece on the many myths, misconceptions, and outlandish lies told about Catholics:
With nearly one quarter of the U.S. population Catholic, they make up a huge part of society and the largest Christian denomination. Yet with so many, how is it they are so misunderstood and characterized by films, television shows, etc.?
Failing to do the proper research explains a great deal of it. With a simple search on the internet, we were able to find many interesting answers to the top 15 misconceptions about Catholics. They are both from official sources, reporters, academics, and more.
1. Priests Are More Likely to be Pedophiles : The most dangerous of all myths concerning Catholics, this can lead to many negative and unfair consequences. Recently in a book entitled Pedophiles and Priests, an extensive study – and the only one of it kind – took a look at the pedophile statistics of over 2,200 priests. It found that only 0.3% of all Catholic clergy are involved in any pedophilia matter, guilty or not. This number is actually very low and according to Counter Pedophilia Investigative Unit, who reports that children are more likely to be victims of pedophile activity at school with nearly 14% of students estimated to be molested by a member of the school staff.
2. Everything in "The Da Vinci Code" is True : Even author Dan Brown himself doesn't agree to this. In this free film from Hulu, Mr. Brown admits to writing his novel as a step in his own spiritual journey. As he confesses to being swayed by his extensive research, the experts behind the research weigh in with facts. Simon Cox is the author of "Cracking the Da Vinci Code" and tells more about his work in this documentary. If you don't have 90 minutes to view it, you can get the real story behind Opus Dei, the villain organization in the novel, from ABC news.
3. Women Are Oppressed in the Catholic Church : Although women are still not eligible to become priests as explained by Pope John Paul II, they were still acknowledged as valued members of the church as far back as 1947. In a Papal Directive from then Pope Pius XII, he expressed his admiration of women "to take part in the battle: you have not sought to do so, but courageously you accept your new duties; not as resigned victims nor merely in a defensive spirit." Also, in 2004 then Pope John Paul II historically appointed two women theologians to the International Theological Commission and named another as the president of the Pontifical Academy of Social Sciences.