Big Government
As this story indicates here, the Post Office, in spite of a rate increase, is in deep financial trouble.  Unwilling to adapt to a changing market, the wranglers of snail mail no doubt will be the recipient of a massive bailout in the next few months to "save the local post office".  Something to keep in mind before the government is put in charge of our health care.
Ah, it does my heart good to see Senator Arlen Specter (D.Pa) and Kathleen Sebelius, Secretary of Health and Human Services exposed to the verbal anger of the public!  Now why is that?
Well as to Snarlin' Arlen, he was for decades a pro-abort Republican and now is a pro-abort Democrat.  My reaction when he jumped parties earlier this year was good riddance.  He jumped parties of course because he was an almost certain loser to pro-life Pat Toomey in the Republican primary.  The hilarious thing is that Specter will face a Democrat primary challenge from Congressman Joe Sestak who announced his candidacy yesterday.  If he survives the primary challenge he faces an up-hill fight against Toomey.  In a Quinnipiac poll on July 22, Specter leads Toomey by a single percentage point 45%-44%.  This is a devastating poll for an incumbent facing a well-known challenger.
As for Sebelius, she is a fanatic pro-abort, as I detailed here, and a close political ally of the late Tiller the Killer.  Just before her confirmation it came out that she had received three times the donations from Tiller than she had claimed.    Of course this is only the tip of a large ice berg of campaign funds that Tiller used to aid Sebelius as this letter here from Tiller indicates.  Her ties to Tiller were outlined by Bob Novak last year here. When confronted about Tiller she was always in full " Tiller?" mode: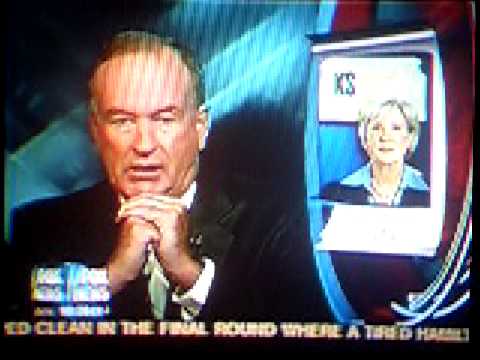 Yep, I can watch these two being booed with a fine enjoyment!  Schadenfreude?  Indeed!
By this stage in the health care debates, most people are aware that roughly 47 million individuals in America do not have health insurance. And many people are further aware that the 47 million statistic is misleading, because roughly 14 million of these individuals are already eligible for (but have not enrolled in) existing government programs, 9 million have incomes over $75,000 and choose not to purchase private insurance, 3-5 million are only temporarily uninsured between jobs, and roughly 10 million do not have the legal right to reside in the country. In the end, this means roughly 10 million U.S. citizens lack meaningful access to health insurance.  It has been noted elsewhere that insuring these individuals would cost a lot less than the $1 trillion proposal currently under consideration in Congress, and further that it would not require a dramatic (and costly) restructuring of the U.S. health care system.
Hattip to Ed Morrissey at Hot Air. John Stossel is an anomaly:  he is a libertarian in a profession, journalism, dominated by liberal democrats.  Here is a column he wrote which summarizes the video, which spent quite a bit of time discussing the shortcomings of Canadian health care.
The experience of Canada under national health care is intriguing.  A battle is raging over the net with opponents of ObamaCare pointing out its shortcomings and proponents rallying to the defense of  the Canadian system.  One often overlooked feature is the role of private medical clinics in Canada.   Recently such clinics have been made legal based upon a Canadian Supreme Court decision and are becoming increasingly popular.  A good article on the subject is here.  Here is another article on the clinics.
I found this quote from the last article linked to curious.
"It's obviously extra billing and queue jumping," says David Eggen, executive director of Friends of Medicare. "If this goes on unregulated, it'll spread like wildfire and we can see it, even in a recession, starting to expand here in Alberta."
Now why would these clinics spread like wildfire if the Canadians are as enamored of their national health care system as the proponents of ObamaCare say they are?  Here is a story from 2006 on the subject which appeared in that notorious right-wing rag The New York Times.   As we debate changing our health care system to something approaching that of the Canadian system, we should also understand that there is a debate in Canada about broadening the availability of private pay health care.
Hattip to Instapundit. Democrat Congress beings are reporting here that they are encountering angry constituents at their townhall meetings.  Now why would their constituents be so angry?
Oh yeah.
There is a political storm brewing in this country of immense proportions.  If some members of Congress aren't aware of it yet, they will be after they return from the August recess.
Barring some political miracle, National Health Care is dead. Many  current polls indicate that a majority of the public is now against it.  There is no chance of having a vote in either chamber of Congress before the August recess.  Considering the high popularity numbers that Obama had coming into office, and the wide majorities that the Democrats enjoy in Congress this is astounding.  What caused this debacle?  A few thoughts. Continue reading →
There's been much discussion of late about what other country's health care apparatus the US should consider emulating, and in such discussions France is often mentioned. Now, all cheerful ribbing against the French aside, their health care system is not nearly as "socialized" or nearly as afflicted by treatment denials and waiting lists as those of the UK or Canada. It is also rather more like the system that the US already has, in that it is a hybrid public/private system, though in their case there is a guaranteed base level of coverage everyone has through the government (funded via a hefty payroll tax — not unlike Medicare) which most people supplement with private coverage. Most doctors are in private practice, and 25% do not even accept the public plan, just as some practices in the US do not accept Medicare. However, everyone does have that minimum level of coverage, and the French spend a lower percentage of their GDP on health care than the US (11% versus 16%) which when you take into account that France's GDP per capita is a good deal smaller than that of the US (which is the polite, economist way of saying it's a poorer country) works out to the US spending about twice as many dollars per person on health care, while still not having universal coverage.
So what are we waiting for? Why don't we go enact the French system here right now? Why doesn't Obama put on a jaunty beret, dangle a cigarette coolly from the corner of his mouth, hoist a glass of wine, and just say, "Oui, nous pouvons."
Continue reading →
American Political Theory and Constitutional Law Series, Pt. I
The American people have a history of distrust and suspicion of centralized authority. The original framework for the primitive independent-America outlined in the Articles of Confederation was not weak by accident. Even despite the clear insufficiency of the-then government under the Articles, the framers of the Constitution still found their vision of government to be a hard sell. It is fair to say their success was in finding an effective mix between the Athenian assembly and Roman Senate combined with 'checks and balance' with two other branches of government—a republic instead of a direct democracy.
In many ways, this debate has lived on. It is remarkable, particularly in recent decades, how many constitutional amendments have been given real and serious consideration by the U.S. Congress, from balanced budgets, to flag desecration, to super-majorities for taxes,  to line-item veto just begin the list in attempts to reshape the constitutional order.
For some time I have had mixed and often conflicting beliefs about this whole debate. The usual "left" versus "right" spin is, as usual, tiring. Though, I have re-engaged the matter due largely to a new found interest in the project development of Catholic legal theory. Such an undertaking on the part of Catholic law professors and legal professionals have been enormously helpful in the process of asking serious questions and finding an authentic Catholic answer to crucial questions about American government, constitutional law, and jurisprudence. This couldn't be more true than with my quarrels with the "living Constitution theory" as well as "originalism." Though it is probably still the case, to some degree, that I am troubled about answers to these questions. I have become more convinced by those who make the case (in regard to one matter) that America needs a much needed reminder: constitutional amendments should be rare and limited to issues of historic significance. The U.S. Constitution must be preserved from short-term and sudden passions. The starting point, I think, is to reiterate, as the Founding Fathers did, the merits of representation, deliberation, and conciliation.
American voters in great number say they favor change, but there is no consensus or clarity about neither the amount nor direction such change should take. Not so surprisingly, contemporary political debates do very little to educate the public about essential constitutional issues. Serious discussion is not only past due, but is vital. What is a greater threat to constitutional government than a lack of substantive public debate and public awareness? An uninformed, ignorant public is perilous to the common good and constitutional order.