Big Government
This is a clip of Ronald Reagan warning us of socialized medicine, the very same bill that President Obama and the Democratic Party are trying to ram through congress.
Reagan warns us of how people such as six-time presidential Socialist Party candidate Norman Thomas, and many others, explained how to move their agenda of achieving a socialist state by a Foot-in-the-Door policy of socialized medicine.  Which is eerily similar to what President Obama and the Democrats are doing, against the will of the people with their European socialized health care bill.
This is not about the current political climate or the Obama Administration and its endeavors. I'm not arguing for or against the Obama Administration or its policies because that is not the point of interest. Let me repeat: the point is not who is promoting good or bad policies (Democrats or Republicans), the effects of those policies, or any thing of the sort.
On the contrary, the interest here is fundamentally a point of history. In George Orwell's 1984, the "Ministry of Truth" rewrote history to match whatever "the Party" declared, no matter its objective truth. In a recent article, Peter Beinart notes that a number of conservatives refuse to be outdone by Orwell's fictional group and this is manifest in the party's historical revisionism of the presidency of Ronald Reagan.
In the third installment of my proposal for a libertarian-distributist alliance, I explore why libertarians ought to be open to distributist ideas. An excerpt:
Chief among the reasons to support a greater distribution of property is the simple truth that the maximum sphere of individual liberty is not to be found in an individualist utopia, but a strong localism that provides individuals in a moral and efficient way that which they would otherwise turn to a powerful state or crime syndicate to provide.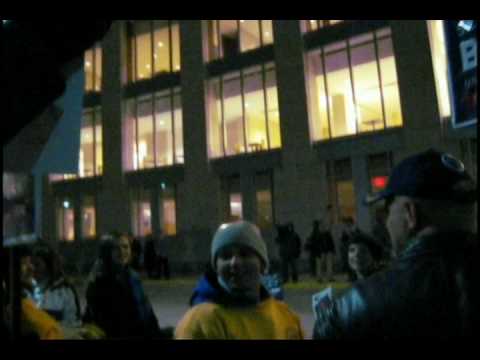 A Republican may be elected to serve out Ted Kennedy's unexpired term?  It could happen! Public Policy Polling, a Democrat leaning polling outfit shows the election a toss up between the Democrat Coakley and the Republican Brown.  Scott Rasmussen, the best political pollster in the business in my opinion, shows Coakley up by two.  Last week he showed her up by nine.  On Monday Brown raised over a million dollars in one day in internet donations.
If Brown wins the Senate race in the Peoples' Republic of Massachusetts, it will send a political shock wave across this country the like of which hasn't been seen in many a year.  If Ted Kennedy's senate seat isn't safe, what seat is safe for the Democrats?  Oh, I don't believe that I should call it Ted Kennedy's seat per Mr. Brown.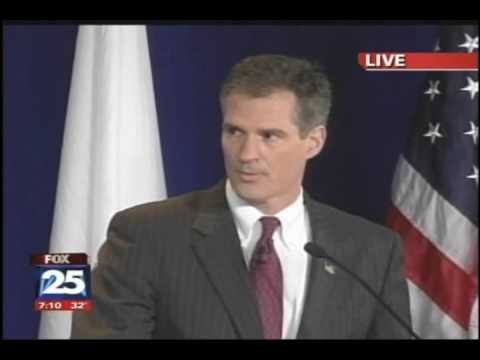 When Cardinal George requested that pro-life Republicans vote for the Stupak amendment to the health care bill, he was shaming conservative American legislators that they need to stand up for what they claim in public.  Cardinal George discounted reasonable Republican objections  that this was just a ploy by Nancy Pelosi to get pro-life Democrats on board knowing full well that all pro-life language would be stripped in the joint chambers conference committee.
Was Cardinal George this naive to fall for this parliamentary trick?  Can we assume he isn't this naive?
No, Cardinal George is not this naive because why would the Vatican choose him to lead a diocese?  The Vatican certainly takes its time to make wise and knowledgeable decisions don't they?  The Holy Spirit guides them in their work, granted that this is done primarily through the teachings of the Church.  Though we can be reasonable enough knowing that the Vatican wouldn't choose someone who is incompetent to be a shepherd to his flock.
Hattip to Ed Morrissey at Hot Air.  As someone who received an undergraduate degree in the teaching of social studies, I am never very surprised when a school administration decides to engage in an act of public stupidity, however, this incident is in a class all by itself.
A second grade student at the Maxham Elementary School in Taunton, People's Republic of Massachusetts, was sent home from school after drawing a picture of Jesus on the cross.  The student made the drawing in response to a class assignment that the students draw something that reminded them of Christmas.  Apparently the student's dullard teacher decided that the drawing of the cross was too violent.  The school administration, in a move which hearkens back to the old Soviet Union placing dissidents in psych wards, decreed that not only would the child be sent home, but that he would have to undergo a psych evaluation.
Under the surface, and largely unbeknownst to the mainstream media, the tide has been turning to Catholicism for some time. The pontificates of Pope John Paul II and Pope Benedict XVI along with events such as an increase in orthodox minded seminarians, young priests and young women religious, a return to devotions and a reform of the reform of liturgy have shown us that indeed the tide is turning. However, for some time now western culture has been moving in the opposite direction, where any, whim or opinion that holds that orthodox minded religious thought is antiquated and even harmful is held in high regard. How could this jibe with the turning tide within the Church? Who would win? Didn't Jesus promise that the gates of hell would not prevail against His Church after He gave Peter the keys (and the 265 subsequent popes) to lead it? The answer is the same answer that has always been, the Church eventually always wins and it will this time as well.
Following the Election of 2008 when liberalism was on the ascendancy, many in the mainstream media joyfully proclaimed a new era, where one could read between the lines and see that traditional views of society, family and religion were on their way out and big government was in. However, a funny thing happened on the way to the revolution, many Americans refused to go to the Bastille with pitchfork in hand. Americans view of revolution was almost always in line with George Washington's view of limited government and not Maximilien Robespierre's view of war against society, family and religion. Perhaps the Election of 2008 was a pox on both their big spending houses that was wrongly construed as a vote for Big Government.
I have been on the sidelines in the huge health care debate, I find so many good and bad effects in all the proposals I have seen up to now. The first thing to note is that I am swamped by health care bills- one-third of my gross income goes straight to United Health, and then add in co-pays, and some recent Mayo Clinic extra's, and you get the idea- "Help!".  I can see how many good people with fulltime jobs and HMO health insurance coverage, are still at risk of bankruptcy if they or their kids get struck down with anything approaching serious or chronic medically.
The problem is compounded by the very real situation of how almost all of us are in some or a lot of danger when it comes to being laid-off from that full-time work- and many Catholics like myself- have wives that are home by choice to better nurture our kids. Ugh! Lose your job, lose your insurance or pay for COBRA which you can't afford because you don't have a job- Double Ugh!
[Updates at the bottom of this posting.  Most recent update at 6:54 pm CST 8-10-09]
Nancy Pelosi, the liberal Democratic Representative from San Francisco, wrote early this morning in a special USA Today
editorial that those protesting against government run health care are "un-American".
It is clear to Representative Pelosi and her cohorts that the majority of Americans do not want further government intrusion into their lives, hence Mrs. Pelosi's attempts at demonizing ordinary Americans.
Drowning out opposing views is simply un-American.
She is referring to the many town hall meetings where Americans were voicing their displeasure to government run health care.  Deliberately smearing Americans for voicing their opinions.
Sadly, the mainstream media is doing their part in painting these town halls as darkly as possible, regardless of the evidence that SEIU goons, Blueshirts, have already attacked health care protesters.
Let's wait until the 2010 congressional elections and see their opinions voiced in turning back European style socialism by voting these malefactors out of office.
Update I: House GOP Leader John Boehner (Ohio) ripped his Democratic counterparts Monday for labeling those disrupting lawmaker town halls as "un-American."  Read the rest of this here.
Update II: The guy that beat up Mr. Gladney:
Elston K. McCowan is a former organizer – now the Public Service Director of SEIU Local 2000 – and board member of the Walbridge Community Education Center, and is a Baptist minister, has been a community organizer for more than 23 years, and now, he is running for Mayor of the City of St. Louis under the Green Party.
McCowan accused the Mayor of setting fire to his van . . . because that's what big city mayors do in their spare time, I guess.  He also called [St Louis Mayor Francis] Slay a racist.  And, on election night, McCowan thanked the family who voted for him.  It was quite touching, actually.
McCowan is not a rank-and-file, card-carrying union guy.  He is a director with SEIU. He IS the union.  He ISSUES the cards. Andy Stern himself might as well have kicked Gladney.
Read the rest here.

Lots of videos of townhalls here where members of Congress face outraged constituents.
Liberals can relax however.  The AFL-CIO is going to send out union members to restore order at the townhalls.  I look forward to the footage when a union leg breaker decides to take a swing at someone who is not enamored of ObamaCare.  In the age of cell phone videos nothing will escape being placed on video.   Conservative union members, your dues money at work.   My late father was a member of Allied Industrial Workers for 30 years, and it used to anger him intensely that his dues were used to support political causes he adamantly opposed.  If you don't like this and you are a member of a union, you might want to attend a townhall meeting!  Although maybe they won't let you in.  At the Russ Carnahan town meeting in Saint Louis over a thousand protesters were locked out and only Carnahan supporters were allowed in. Similar tactics were used at a townhall in Tampa.  That will solve the problem!  Lock people out who disagree with the person purporting to represent them in Congress!
The Left  is completely misreading this situation.  This isn't a matter of just Republicans and Conservatives.  There is a prairie fire of anger burning in this country, and it is not going to be stopped by biased media, attempts at intimidation, White House calls for informants or locking citizens out of townhall meetings.
Update: An  update here from Gateway Pundit on the violence at the Carnahan town meeting.
[Updates at the bottom of this story]
While the Democrats continue to dig holes big enough for their smarter-than-thou heads to plant in and ignore the rising public outrage of government intrusion, regular Americans continue to raise their voices of displeasure to President Obama's health care "reform".
On August 4, 2009, an A.A.R.P. Town Hall meeting was being conducted for members when a group of well-dressed Nazi's carrying swastika banners sabotaged the meeting.
That's the Nancy Pelosi/CNN version of events, here is what actually happened: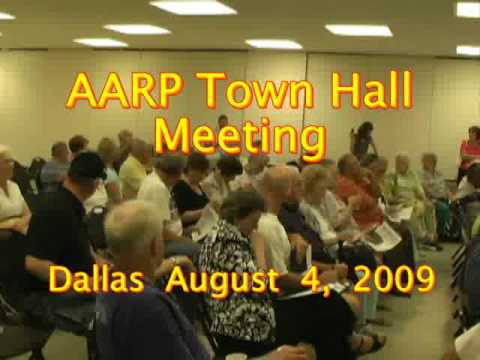 Here are some highlights from the above video:
1.  Spokesperson: "I think we can agree that health care is in need of reform…".
AARP Attendee's: "No, we don't agree!"
I must say, although I have never been a fan of the Lying Worthless Political Hack, I was surprised at this latest example of the depths of her political ineptitude and detachment from reality.  As to her comment about "astroturfing" ( creating a fake, rather than a real, grassroots movement), David Axlerod, the campaign manager of Obama, built a large fortune by mastering the techniques of astroturfing as this article here relates.  Alas for the Lying Worthless Political Hack, as the polls amply indicate, the opposition to ObamaCare is real and growing.
Update: The indispensable Iowahawk has the White House Under Minister for Truth, former ABC and CBS reporter Linda Douglass, explaining here all about those evil townhall mob agitators!