Beloved National Clown
Rumors have been afloat lately that Obama is set to dump Biden.  Judging from the frenzied, one might say hysterical, tone of Biden in the speech earlier this week featured in the video clip above, one might well believe that Biden is looking at the political hook coming toward him.  This might explain why Biden forced Obama's hand on gay marriage by coming out in favor of it before Obama did.  Rule one of being Veep is never upstaging the POTUS.  Presumably Biden believes that if he is beloved of the base of the Democrat party, Obama will not dump him.  Alas, strategizing, indeed thinking of any sort, has never been Biden's strong suit.

Unfortunately Biden matters not one whit to the Democrat base, and by acting out he merely convinces Obama that perhaps it is time that Joe meet the acquaintance of the many individuals and groups that Obama has thrown under the bus in his political career.
This is all so unfair.  Joe Biden, as beloved national clown, has been one of the few success stories of this administration.  Imagine how much grimmer the past four years would have been without the comic stylings of Jollie Joe.  Poltical pratfalls and endless gaffes, a tireless willingness to play the complete buffoon, nothing has been beneath Biden in his endless task to lighten the mood of the nation.  I therefore announce the formation of the Biden Forever Superpac.  We will do everything in our power to keep Joe on the ticket.  Save Joe!  I pray that we prevail, but if we fail, we will always have YouTube to remember Joe by! Continue reading →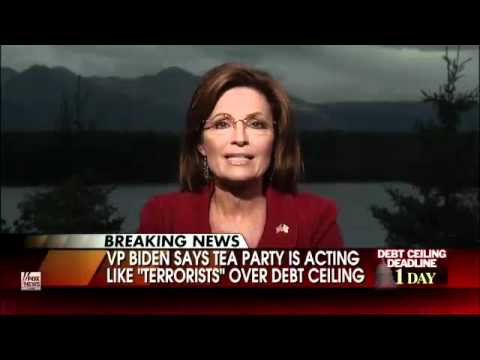 In these dark days of the credit downgrade of the nation, an economy falling back into recession, a crashing stock market, etc, one man shines out as a beacon of hope:  Veep and Beloved National Clown Joe Biden.  As the Three Stooges lightened the American mood during the Great Depression with their comic pratfalls and buffoonish antics, so Biden lightens the national mood by constantly, and deliberately I am sure, saying the stupidest things imaginable.
When Congresswoman Gabrielle Gifford recently returned to Congress after being shot in the head, Biden welcomed her as a fellow  member of the "cracked head club".  As the nation was still howling at that, he dauntlessly followed up with the gutbuster that the members of the Tea Party were "acting like terrorists".
Note the master at work.  Joe of course realizes that calling people who organized peacefully, won the Congressional elections in 2010, and whose representatives in Congress are seeking to enact legislation embodying the beliefs they campaigned on as terrorists, is absurd.  He therefore willingly makes himself absurd and a national joke in order to give us all something to laugh about in these dark days.  What a true patriot!
However, in the event that I am wrong and that Joe really meant that tea party members are acting like terrorists, below are depicted the intellectual godfathers of this dangerous movement, and perhaps Homeland Security needs to put them under surveillance pronto: Continue reading →