Archbishop Charles Chaput
A friend forwarded me this excellent article written by Archbishop Charles Caput. It's a detailed post outlining our responsibilities as Catholic citizens.
The Archbishop begins with an anecdote that hits a little close to home.
A priest I know does a lot of spiritual direction.  Two of the men he was helping died suddenly this past year, one of a heart attack and one of a stroke.  In both cases they were relatively young men and quite successful.  In both cases they watched Fox News.  And in both cases they had gotten into the nightly habit of shouting at President Obama whenever he came on the TV.  In both cases, the wives believed – and they still believe – that politics killed their husbands.

Now that's a true story.  And it's a good place to begin our time together today.  Henri de Lubac, the great Jesuit theologian, once said that if heretics no longer horrify us, it's not because we have more charity in our hearts. (i) We just find it a lot more satisfying to despise our political opponents.  We've transferred our passion to politics.
I don't yell at the television – well, not every night. I do spend more time than I should on the internet. Now there are some excellent sites – like this one, of course – but the cumulative effect of reading so much about politics can be bad for both the soul and the heart. And there are times when my obsession with politics truly dispirits me.
At the same time, there is the opposite temptation to completely shut oneself off from politics. There have been times over the past few months where I have felt like completely tuning out. Despair is a terrible sin, and when it comes to politics it is easy to despair when it seems like so many things are going wrong that you can't even keep track anymore. Yet this would be just as irresponsible as shutting out all things  except politics. Archbishop Chaput explains why we can't exactly separate the political and religious aspects of our lives.
What all this means for our public life is this:  Catholics can live quite peacefully with the separation of Church and state, so long as the arrangement translates into real religious freedom.  But we can never accept a separation of our religious faith and moral convictions from our public ministries or our political engagement.  It's impossible.  And even trying is evil because it forces us to live two different lives, worshiping God at home and in our churches; and worshiping the latest version of Caesar everywhere else.  That turns our private convictions into lies we tell ourselves and each other.
Later on he adds:
Third, despite these concerns, Christians still have a duty to take part in public life according to their God-given abilities, even when their faith brings them into conflict with public authority.  We can't simply ignore or withdraw from civic affairs.  The reason is simple.  The classic civic virtues named by Cicero – prudence, justice, fortitude and temperance – can be renewed and elevated, to the benefit of all citizens, by the Christian virtues of faith, hope and charity.  Therefore, political engagement is a worthy Christian task, and public office is an honorable Christian vocation.
Read the rest of the Archbishop's excellent article. It's refreshing to read a cleric who can discuss these issues so unambiguously and without concern that he might be offending someone somewhere.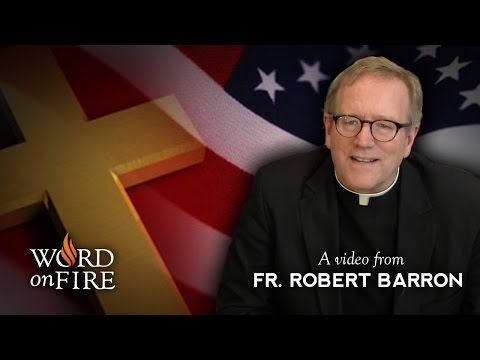 Beginning for two weeks, up to Independence Day, the Bishops had a Fortnight For Freedom:
On April 12, the Ad Hoc Committee on Religious Liberty of the U.S.  Conference of Catholic Bishops (USCCB) issued a document, "Our First,  Most Cherished Liberty," outlining the bishops' concerns over threats to religious freedom, both at home and abroad. The bishops called for a "Fortnight for Freedom," a 14-day period of prayer, education and action in support of religious freedom, from June 21-July 4.
Bishops in their own dioceses are encouraged to arrange special events to  highlight the importance of defending religious freedom. Catholic  institutions are encouraged to do the same, especially in cooperation  with other Christians, Jews, people of other faiths and all who wish to  defend our most cherished freedom.
The fourteen days from June  21—the vigil of the Feasts of St. John Fisher and St. Thomas More—to  July 4, Independence Day, are dedicated to this "fortnight for  freedom"—a great hymn of prayer for our country. Our liturgical calendar celebrates a series of great martyrs who remained faithful in the face  of persecution by political power—St. John Fisher and St. Thomas More,  St. John the Baptist, SS. Peter and Paul, and the First Martyrs of the  Church of Rome.  Culminating on Independence Day, this special period of prayer, study, catechesis, and public action would emphasize both our  Christian and American heritage of liberty. Dioceses and parishes around the country could choose a date in that period for special events that  would constitute a great national campaign of teaching and witness for  religious liberty.
At the closing mass for the Fortnight of Freedom on July 4, 2012 at the Basilica of the National Shrine of the Immaculate Conception, Archbishop Charles Chaput delivered this homily on freedom:
Philadelphia is the place where both the Declaration of Independence and the  United States Constitution were written. For more than two centuries, these  documents have inspired people around the globe. So as we begin our reflection  on today's readings, I have the privilege of greeting everyone here today — and  every person watching or listening from a distance — in the name of the Church  of my home, the Church of Philadelphia, the cradle of our country's liberty and  the city of our nation's founding. May God bless and guide all of us as we  settle our hearts on the word of God.
Paul Claudel, the French poet and diplomat of the last century, once  described the Christian as "a man who knows what he is doing and where he is  going in a world [that] no longer [knows] the difference between good and evil,  yes and no. He is like a god standing out in a crowd of invalids. … He alone has  liberty in a world of slaves."
Like most of the great writers of his time, Claudel was a mix of gold and  clay, flaws and genius. He had a deep and brilliant Catholic faith, and when he  wrote that a man "who no longer believes in God, no longer believes in  anything," he was simply reporting what he saw all around him. He spoke from a  lifetime that witnessed two world wars and the rise of atheist ideologies that  murdered tens of millions of innocent people using the vocabulary of science. He  knew exactly where forgetting God can lead.
We Americans live in a different country, on a different continent, in a  different century. And yet, in speaking of liberty, Claudel leads us to the  reason we come together in worship this afternoon. Continue reading →
Archbishop Charles  Chaput of the Philadelphia Archdiocese has written a column which appeared on May 29th whole-heartedly recommending that Catholics see For Greater Glory:
Earlier this week we celebrated Memorial Day. For most of us, the holiday informally marks the start of summer. Over the next three months families will take their vacations, the pace of life will slow a bit and people will have a little more precious time to relax and restore their spirits.
The purpose of recreation is to renew us in body and soul; to give us time to think; to reconnect us with family and the gift of being alive. For me, that usually means a week of fishing with friends, catching up on a pile of good books and enjoying a few good movies.
And since all good things are meant to be shared, I can already recommend — in fact, enthusiastically recommend — a film that no Catholic should miss this summer.
"For Greater Glory" opens in select theaters this Friday, June 1. Written, directed and acted with outstanding skill, it's the story of Mexico's Cristero War (also known as La Cristiada, 1926-29). Largely ignored until recently – even in Mexico – the war resulted from Mexico's atheist constitution of 1917, subsequent anti-religious legislation and fierce anti-clerical persecution by the government of President Plutarco Elias Calles, who came to power in 1924. Continue reading →
Archbishop Charles Chaput of the Philadelphia Archdiocese has never been one to mince words, and he does not disappoint in regard to the Mandate and the "compromise".
The U.S. Department of Health and Human Services refused on Jan. 20 to broaden the exception to its mandate that nearly all Catholic employers must cover contraception, abortifacients, and sterilization in their health-care plans.  
An "accommodation" offered Friday by the White House did not solve the problem. Instead, it triggered withering criticism from legal scholars such as Notre Dame's Carter Snead, Harvard's Mary Ann Glendon, Princeton's Robert George, and Catholic University of America president John Garvey, along with non-Catholic scholars including Yuval Levin, the religious liberty law firm the Becket Fund, and numerous Catholic and other organizations.  
Many Catholics are confused and angry. They should be.  
 Quite a few Catholics supported President Obama in the last election, so the ironies here are bitter. Many feel betrayed. They're baffled that the Obama administration would seek to coerce Catholic employers, private and corporate, to violate their religious convictions.  
But it's clear that such actions are developing into a pattern. Whether it was the administration's early shift toward the anemic language of "freedom of worship" instead of the more historically grounded and robust concept of "freedom of religion" in key diplomatic discussions; or its troubling effort to regulate religious ministers recently rejected 9-0 by the Supreme Court in the Hosanna Tabor case; or the revocation of the U.S. bishops' conference human-trafficking grant for refusing to refer rape victims to abortion clinics, it seems obvious that this administration is – to put it generously – tone deaf to people of faith.  
 Philadelphians may wish to reflect on the following facts: The Archdiocesan Secretariat for Catholic Human Services spends $278 million annually on services to the community. About 4,000 employees make up our secretariat's workforce. Catholic Social Services is the largest social-service agency in Pennsylvania and the largest residential care/social-service subcontractor with the Department of Human Services of the City of Philadelphia.  
There's more. Archdiocesan Catholic Health Care Services is the largest faith-based provider of long-term-care services to the poor and elderly in the five-county area, and the seventh-largest nationally. And our Nutritional Development Services ministry serves more than eight million meals a year to schoolchildren, summer programs, and child-care centers. It also provides 2 million pounds of nonperishable food to needy families and the elderly through its Community Food Program.  
Much of the money used by these ministries comes from public funding. But of course, the reason these ministries are trusted with public funding is that they do an excellent job. The service relationship works well without compromising the integrity of either the government or the Church. In fact, in a practical sense, government often benefits more than the Church. Continue reading →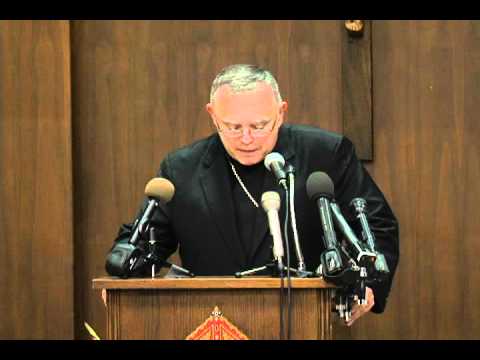 One of the most irritating aspects of life for faithful American Catholics over the past several decades has been how quiet most of our bishops have been in the face of outrageous attacks on the Church.  Too many of our bishops have acted as if they had their spines surgically removed upon consecration.  Fortunately there have always been a handful who have been willing to speak out and suffer the media attacks that then ensue, along with the ambushes of heterodox Catholics frequently eager to lend a hand to anti-Catholics in their ceaseless war against the Church.  One of the more outspoken bishops is Archbishop Charles J. Chaput, who has never been afraid to proclaim the truth, and to do so eloquently.  He is at it again over at First Things.
The proposed mosque set to be built near Ground Zero, site of the September 11, 2001 attacks has brought a sweeping condemnation from both rank and file conservatives and the Conservative Intelligentsia. Now that President Barack Obama has weighed in the matter, seemingly supporting the effort, one can only imagine how this will be used in the fall elections. However, a rift has appeared to have been opened concerning the views of the rank and file conservatives and the Conservative Intelligentsia following the ruling of Judge Vaughn Walker over same-sex marriage. Many of the conservative intelligentsia, along with the establishment wing of the Republican Party has either been silent or voiced the view that the wished the whole gay marriage issue would simply go away. This has led to bewilderment from some conservative voices.
The best Catholic tie in with the efforts to build a mosque on Ground Zero came from the famed conservative columnist Charles Krauthammer, who is Jewish. In his opposition to the mosque being built near Ground Zero, he correctly pointed out that Pope John Paul II ordered Carmelite nuns, who were living right next to Auschwitz, to move closer to a nearby town, since the site had become a rallying point for Jewish identity. Krauthammer correctly pointed out that Christians had been murdered there too and the nuns were doing the heroic deed of praying for the souls of those who were viciously murdered. However, Krauthammer pointed out that the late Polish pontiff felt that it created the wrong perception.
The Holy Father in his amazingly insightful and thorough work Truth and Tolerance outlines a way—though focusing primarily on religious matters—that Catholics may engage a pluralistic world in a spirit of peace and tolerance while adhering completely to the divine truths of the Catholic faith, to which Catholics are called to live in accordance with and call others to through evangelization.
The whole point of the work is to establish the principles by which Catholics should encounter and engage people of different faiths, worldviews, lifestyles, etc., in the modern situation with its emphasis on conscience, individual freedom, and self-determination that inevitably creates a diverse society. The obvious danger is relativism and therefore a lack of any real conviction and principle. The "balance" is a correct temperament and a prudential spirit to find the proper avenue to best evangelize the world.
A traditional Anglican priest-theologian observing the internal life of the American Catholic Church from the outside commented that American Catholicism is becoming increasingly just another form of Protestant Christianity. This suggestion gave me pause and in fact, for quite some time, this observation has remained in the forefront of my thoughts.
The Anglican clergyman in question observed that the America, as far as he could ascertain, really had no cultural identity. What does it mean to be an American? What exactly are "American values?" There probably are as many answers to this question as there are American people. "We the people…" have never been monolithic in our way of life.
The American political experiment and social ethos is by and large a Protestant experiment. There was never a point where Protestant Christianity had to establish itself against innumerable generations of Catholic intellectual, spiritual, and moral heritage as was the case in Europe. This is a characteristic that is very unique to America, both for good and for ill. Protestant Christians share with Roman Catholics a great deal, but certain Protestant tendencies, for the lack of a better term, such as an emphasis on freedom, individual conscience, self-determination (versus self-discovery), etc, which sets itself against, historically speaking, the authority of the Church with a sola scriptura mentality has imprinted a certain social individualist ethos on the American experiment. This, of course, inevitably affects Catholics living within the United States.
The United States Conference of Catholic Bishops, otherwise known as the USCCB, is once again involved in another scandal.  It doesn't matter anymore if this is a real scandal or perceived as a scandal, the pattern of perversion of integrity, ineptitude, combined with poor judgment is so apparent that even "Joe Catholic" comes to the same conclusion.  And that is that the USCCB is failing in its mission to evangelize as is called for by Lumen Gentium (21), and instead is involved in liberal pet projects that have nothing to do with their mission statement.
This time the USCCB has petitioned the Federal Communications Commission (FCC) to regulate free speech.  As a member of the liberal So We Might See coalition, a letter and petition has been sent by said coalition to FCC Chairman Julius Genachowski which the Catholic News Agency reported it as stating:
The letter and its related petition asked the FCC to open a "notice of inquiry into hate speech in the media" and to update a 1993 report on the role of telecommunications in hate crimes.
Archbishop Charles Chaput writing in First Things this month:
We need to rededicate ourselves to the work of Christian charity and the Catholic soul of our institutions. Charity is a duty for the whole believing community. But is also an obligation and privilege for every individual member of the Church, flowing from our personal encounter with the mercy of Jesus Christ. Government cannot love. It has no soul and no heart. The greatest danger of the modern secularist state is this: In the name of humanity, under the banner of serving human needs and easing human suffering, it ultimately, ironically – and too often tragically – lacks humanity. As Benedict foresees in his encyclical, Deus Caritas Est: Continue reading →
Salvete AC readers!
Buckle Up! Because here are today's Top Picks in Catholicism:
1. An interesting find of Biblical proportions has been announced.  Silver amulets predating the Dead Sea Scrolls by 400 years was found with Biblical inscriptions, the Book of Numbers 6:24-26:
24 The LORD bless you and keep you:
25 The LORD make his face to shine upon you, and be gracious to you:
26 The LORD lift up his countenance upon you, and give you peace.
Written in Hebrew script, the pure silver amulets were discovered in the ancient tomb complex of Jerusalem's Ketef Hinnom.  Archaeologist Gabriel Barkay wrote the discovery in the Biblical Archeology Review.
Here is Archbishop Chaput with a worthwhile reflection on how Catholics should think about the media. A few excerpts:
Most of what we know about the world comes from people we'll never meet and don't really understand.  We don't even think of them as individuals.  Instead we usually talk about them in the collective – as "the media" or "the press."  Yet behind every Los Angeles Times editorial or Fox News broadcast are human beings with personal opinions and prejudices.  These people select and frame the news.  And when we read their newspaper articles or tune in their TV shows, we engage them in a kind of intellectual intimacy in the same way you're listening to me right now….

…The media's power to shape public thought is why it's so vital for the rest of us to understand their human element.  When we don't recognize the personal chemistry of the men and women who bring us our news – their cultural and political views, their economic pressures, their social ambitions – then we fail the media by holding them to too low a standard.  We also – and much more importantly — fail ourselves by neglecting to think and act as intelligent citizens…