Anti-Catholic Bigotry
Cardinal Dolan yesterday released this statement regarding Obama's announcement that he had "evolved" and now, as he did in 1996 when first asked about it, supports gay marriage:
May 9, 2012 WASHINGTON—Cardinal Timothy Dolan, president of the U.S. Conference of Catholic Bishops (USCCB), issued the following statement:
President Obama's comments today in support of the redefinition of marriage are deeply saddening. As I stated in my public letter to the President on September 20, 2011, the Catholic Bishops stand ready to affirm every positive measure taken by the President and the Administration to strengthen marriage and the family. However, we cannot be silent in the face of words or actions that would undermine the institution of marriage, the very cornerstone of our society. The people of this country, especially our children, deserve better. Unfortunately, President Obama's words today are not surprising since they follow upon various actions already taken by his Administration that erode or ignore the unique meaning of marriage. I pray for the President every day, and will continue to pray that he and his Administration act justly to uphold and protect marriage as the union of one man and one woman. May we all work to promote and protect marriage and by so doing serve the true good of all persons.
When the Tokugawa shogunate was stamping out Christianity in Japan, it made use of Fumi-e (stepping on pictures).  Regime officials would place pictures of Jesus or Mary before suspected Christians and order them to step on them.  Refusal to do so, if persisted in, would end in execution.  In our own country we are seeing the growth of a movement just as antithetical in theory to Catholicism and traditional Christianity as the Tokugawa shogunate, and it finds its home in the Democrat party. 
What we have seen over the past few decades is the evolution of the Democrat party into an overtly anti-Catholic party.  The Obama administration is the culmination of this trend.  This of course is deeply ironic, because the Democrat party is a major party in this country with the help of the votes of tens of millions of purported Catholics.
In the past four decades the Democrats, with honorable exceptions, have championed abortion which is anathema to the teachings of the Church.  The embrace of homosexuality followed, which has caused governments around the nation to drive the Church out of adoptions because the Church refuses to arrange adoptions by homosexual couples.  In California, a state wholly controlled by the Democrat party, homosexual indoctrination, masquerading as education, is now mandated in public schools.  For cynical political purposes the Obama administration this year has proposed that Catholic institutions, and individual Catholic employers, be required to provide "free" contraceptive coverage, and is quite willing to run roughshod over the First Amendment to accomplish this goal.  Now we have the President's support of gay marriage, although, until he further "evolves" I guess, he "generously" stated his opinion that churches opposed to gay marriages should not be required to officiate at them.  These changes in society are the modern Fumi-e by which believing Catholics and traditional Christians are made to renounce, in effect, the teachings of Christ step by step. Continue reading →
Anti-Catholic bigot, homosexual activist and Episcopalian minister Harry Knox is back in the news.  Long time readers of this blog will recall that President Obama appointed Knox to his Advisory Council on Faith Based and Neighborhood Partnerships back in 2009.  Go here to read a post on that appointment.
Knox has recently become the head of  the Religious Coalition for Reproductive Choice.  He has a post on the Huffington Post explaining why religious people should support the slaying of children in the womb, a post which proves, once again the truth of Socrates' adage that an unexamined life is a tragedy.  Christopher Johnson, a non-Catholic  former Episcopalian, and a man who has taken up the cudgels so frequently in defense of the Church that I have designated him Defender of the Faith, gives one of the arguments of Mr. Knox a proper response:
A homosexual Episcopal minister named Harry Knox is set to become Führer und Reichskanzler of the national organization of Einsatzgruppen America the Religious Coalition for Reproductive Choice and while explaining why "religious" people should be celebrating abortion rather than mourning it, wrote one of the five or six stupidest statements I've read this year:
The harsh and condemning judgments of some religious leaders are troubling. They suggest that abortion is morally wrong, while ignoring the fact that miscarriages and unwanted pregnancies are common.  They deny that God is present in these times
Let's take that one out for a spin, shall we?
(1) The harsh and condemning judgments about dropping a nuclear bomb on Tehran are troubling.  They suggest that the complete annihilation of Iran's largest city and every single man, woman and child in it is morally wrong while ignoring the fact that hurricanes and tsunamis regularly destroy cities and kill innocent people.  They deny that God is present in these times
(2) The harsh and condemning judgments about setting off that bomb in a crowded city are troubling.  They suggest that terrorism is morally wrong while ignoring the fact that volcanoes regularly explode, killing thousands of people all over the world.  They deny that God is present in these times.
(3) Your harsh and condemning judgments about me boinking your wife are troubling.  They suggest that adultery is morally wrong while ignoring the fact that more men and women have sex outside of so-called "wedlock" than in it.  They deny that God is present in these times. Continue reading →
Recently the New York Times ran a Catholic bashing ad calling for Liberal Catholics to desert the Faith.  The ad was sponsored by the virulently anti-Catholic atheist group Freedom From Religion.  Go here to read a superb evisceration of the ad by Charles Lewis.
Pamela Geller at Atlas Shrugged decided to submit an ad which made similar accusations, but against Islam instead of the Church.  The New York Times rejected the ad.
Bob Christie, Senior Vice President of Corporate Communications for the New York Times, just called me to advise me that they would be accepting my ad, but considering the situation on the ground in Afghanistan, now would not be a good time, as they did not want to enflame an already hot situation. They will be reconsidering it for publication in "a few months." So I said to Mr. Christie, "Isn't this the very point of the ad? If you feared the Catholics were going to attack the New York Times building, would you have run that ad?" Mr. Christie said, "I'm not here to discuss the anti-Catholic ad." I said, "But I am, it's the exact same ad." He said, "No, it's not." I said, "I can't believe you're bowing to this Islamic barbarity and thuggery. I can't believe this is the narrative. You're not accepting my ad. You're rejecting my ad. You can't even say it."
We used the same language as the anti-Catholic ad. The only difference is, ours was true and what we describe is true. The anti-Catholic ad was written by fallacious feminazis. Continue reading →
Hattip to Chris Johnson at Midwest Conservative Journal.  Johnson is a non-Catholic who has taken up the cudgels so frequently for the Church that I have named him Defender of the Faith. 
Gerry Connolly, (D.VA.), graduated from Maryknoll Preparatory Seminary in Illinois in 1971.  Rather than becoming a priest, he, fortunately for the Church, became involved in politics.  In 2008 he was elected to the House.  In 2010 he was re-elected by fewer than a thousand votes.  (Better luck to the unfortunate constituents of Mr. Connolly this year.)  Although he purportedly is a Catholic, he has routinely engaged in Catholic bashing as a political tool.  In his race for the House in 2008 he played the anti-Catholic card against his Republican opponent:
House minority leader John Boehner is urging Democratic leaders to stop a vicious anti-Catholic smear campaign against Republican congressional candidate Keith Fimian, who is challenging Democrat Gerry Connolly for a rare open seat in Virginia's 11th District. All 157 Catholics currently serving in the House, including Speaker Nancy Pelosi, should join their 25 Catholic colleagues in the Senate to denounce this vile attempt to denigrate their fitness for office.
Postcards mailed to voters on behalf of Connolly by the Democratic Congressional Campaign Committee (DCCC) portray the Fairfax County businessman as anti-women because he sits on the board of Legatus, a group of traditional Catholic CEOs founded by Domino's Pizza magnate Tom Monaghan and endorsed by the late Pope John Paul II. Catholic League president Bill Donohue condemned the scurrilous ads as blatant "Catholic bashing" and demanded that Connolly publicly denounce them. Instead, the Democrat repeated the smears on TV.
It goes without saying of course that the CINO (Catholic in Name Only) Connolly is a complete pro-abort and a big supporter of Planned Parenthood.  Connolly can always be relied upon as a tame Catholic to defend the Obama administration from critics pointing out obvious anti-Catholic bias.
Thus it was no surprise that Connolly, at yesterday's hearing on the HHS Mandate, belittled the witnesses who appeared to protest the infringement of the Mandate on religious liberty: Continue reading →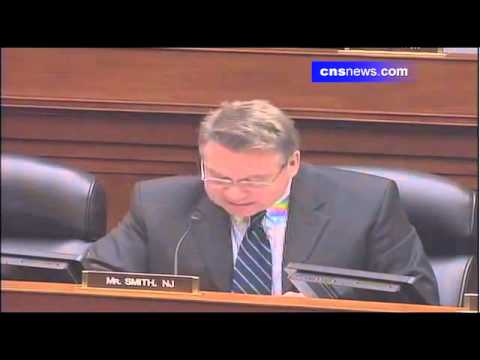 Interesting numbers from Rasmussen:
Catholics strongly disapprove of the job President Obama is doing as the debate continues over his administration's new policy forcing Catholic institutions to pay for contraception they morally oppose. While the president's overall job approval ratings have improved over the past couple of months, they have remained steady among Catholics.
A new Rasmussen Reports national telephone survey finds that 59% of likely Catholic voters nationwide at least somewhat disapprove of the president's job performance, while 40% at least somewhat approve. But the passion's on the side of those who don't like the job he's doing: 44% Strongly Disapprove versus 19% who Strongly Approve.
Fifty-four percent (54%) of Catholics voted for Obama in November 2008. However, Republican hopeful Mitt Romney currently leads the president among Catholic voters by a 52% to 35% margin. Among all voters, however, President Obama leads Romney and all Republican hopefuls.
These results are from surveys conducted over the seven days ending February 12, 2012. Among all likely voters, 50% approve of how the president is doing and 49% disapprove.  This includes 26% who Strongly Approve and 38% who Strongly Disapprove. Rasmussen Reports also provides daily updates of the president's Job Approval and match-ups between President Obama and both Mitt Romney and Rick Santorum. Continue reading →
At The American Catholic we get almost daily comments submitted by anti-Catholic bigots.  We routinely place them in our trash file as unworthy of the effort to respond to.  However, I thought that our readers might be amused to see the typical type of rant we receive from these individuals.  This one was submitted in response to my post about Eric Metaxas, a Dietrich Bonhoeffer biographer and a non-Catholic, comparing the contraceptive mandate of the Obama administration to the initial moves of Nazi Germany against the German churches in the Thirties of the last century.
If the Catholics want to get into a political battle then don't whine.  That's Politics.  Chaplains want to use their positions to push their political ideology from Rome.  That not their job.  Use your own time not USA;s time.  For a Catholic to talk about freedom of speech and liberty with their history of killing people, persecution, and enslaving western civilized is and utter joke.  Hate is what the Catholic showed to all non Catholics.  Catholics want a political fight then lets fight.  Significant number of priests are gay or child rapists, then your church shopped them around.  This is been going on since the 1100?s.  The Church's political views against women health will alienate women.  How about shinning a light on church supporting fascist counties in WW2.  Germany, Italy, Spain, Argentina, and Croatia.  The pope told all of their leaders they were Christ defenders.  Your religion killed our ancestors civilization (Greek and Roman) and produced the Dark ages.  That is the politics of pain and suffering and I will proudly fight against it.
Well, let's examine this screed shall we?  Continue reading →
In my mispent youth I wore Army green for a few years.  My main contribution to the nation's defense was when I was discharged, but I have always retained a fondness for the Army.  Therefore I have very strong feelings about the attempt by the Obama administration to censor Archbishop Timothy Broglio, the Catholic Archbishop for the military services in the US.
On Thursday, January 26, Archbishop Broglio emailed a pastoral letter to Catholic military chaplains with instructions that it be read from the pulpit at Sunday Masses the following weekend in all military chapels. The letter calls on Catholics to resist the policy initiative, recently affirmed by the United States Department of Health and Human Services, for federally mandated health insurance covering sterilization, abortifacients and contraception, because it represents a violation of the freedom of religion recognized by the U.S. Constitution.
The Army's Office of the Chief of Chaplains subsequently sent an email to senior chaplains advising them that the Archbishop's letter was not coordinated with that office and asked that it not be read from the pulpit.  The Chief's office directed that the letter was to be mentioned in the Mass announcements and distributed in printed form in the back of the chapel.
Archbishop Broglio and the Archdiocese stand firm in the belief, based on legal precedent, that such a directive from the Army constituted a violation of his Constitutionally-protected right of free speech and the free exercise of religion, as well as those same rights of all military chaplains and their congregants.
Following a discussion between Archbishop Broglio and the Secretary of the Army, The Honorable John McHugh, it was agreed that it was a mistake to stop the reading of the Archbishop's letter.  Additionally, the line: "We cannot — we will not — comply with this unjust law" was removed by Archbishop Broglio at the suggestion of Secretary McHugh over the concern that it could potentially be misunderstood as a call to civil disobedience.
The AMS did not receive any objections to the reading of Archbishop Broglio's statement from the other branches of service. Continue reading →
My Bishop, Daniel Jenky, in reaction to the Obama administration's attempt to restrict Catholic religious freedom through its contraceptive regulations, has called for the addition of the Saint Michael Prayer in the intercessory petitions at Mass.  The intention of the prayer is for Catholic freedom in America.
January 24, 2012
My dear Brothers and Sisters in Christ,
In this history of the United States, Friday, January 20, 2012 will certainly stand out as a moment of enormous peril for religious liberty. On that day, the Obama administration announced regulations that would require Catholic institutions to offer insurance programs providing abortifacients, sterilization, and contraceptive services. If these regulations are put into effect, the could close down every Catholic school, hospital, and the other public ministries of our Church, which is perhaps their underlying intention. What is perfectly clear is that this is a bigoted and blatant attack on the First Amendment rights of every Catholic believer. Under no circumstances, however, will our Church ever abandon our unshakable commitment to the Gospel of Life.
I therefore call upon all the faithful of the Diocese to vigorously oppose this unprecedented governmental assault upon the moral convictions of our Faith. Under the Constitution, no president has the authority to require our cooperation with what we consider to be intrinsic evil and mortal sin. We must therefore oppose by every means at our disposal this gross infringement on the rights of Catholic citizens to freely practice our religion. This country once fought a revolution to guarantee freedom, but the time has clearly arrived to strongly reassert our fundamental human rights. I am honestly horrified that the nation I have always loved has come to this hateful and radical step in religious intolerance. I hope and pray that all people of good will would support the faith based resistance of us their Catholic neighbors.
While it is primarily the laity who should take the leading role in political and legal action, as your Bishop, it is my clear responsibility to summon our local church into spiritual and temporal combat in defense of Catholic Christianity. Have faith! Have courage! Fight boldly for what you believe! I strongly urge you not to be intimidated by extremist politicians or the malice of the cultural secularists arrayed against us. Always remember that the One who is in you is greater than the one who is in the world (I John 4:4).
Until these grave issues are favorably resolved, I ask that every parish, school, hospital, Newman Center, and religious house in this Diocese insert the Prayer to St. Michael the Archangel into the Sunday General Intercessions just before their concluding prayer. It is God's invincible Archangel who commands the heavenly hosts, and it is the enemies of god who will ultimately be defeated. This prayer should be announced as: A Prayer to Saint Michael the Archangel for the freedom of the Catholic Church in America.
May God guide and protect his Holy Church.
Sincerely yours in Christ,
Most Reverend Daniel R. Jenky, CSC Bishop of Peoria Continue reading →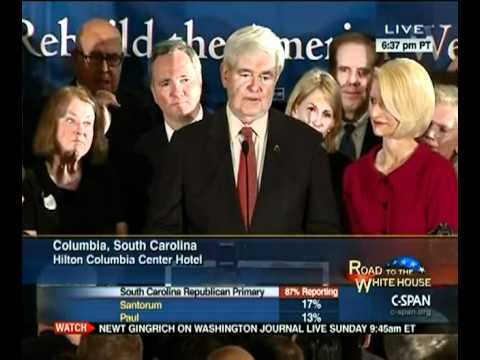 The South Carolina victory speech of Newt Gingrich last night.  Most such primary victory speeches are fairly forgettable efforts and the Gingrich speech was largely no exception except at one point in the speech.  Go to 12: 30 on the video, and watch Gingrich lambaste many elites in our society for their anti-religious bigotry.  Gingrich has raised the issue of anti-Catholic bigotry in particular, and anti-Christian bigotry  in general, before in this campaign, go here to read his earlier comments, and he may have hit on the sleeper issue of the year in this campaign.  With the words of Pope Benedict, go here to read them, warning last week about the lessening of religious freedom in this country, this is a message whose time is now upon us. Continue reading →